Employee information sheets are documents that are prepared to store such data either electronically or with hard copies.
Apart from record-keeping, these documents also aid in processes like employee background checks, research, and analytics that are used to generate HR reports.
Enclosed below is a collection of free, downloadable, and editable employee information templates that you will find very useful. The formats attached include Microsoft Word, Adobe PDF, and Microsoft Excel extensions.
Free Employee Information Form templates
1. Basic Employee Information Form – Word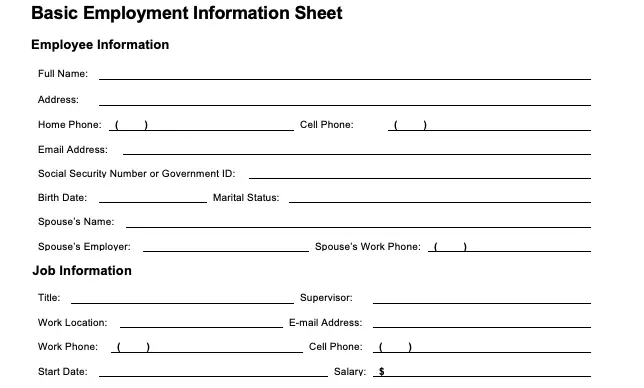 Let's start off with something simple. With all the basic details in it, this is a starter document you can use to store your employee information.
The one-page document contains sections for employee information, job information, emergency contacts, and dependant information.
If you are looking to capture just the bare necessities then this template should be good enough for you to use. It is designed in Microsoft Word and you can make edits to it as well.
Even before computers came into the picture, corporations have been using employee information sheets to store data about people.
Whenever a new employee joins, permanent or contractual, it is important to take down information pertaining to their professional careers, their personal details, and additional information that is required for record-keeping.
2. Bank Employee Information Form – PDF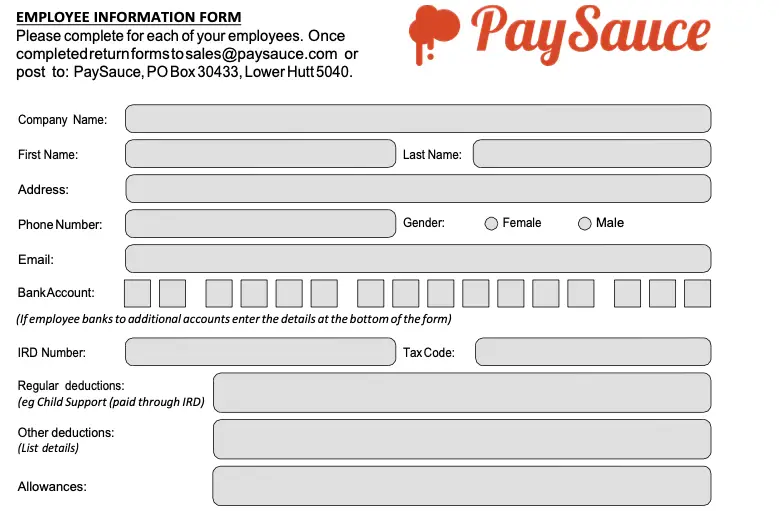 Custom-made to be used for banks, this PDF template comes in a ready-to-print format.
This template is focused a little more on the employee's pay details along with working hours and is suitable for payroll and HR departments.
There are sections to enter the employee's bank account details, contact information, deductions, tax details, allowances, holiday pay, work schedule, etc. Once you print it out you can start entering the information. It is an excellent template if you want to maintain hard copies of the employee's information.
3. Employee Personal Information Form – Word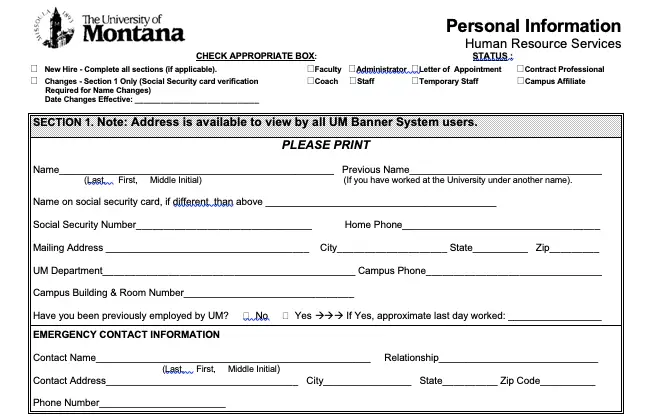 Designed to be used as a personal information template, this document is very helpful for all HR professionals. The Word document can be given out to all employees to be filled out.
Through this form, you will be able to take down details like contact information, emergency contacts, retirement information, financial details, and other personal information.
And since the form is editable, you can make any changes you want. Before you print it out, do check the page alignment and margins.
4. University Employee Information Form – PDF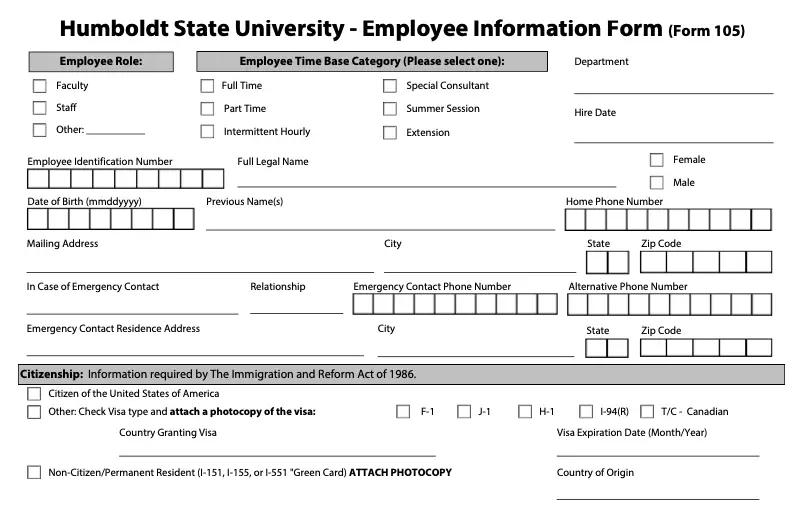 Education institutes also store employee information but their requirements might be a little different from other corporations.
Through this template, you will be able to get a relevant document that suits your requirements.
Once you print out the template, you can fill in details like employee's designation, time base category, contact information, citizenship details, prior employment information, education info, and a voluntary self-identification section. It is pretty comprehensive and should do the job.
5. Employee Expense Information Form – Excel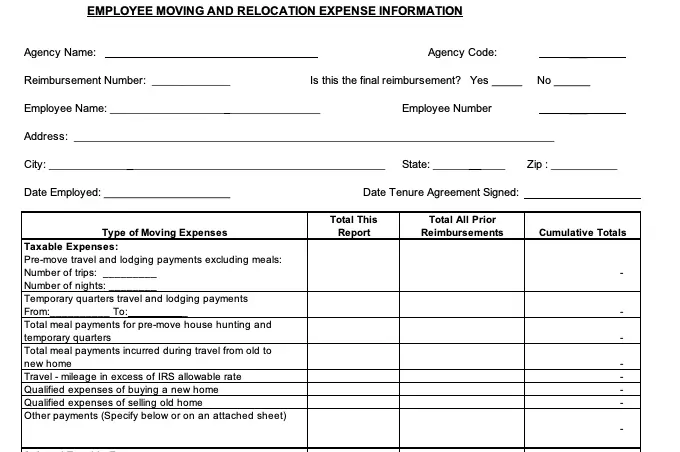 Employee information doesn't always pertain to personal details only. There are other pieces of information that needed to be taken down like employee expenses. Many companies spend money on employee relocation and migration.
Such information can be taken down using this Microsoft Excel template which is free to download and use.
Once you have the file, you can enter all expenses related to the employee's relocation, taxes, deductions, and declarations.
6. Editable Employee Information Form – Word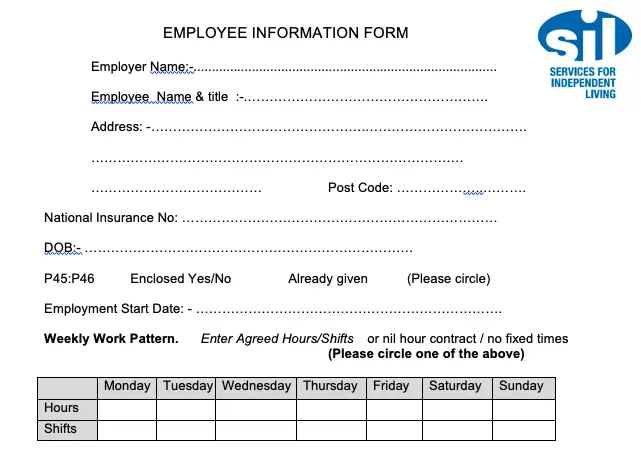 Here is another editable, one-page employee information template. Designed with Microsoft Word the template captures basic information like their contact details, addresses, insurance details, work schedule, payroll information, and bank information for salary payouts.
Enter your own company logo, key in the required sections, check the formatting and alignment and the document should be ready to be printed out.
7. New Employee Information Form – Fillable PDF template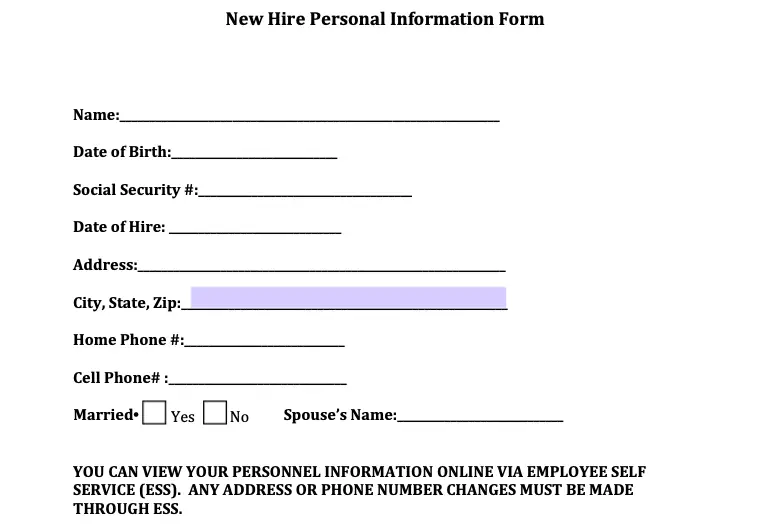 As part of the on-boarding process, every new employee is required to fill out certain forms that take their personal and past employment information. These documents are used by HR, payroll, and finance teams and aid in processes like salary payouts, taxations, and appraisals.
If you have new employees coming in, you can use this downloadable PDF format. Data can be entered into the form on your system but you could also print it out and enter it manually.
8. Employee Information Form for Emergency Contacts – Word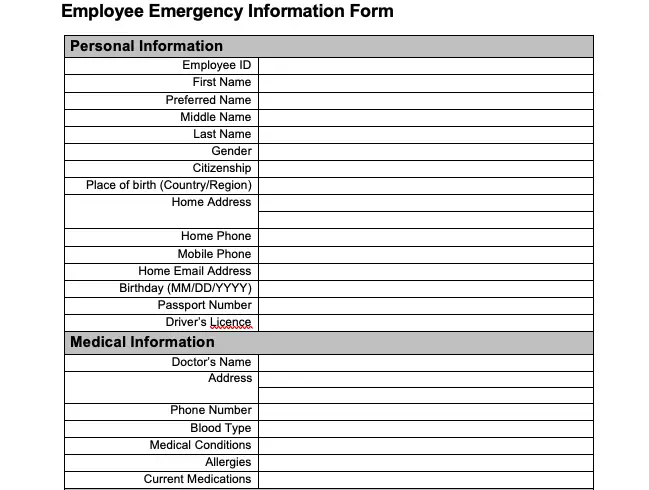 An emergency contact form is required to be maintained by employers in the eventually of emergencies only. Usually, emergency contact forms document the employee's current health status, allergies, current medications, and any prevailing medical conditions they have.
In case of an emergency, the data in this form is used to contact near and dear ones and passed on to medical professionals who need the employee's medical history for necessary treatments. If you don't have such a document, then you will face many hardships in emergency situations.
9. Employee Information Form for Employee Benefits – Word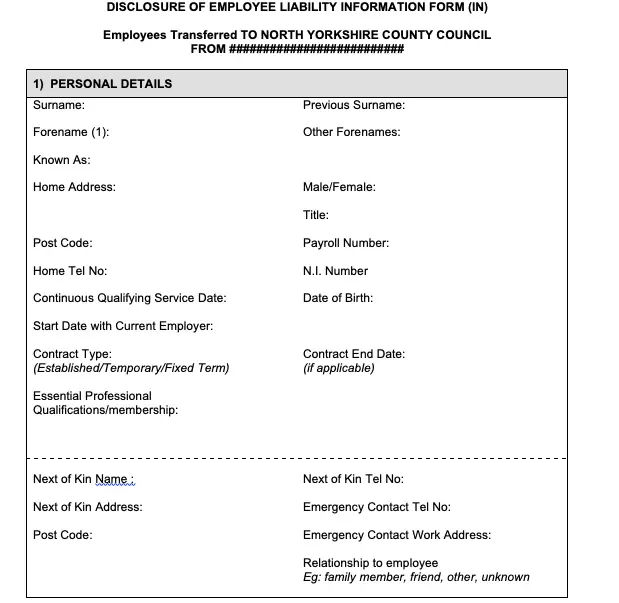 Every employee has numerous costs associated with them and these need to be well documented by all HR and finance professionals. Apart from the salary, there are other direct and indirect benefits given to each employee.
And such benefits are entered in this template.
There are sections to take down details about the employee's salary, pension scheme, bank details, contracted hours, leave entitlements, hardware provided, vehicles are given, relocation disbursement, training costs, and much more! The 7-page document is very comprehensive and should come in handy.
10. Contractual Employee Information Form – PDF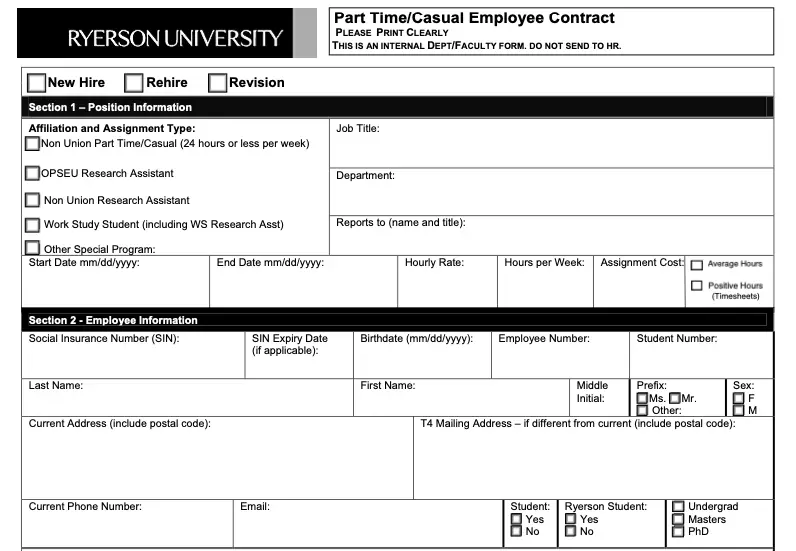 Hiring part-time or contractual employees saves a ton of costs for companies and such resources are used all over the world! Even for such employees, record keeping is an important aspect and this template should come in handy for you.
Contractual employees have different salary structures from full-time employees and the same can be stored in this template. Here you can enter their job type, union affiliations, salary structures, personal information, disclosures, employee acceptance to the company's terms and conditions.
11. Confidential Employee Information Form – Word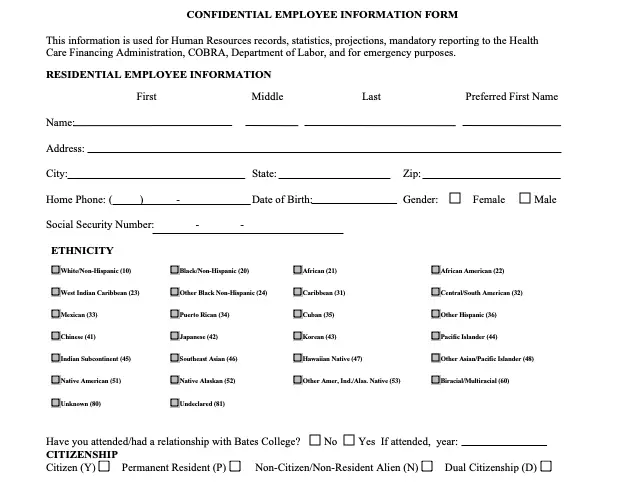 As each day progresses, privacy laws around the world are getting stricter. When you store employee information, you inevitably have access to sensitive personal details of each employee. Such information needs to be handled with care.
This template can be used to store sensitive data like their race, religion, address, contact information, salary details, bank information, ID numbers, and previous work experience that need to be kept private. The files should be marked confidential and need to be password protected if you are storing them electronically.
12. Employee Dependent Information Form – PDF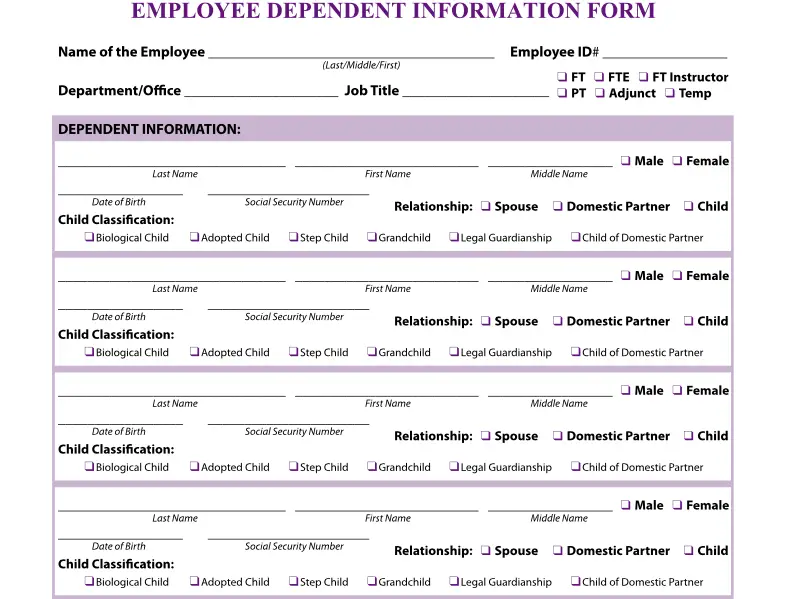 Employee's dependent information is many circumstances. These could be for insurance purposes when the company is providing coverage that extends to the employee's dependent. It could also be relevant for taxation purposes, calculating the liabilities associated with each employee, and many other reasons.
This employee information template is useful in such scenarios and can aid in precision record-keeping. Download it, print it out and the form is ready to be used. You don't need to worry about margins and alignment as the document is print-ready.
13. Employee Payroll Information Form – PDF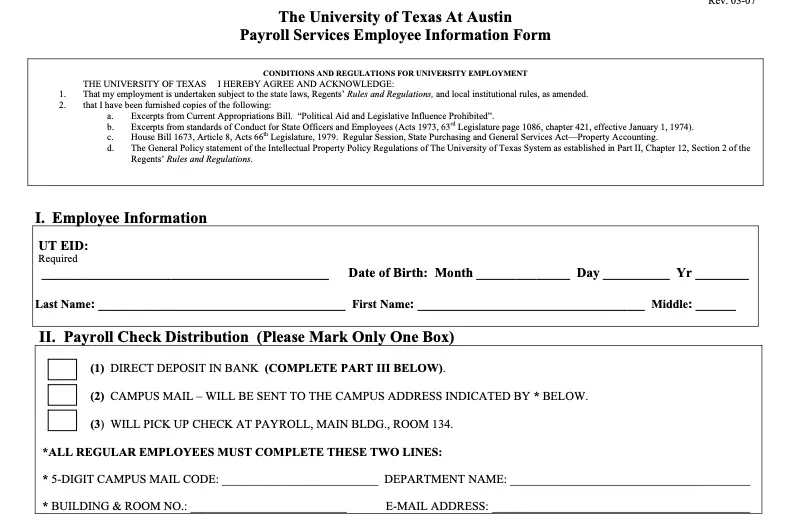 Each aspect of an employee's information can be broken down and maintained separately by different company functions. For example, the payroll team might just want to store salary-related information and nothing more.
In such cases, using specific templates makes more sense. Hence, if you are looking to store just the payroll part then go ahead and download this document through which all details about salary, bank accounts, benefits, taxation, etc can be stored with you. It is already print-ready and you just have to fill in details after you get the print.
So, this was our comprehensive collection of employee information templates. You will find our templates to be very comprehensive and usable for any kind of organization!
Frequently Asked Questions
Have questions about Employee Information templates? Here are some common ones.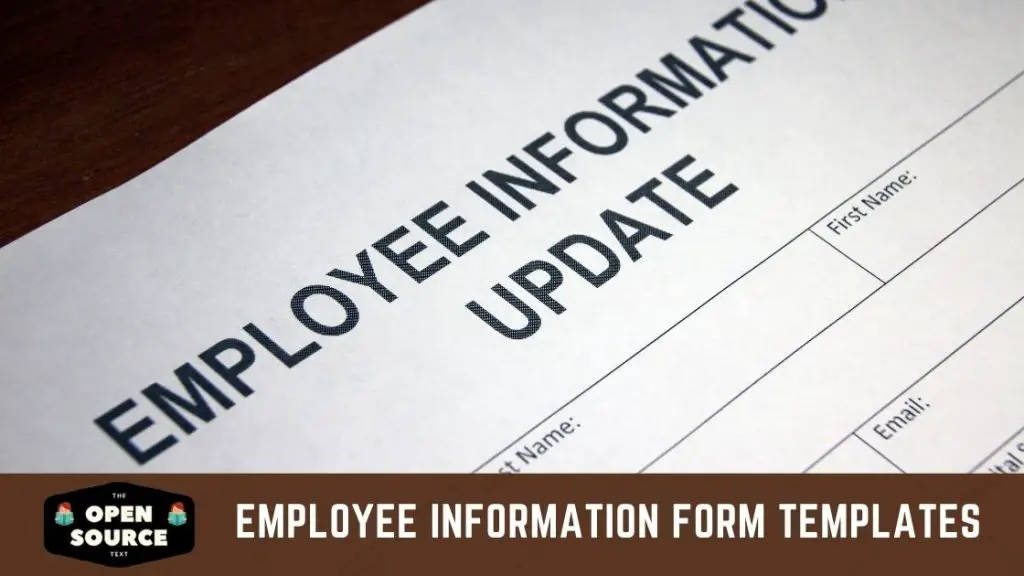 1. What kind of information should the form capture?
Great question but that depends on your organization's needs, labor laws, and privacy laws as well. But some basic information should include contact details, address, emergency contacts, previous employment data, educational qualifications, payroll and banking information, etc.
2. Can I use these forms to run background checks?
Absolutely! But you would also need to get a consent form signed by the employee before you can run background checks on them.
3. Is this data sensitive?
Some of it is. Not everyone should have access to employee information and only authorized entities should maintain such records. If you are storing these records electronically, make sure they are password protected. If you maintain hard copies, they need to be under lock and key.
Conclusion
We hope you make use of these free, downloadable, and editable employee information templates. For best results, make sure that the information that goes into these documents is 100% accurate. To make it easier, you could also maintain a checklist of information that you need and put those into your employee information template.
And most importantly, keep these documents out of reach from everybody as they contain sensitive private information that can easily be misused by others!