How does it sound to receive a letter from Santa? Exciting?? What if you are the Santa? That is a lifetime opportunity that Santa has bestowed on you this 2020! As Christmas is approaching, it is the right time to find the list of recipients and write down letters on behalf of Santa. Does that get you curious? In this article, we shall provide you a range of professional Santa letterhead templates along with the secret Santa's address.
Professional Santa letterhead templates
1. From the desk of Santa Claus template
Who doesn't like getting a letter from the desk of Santa Claus? That feeling is unmatchable. This template lets you recreate that feeling by simply downloading and entering the information you like. As this is a blank template, you can address the letter to whomsoever you wish and enter the contents of your choice based on the receiver's interest by filling a secret santa form template or a secret santa wish list.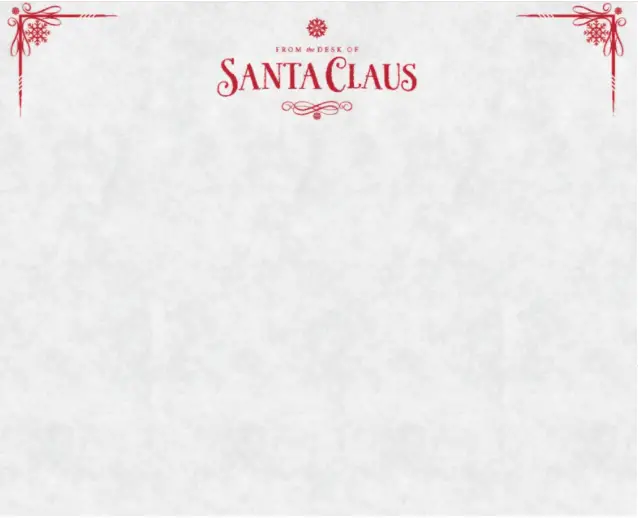 2. General Christmas letter template
This is a multipurpose template enabling you to write letters to Santa as well as make minor changes to receive letters from Santa. As it comes in various editable formats, it is possible for you to make some minor edits and save the fee you spend on the designer just like these snowman hat templates. One tip to make this even attractive is to include the Santa Claus icon on the header or footer and give that desired look. Also, we suggest using an elf on the shelf goodbye letter.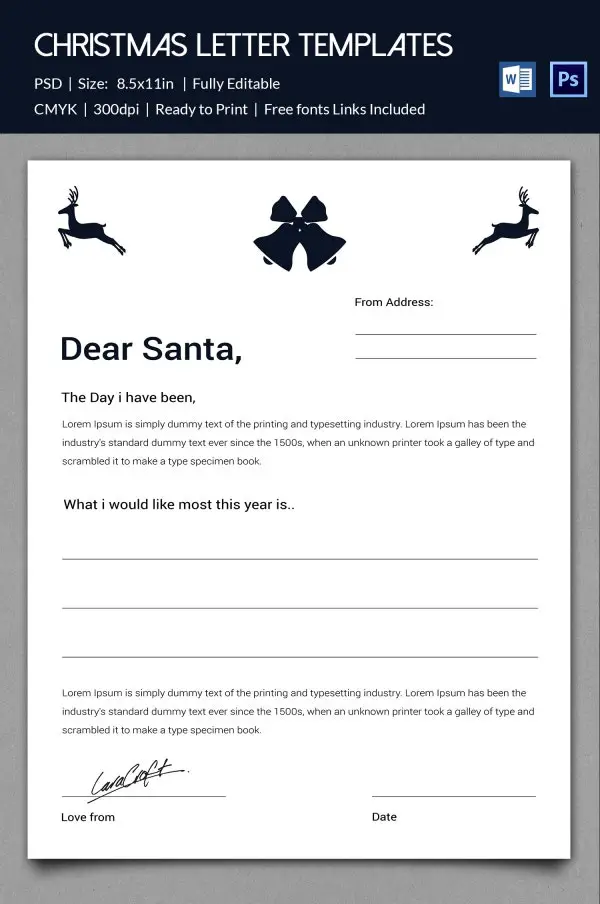 3. Dear Santa letter template
Certain letters convey meanings directly. Taking a first look at the secret santa gift exchange questionnaire template, you can recognize that it is Christmas-themed and there are icons indicating the same. Being a printable and editable template, feel free to add that typical letterhead containing Santa's address and you are good to go.
Quick secret – As you scroll down, you can find secret Santa's address.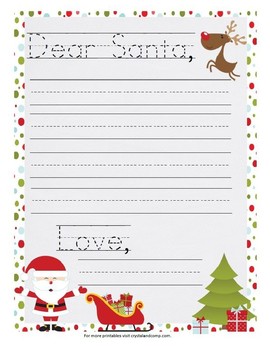 4. Colorful Santa Claus letter template
When kids are the recipients of letters, letterheads are usually colorful and creative just like these secret santa clues. Here is a template with multiple colors and that beautiful signature of Santa Claus.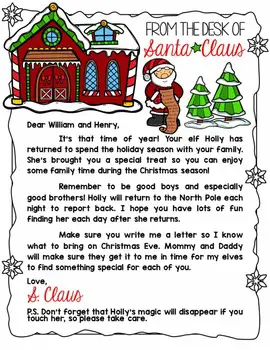 5. Santa letterhead templates with borders
This letterhead template, enabling Santa to address the receiver directly, looks professional and appealing to the audience. Since green, red, and white are the colors used in this template reflecting Christmas Eve, it gets extra special in creating the desired impact. Ensure that contact information is altered in the header and footer before you send it to the recipients. As you download and edit, make sure the image resizing option does not break into pixels.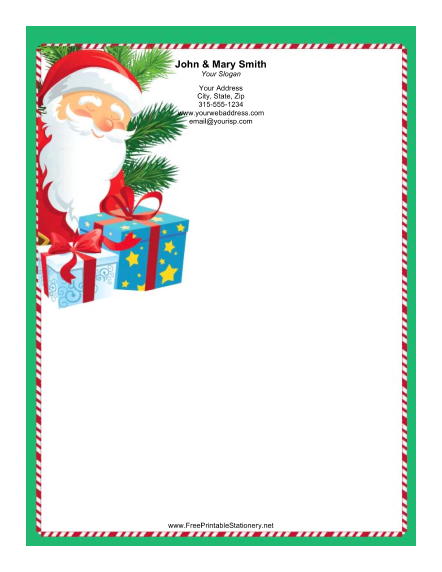 6. Full-sized Santa letterhead templates
Santa does not always have to be like an icon. You can also create a watermark or background graphic with Santa's image and simply change the recipient's information. Your job gets done effectively.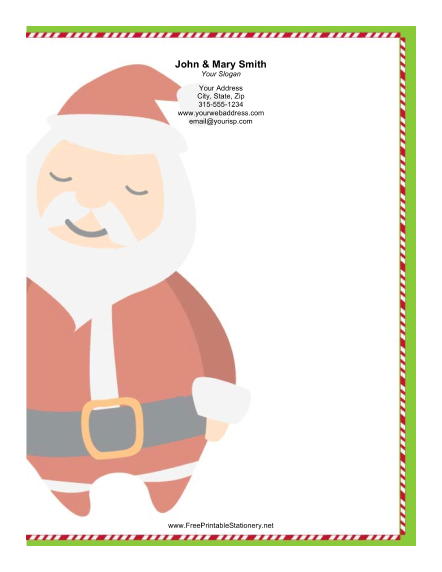 7. Christmas-themed Santa letterhead templates
As Eve is all about carols and lights, this template creates that theme with the background shapes and stickers. If you are intending to write a crisp message, this is the attractive template you should use.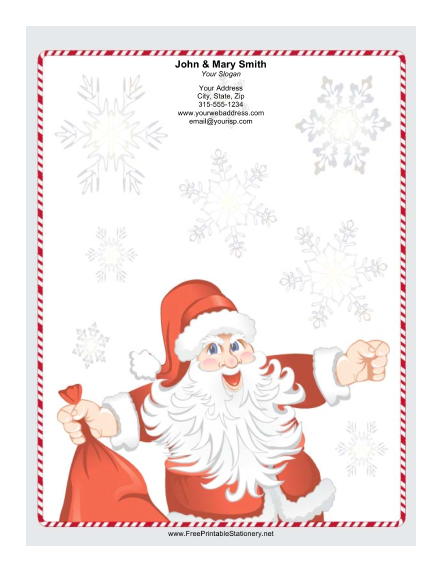 8. Curvy Santa letterhead template
This is an interesting letterhead template that looks professional due to the curvy nature of the term 'a letter from.' Another interesting part is the Old English font used to mention Santa Claus. This creates that traditional look and connects the recipient with Santa Claus.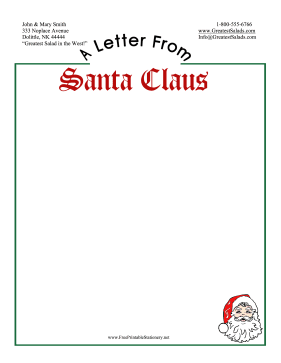 9. Santa letterhead template with icons
For those of you having adequate content to draft, this is the template to go ahead with. One quick tip is to use a red or black inked pen to write the content. It looks attractive and satisfies the recipient.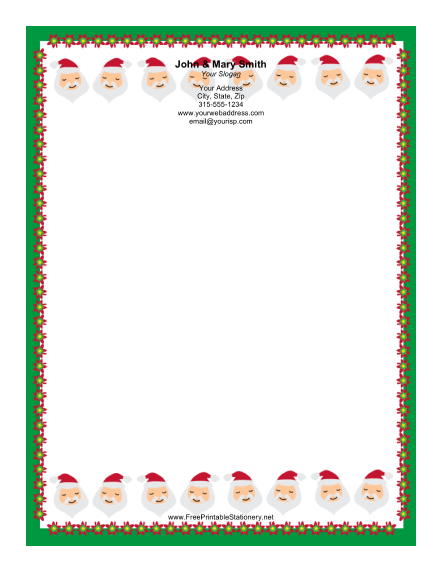 All about Santa letterhead templates
A Santa letterhead is just like any other letterhead but is highly valued due to the emotional connection towards Santa. It is spiritually a blessing to receive a letter from Santa on the special Christmas Eve. Letterhead is on the header area of a page and contains the logo along with contact information. Now comes the common doubt – how do you know the logo of Santa or his contact information? The quick hack is to use any standard picture of Santa as his logo. Perhaps, red and white grandpa instantly connects everyone to Santa.
The official address is – 123 Elf Road, North Pole, 88888. Though that looks quite imaginary, Santa is known to originate from the North Pole with his elf. So, this justifies his address and you can write a note on his behalf or to him through the Santa letterhead templates.
Some parents prefer writing letters to their children in Santa's disguise simply to appreciate their performances or introduce a new habit to them. Alternatively, kids can also use these professional Santa letterhead templates to accept and write their feelings and wishes to Santa. Christmas is supposed to be an event of gift exchanges. Allowing kids to draft such letters can let you plan gifts and give them on Santa's behalf. This approach sets the festive mood and also improves the bond between parents and children.
If you are creating a Santa letterhead template, make sure you have sufficient whitespace to write the content of the letter.
FAQs about Santa letterheads
Do letters need a stamp? Postage is not essential but a return address is mandatory.
Is there a color scheme for the letterhead? No, but it is better to stick to green, red, and white.
How does a letter get responded to? Letters from Santa encourage someone from the United States Postal Service to draft a response letter to the child with a stamp from the North Pole.
Is there an age limit in writing letters to Santa? Not really! Santa loves everyone and there are no age limits.
What should letterheads contain? Just the contact information along with the intended message to be delivered to Santa.
Conclusion
Santa letterheads can give a professional look as soon as they are drafted and sent to the respective postal address. The letterhead templates in this article are real and you can certainly add a professional and creative touch to your letter. Santa comes in disguise to respond to your queries and fulfill your wishes. So, it is not futile to spend sufficient time in drafting the perfect letter with the letterhead!
Summary
Reviewer
Review Date
Reviewed Item
Author Rating





Software Name
Software Name
Software Category