Life gets interesting when there is an untold mystery behind certain actions! Everyone can gift but a gift with emotion means a lot to the recipient.
You got it right! We are talking about gift exchange events during Christmas eve. Every person celebrating Christmas anticipates events and this year, you need to get a bit creative in gifting your loved one
Printable Secret Santa clues examples
Christmas scavenger hunt clues
While you have already arranged a gift to present it to your loved one with the help of a secret santa questionnaire form pdf, you need to give clues to him/her and organize a scavenger hunt. Keep it at a random place and let the person find it out using clues. It does not matter how much time it takes to find a gift. Every second count as it is filled with excitement and hope.
When you use this template along with from the desk of santa claus letterhead, ensure that you don't forget the location. Else, it can be an absolute fuss.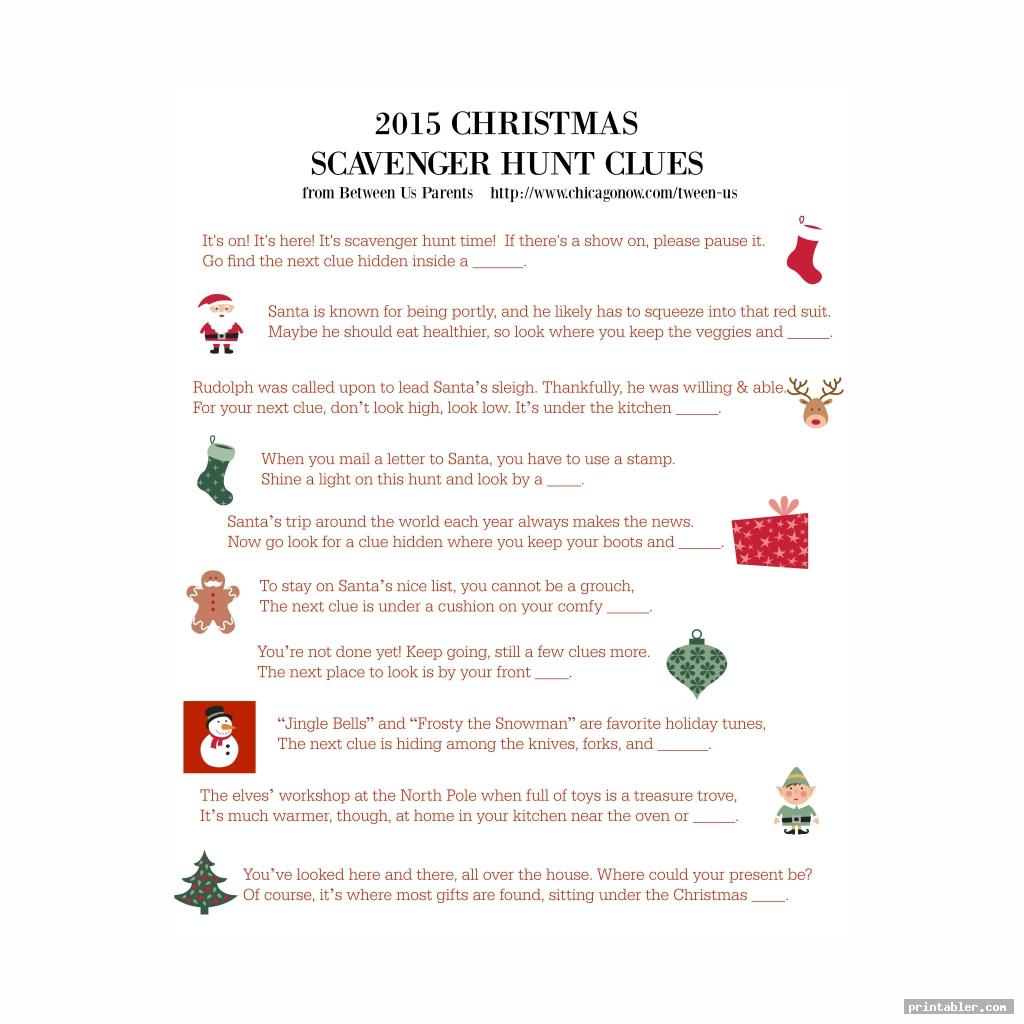 Naughty or nice clue 
If your kid has already played elf on the shelf letter and listed gifts of interest, the next step is to give a naughty clue based on the child's behavior. If you find the kid to be naughty, you can give a clue that literally gets the kid tired and naughty too. This template is meant to throw a riddle and encourage the kid to find out the answer. You can directly add the picture of an elf on the right with a snowman hat printable template and then allow the kid to play the game.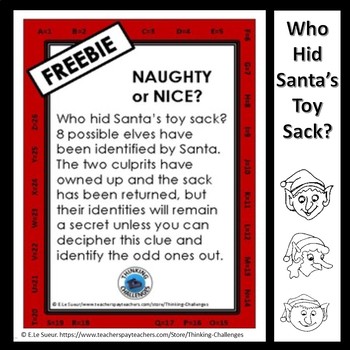 To keep the game simple, it is a good idea to give tags or clues associated with each gift. There are 2 ways to include gift tags – a caricature of the person who is gifting or quick clues indicating the person's background. One good example is –
She is fair and tall. She is from Brooke's College. Guess who?
This clue keeps the game simple and the player does not get tired of finding out the giver. You can also use these secret santa information form as well as these secret santa wish list printables.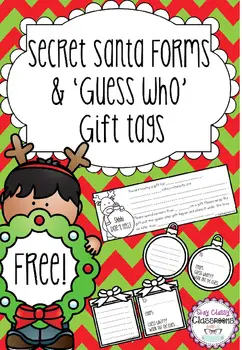 Secret Santa clue 
If you prefer keeping the game thrilling and fun, play with clues. A good idea is to print the clue on a card and then distribute it to the concerned person.
Looking at the clue below and these letter from santa, you can simply edit based on your background and the clue is ready. As this icon looks attractive and matches the game, it is appropriate to leave it as it is.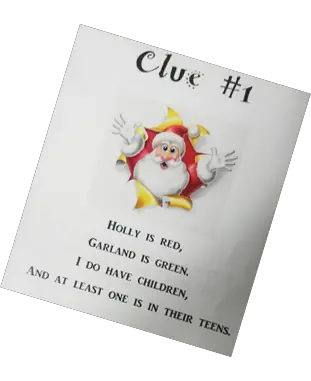 Amazing secret Santa clues
Playing a treasure hunt is always interesting and it gets better each moment when you are closer to the destination! Here is a template comprising a range of clues enabling you to select one from them. Every clue here connects objects that can be commonly seen in the environment. If it is a series of clues, ensure that every clue is within access and the player does not get exhausted at some point. Also, check out these christmas catering menu templates for a great christmas food festival!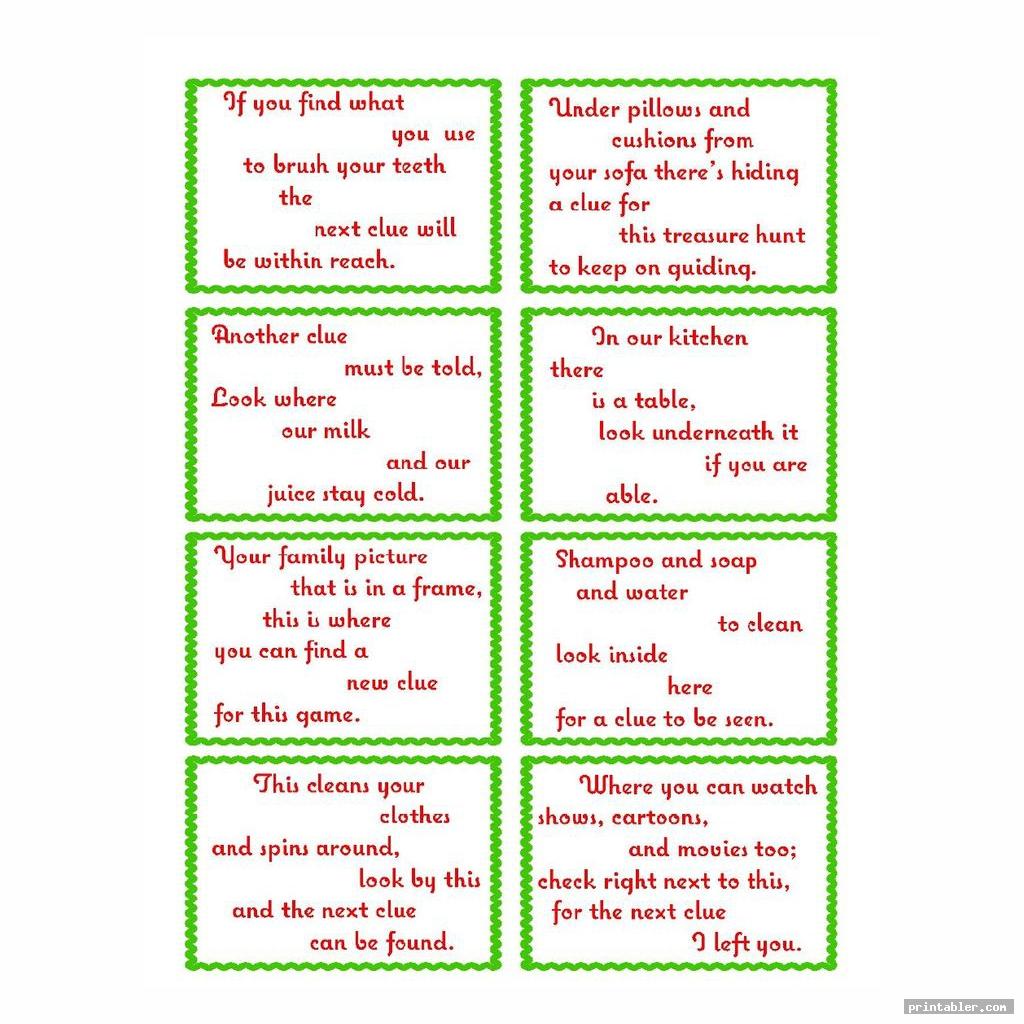 Attractive secret Santa clue 
Organizing a gift exchange program? Tired thinking as many clues for every person? Give this template a shot. Give a two-liner for every person covering some commonly known information. Instead of writing the clue, it is a time-saver if you print it out.
The following template is attractively designed indicating the occasion. As soon as you edit the content and print it out, close it and leave it within the envelope. That makes the whole event special and professional. Also, I would suggest christmas gift certificate template free download to use.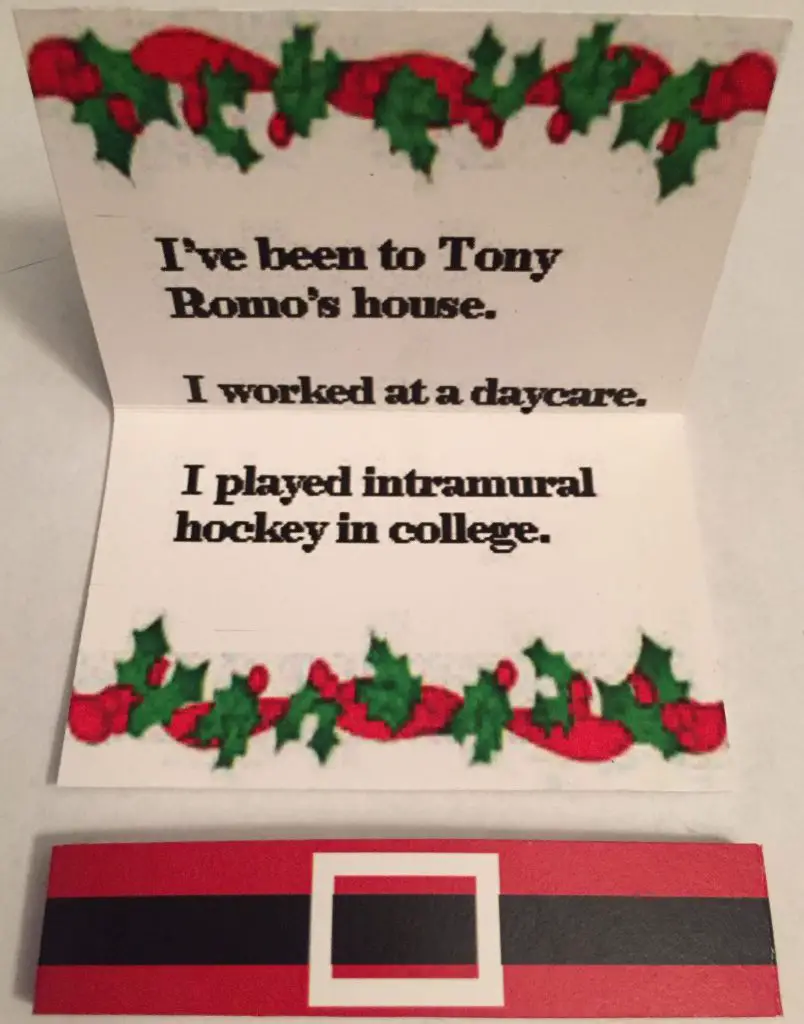 Customizable secret Santa clue example
Organizing a Christmas party involving a group of members? You can explore the clue card that has a design as in the template below along with the clue. Alternatively, you can stick the clue card over the gift and ask the person to guess it out. Some treasure the gift card as well in addition to the gift. So, make it professional and attractive in every aspect you follow.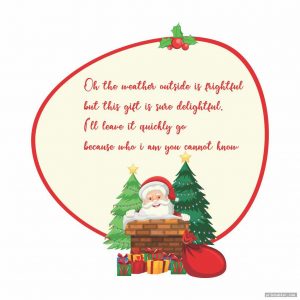 Secret Santa cards
Did the content of these cards excite you? Did you feel excited at least for a minute? That's how the receiver feels while getting your secret Santa card. Puzzles are fun and so are secret Santa cards. You do not need to think of exhaustive clues. Instead, you can encourage the receiver to answer a puzzle and then hand over the gift. This is a wonderful solution when you have decided to gift randomly. In no particular order, encourage the audience to pick a card, answer the puzzle, and then take the gift as instructed in the card. This is yet another approach to provoke the interest of the audience.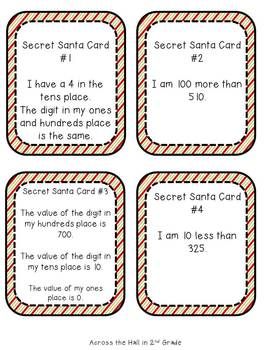 Find the secret Santa clue 
When you organize a gift exchange, you have to give at least three clues about yourself so it is possible for the gift receiver to recollect memories and identify your name. Usually, gift exchanges are carried out in groups and every team member needs to enter clues in such a way that they are easily identifiable.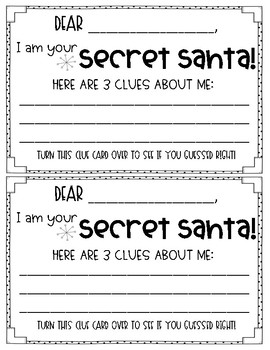 Secret Santa scavenger hunt
Who does not like puzzles and riddles? Clues need not always be about yourself. It can be a riddle pointing out various places in the room or your house. You can end with just one clue or play for a longer time. The following template has numerous ideas to organize the scavenger hunt effectively.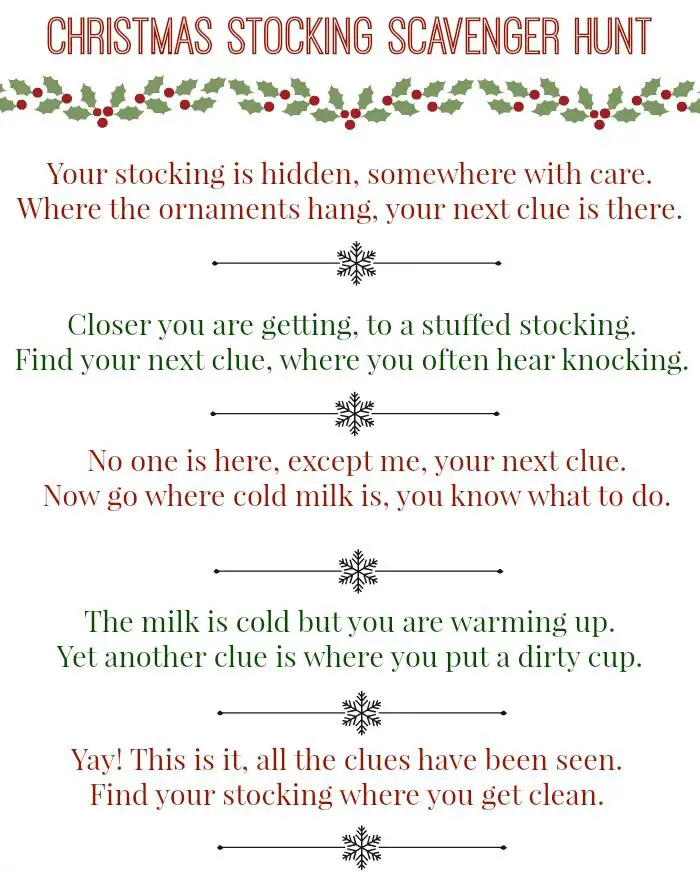 Clue from Santa example
Santa is watching you! Did you ever feel the need to highlight that Santa is around? Include a quick poem or a riddle connecting Santa with the event and it adds value and festivity to the moment. While clues are usually descriptions about the person, the following template remains unique in explaining how the gift has entered the place. Display your creativity through this approach!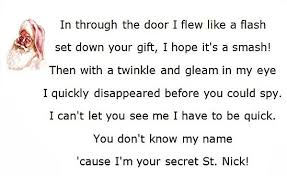 Secret Santa event clues 
Have you spent time with your loved one where you laughed together and shared personal interests with each other? If your loved one has ever mentioned his interest in pizza, you can make a general knowledge question out of it so the person finds out the gift as well as the giver. In addition to gifting and sharing happiness, the moment can also turn nostalgic. Following is a template that insists on the right way to put forth a question.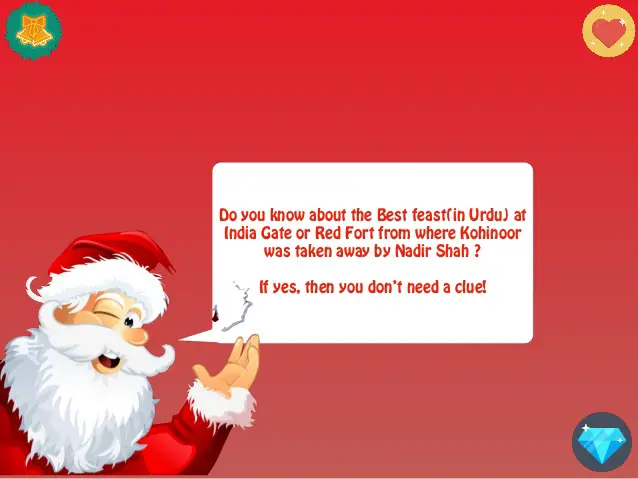 Handwritten secret Santa clue
One interesting and personalized example to share clue is to present in a handwritten format. Some can recognize the giver through the handwriting while others tend to preserve the paper in your memory. A quick thought is to stick your writing to a card and give it in an envelope. That final touch matters in creating the desired feeling!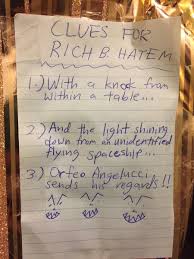 Do's and don'ts in secret Santa clues
The Secret Santa gift exchange program is a crucial one that influences the mood of the audience. When you give clues, it needs to be fun-intended. Not every person gets the secret Santa event right! Here are certain things to do and to avoid.
Generalized clues should be avoided unless you and the receiver have a connection to such clues.
Feel free to give them a chance if they don't identify the gift or the giver in one go.
Each time the person misses finding the giver, give yet another clue.
Let the event not get restricted to sharing gifts. Make it festive and share a story behind how the gift was decided. Talk more about the information you found in the secret Santa questionnaire. Alternatively, you can also talk about your experiences with the Elf.
Wear your creative hat and draft poems or rhymes or puzzles or riddles or even an image to indicate memories and kindle interest.
Establish your style statement even in the clues you share. Wrap the clue in an envelope or a box. If it is a scavenger hunt, apply creativity, and wrap every clue in different ways.
Bored of handwritten, traditional clue stickers? Use the templates above and enter your detail. You are done and leave it to the audience to guess you.
Be the best secret Santa
Everyone aspires to be the best but to reach that stage is tough. To be the best secret Santa, you may have to do the following.
Spread happiness and embrace the person's problems. As December is the end of the year when it can be a crunch to businesses, your words as the secret Santa can change the mood.
Be an extrovert.
Stay kind and give chances.
Cheer up and promote fellowship.
Issue surprise props to celebrate the event.
Conclusion
Secret Santa clues are easy to draft and print if you get the concept of the event right. If you are an organizer, you may have to pay attention to the ambiance, your language, behavior, and remain patient enough in handling other's emotions. The list of templates in this article can enhance the event further. Give it a shot and spread the festive mode!
Summary
Reviewer
Review Date
Reviewed Item
Author Rating





Software Name
Software Name
Software Category