Businesses hire contractors for additional tasks and outsourced operations. Sometimes, contractors associate on a permanent basis although they work on different rules and regulations.
An important task for every independent business contractor is to raise an invoice every month.
While organisations give their own formats for raising invoice number, contractors are expected to use their own if they don't receive any predefined formats.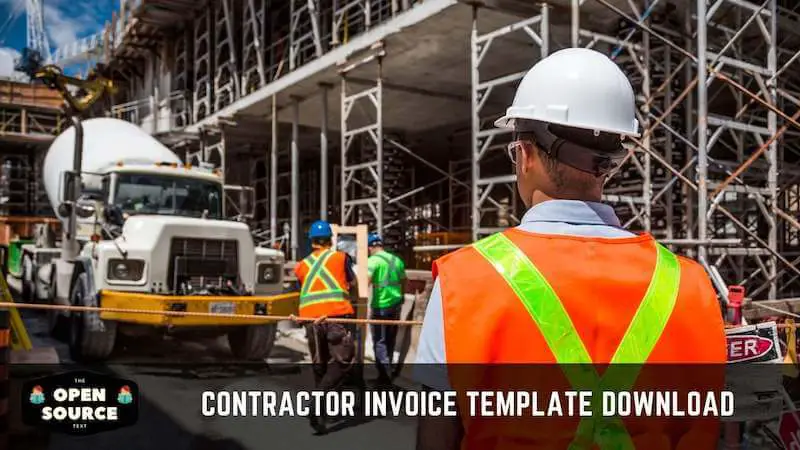 Printable contractor invoice templates
As you engage with a business to offer your contractor services, you are billed for the number of hours you work per day or the number of days you have worked.
Based on the terms and conditions listed by the organisation, you need to choose the right invoice for your requirements.
1. General contractor invoice for business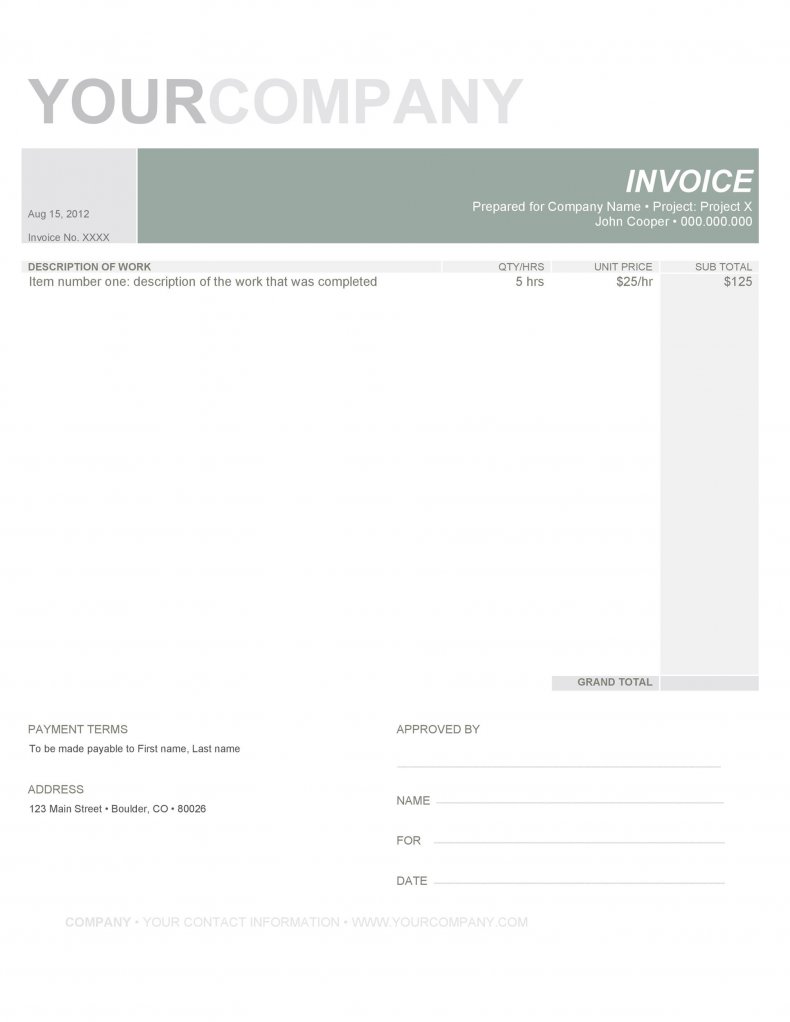 Irrespective of the business industry you are in, these contractor templates help you in requesting payment from the client for the work done.
It includes fields like the description of contractor work, unit price, total hours spent, and payment to be made.
The best part is that it includes a separate section in the footer area for the client to inform approval for the request. This perhaps quickens the process of approval and to get paid.
2. Service invoice with an hourly rate
The service invoice is meant for contractors in the service industry. Suppose you have taken a project as a whole and engaged different resources to complete the project using these project timeline template excel formats, you need a business invoice like the one below to list various services provided under one roof and list money incurred so the client can process the same.
When you highlight the hourly rate appropriate for various individuals, it presents better way of clarity and transparency of financials to the client to get paid.


3. Commercial invoice template
If you are in the logistics industry and wanting to provide business freight services as per the contract, this editable free invoice can help you.
The editable template has inbuilt formula so you can enter and save time spent to calculate total amount. Put an end to those endless papers that you should file for each transaction as this template can be stored online and sent in one go similar to a stock template.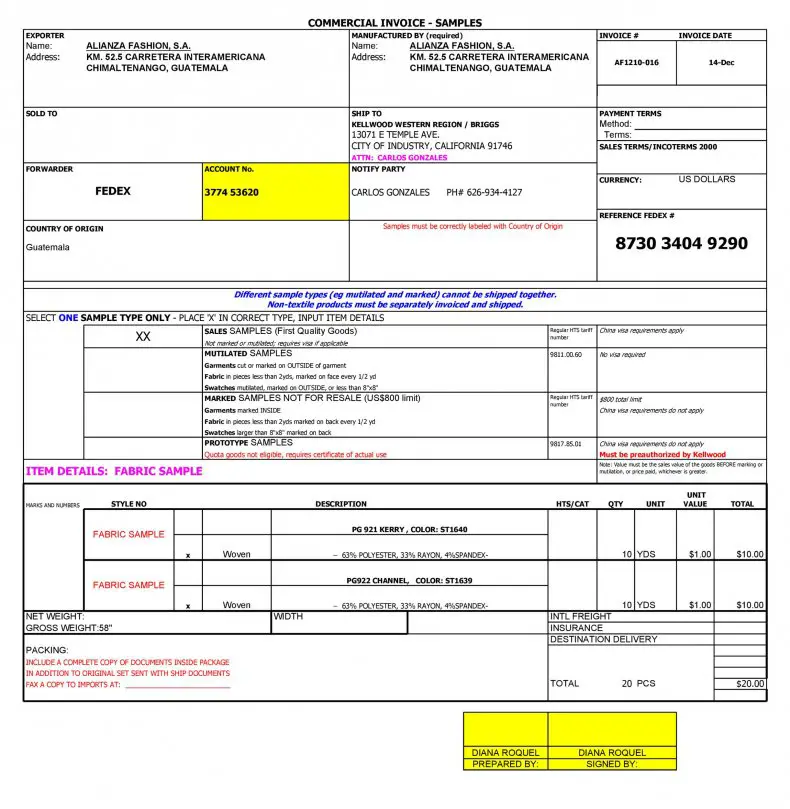 4. Billing invoice with/without tax
Invoices need not always be billed with taxes. Clients expect some services from contractors that are exempted from taxes.
Hence, it is appropriate to use a customizable, editable template that gives you both options so the clients can make a suitable business decision.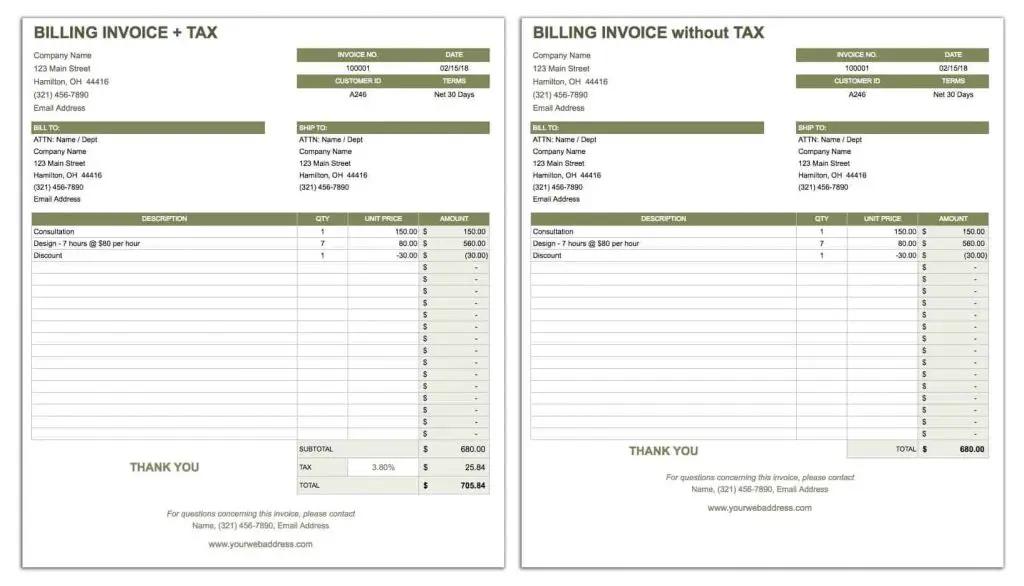 5. Construction contract invoice
In a construction project, the clients provides progress pay at various intervals. The free business contractor/subcontractor is responsible to make note of the progress made and enter details under contract breakdown along with financials.
This business invoice and a Construction Estimate Template helps the clients in planning payments and arranging resources for subsequent milestones. Most importantly, using this approach can secure payments on time and refrain delays in amount.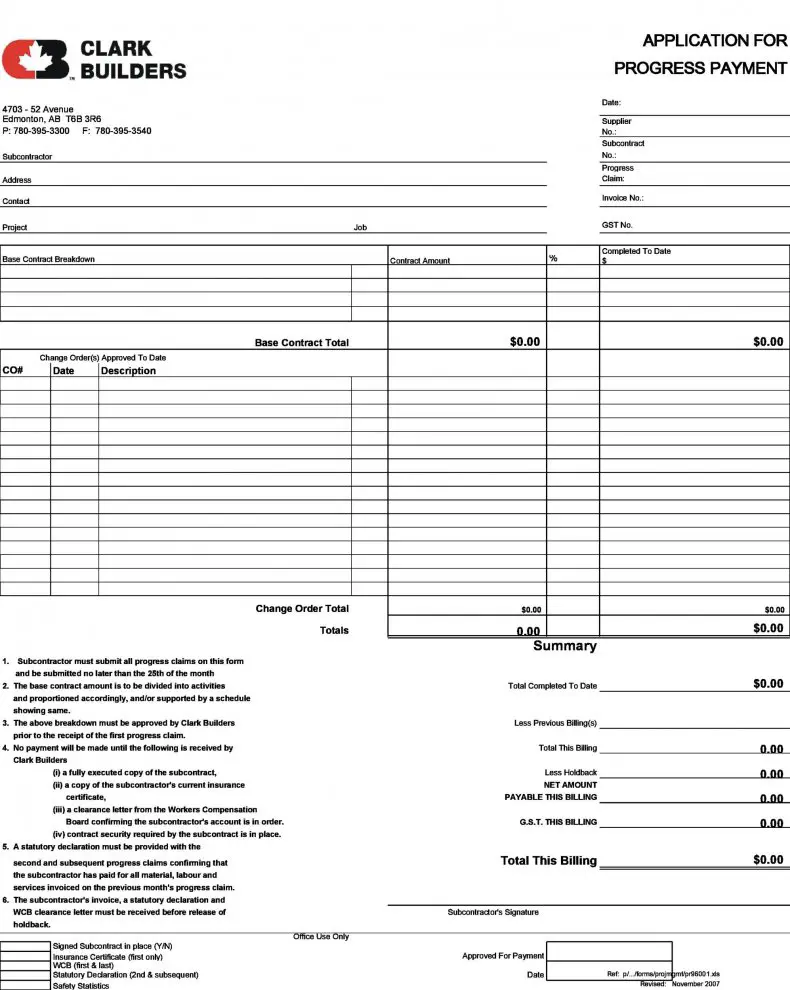 6. Professional contractor invoices
These are standard, professional contractor invoices that lets you request payment for the contractor work done under multiple sections. For instance, you may also include travel and accommodation expenses incurred in completing the project. Other invoice templates do not have space holders for the same but this does for invoicing. Use it blindly and get appreciated by your clients for your professionalism and clarity!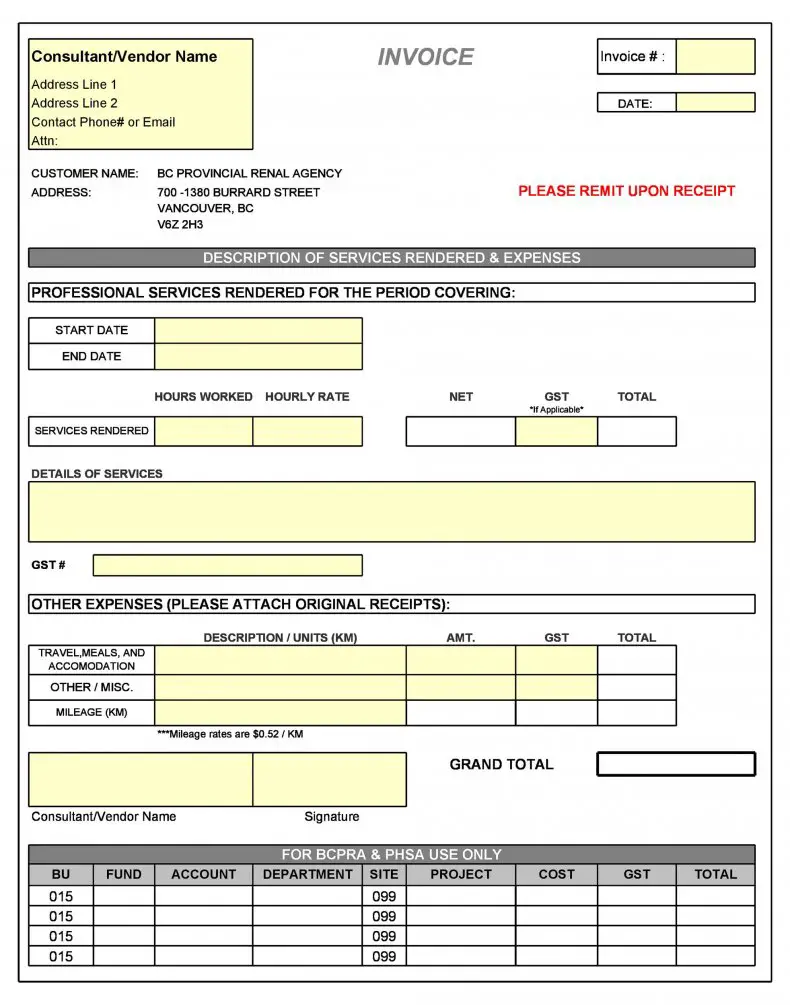 7. Work order template for invoicing
Similar to the invoicing templates mentioned above, this is a work order template that you may use to claim payment for the contractual kind of works done. However, one difference is that you may classify the payment into two sections – material and labor. You may want to include name email, phone number, contact information, due date, total cost of labor, amount in the professional invoice download for invoicing.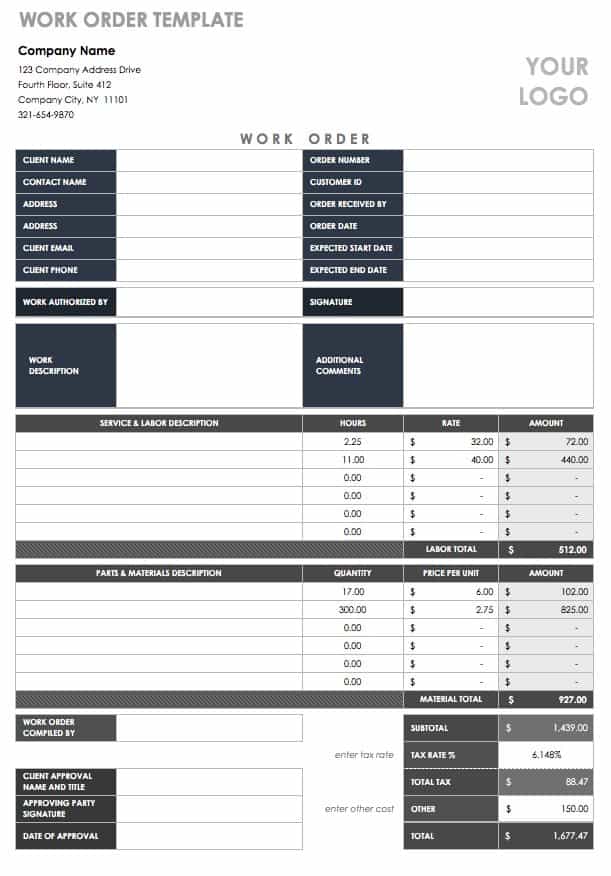 8. Specialized service invoice template
If you are an electrician or a plumber or a gardener or any contractor, you need an invoice like the one given below to request labor amount payment timely from the customer. There are suitable sections and inbuilt formulae meant to quicken the calculation process. Enter details and you are good to go with this invoice template. Alternatively, you can also keep including the customized fields based on the industry or type of work you have offered similar to these release of lien form.
Remember to adjust tax rates based on your local taxation system.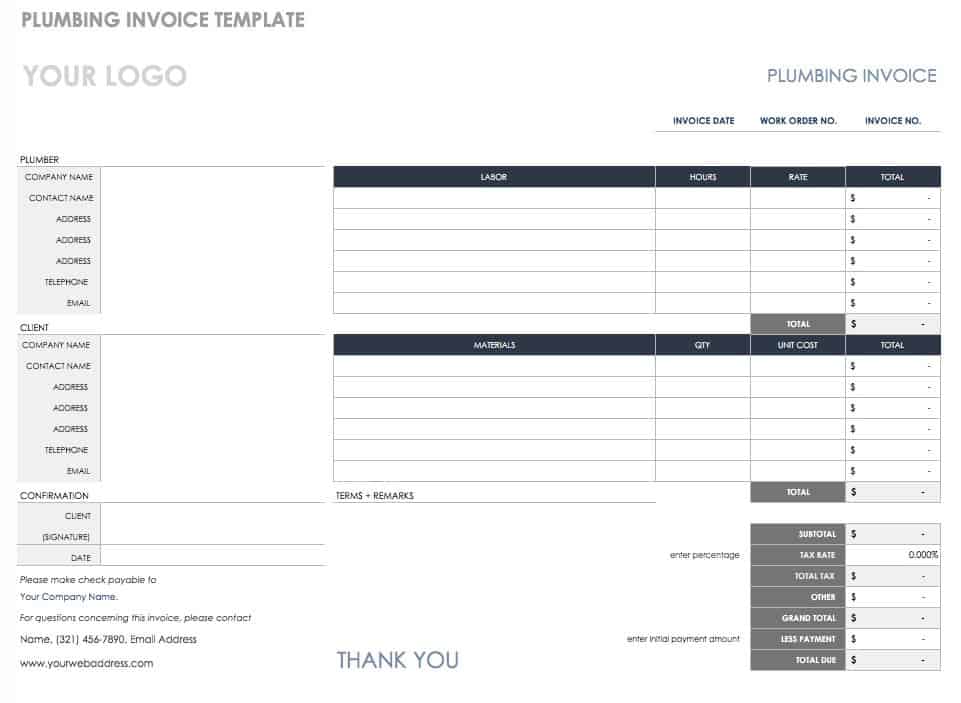 9. Freelance contractor invoice
Freelancers services are also termed independent contractors by several organizations. A crisp invoice download like this helps the freelancer to use and record the work done appropriately for the customer to send. If at all you have to spend on labor transport, you can list it as a separate field as per the contract signed between you and your clients.
There are a few changes or improvements you can make to this invoice for business services template. Adding a business logo, eliminating invoicing fields like lead time, improving color scheme, adding your signature or value statement are a few ideas. Apply your creativity to the invoice and observe the improvement in your professionalism level.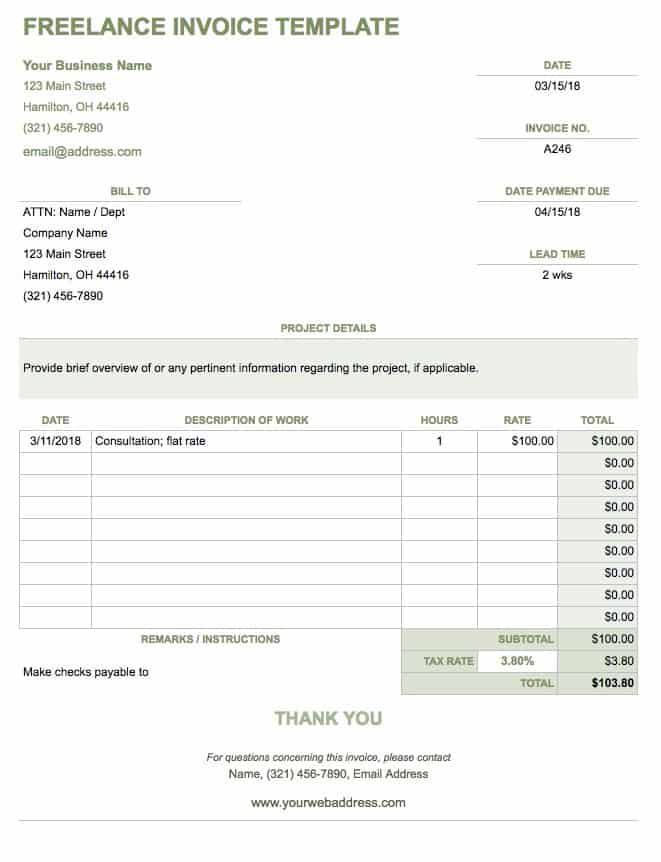 10. Customizable invoice download
Similar to the freelance invoice services mentioned above, download and send these invoices for all contracts irrespective of the industry. The confirmation section is meant to take official approval. You can change the invoice section header.
The best part about this download is that it is clean and crisp. This helps the customer to get more info instantly in pdf and make decisions in a jiffy without having to search and spot the work done along with the money.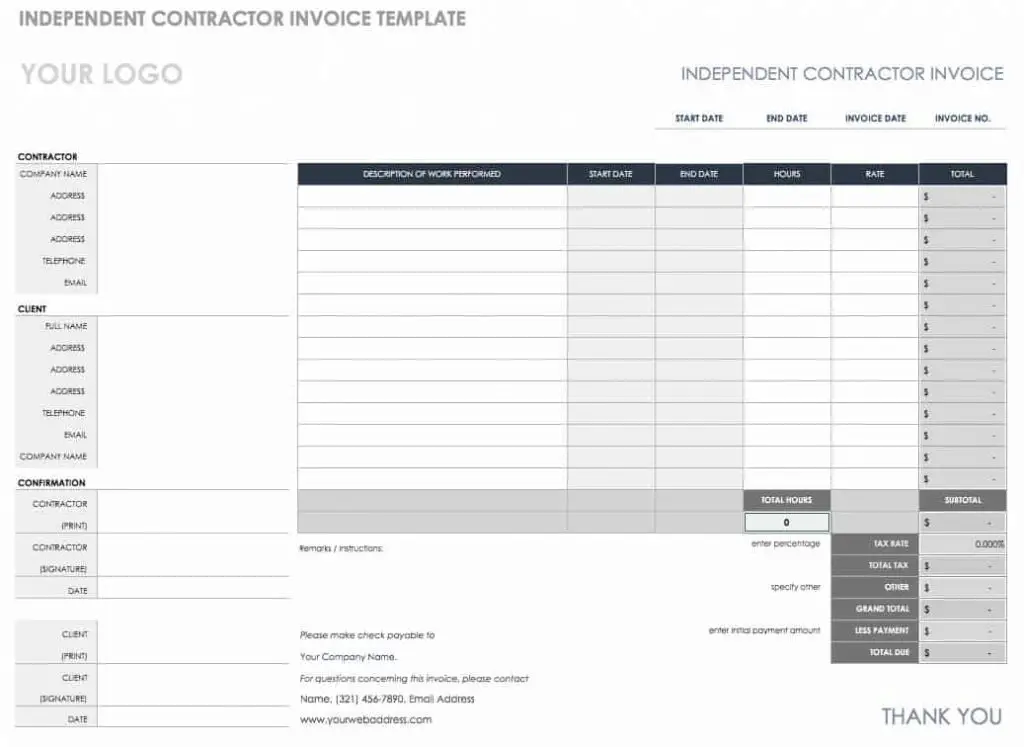 Construction contractor invoice
Contractors are employed on a project basis in the case of the construction industry. These invoices resources take care of a specific department like accounting, base construction, fabrication, and glass panes with invoice date. They need to give an understanding about the charges in advance and include the approval form for the same quote along with the invoice. This saves time and effort. They also processes the invoice number payment quickly.
If you are handling several sub-sections of a department, you can also differentiate between the prices raised for every section. For instance, you can categorize as materials, labor, bill of sale etc.
Electrical contractor templates
Similar to the construction services field, electricians are huge in number. While they practice the profession independently, they also happen to collaborate with organizations to offer services on a day-to-day basis or a monthly basis based on the need. It is essential to follow a fixed invoices format for the invoice form so it is easier to rise month after month and also for sending an invoice.
To make it look better before you create and send, you can include the logo of your organization and seal in the signature placeholder. If you have a specific license number, you can include the same when you create the invoice. All these can promote your credibility.
An independent contractor invoice includes details of the contractor, particulars of the work, price agreed, and the total amount for the work done. Subsequently, the invoice also includes the payment formats along with the signature of the contractor to send it. If you have worked in a large-scale project, it is essential to also include the terms and conditions of the work at the end of the invoice so the client can refer to the same before distributing the payment terms or to getting paid.
If you are a new contractor associated with a business, you need to create and use the right format and make sure of a professional relationship with your client. If you haven't finalized the invoice format ideal for you, then we have excellent templates that can fulfill your job need.
Conclusion
As a services contractor, it is crucial to focus on integrity, transparency, and credibility. We are confident that these services templates can help you achieve the same and promote your standards to higher levels than you have ever imagined.
Start using these invoices templates from today and you can see the difference! Also, before you go, check out these letters for proof of funds.
Check Out: