A month-to-month agreement is like any other rent or lease agreement but the big difference is that this is a short-term arrangement between the tenant and the landlord. Getting into a short-term arrangement like this is often very beneficial for the landlord and the tenants.
Areas that command high rents are good places to implement the monthly rental system as landlords can keeping changing their tenants if they don't get the desired rent.
On the other hand, a monthly rental system is also good for tenants who don't want to get tied down by a long-term contract.
13+ Month to Month Rental Agreement Templates
1. Basic Monthly Rent Agreement – Word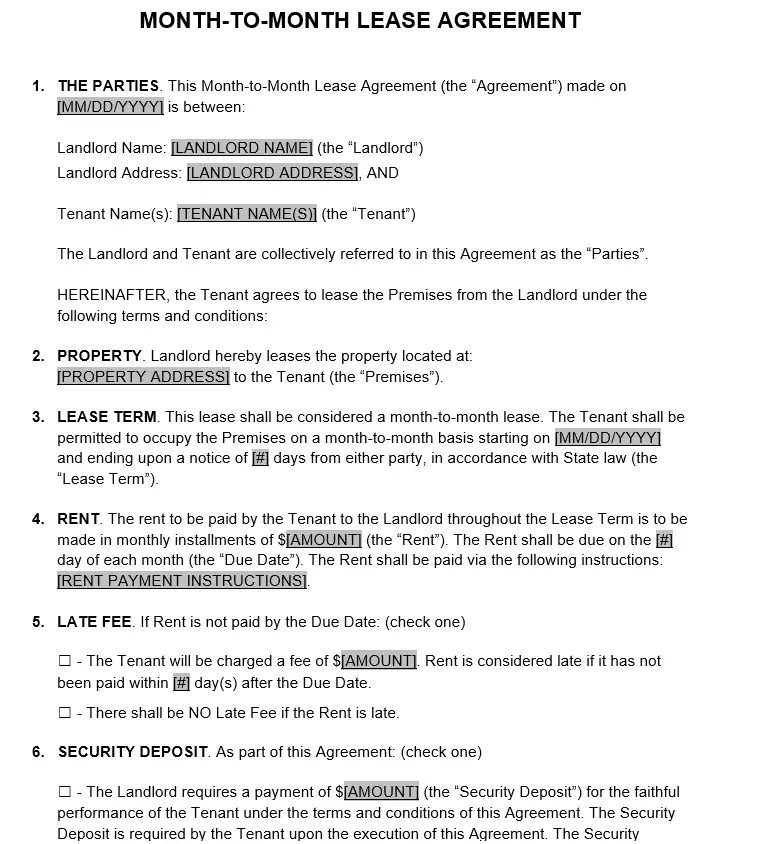 Let us start with a very basic, simple month-to-month rental agreement format. Even though this document might look very simple, it has 6 pages of information in it. Now, not all the points might be relevant to you so you can pick and choose the information you want to retain in your final rental agreement.
Since the document is editable, you can make changes to it.
In this template, you will find information and clauses about the property, lease terms, late fees, security deposits, list of occupants, furnishings, pet policies, maintenance details, insurance details, and much other such information. The list is exhaustive and this is what makes this template a very popular one.
2. Private Homes Monthly Rent Agreement template – PDF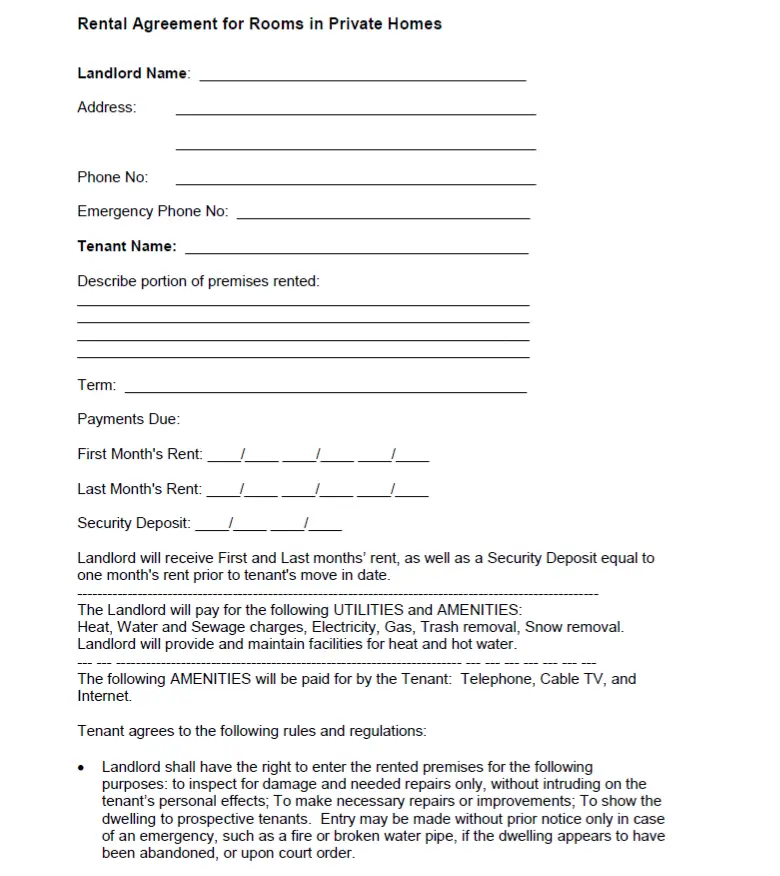 This probably could be one of the simplest month-on-month rental agreements you will ever come across. The template has content that is spread across 2 pages but contains some of the most vital information to be included in such a document.
You will be able to enter details about the landlord, tenant, payments, and some basic terms and conditions of the rental agreement.
This file is not editable. However, you can copy and paste the content in a Microsoft Word document and then change the text according to your needs. Add more sections like furnishing, pet policies, insurance, damage to property, severance of the agreement, etc. If you are making a commercial agreement, then you need to change the content accordingly.
3. State Wise Monthly Rent Agreement template – Word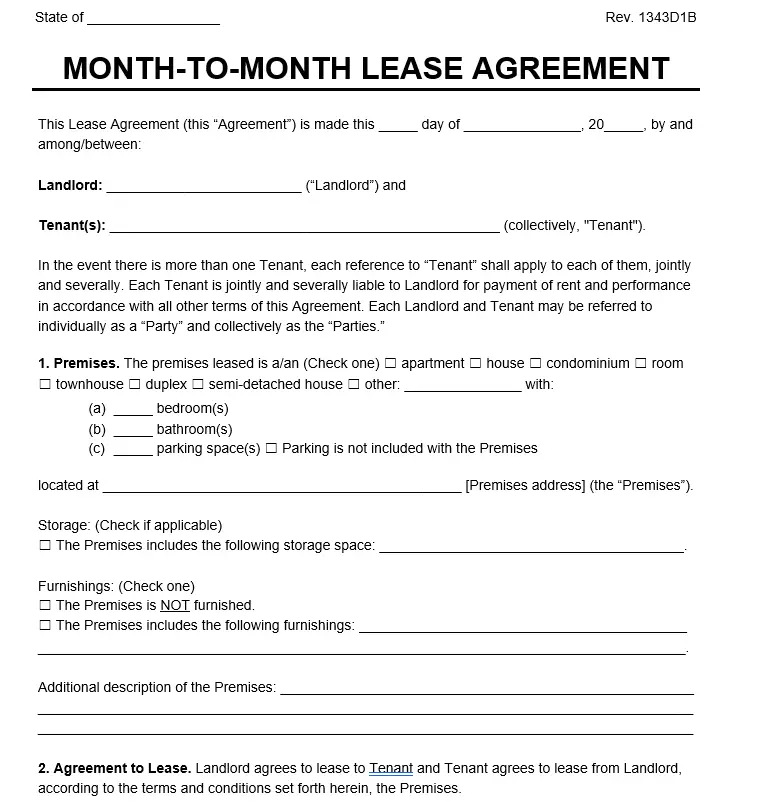 If you have been getting into rental arrangements then you will know that in most countries, states have their own rules about the rental process. So, in light of such different policies, you might be required to be prepared with rental agreement formats from different states in case you are a property owner with properties across state lines. Or if you as a tenant, rent properties in several states.
The rest of the document remains almost the same unless you need to make changes to certain sections to comply with your state laws.
For example, in some states, you can collect 10 months' rent in advance but in other states, you are only allowed to collect 2 months' rent in advance. So, such changes need to be entered in different agreement formats for each state.
4. Basic Monthly Rent Agreement template – PDF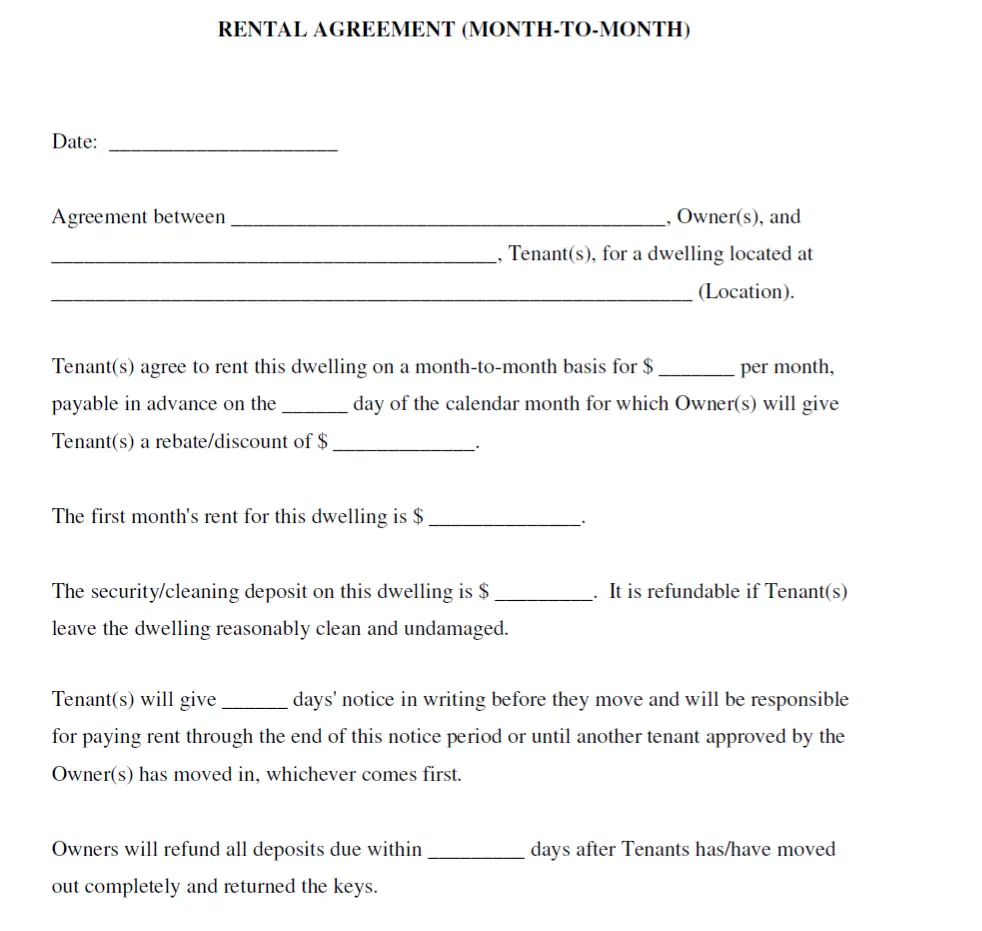 Not everybody needs a complicated, highly detailed rental agreement format. A lot of us probably need a document that is easy to write, and easy to understand. So, for those of you requiring simplicity, there is this monthly rental agreement format.
It is as basic as it can get and the 2 pages in the document are self-explanatory and capture all necessary details of the rental agreement.
There are no jazzy design elements but it is quite functional. All required information about the landlord, tenant, rental, payment process, and terms of the agreement are mentioned in this format.
5. Commercial Monthly Rent Agreement template – PDF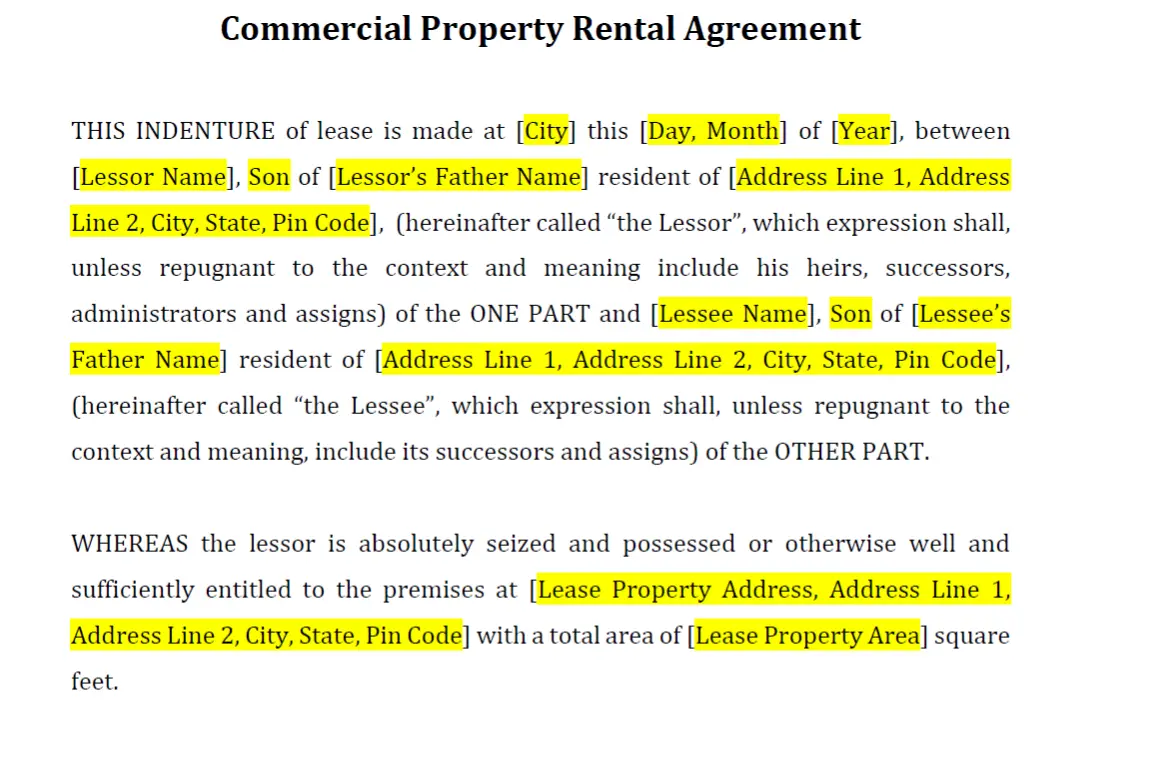 Commercial rental agreements tend to be different from residential rental agreements as the terms of the transaction are much different between the two. So, if you are getting into a commercial rental agreement you will need a suitable document format.
Small business owners usually sign monthly rental agreements so that they don't have to commit to long-term financial spending.
Once you download the document, you will see that the PDF version cant be edited. However, you can copy all the written content from the template and paste it into a Microsoft Word document. Then you will be able to customize the document as per your requirements.
6. Monthly Rent Agreement template for Parking Slots – PDF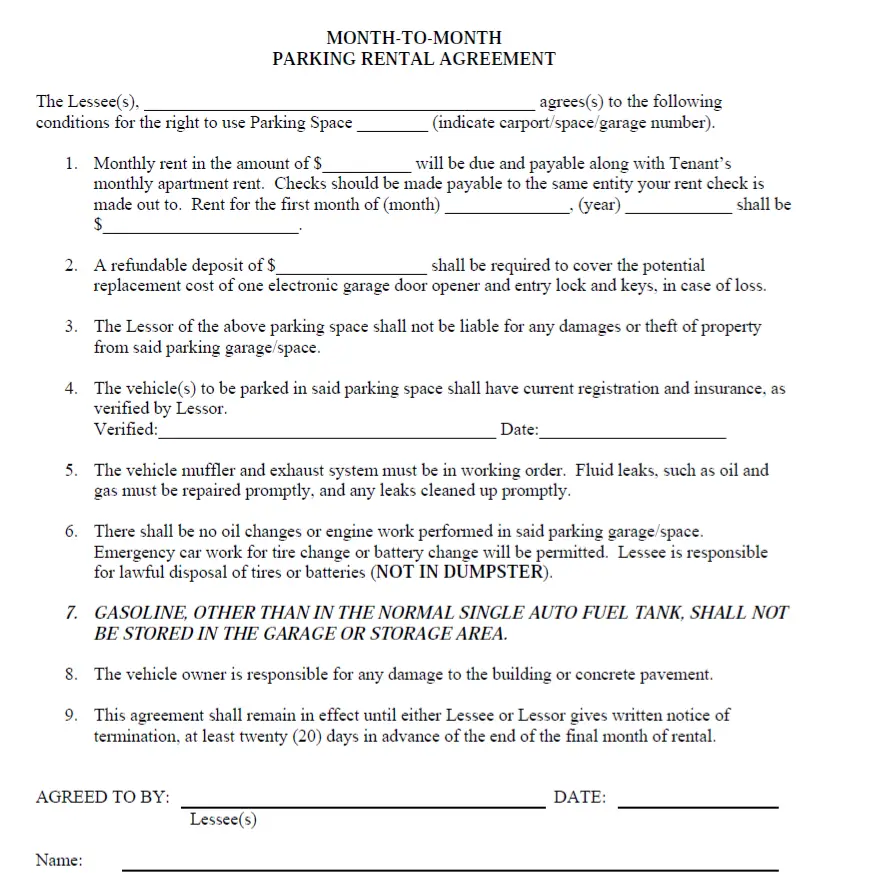 Did you know that even parking spots can be rented out? Well, a lot of office goers rent parking slots if their offices don't have one. Or as a homeowner, you could be renting out space in case your house or condo doesn't have a parking spot. Or it buying one was too expensive.
Even organizations often rent out massive amounts of parking spaces for their vehicles, fleets, etc. For such instances, you can use this month-to-month rental agreement format that is designed to be used for parking spaces. The monthly system works well as most people might not want to book a spot over a long period of time.
7. General Monthly Rent Agreement Template – Word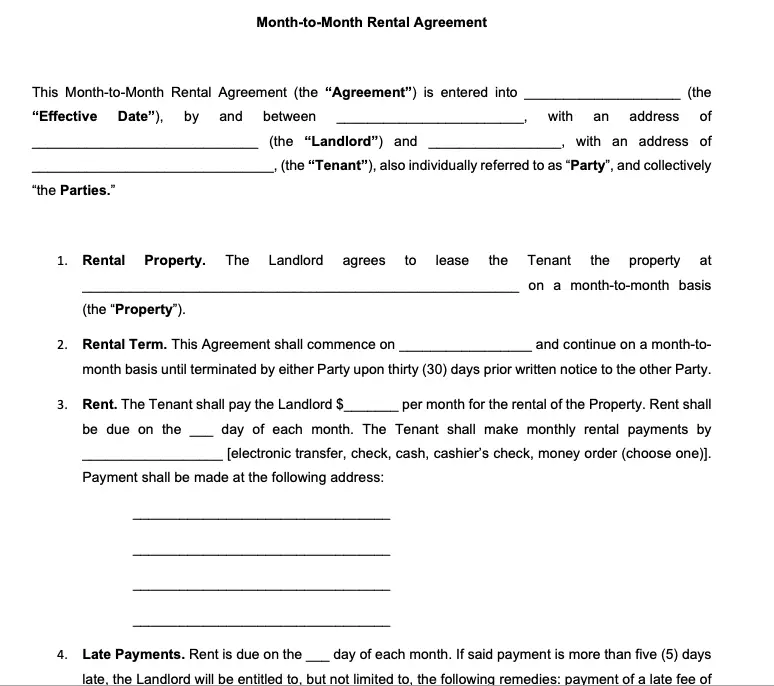 A general rental agreement format is a document that can be used for various purposes or can be easily modified into the rental template that you would want to use.
Attached above is one such generalized rental agreement template. It is not made for any specific type of property so you can use this to build your own template.
Once you download the document, you can make any number of changes to it. Most of the content is relevant for a rental agreement but in case you need to add or remove certain sections, then you can.
For corporate customers, it would be good to include your company name and logo on the top section of the format.
8. General Monthly Lease Agreement Template – Word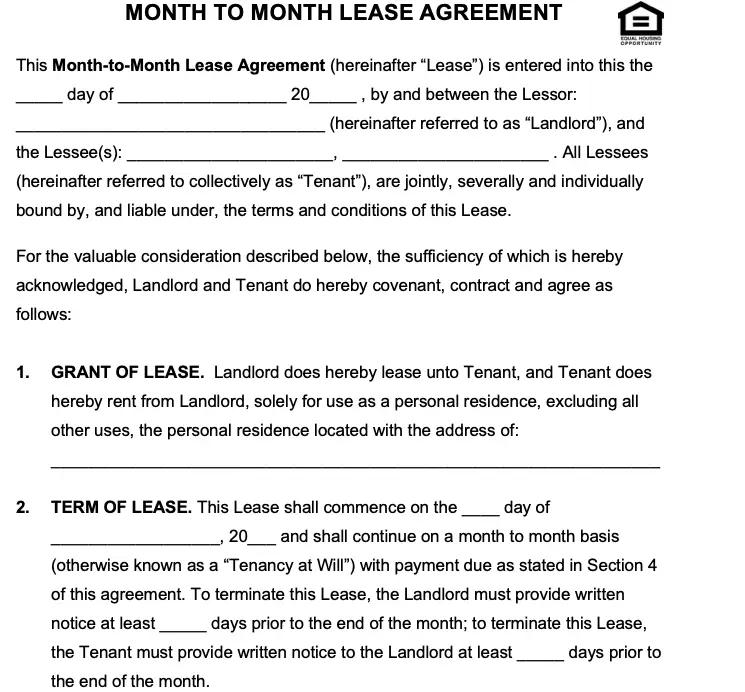 Another excellent template to be used either by landlords or tenants. Such agreements are usually prepared by landlords or their agents as they are familiar with the terms of the agreement, the amenities in the property, and the pricing structure. Once the landlord and tenant sign the document, each of them should get a copy of the document.
Often in many countries/states, rental agreements need to be notarized and should be printed out on stamp paper. Only then do these documents become legally valid.
9. Shorthold Monthly Rent Agreement Template – PDF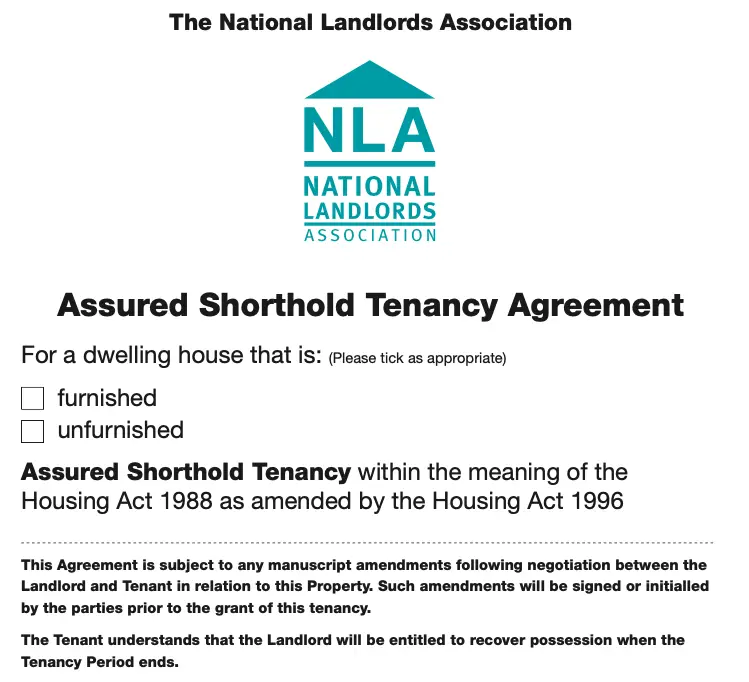 It is very common to have standard rental agreement formats that have been designed and approved by certain organizations like The National Landlords Association. When such formats exist, you could use them as they save you the trouble of getting a new one made.
This document is pretty comprehensive as spread across 8 pages is a very detailed document containing all relevant placeholders required to be in a rental agreement.
You will find it highly informative and you can copy any number of sections from the template and use it to make your own.
10. Multiple Tenant Monthly Rent Agreement Template – Word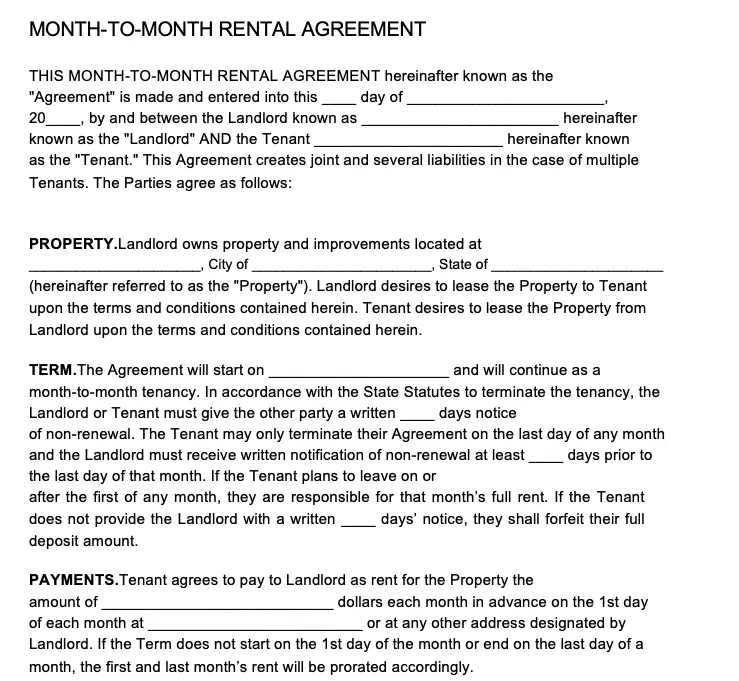 Yes, multiple tenants are always an option! Go imagine that you have a big house or a condo with multiple bedrooms. You could look at renting it out to multiple tenants rights? So, would you then get multiple rental agreements signed or do it with just one document?
There are certain types of properties where people just rent out a section every month. For such instances, you need a template that can accommodate details of all tenants who occupy the place. Download this free rental agreement template and you will find it really helpful.
11. Monthly Rent Agreement Template Agent Listed – Word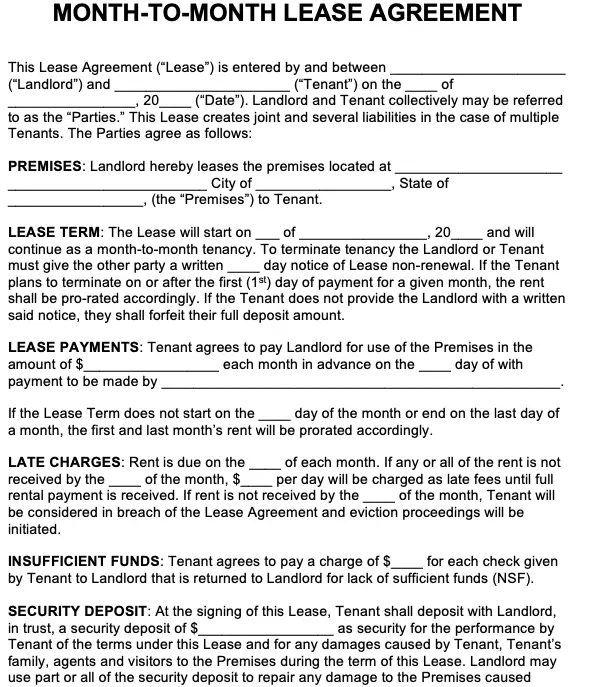 When you go looking to rent a property or want to list out your property for rent, you will realize that one of the easiest ways to do this is to hire a property agent. Real estate brokers connect the demand and supply of properties and they have all the updated information about the industry.
They charge a certain commission from landlords and tenants; usually one month's rent.
Therefore, when you go through an agent you will need to include them in the agreement as well. They take responsibility for communication between the landlord and tenant and look for replacement tenants as well.
12. Monthly Rent Agreement Template Agent branded – Word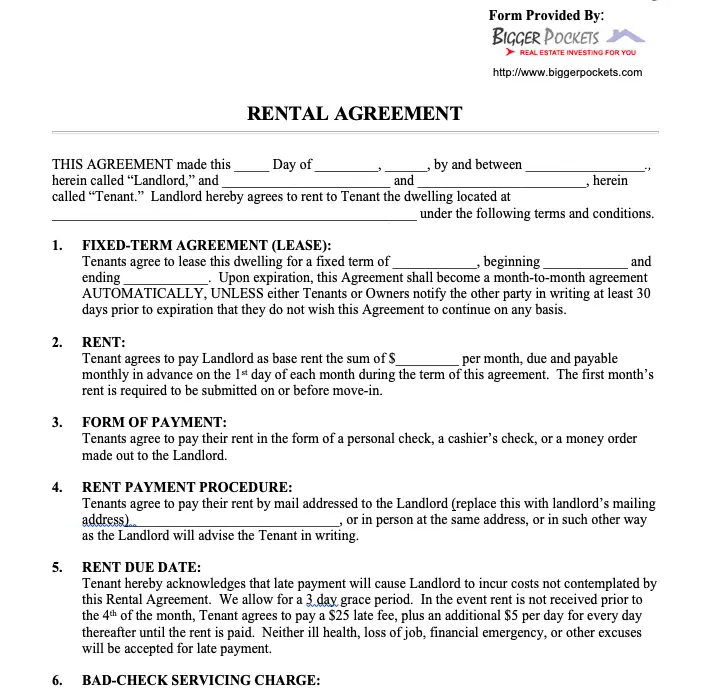 Real Estate agents or property brokers usually handle the bulk of the rental agreement process. So, it is quite natural for them to have their own agreement formats that carry their own branding. If you are such a professional, then it is recommended that you make your own professional, branded format.
These rental agreement formats are just like any other document. However, they have branded documents belonging to a particular agency.
They also come with terms and conditions set by the real estate agent, their commercials, and payment terms. They also mention a list of duties to be performed by the agency.
13. Room Monthly Rent Agreement Template – Word


A room rental agreement is made for a very small unit that usually consists of just one room. The tenancy is often limited to just one person due to the size of the place and rentals are low. Therefore, such properties come with a Room rental agreement document.
Most of the facilities like the bathrooms, laundry rooms, garbage disposals, and even kitchens can be shared by the room residents of such complexes. And the same is documented through the rental agreement forms. These are pretty common in cities that are usually very expensive to live in.
Frequently Asked Questions
Do you have questions about monthly rental agreement documents? Here are some of the most commonly asked questions that we answered for you.
1. What is the advantage of a monthly rental agreement form?
There are several advantages of getting into such an arrangement. For a tenant who is not sure of his financial situation, a monthly agreement makes more sense so that they don't commit to long-term expenses. The same holds for small businesses and young entrepreneurs.
Then there are several properties that see a heavy influx and outgo of tenants. These places are such that most people only stay there for a short duration. So, the monthly rental agreement format comes in handy.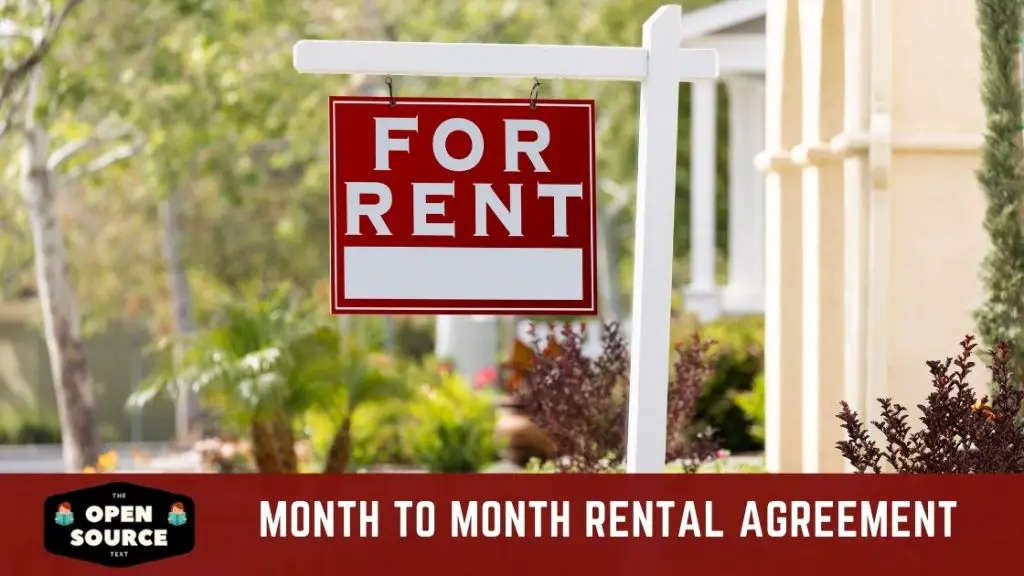 2. Does a fresh agreement need to be signed every month?
Well, it depends on the original agreement and the terms mentioned. In some cases, you would prepare a fresh agreement each month the tenancy is renewed. Otherwise, you could also keep adding addendums to the original agreement for all extensions.
3. I lost my agreement. What do I do?
No need to panic. In case you lose your agreement or damage it, then you can always replace it. Get in touch with your landlord or your real estate broker to apply for a fresh agreement. Once the format comes, all the relevant parties – tenant, landlord, agents, etc will need to sign the document.
If you just need a copy, then you could just xerox the original document that others have. To avoid such situations, it is always good to maintain a soft copy of the agreement online. That way you always have a backup ready.
Conclusion
So, this was our collection of the month-on-month rental agreement templates. All these templates have been carefully selected and curated into this article to help out those looking for such documents. Rental agreements are often legal documents so you need to mention all relevant details in the document.
In the event of a problem, the rental agreement can help bail you out as a tenant or as a landlord. It also serves as proof of the transactions between the two parties and defines the right that each party enjoys with respect to the agreement. This is why you need to select the most appropriate template for your requirements.