A living trust form is very similar to a Last Will and Testament. When you create your living trust form, you are setting up the division of your wealth, your estate, and other belongings.
The Living Trust can be executed while you are alive and helps in allocating the right legal guardian for your properties and money.
Allocating a nominee isn't as simple as signing a document and transferring your wealth. Trust forms can be complicated pieces of legal documents and they are best handled by legal experts. Even if you make your own living trust form, it is recommended that you get it ratified by a lawyer.
Living Trust Form Templates
1. Detailed Revocable Living Trust form – Word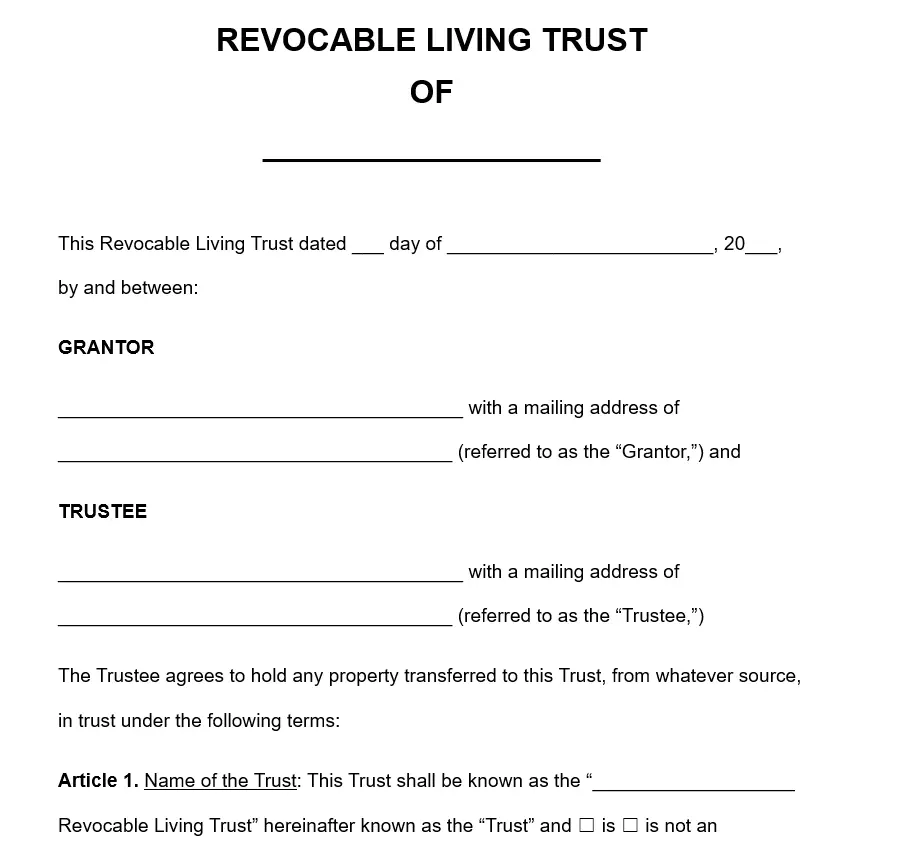 A Living trust agreement is usually signed between a trustee and the grantor of the estate. People who carry a lot of wealth generally create trust funds for their children, when they attain a certain age, to secure their financial stability.
In such cases, the estate is only executed once all the conditions in the trust form are completed successfully.
Some of the most important sections of this living trust form include the transfer of the property, name of the trust, the life of the grantor, death of the grantor, distribution of assets, provisions, 3rd party details, etc
2. Brief Revocable Living Trust form – Word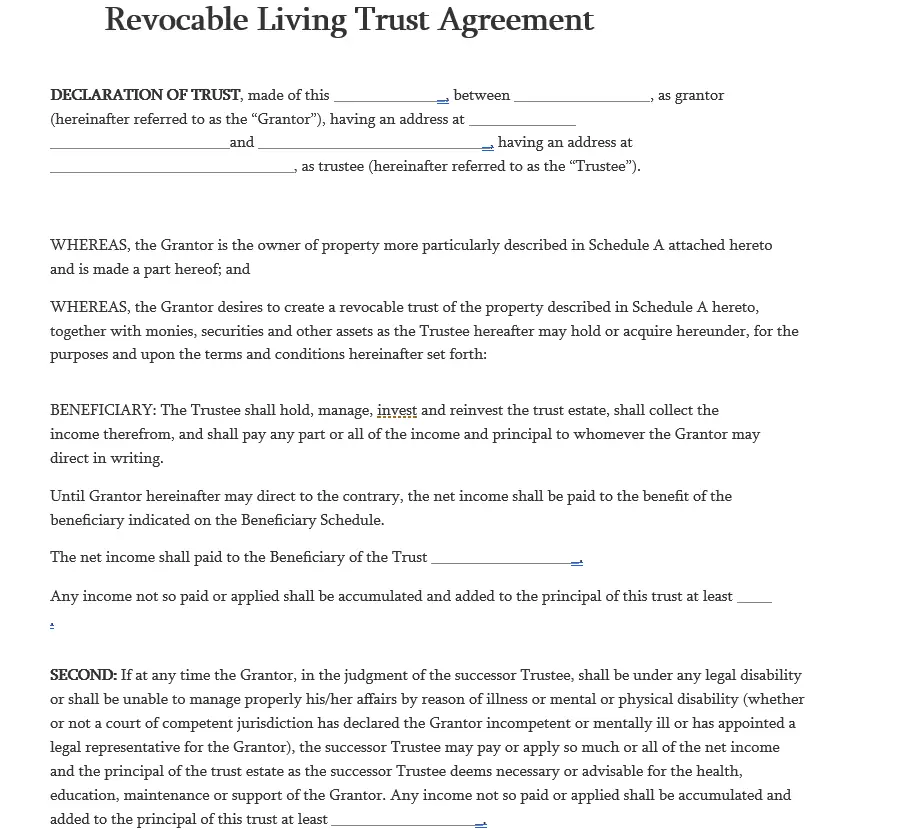 This living trust form template might look very similar to the first one but this is actually a very simple and brief version.
The first one is a detailed 20-page document whereas this one is more concise and fits into 5 pages only. In this template, you will find a list of conditions that the grantor has set for the trustee. Along with that are the details of the individuals and the estate.
3. Standard Joint Living Trust form Template – Word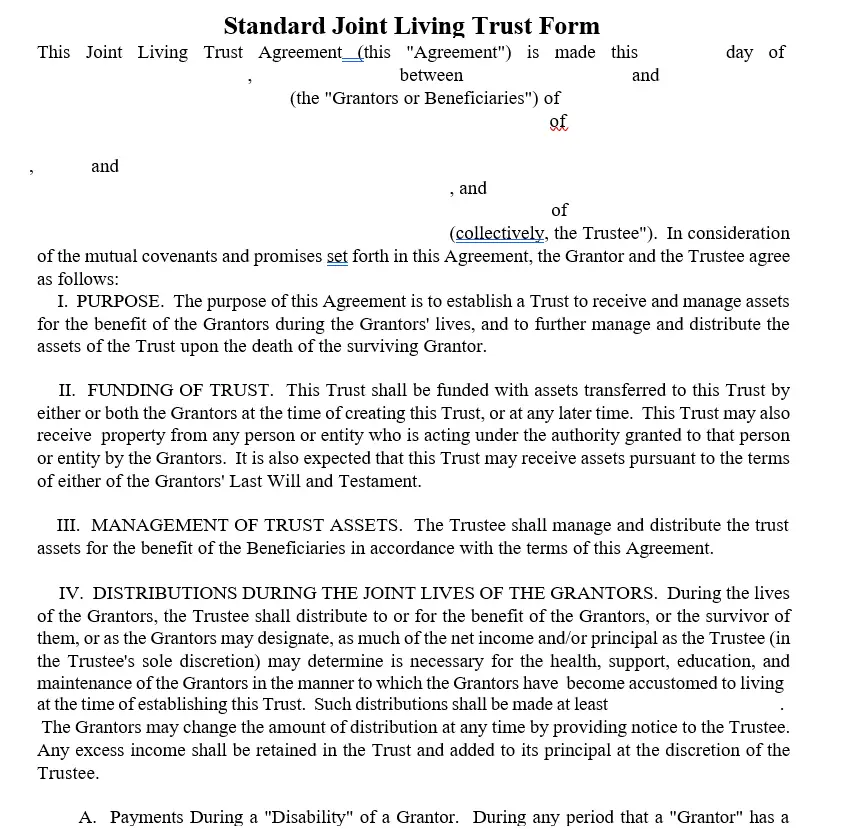 This template is a little different from the other ones in this article since this living trust form is for two people who are executing the estate.
In a lot of cases, we have seen that two people are property or estate owners. So for such instances, they will need to prepare a joint living trust form as it requires the approval of both parties.
On the living trust form, both the estate grantors will need to provide their terms and conditions, their consent, and other details and mention the beneficiary of their trust fund as well.
Older couples who want to distribute their assets to their children will want to sign such a joint living trust form.
4. Simple Living Trust form Template – Word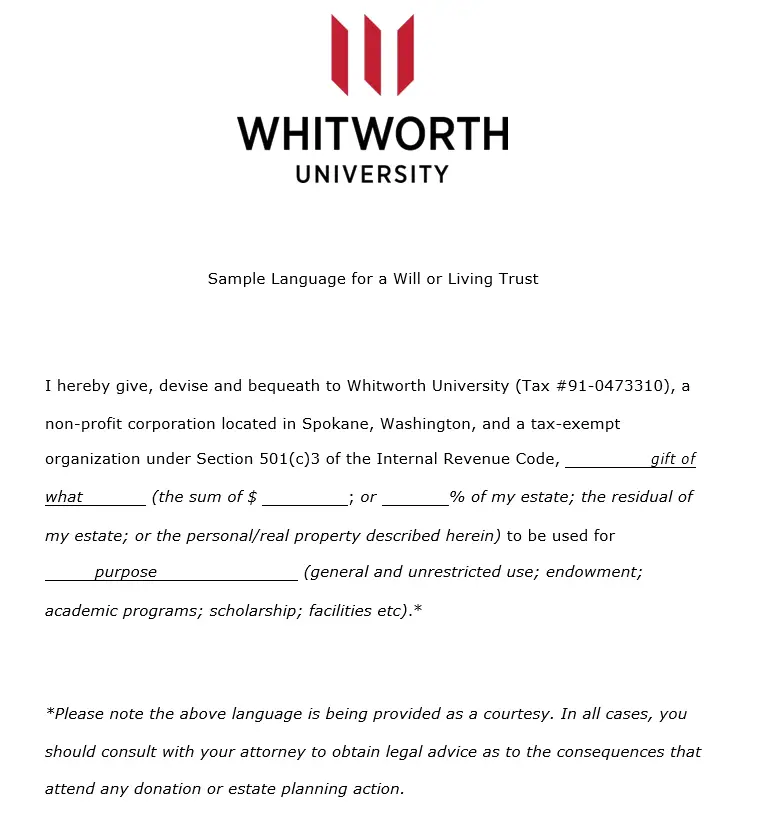 This is probably the simplest type of a living trust form you will ever come across as the document is just one page. In this particular template, the grantor is leaving his estate to a university and the details of the amount are provided in the document.
Such a transaction is pretty simple which is why the template is very basic.
However, if you are leaving behind many items like cash, property, and other financial instruments then it is recommended that you prepare a more detailed living trust document to detail everything.
5. Professional Living Trust form Template – PDF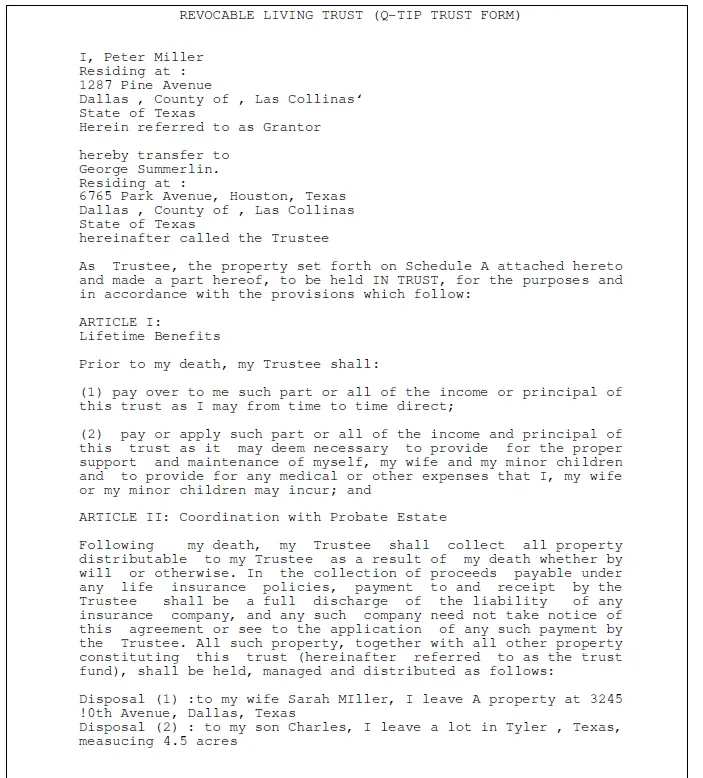 Here is another excellent template for the living trust form. As you can see from the document, the grantor is detailing a set of rules that apply to this transaction.
This 11-page living trust document is very comprehensive in nature and should help you out when you decide to make your own living trust form.
However, not all the information mentioned in this template will be relevant to you so it is better to consult a legal expert to check this document. You can copy all the information from here and put it into a Word document.
6. Living Trust Data form Template – PDF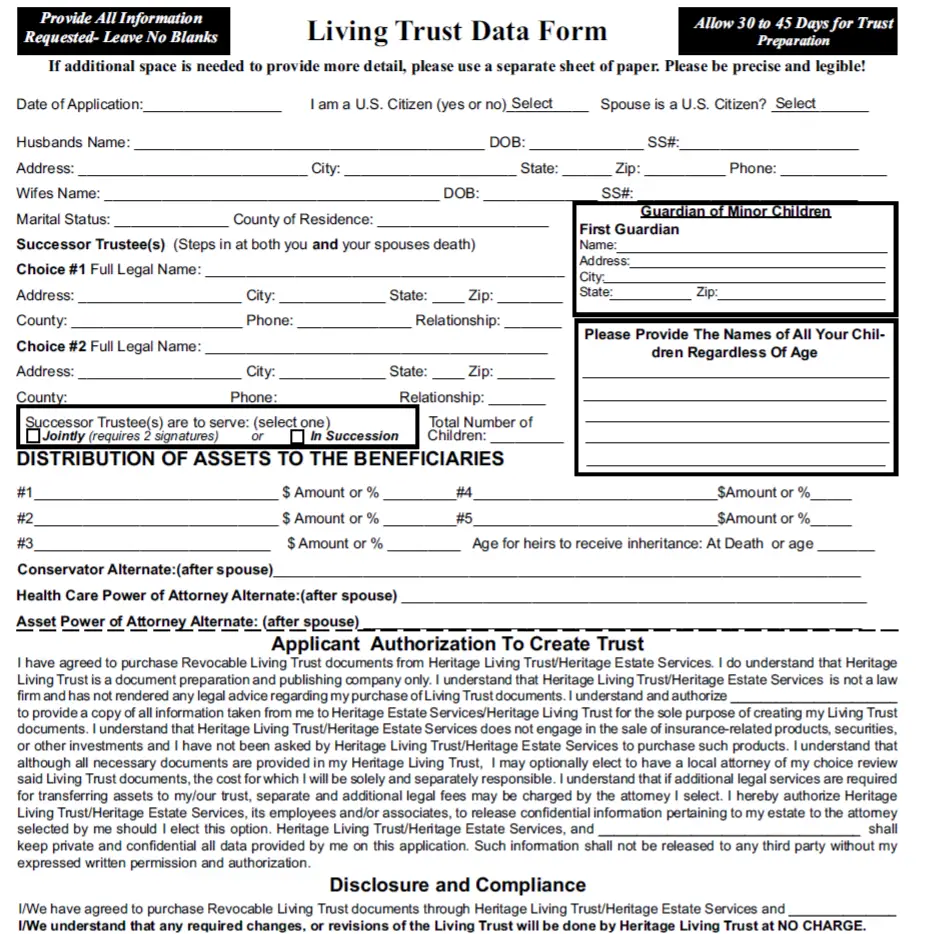 In most situations, living trust forms are written by a personal attorney or a law firm. One prerequisite to preparing such a form is that the attorneys will take a lot of information about what the grantor intends to do with their wealth.
They also ask their clients to sign an agreement with them, making them the official executor of the estates.
This template is helpful for such attorneys or law firms who have clients that are looking to draw up the living trust agreement.
You can use this to get your clients on board and document the transaction along with their information. This also serves as proof of your partnership with your client in the event of their demise.
7. Professional Living Trust form Template – PDF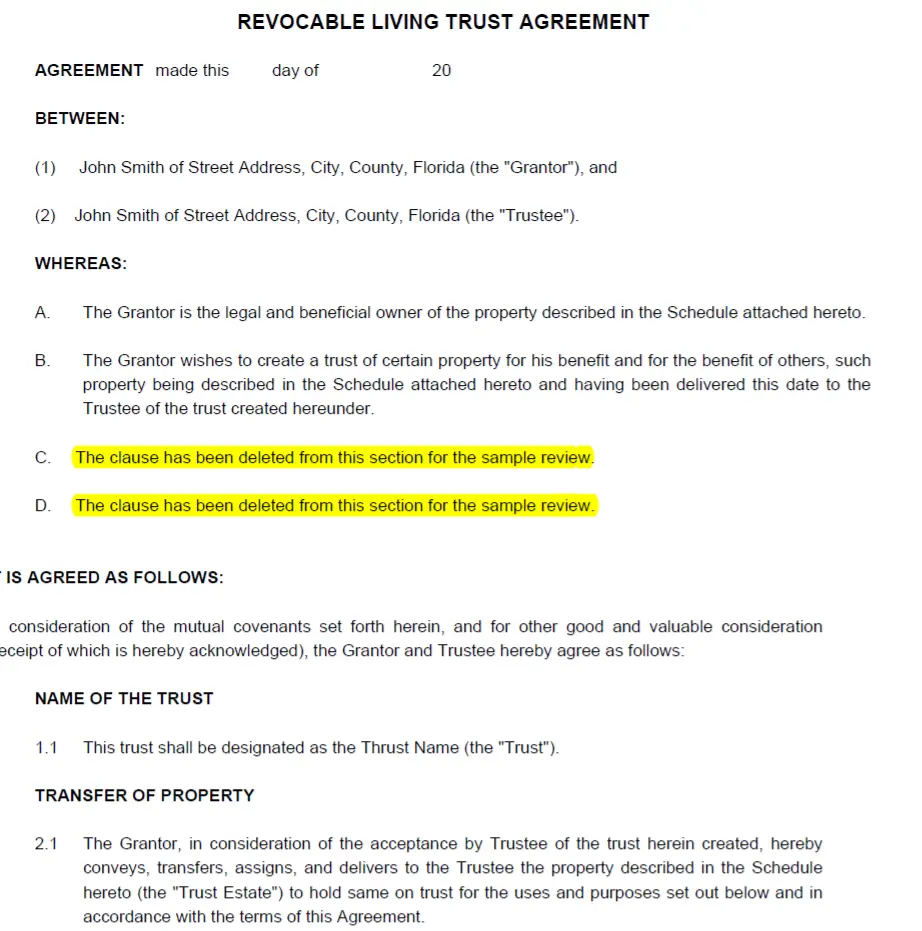 For the last template, here is another revocable living trust template. This 18-page document is as detailed as it gets and you will find it really helpful while writing your own trust forms.
Included in this template are sections for the powers of a trustee, property details, revocability clauses, assignment of wealth, disposition of income, distribution of trust estate, property management, and a successor trustee details as well.
Revocability clauses are usually put into the trust form agreements to protect the interests of the estate owners.
With these powers, they can, at any given time, revoke the trust agreement and retain the ownership of their estates, or transfer it to another entity.
Frequently Asked Questions
If you have any doubts about Living Trust forms, then here are some common ones that we have answered for you.
1. What is a living trust form?
These documents are very similar to a Last Will and Testament. However, living trust forms are usually drawn up to set up trust funds or to transfer the assets of a grantor, while they are alive, to a trustee.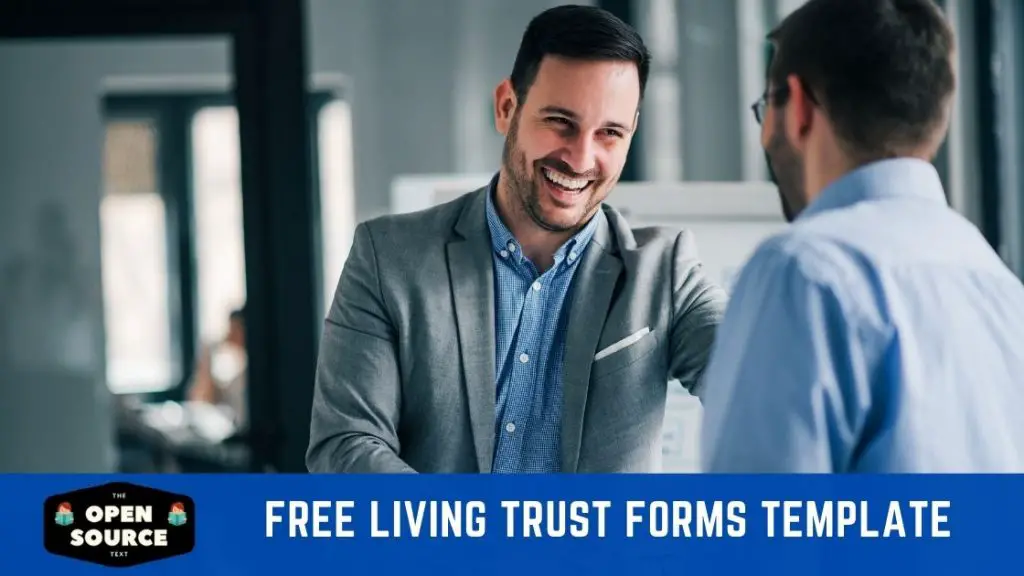 2. What is a revocable living trust form?
A revocable trust can be edited, terminated, or transferred to another person at any point in time. They are not set in stone so changes can be made. However, once an irrevocable trust form is created, it cannot be edited at any cost.
3. What details need to be put into the trust forms?
Tough question to answer since such documents contain a lot of information. But some of the most basic information placeholders include
Grantor details
Trustee details
Rules set by the grantor
Revocable clause
Details of the estate including cash, property, assets, and other financial instruments
Witness signatures
Conclusion
Writing any sort of legal document is no child's play and you either need to be highly experienced in this field or get it done professionally. In our article, we have provided you with a wide array of legal living trust forms that you can use for yourself or your clients.
Most of them are editable and contain all the necessary information that is needed to make a living trust form very effective.
These templates are a great source of information and in most cases, you will be able to make your own living trust forms by looking at these templates.
However, it is recommended that you also consult a legal expert, get such documents vetted, and only then do you put them to use. But we really hope these served the purpose and helped you out in preparing your own living trust form templates.