General release forms are notarized documents that protect a service provider from harm resulting from a bad incidence in the cause of discharging a service. Sometimes, they are called the release of liability waivers.
A release form is an anticipatory legal document for avoiding future liability. These documents are essential in ensuring that customers don't invent claims when damage arises in the process of offering a service.
These forms work in instances where both parties aren't interested in court battles, or both are in mutual agreement to withdraw a pending case. The documents are binding for out of court settlements and, in most cases, details the consideration (amount of money agreed for compensation) for release.
Now let's take a look at the various general release of liability document applicable for different works of life:
Sports General Release of Liability Forms
Sports is one area that calls for the general release of liability. When athletes or soccer players engage in sporting activities, they do so at their own risk.
Sports is full of hazards and risks that endanger the life of participants. For that matter, a general sports release of liability protects managers and event organizers in case of bad happenings.
Here are different sports release of liability document :
1. School Sports General Liability Forms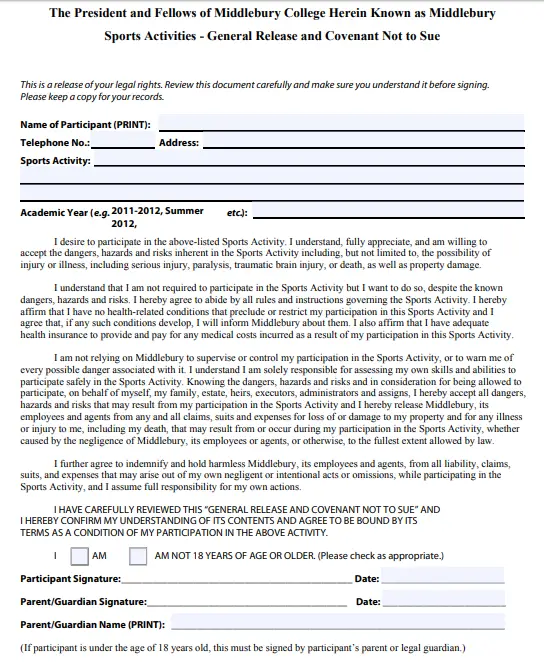 This is an example of a general release of liability from Middlebury College. The form indemnifies the college from liability in case of personal injury, car accident illnesses, injuries, and the death of a student. Sporters below 18 years must have their forms signed by a parent or guardian.
Check Out: Free Bill of Sale Form PDF | Word | Templates [2020]
2. The Sports Academy Inc Adult Waiver/Release Legal Form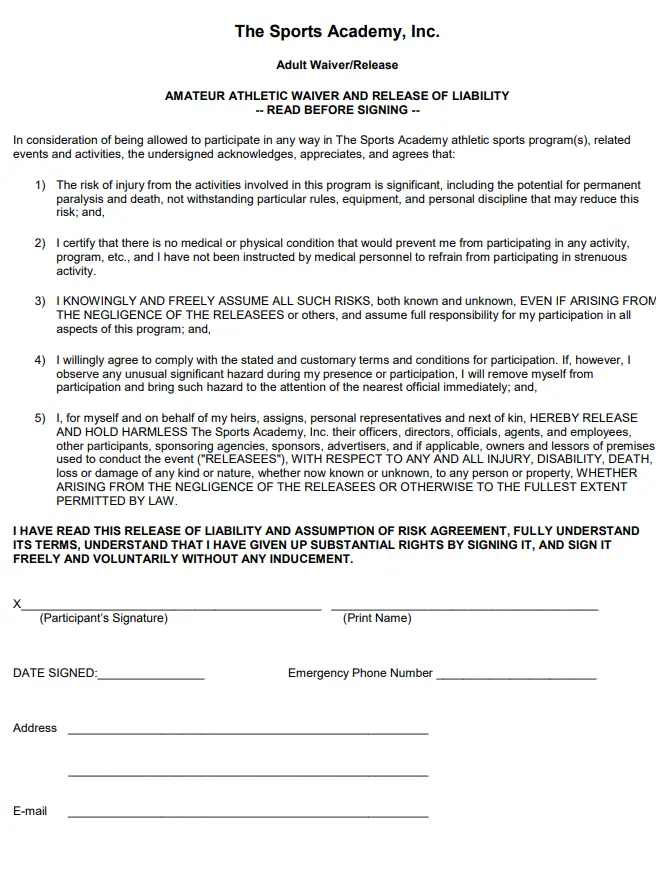 The Sports Academy Inc Adult Release form is a good example of a release legal form for use by adults. The form lists releases that hold The Sports Acedemy Inc harmless in case of injuries and death arising from participating in sporting activities with them. 
3. Carroll Community College Adult/Minor Release Legal Form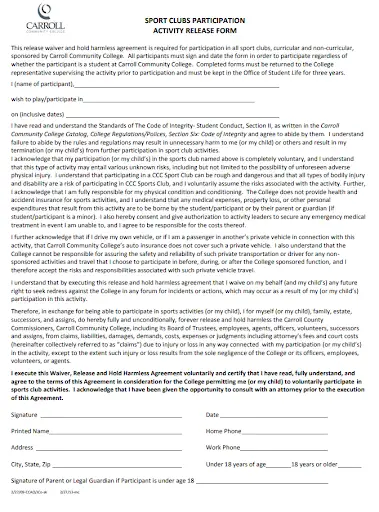 Here is another perfect example of a release legal form used by Carroll Community College. The form releases liability from the college from any injuries or death caused by participating in sports within their institution. Every participant, regardless of whether they are adults or minors, must sign the form that holds the college harmless in case of any eventuality.
4. Sports Travel for College Sport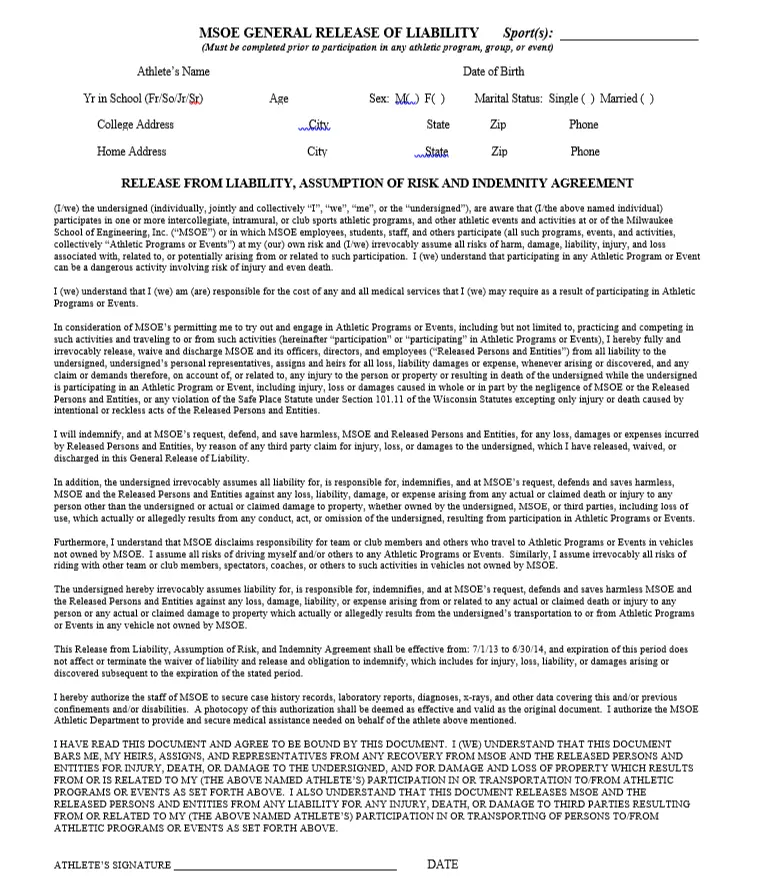 A duly signed travel general release liability form for college travel protects a college or university from damages happening when students travel using alternative travel methods other than those recommended by college. The release also covers injuries or harm from participation in events. Check the above example of a release form from MSOE and do check out our other templates such as Time Log Template and cost analysis spreadsheet.

5. Youth Sport General Liability Release by Pdffiller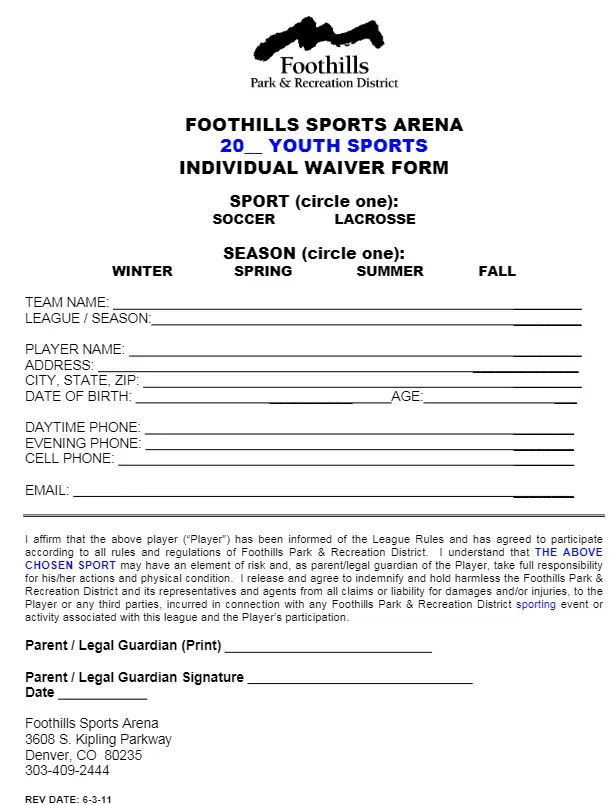 You may download another example of a general release of liability document from the Foothills Sports arena. The form captures critical details about the sport and rules that the participant is bound. Parents or guardians have a place to sign in this form. You may create your form using this example just like you can edit an obituary template google docs.
6. Generic Sports Waiver


Sample Forms also offers an opportunity to create a sports waiver document. The form enables you to edit generic details to suit your needs.
7. Waiver and Release of Liability – general release of liability form
Depending on your preferences, you may decide to choose either the comprehensive or straightforward waiver form version for a Sports Waiver and Release of Liability. An excellent example of a comprehensive template is this one from Form Swift. It is heavily worded to give a thorough touch.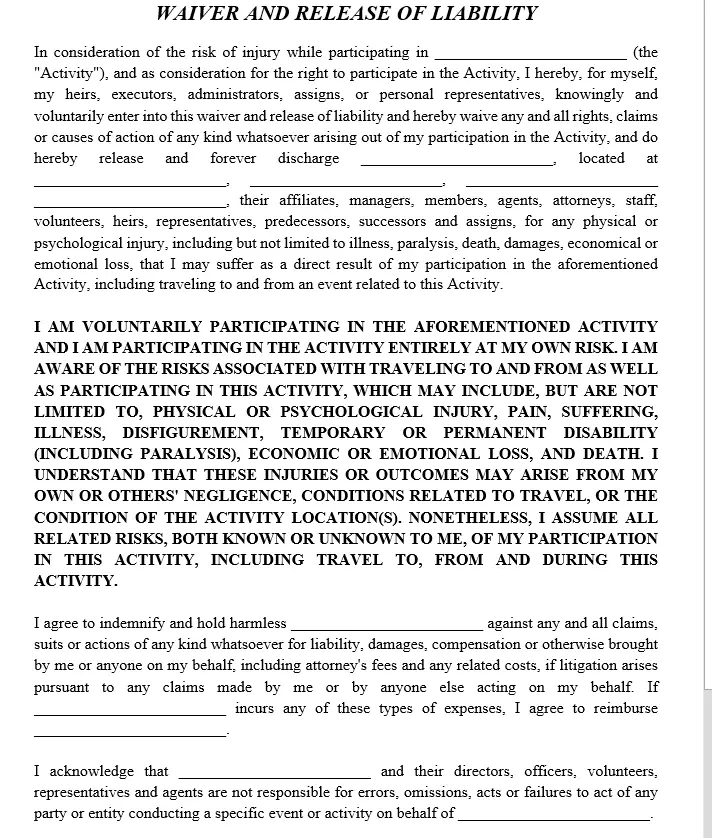 8. Swimming Pool Waiver
You have seen a Swimming Pool Waiver almost in every swimming pool. How about if you try creating one from PDF filler? See the example below:



General Release Forms for Entertainment Events and Public Photos/Video Sharing
The entertainment sector is another area that uses a general waiver legal document. Let us have a look at some of them:
9. Volunteer Liability Release Form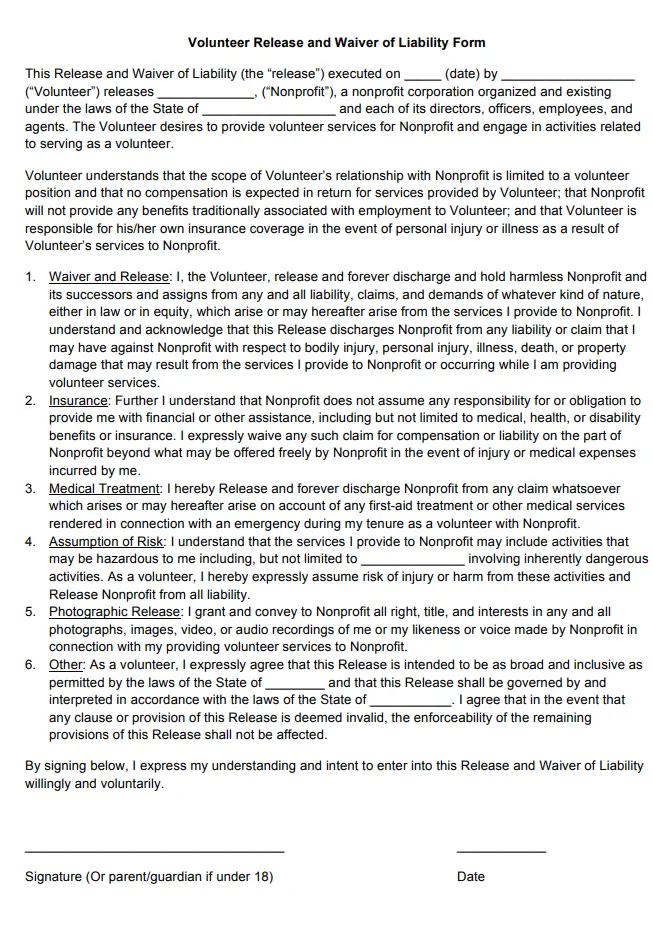 You may get the above volunteer release and waiver for different activity, areas, including the medical field, insurance, and photographic activity and video releases. The advantage of using this kind of form is that you may cover a wide range of releases in a logical manner if used properly.
10. Free General Photography Release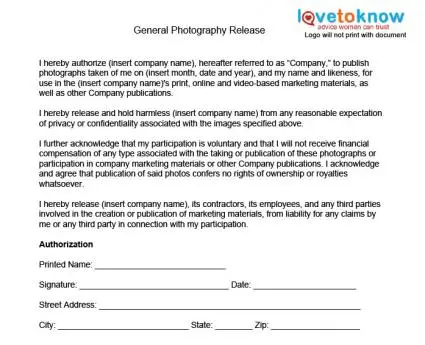 This release protects media companies from the effects of publishing personal photos. Owners of the images sign the waiver and cannot make any claim on the use of the material. 
11. General Release Forms for Photo Sharing of Self and Animals
The example below from the document shows a release form for use by parties entering into deeds on the use of images of pets belonging to one party.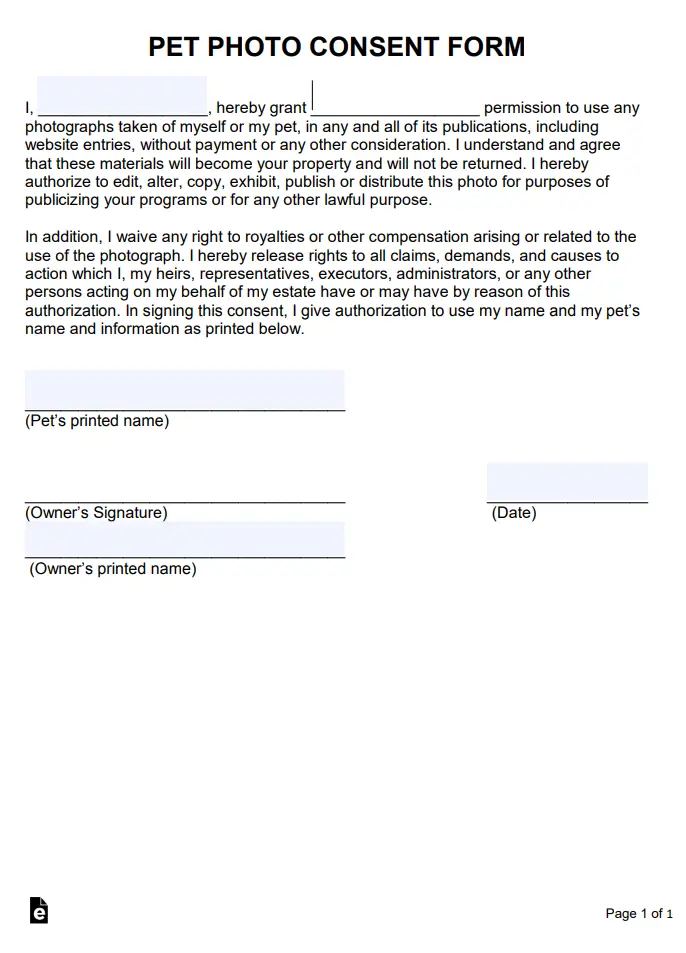 12. PhotoVideo Consent and General Release Form
This is another example of a form from Sample Templates that protects exhibitions and allows consent for the use of video and photos by exhibitors.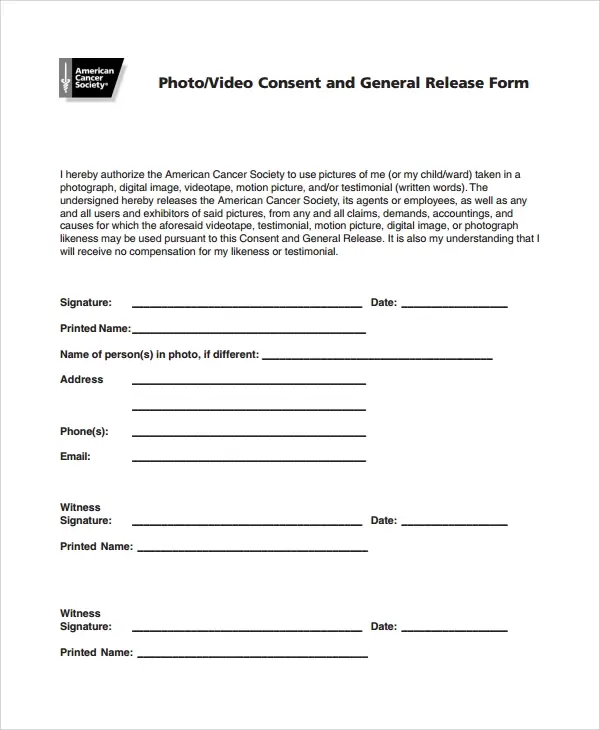 13. Free Model Release
The preceding form covers the users of model photos used for commercial publications. You may get this release form from Templates.net. It protects the owner of the pictures from damage ensuing from comments arising from the use of his/her photos.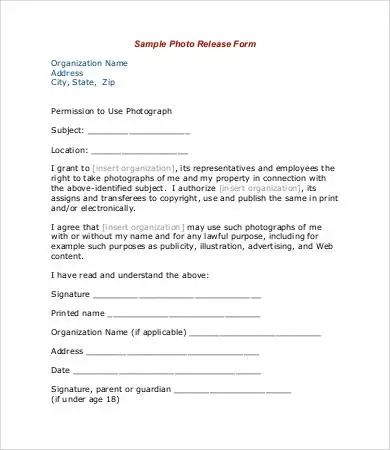 14. Customizable Release for Participation in Event or Activity
Legal Templates allow you to customize your release of liability form for your event by editing and printing from their site.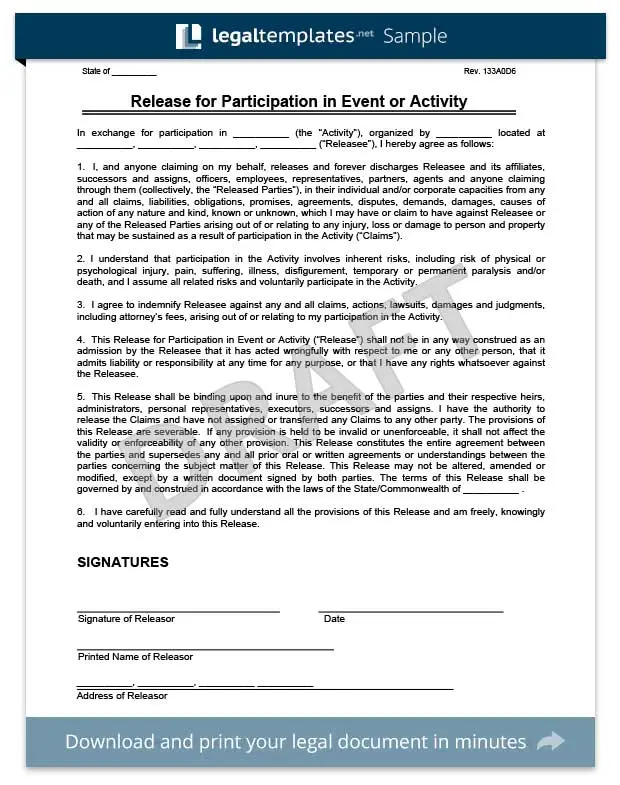 15. Free Video Release Agreements
This is an example of an agreement form used as a release form for videos and photographs at Dallas Independent School. The release template protects each party from damages arising from harm post-release of the videos. The release marks a transfer of the videos to the media or PR company.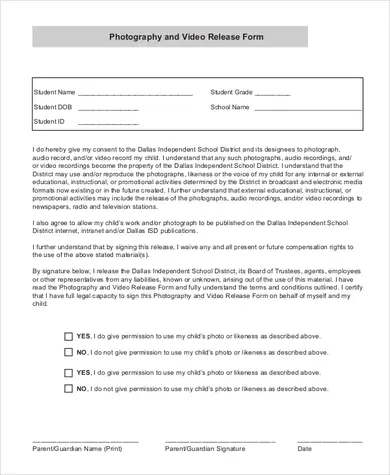 16. Free Entertainment Liability Release Form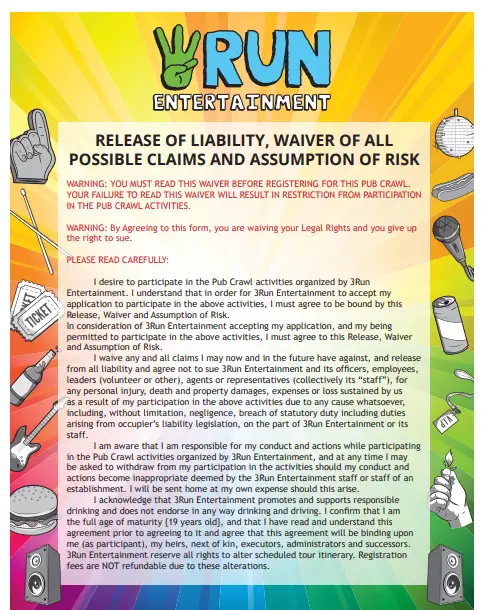 Some of the details captured in the 3D Run Entertainment Liability Release Form include specific warnings for breach of individual rights and a disclaimer for you to read all the facts before participating in entertainment activities with the firm.
17. Free Talent Release Form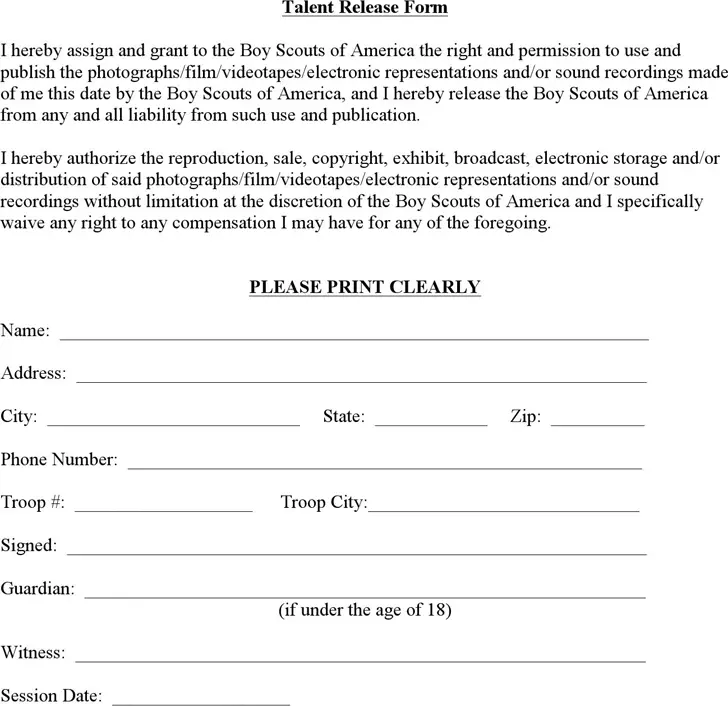 Members of Scouts Movements may use Speedy Template to authorize distribution and release of photos and videotapes to third parties. These agreement templates are simple to use and decipher.
General Release of Liability Forms for Rental Property
18. Equipment Rental and Liability Release
This release form, like the one below, guides the return policy for in case of damage to rented equipment. With this general form, the renter is liable for all damages to the equipment. It averts losses from damage to expensive equipment


19. General Releases with Legal Templates
Another customizable agreement template is the General Releases with Legal Templates. It is easily customizable from Legal Templates. The templates need no much tweaking activity as you may apply them on different releases for eg in donation purpose like these.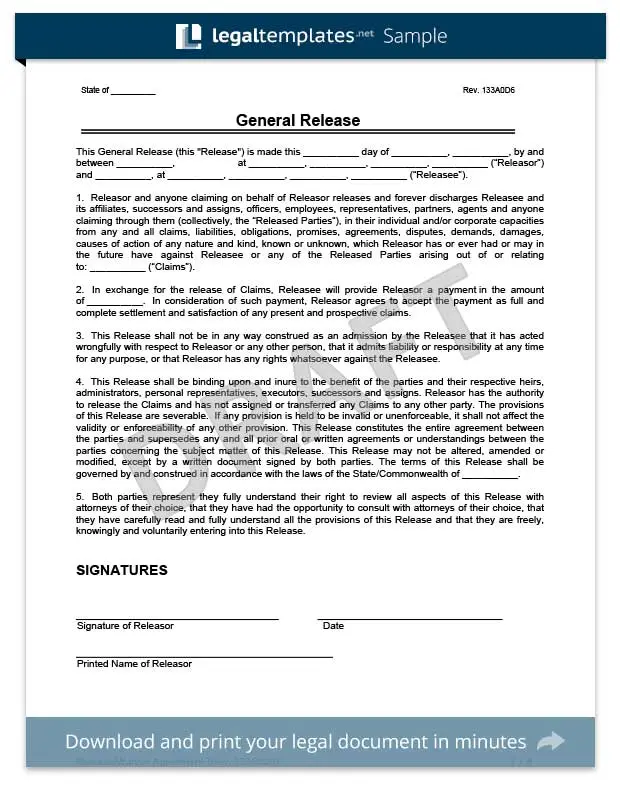 20. General Release of Liability for Hiring Trampolines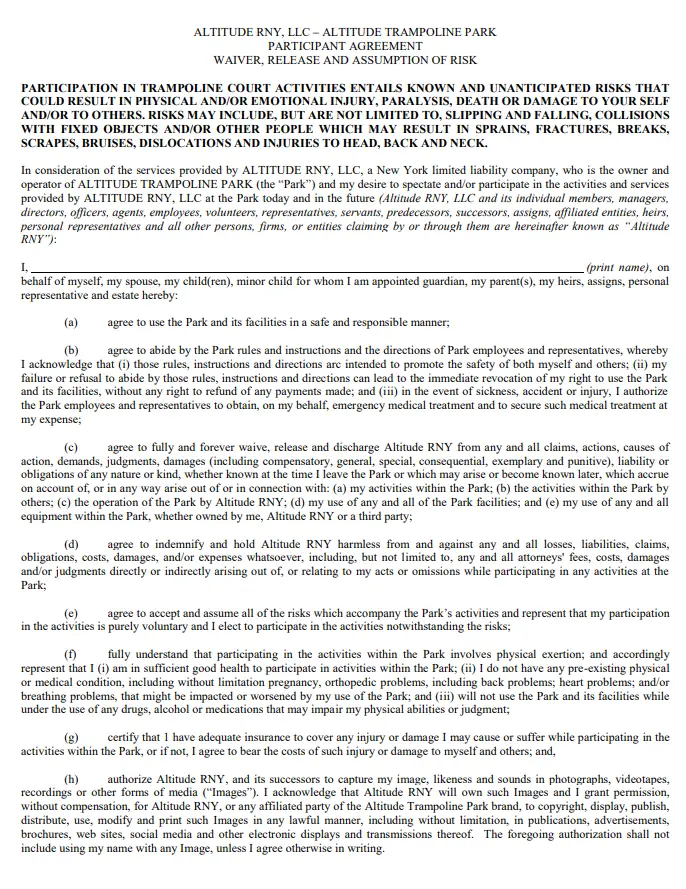 The above general release of liability is from Altitude RNY. Pick some key highlights that you can use in creating your Trampoline Waiver.
Hunting Liability Release Forms
In this final section, we cover hunting liability release documents. You can pick some details and ideas from our samples. Take a look:
21. Hunter Liability Release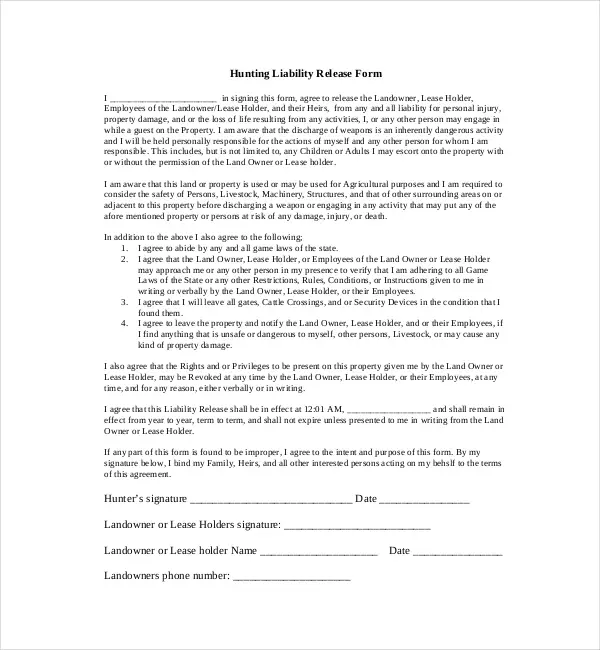 For hunters, the shown general release of liability from Sample Form details and draws a line between the rights of both parties. The form makes it easy for the landlord and tenants to understand their rights and levels of liability wavier form.
22. Hunter Permission Form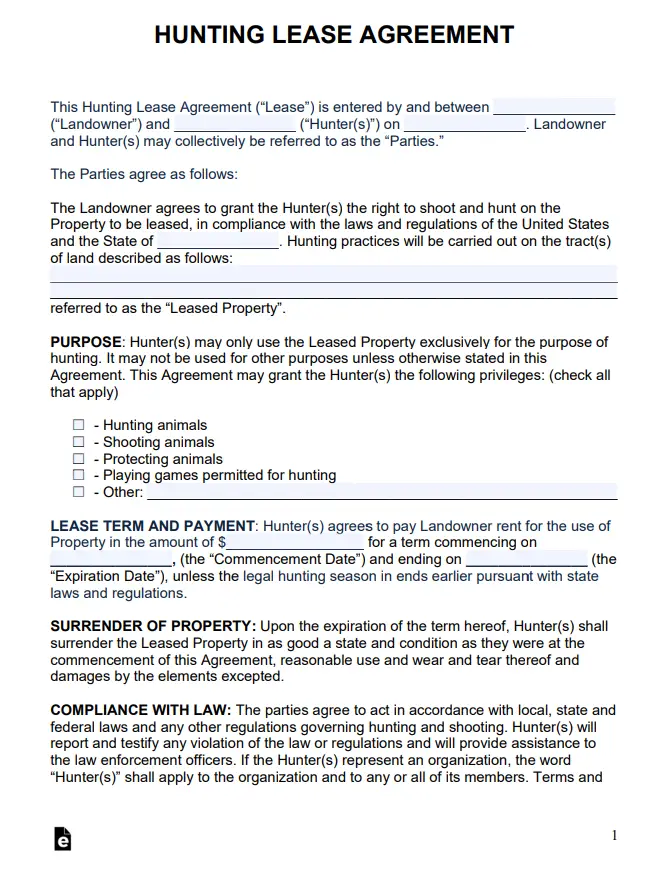 The Hunter Permission form by PDFfiller is a simplified event version of the release of liability form details. It is easy to interpret, and the wordings are very understandable.
23. Hunter Liability Waiver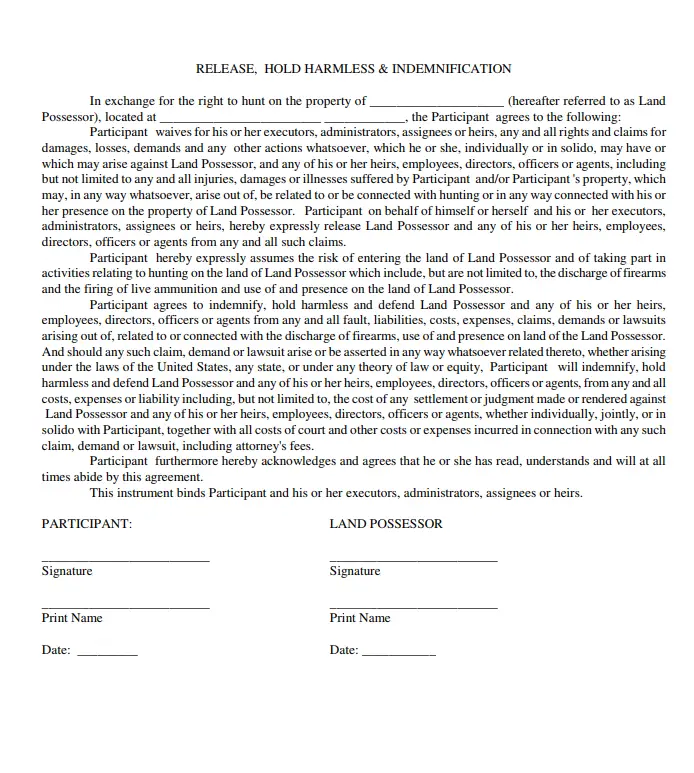 The above form holds the land possessor harmless in the event of damage and illness occurring due to hunting activities on his farm. The form is comprehensive and has a part where the participant and possessor sign.
24. Permission for Hunting or Trapping on Private Land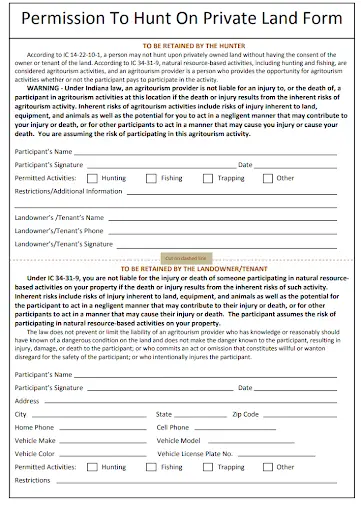 The above form is very dynamic. You can get this type of form for various hunting activities like hunting, fishing, and trapping. The form has two sections, one to be retained by the hunter and the other by the landlord or tenant.
25.Liability Release Dog Training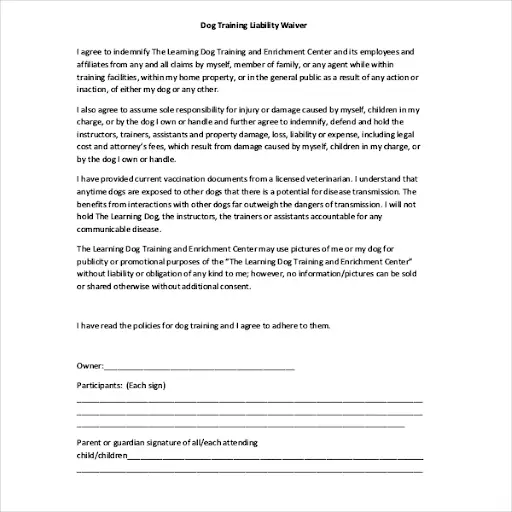 The dog release document shown above indemnifies the Learning Dog Training and Enrichment Center and its employees and affiliates from any claims by family members anyone or any agent while within training facilities. It also indemnifies the owner from the actions and inactions of the general public.
26. Hunter Canine Release of Liability Form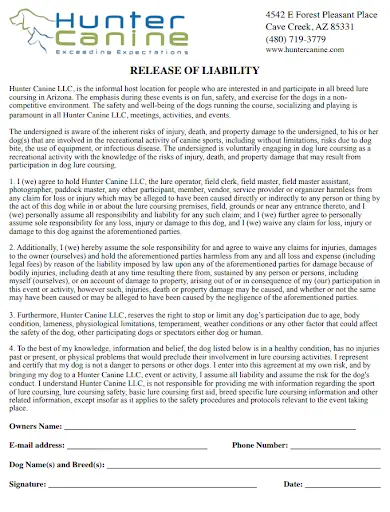 This final pick is a hunter canine release of liability relevant to Arizona state. A unique thing about this release of liability is that it is customizable for dog coursing events. The essence is to ensure the safety of the handlers while holding harmless the owners of the dogs.
Tip: Keep the general release of liability form for at least seven years of activity to protect you in case someone seeks legal redress for damage while delivering a service.
Summary
The general release of liability form applies to almost every sector of the economy. In this blog, we only focused on Sports, Entertainment, and Hunting. But generally, you may get free release forms for different aspects by searching online. To wrap up, remember that these legal documents indemnify you as a service provider in case of unexpected eventualities. 
Check Out: