Donation templates are used to generate a proof of donation made to an organization. Whether a donation comes from an individual or a company, issuing a receipt is a show of accountability. Even for donations in kind, where the money is not involved, it is pertinent to generate a receipt with the monetary equivalent of the items donated.
IRS requires that charities receiving donations exceeding $250 must substantiate and disclose critical details as a justification. The following information must be included as per IRS requirements:
Non-profit Organization's name
Size
Description of in-kind donations
A statement confirming that donations were not received in exchange for goods
Statement showing that donations (especially religious) were made for intangible benefits
Date
Acknowledgment
In this blog, we sample different types of forms that are suitable for different types of givings.
Non-profit Donation Receipt Templates
1. 501 (c)(3) Nonprofit Donation Receipt Template
A 501 c 3 donation receipt is used by a non-profit organization that receives tax-exempt donations in the US. The example above has to make sure it captures important details about the donor, which assures users of accountability.
The receipt template form is easy to use; you only need to update the details to fit your organization. The receiving one also acknowledges the customer's donation with a 'Thank You' and also states that the Non-profit organization has followed IRS requirements for receiving a donation. You as the donor should also use a General Release of Liability Form just to be on the safer side.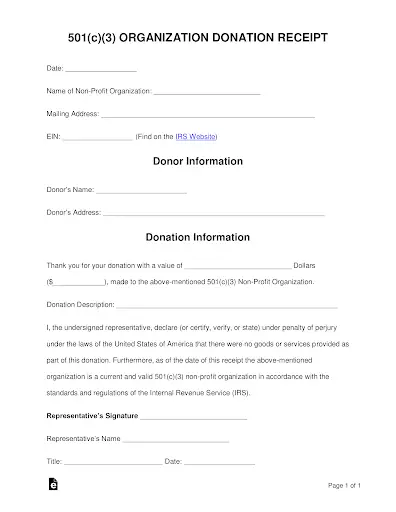 2. Charitable Donation Receipt template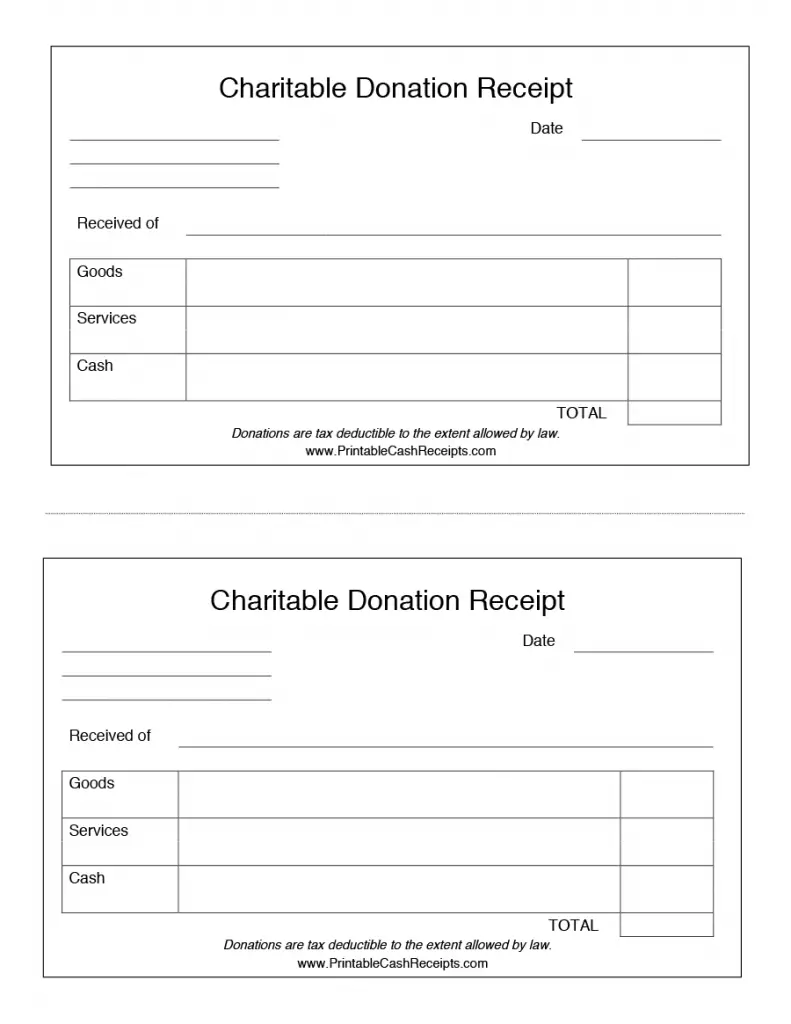 This is a simple template version of a donation printable receipt that captures everything in one page. With this one, you can track money, goods, or services donated by a well-wisher. Organizations with tax-exempt status can use this version just like a printable check pdf.
Check Out: 17+ Credit Card Authorization Form Template Download!!
3. Donation Receipt Template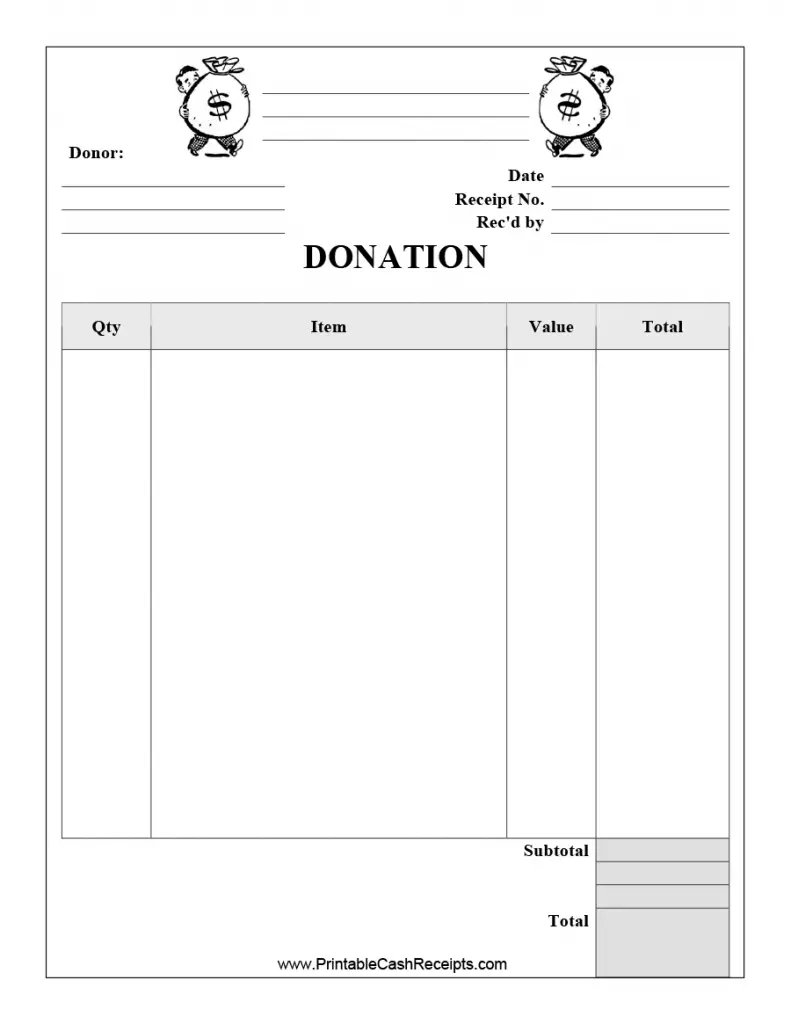 With this type of donor printable template, there aren't any complications or confusing words. It is straightforward in what it captures. You get a quick glimpse of the donor s name, date of receipt, number, and whom the money is coming from in the template. The advantage of this is that if a donor makes multiple donations, you can list all of them in a single one. Along with this, it is suggested to get a decision tree template beforehand so you know you are making the correct decision.
4. Donation Receipts for Foundations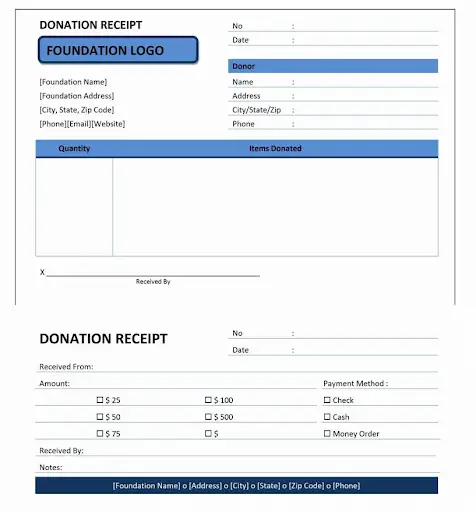 Foundations use this template receipt to track donations such as goods or services according to size and payment methods.
Corporate Donation Receipts
5. School Donation Receipts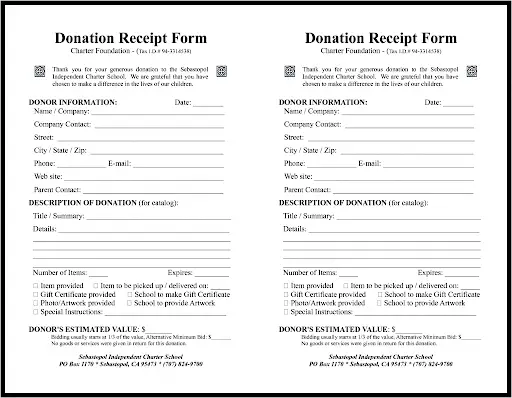 School forms make sure to allow you to select from a list of items to donate. It also provides a space for describing the donation services in detail.
#6 Official Donation Receipts for Income Tax Purposes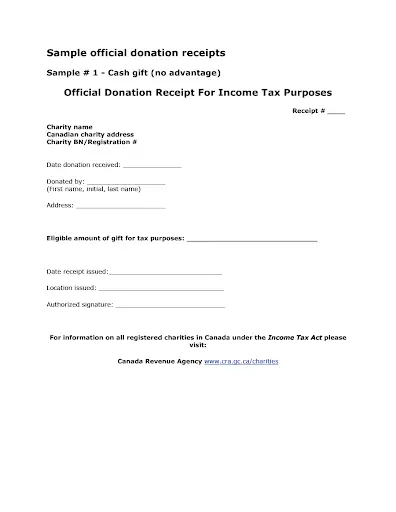 For tax deduction and advantage, individuals and businesses making donations are eligible for tax breaks. This receipt will include important information like name, BN number for Canadians, eligible amounts location, and authorized signature.
#7 Polar Plunge Donor Receipt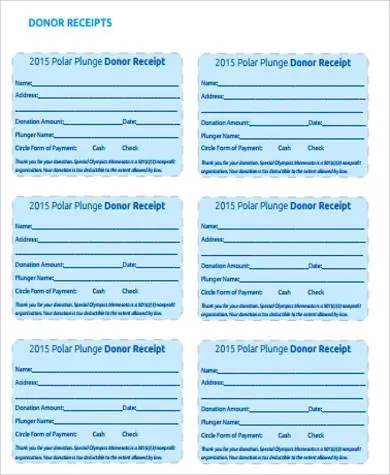 Polar Plunge Donor Receipt is another place to get free donation printable template. The above receipt example shows one generated from the site. Apart from capturing money, merchandise, and goods or services, this also includes a place for inserting pledges.
#8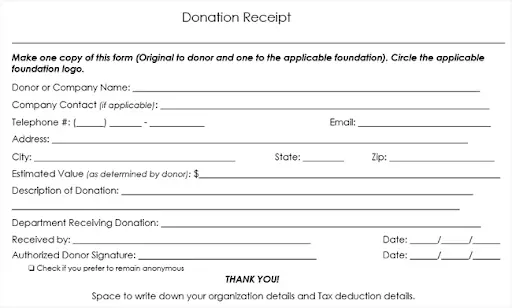 This template allows you to customize the above printable template to suit your needs. This receipt captures all essential information including the department receiving the donation goods or services.
9. Fundraiser Results Summary for donor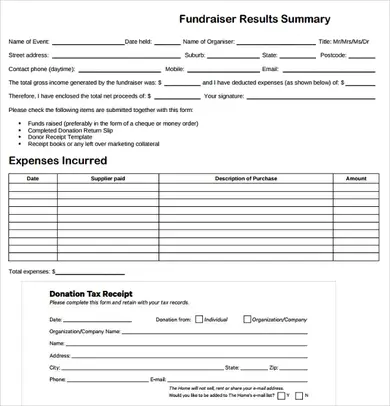 After a fundraiser, the above tax printable receipt is essential since it include information of funds raised and expenses relating to the event. Below the Fundraiser make sure to include summary, the donor name has a section they fill to help them get tax relief.
#10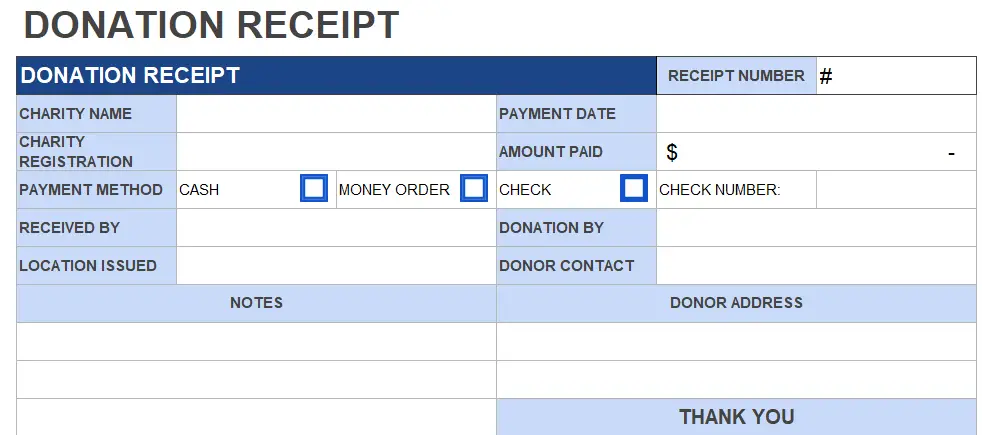 An excel donation printable is a flexible and easy to edit receipt donation available for free. It records all the information in an economical space, one excel sheet page can support 3.
11. Customizable donation receipt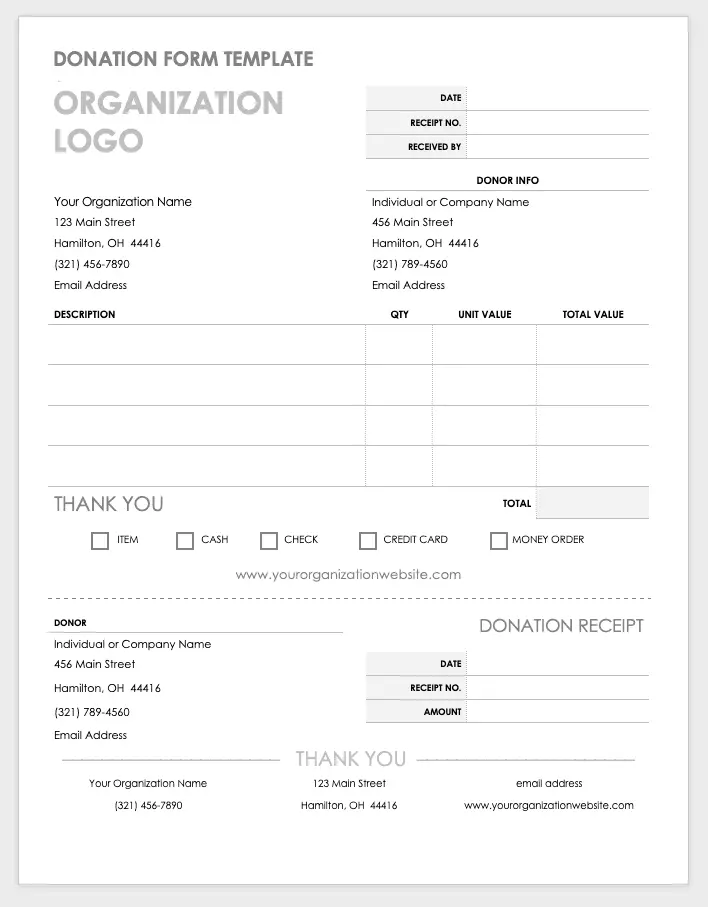 This one gives you an allowance as to the info you would wish to add to your receipt printable. Take this format and design one suitable for your organization with name of the organization.
12. PTA Donation Receipt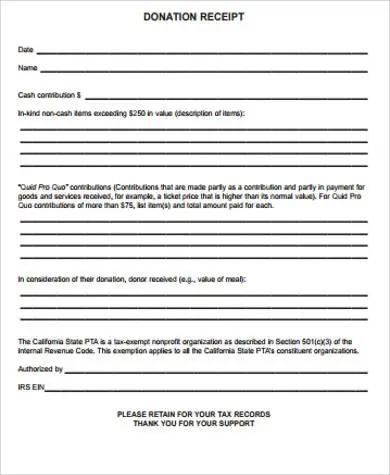 PTA donation printable is flexible in that you can use it to include cash and in-kind donations on one page. There is space to write the consideration for each donation-the actual benefit resulting from the gift. The director of the charity has a section to authorize the document through signing. Also, for tax places, the donor can refer to the IRS EIN at the bottom of the page.
13. Donorbox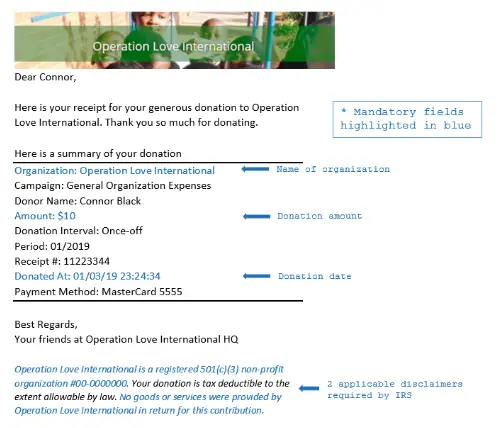 Another online method of generating receipt template is Donorbox. All a donor does is to input information, make a donation, and the system will generate a printable.
In-Kind Donations
14. Vehicle Donation Receipts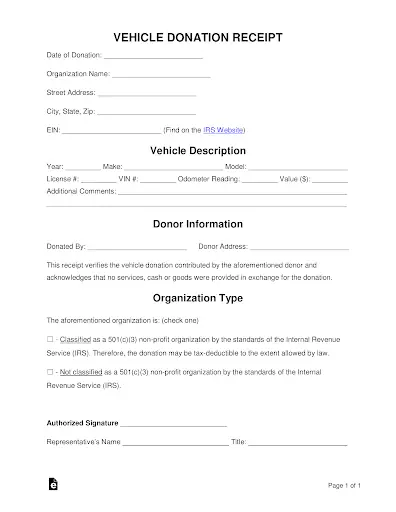 You can create a vehicle donation receipt from e-forms. With this form, you indicate whether you are classified as a 501 c3 registered or not. This form allows the IRS to know if you qualify for tax exemption or not.
15. In-kind donation receipt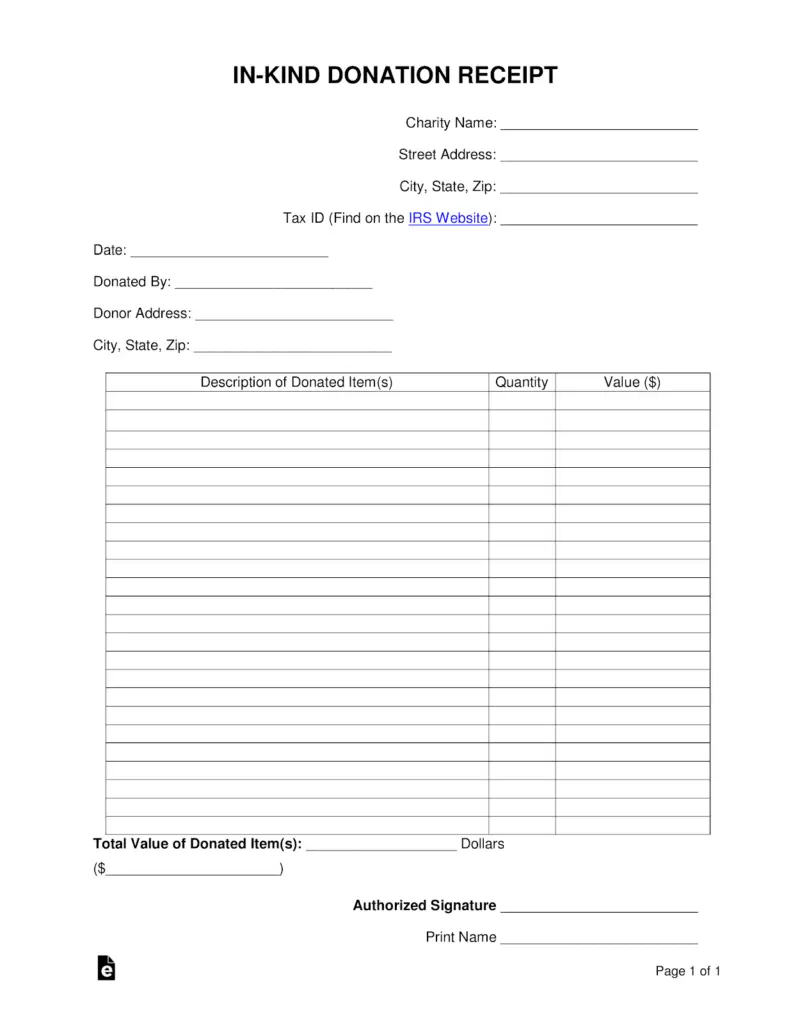 This is a simple form, suitable for multiple in-kind donations that include goods and services from donors. With this one, you can include more than 20 lines of donations. It indicates the quantities for each line and value.
16. Goods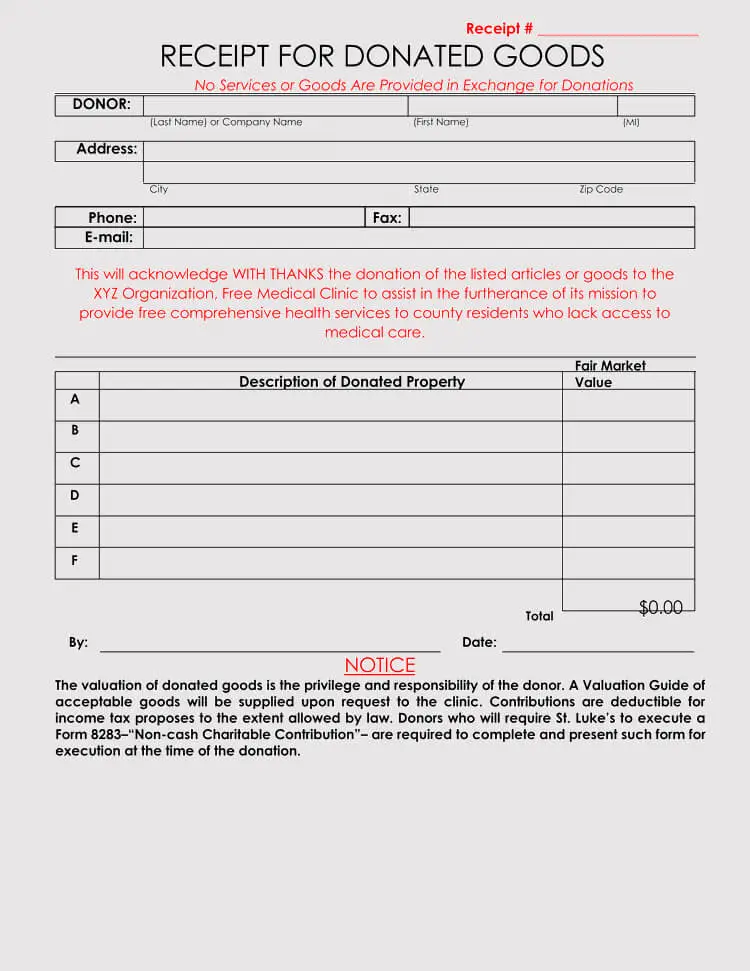 These receipt templates are similar to the in-kind receipt, but it only records the list of items in the form of goods. It also shows a notice to indicate that the donor values the goods.
17. Goodwill Donation Receipt for donors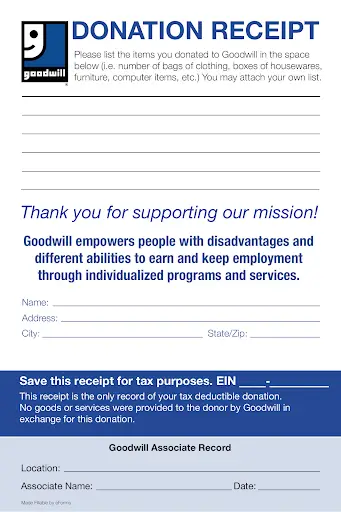 Goodwill donation receipts created from e-forms lists for all items sent to a charity organization by donors. The printable may be used to claim the tax deduction. The IRS will require you to estimate the values of items sent and also don't forget to add the quantities.
18. Non Cash donation receipt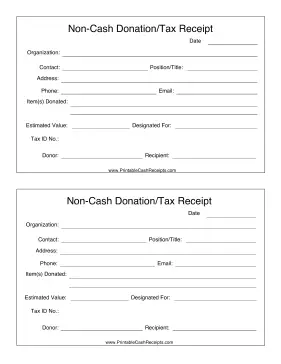 The non-cash donation receipt records information of a donation together with the estimated value, tax deductible id, name of the donor and name of the recipient, organization name.
19. Donation form with an appraiser for donors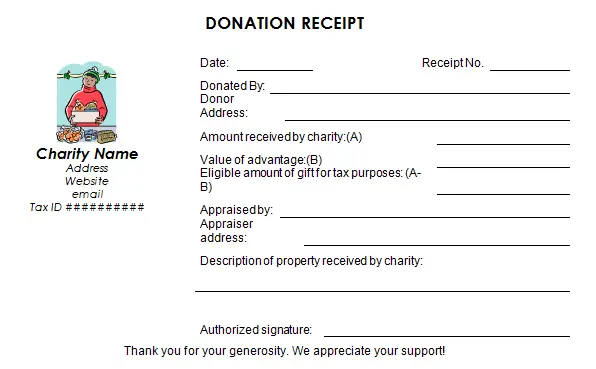 This is another version of the donation form with the appraiser's information including a description of the donation.
20. Typed Receipt Template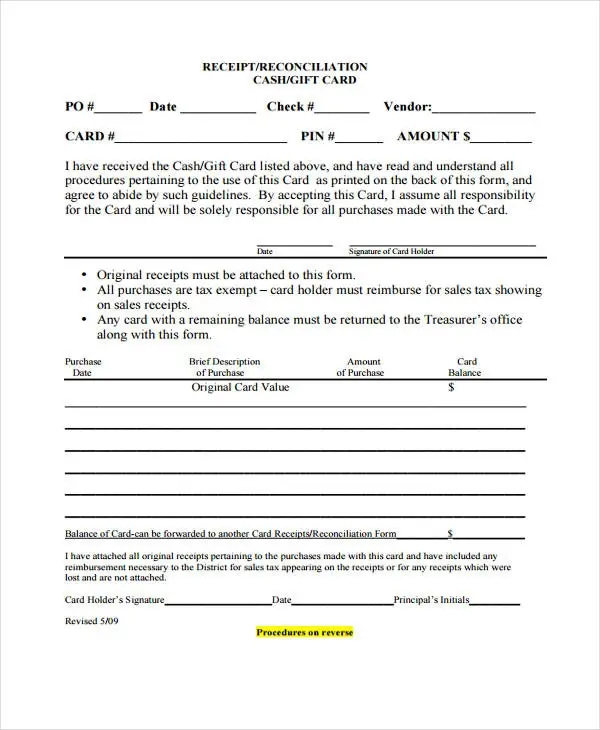 A typed donation receipt generally use the letter format. It describes the nature of donation, value, and purpose. Remember to capture the Donor's name, their address, and the organization's name and tax ID.
#21 Donation receipt for donors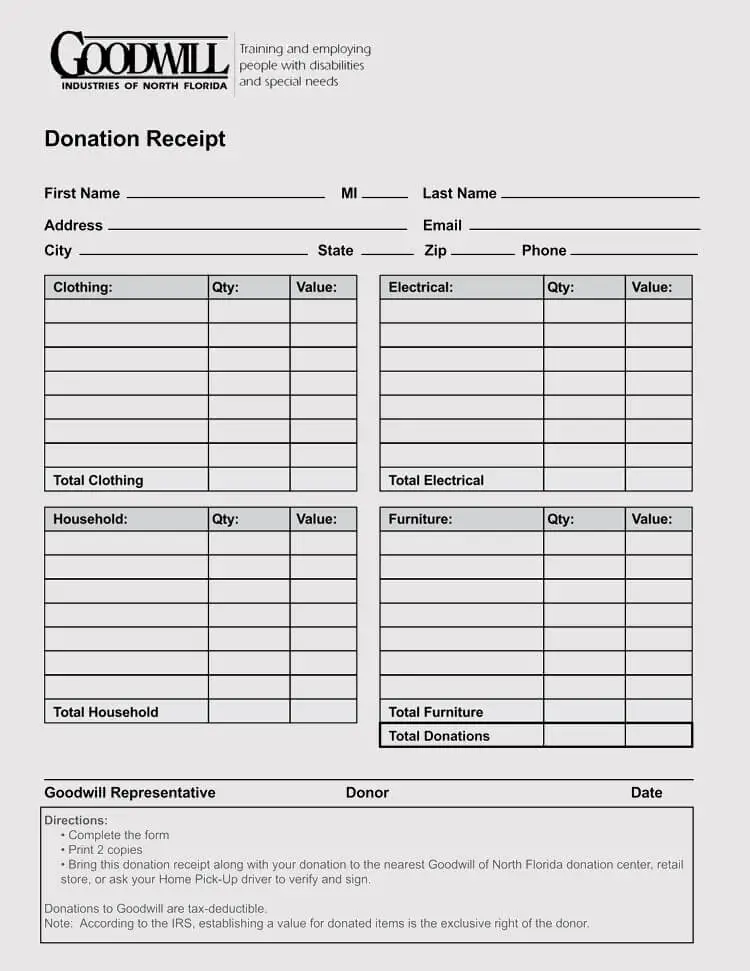 With this kind of donation printable, you get a comprehensive list of the different categories of goods sent from one page.
22. Library donation receipt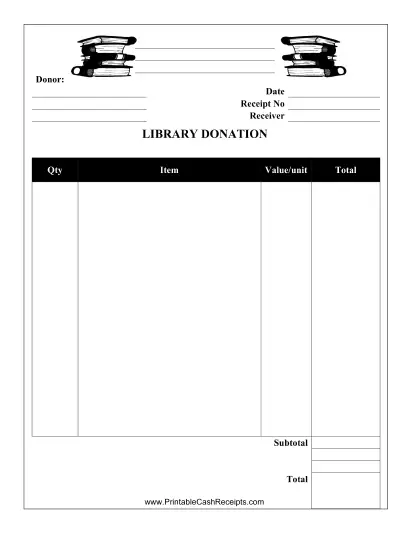 Library donation printable allows you to acknowledge donations coming to a library. Donations could be books, bookmarks, shelves, or computers.
23. Medical Equipment Donation Receipt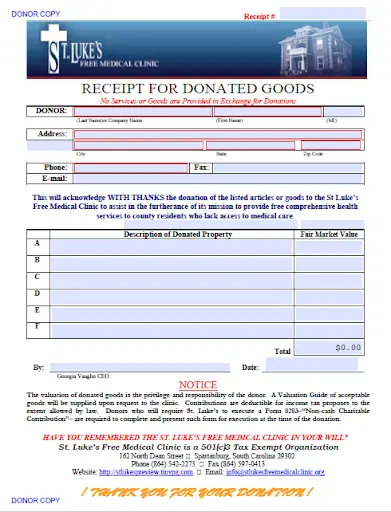 The above donors receipt is suitable for use in receiving in-kind donations in the medical sector. It has a place with a NOTICE that donors do the valuation for donated items. It has a part for a declaration by the appraiser and also one for donor acknowledgment.
#24 Equipment donation receipt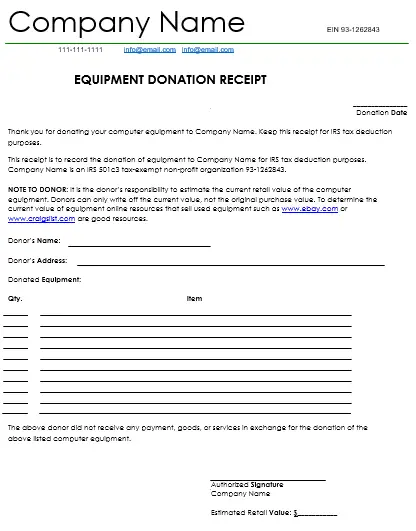 You issue this donors receipt to companies that donate physical equipment like computers. The valuation of items on the list is an entitlement of the donor.
Individual Donation Receipts
25. Donation receipt template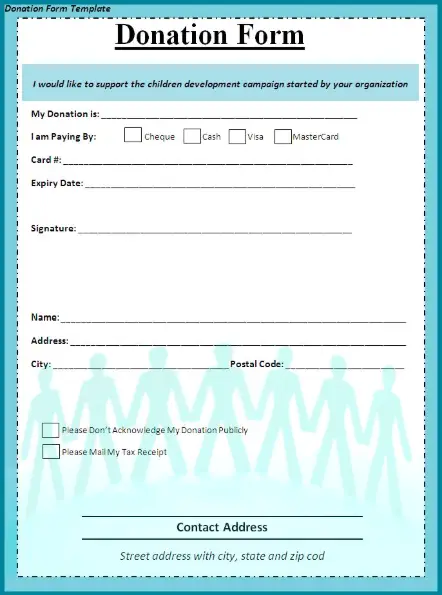 A donation form is a good way of getting an individual donor to commit to a worthy cause by a non-profit.
#26 Silent Auction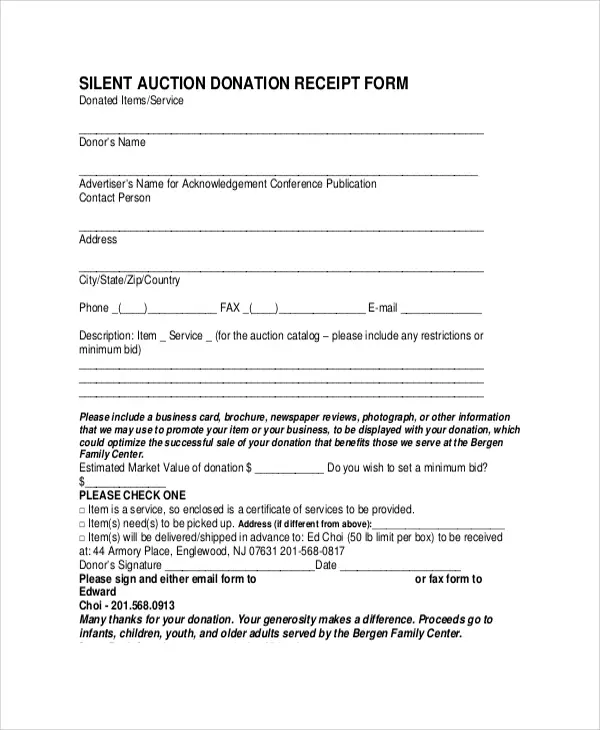 A silent auction is a bid for items on offer where the highest bidder wins the bid. So, whoever wins in the silent bid will get a silent auction printable.
#27 Donation receipt template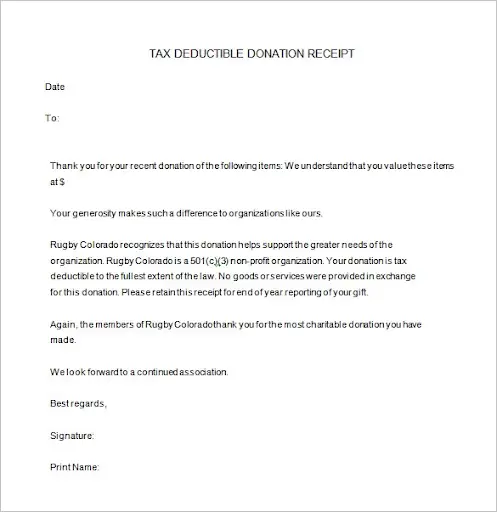 This receipt is good for use via email. You may quickly edit it and copy-paste to your email
28. Donation Receipt Form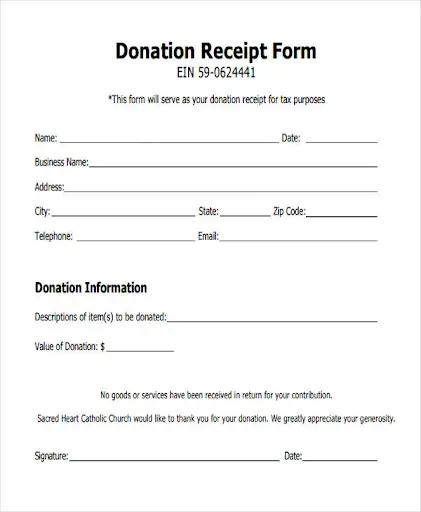 Businesses get this donation receipt form for donations given. The EIN number is properly labeled on top for use by the business in completing tax returns.
29. Donation receipt template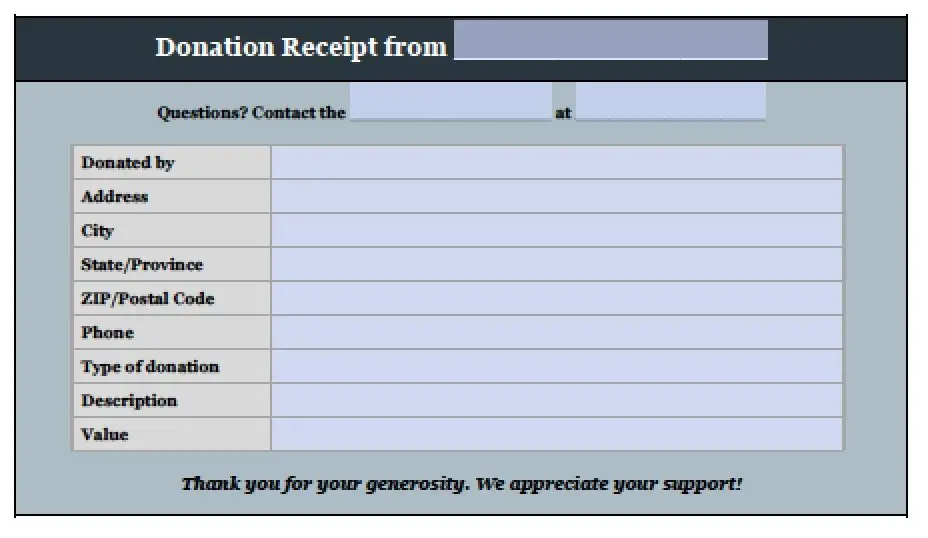 30. Golf Charities Donation receipt template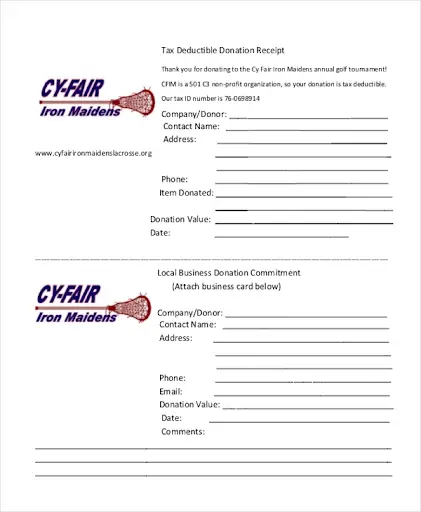 Donations from golf charities to tax-exempt nonprofits may use this type of receipt form template, it indicates items donated, contact, and addresses of the donor. Note that it starts with a thank you message.
31. Sample Acknowledgement Letter – donation receipt template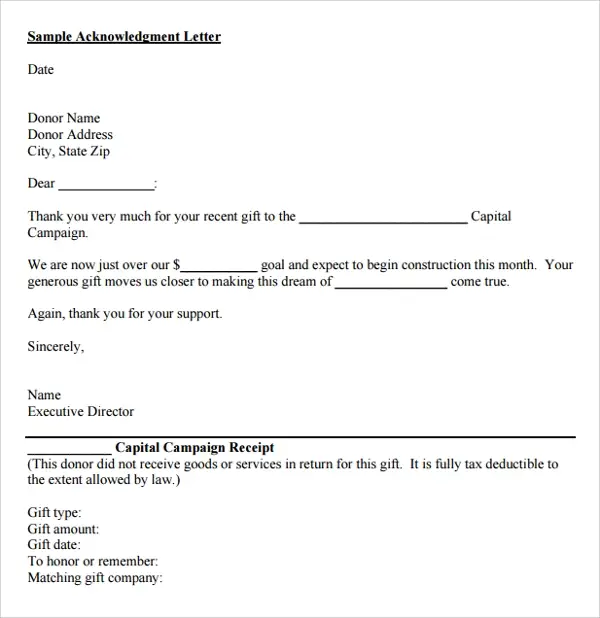 This is more of a worded donation receipt. It touches on the emotional side of the donor as it is customized with their name and signed by the director of the receiving organization.
32. Individual/ Company donation tax receipt template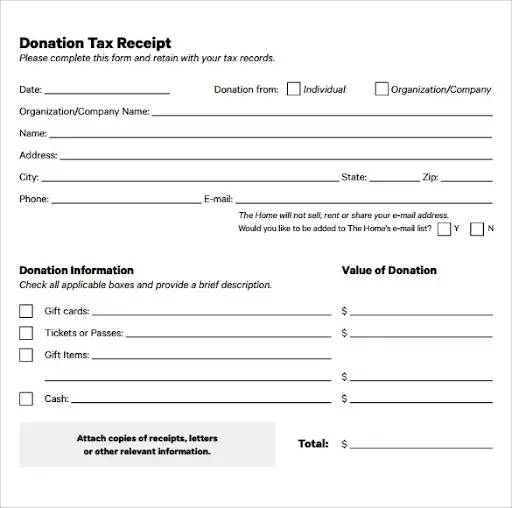 You may use this multipurpose printable template to account for individual or corporate donations. All you need to do is to tick on the appropriate box and check the boxes to specify where the donation is coming from.
#33 donation receipt template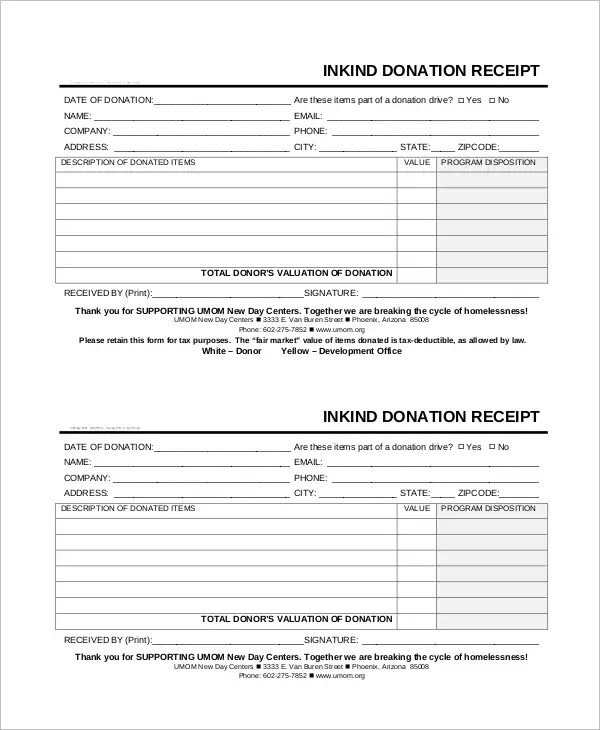 These in-kind receipts capture critical aspects of a donation. The printable allows you to state the program that benefits from each donation.
34. Printable Fundraiser – donation receipt template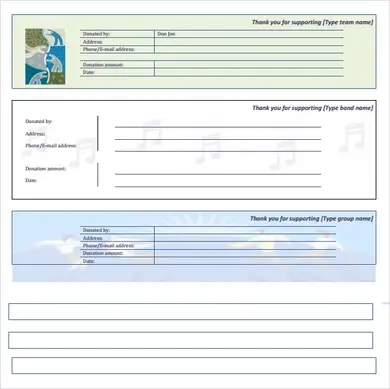 This is a simple one powered by Sample Templates. It has three designs for you to choose your favorite and the form is editable on Microsoft Word.
Church Donation Receipt Templates
Churches run most of their activities based on charity. Priests and Pastors conduct missions using donation money. They also receive money to help the needy through specific funds used for different welfare projects. Consequently, they need donation receipts to account for gifts from their congregants and well-wishers.
Let's look at a few church charity receipt forms:
Template #35. Catholic Church Charity Donation Receipt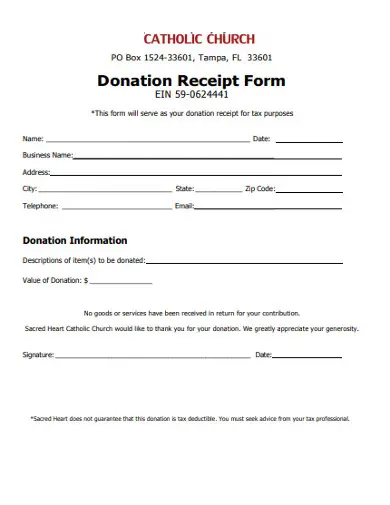 The above receipt is an example used by the Catholic church organization to receive amount and donations. The downside to this form is that they have a disclaimer that shows that these organization don't guarantee a tax-deductible donation. On the brighter side, this is a reliable form because it captures the EIN number, which makes it easy to track any donation of such organization.
Template #36. Church donation in Memory of a Loved One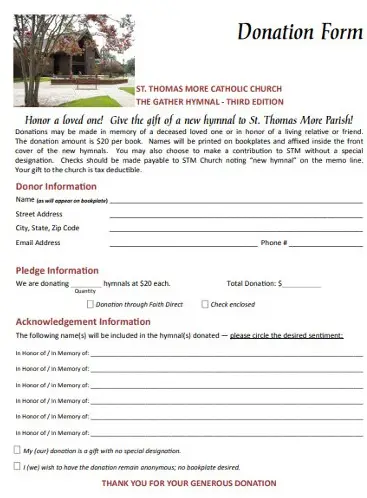 This receipt form is good for raising funds to do small church projects while remembering a departed loved one. In this example, the church is raising funds to print extra hymn books. They include the name of the person you wish to remember inside the front cover.
Template #37. Church Building Fund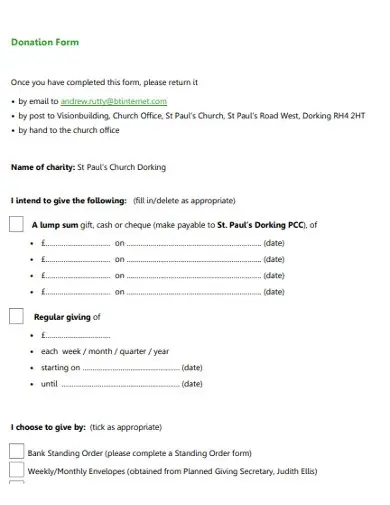 This receipt form allows you to decide the interval or trend of giving towards a church building project. For example, you may give a lump sum or regular giving weekly, monthly, or yearly. It allows you to select the mode of giving which can either be by the bank or envelop using this example.
Template #38. Church Receipt with Duplicate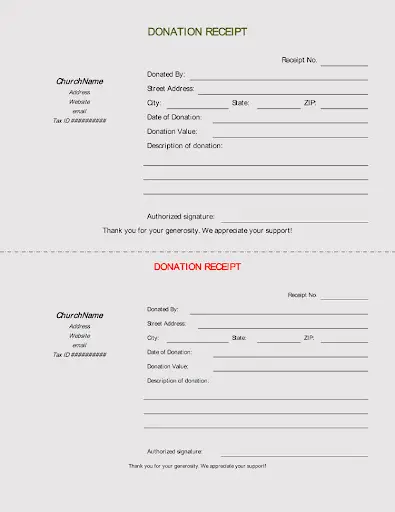 A receipt with duplicate sides allows the organization to have a record copy of a gift received.
Summary
When shopping for a donation receipt template, look online for unlimited free resources and information. We have sampled a few, but there are many more to consider. The most important thing to check is the comprehensiveness of the printables. Also, look at the purpose(is it for individual, in-kind, corporate or church purposes?) of wanting a receipt. Refer to this guide as a start point and don't hesitate to ask questions.
Also, before you go check out these fill in the blank obituary template and these free hold harmless agreement word doc.