Vegetarian or vegan or non-vegetarian, the Christmas menu is special and reminds us of the moments of togetherness. While you play secret Santa and elf on the shelf to enhance the festive mood further, Christmas eve is incomplete without a sumptuous menu.
What to cook? How to put it right so it welcomes party guests to enjoy delicious food? We have got your Christmas menu covered with a range of high-quality templates.
This article also has bonus content on planning a Christmas menu that you may discover while reading.
Make your menu look like a restaurant menu card with the template below! When you invite guests for the special food on Christmas eve, the invitation needs to look professional enough so it remains attractive and also pulls in people just like a free christmas gift certificate template free.
Even otherwise if you are throwing a special Christmas buffet at your restaurant, create a customized menu containing Christmas icons. The bottle and spoons on the header with Santa bells at the footer can make your menu look royal and apt for the event. Also, check out these templates for secret santa questions to ask your kid!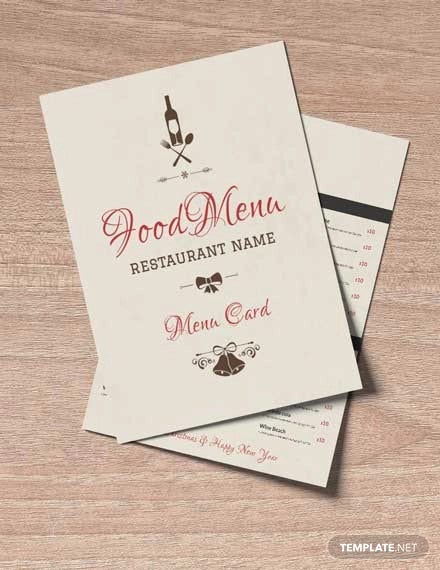 Whether you are preparing special foods for Christmas or procuring food from outside vendors, you may need a card as you invite guests for dining. The template below has a Christmas tree with other event-related icons on one side and a detailed menu on the other side.
The count of the items does not matter. However, it is appropriate, to begin with, a starter and end with a dessert and provide at least two options under each category.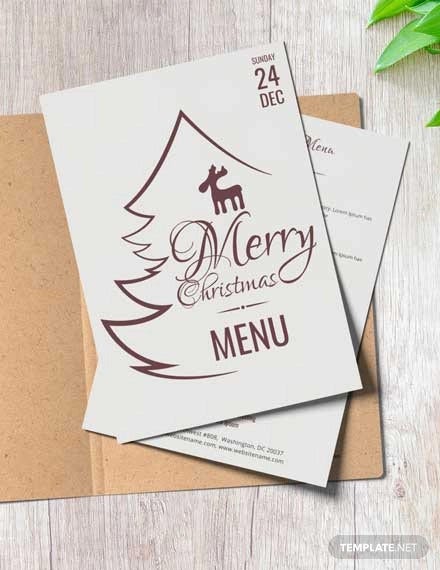 Every club in the town hosts an exclusive Christmas menu so that people can plan the day in advance. If you are a club owner planning to host a wonderful dine-in option on account of Christmas, you may have to identify which food is apt for the day and provide variants in each of them.
For example, providing three different pudding varieties or two different platters can give sufficient choices to the customer.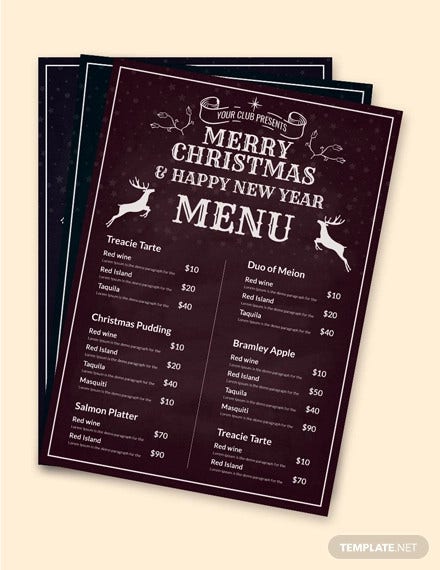 When we talk about the Christmas menu, it needs to have starters, soups, desserts, and drinks. This editable template has an overview of how the menu card should be designed. But wait, we know what you are looking for. Food ideas, isn't it? Starters can include red pepper and avocado salad followed by potato and celery root gratin. On the other hand, soup can include creamy pumpkin or carrot soup topped with vegetables. Coming to main courses, some of the commonly preferred foods include traditional turkey dinner presented with sweet potatoes, vegetarian nut roast, and braised greens. Give your menu a wonderful finishing touch with Christmas pudding and brandy sauce followed by choco brown sugar butter cake.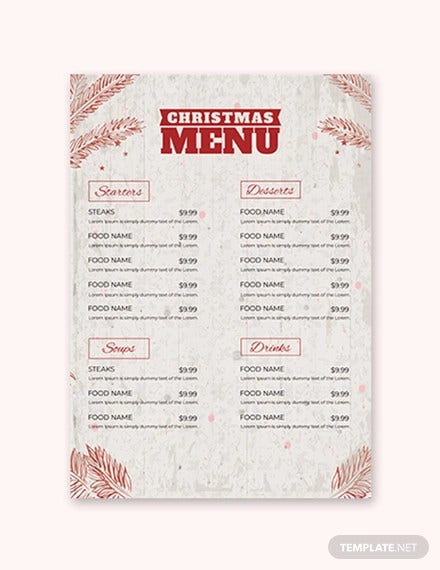 Now if you are planning to dine out at a restaurant with your colleagues, you may have to ensure that the menu card is professional enough. Instead, you can collect the list of items and then present it to your colleagues. Alternatively, inviting corporates to your club for the Christmas menu needs a lot of work towards planning and designing the menu. This invitation basically includes time, date, location, contact number, and detailed menu. When you are experimenting with a new menu for the eve, you may have to issue a gist of the food item so the visitor makes a decision accordingly.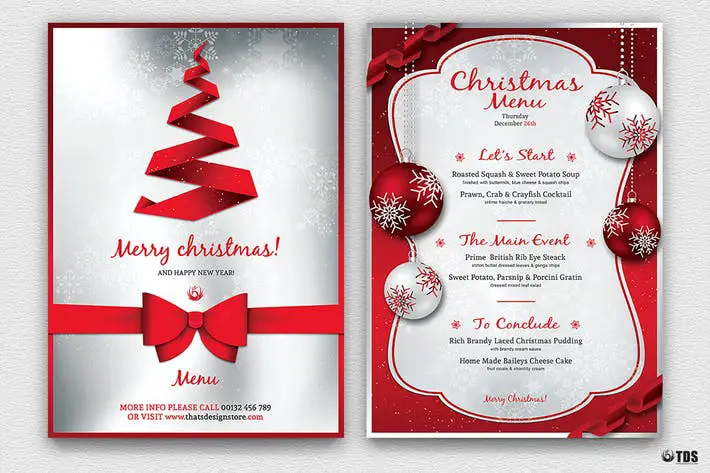 Christmas is special and so is the food! Designing a creative Christmas menu is no more a rocket science. With the following quick to use editable template, all that you need to do is to change the menu item in it and the price fixed for this menu.
You can also enhance this template by including contact information and location detail for visitors to drop directly.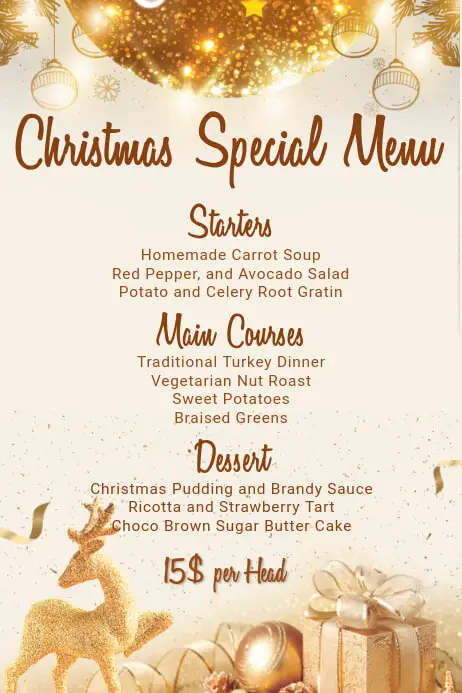 Christmas menus need not always be planned in grandeur. It can have limited options too enabling everyone to fill their appetite.
If you look at the template below, it looks catchy and neat at first instance. Also, the menu is crisp enough so guests have specialty food and not complain about stomach getting filled even while having starters.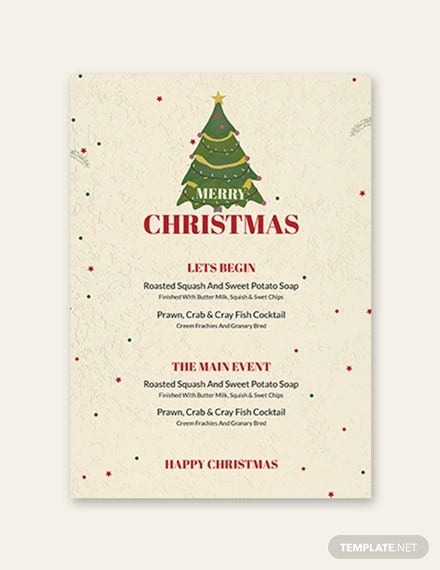 All about Christmas menus
Dinner on Christmas is given utmost priority because it has its traditional roots for ages. Traditional dinner that is served on Christmas eve includes mashed potatoes, cranberry sauce, stuffed turkey, vegetables like turnip, and carrot. Not to forget, wine makes the event extra special and you can always end the dinner with a drink.
If you prefer consuming only vegetarian cuisine, here are your options – green bean casserole, sweet potatoes, honey-glazed parsnip, carrot soup, gravy, creamed spinach, rice galette with root vegetable, and an apple pie.
If you have just turned vegan and worried about Christmas menu options available for you, we have heard you as well. You can give that festive experience with our menu options including potato tart, parsnip tatin, mushroom gravy, squash with fruit, Manhattan, Jamie's Christmas curry, and baby artichoke bruschetta.
However, you may have to pay attention if you are consuming alcohol as it is not naturally vegan and there are non-vegan processes and ingredients followed in the production process.
The specialty of these options is that you never miss out on consuming necessary ingredients on the day but you also tend to meet your taste bud cravings with interesting choices. When you draft a menu, ensure that you also categorize every item so that it gets easier to arrange foods on the dining table and also lets the guest serve foods in the right order.
Conclusion
Planning the Christmas menu prior gives you the necessary peace as well as allows you to explore innovative dishes since you may have extra time in hand. No matter what, get your Christmas menu ready two weeks prior to the event so guests can schedule their day effectively.
The templates in this article can lend you the extra hand to turn your event successful! Bon Appetit!