So, what is a sublease agreement? This is a contract between the original tenant of a property and a subtenant taking over the property or part of it.
Subleases allow tenants to either share the cost of the rental or by keeping a property occupied for a certain time frame during which they aren't there.
Free Sublease Agreement Templates
In this article, we have included a wide selection of the most useful and downloadable sublease agreement templates in PDF and Microsoft Word format.
These comprehensive documents cover formats that are used for a variety of subleases and can be used by anyone.
1. General Sublease Agreement Template – Word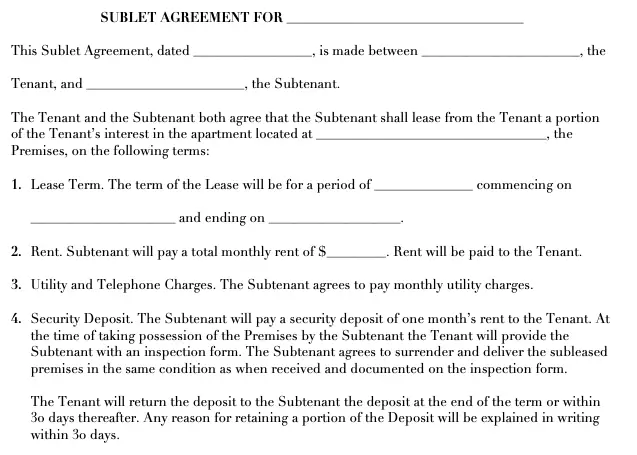 The first template we have for you is a very simple Microsoft Word template that you can download and edit as well. This template contains all the sections for a sublease agreement – term, charges, security deposits, property details, termination notice, etc.
Once you enter all the information, you will have to make some changes to the alignment of the content so that while printing it comes out good. Along with the usual content, there is also a comprehensive section for household rules. You can edit them or remove them as per your needs.
2. Residential Sublease Agreement Template – Word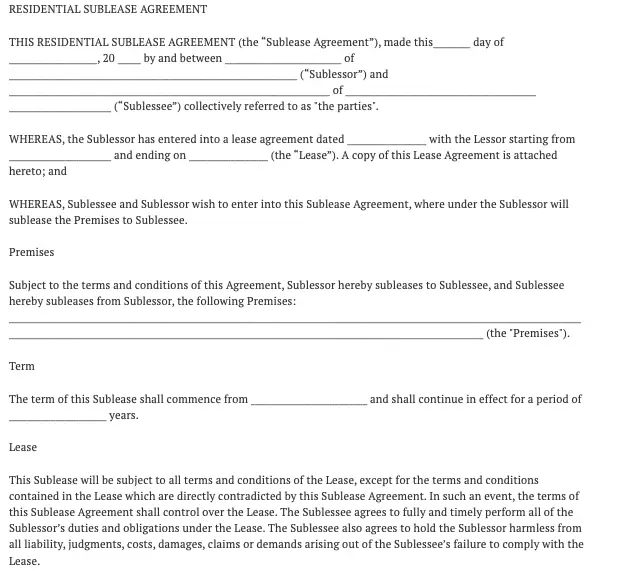 This sublease agreement is specifically designed to be used for residential properties. You will be able to capture data about the property, the lessee, lessor, terms of the agreement, rental amount, security deposit, and the list of utilities included.
Since the format is provided in Microsoft Word, you will be able to make changes to it as well. The 3-page document is pretty comprehensive and once you print it out you are good to go!
3. Commercial Sublease Agreement Template – Word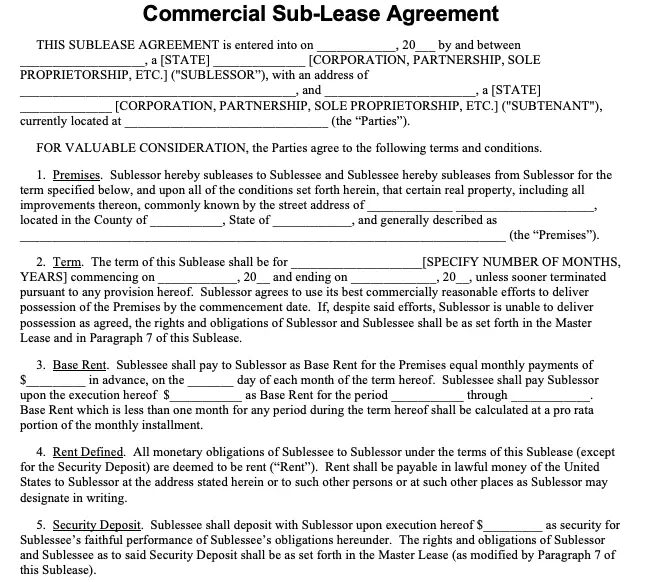 A commercial sublease agreement can get pretty complicated hence the format has to be different from the ones for residential buildings. This free-to-use, editable template is suitable for business owners looking to enter into such agreements.
This document has provisions to enter details about the premises, base rents, deposits, compliances, terms, and conditions, etc. Along with this, there is a section to enter details about the lessee and lessor as well. The template has 5 pages and can be edited to your requirements.
4. Sublease Agreement Template for Boats- Word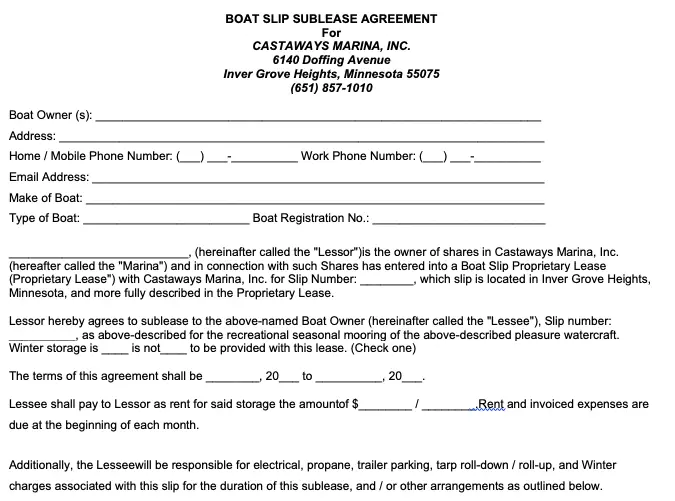 Subleasing a boat? Well, then here is an agreement format that will come in handy for you. Even though boats come under the definition of a property, the sublease agreement format is a little different from the rest.
Along with the boat details, lessor, and lessee information, there is also information about the Marina rules where the boats get docked. Apart from that, you will also need to mention information about the utilities and accessories that come with the boat.
5. Sublease Agreement Template for Cars- Word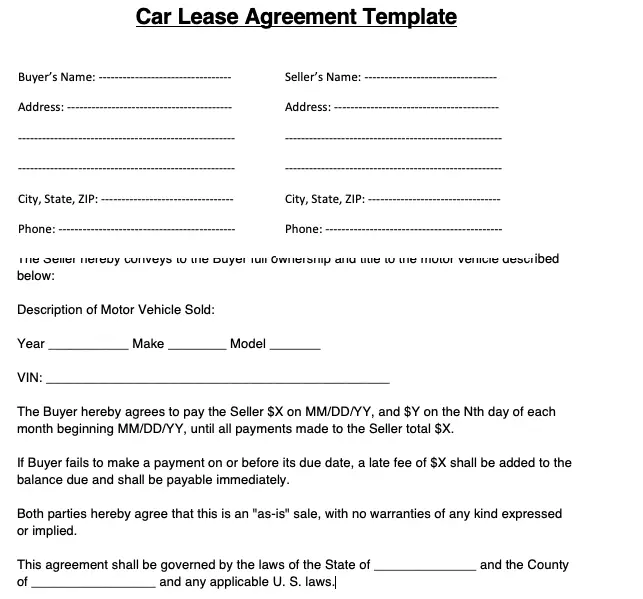 People across the world often lease cars for their personal use or get a leased car from their organizations. If you plan to sublease such a vehicle, then you will need to get a car sublease signed.
This format is a car lease template and you can add details of the sublease to it. You will need to enter information about the lessor, rental, terms, and conditions, etc. You could also attach the master lease along with this sublease agreement and give it to the person sub renting the vehicle.
6. Print Ready Sublease Agreement Template- Word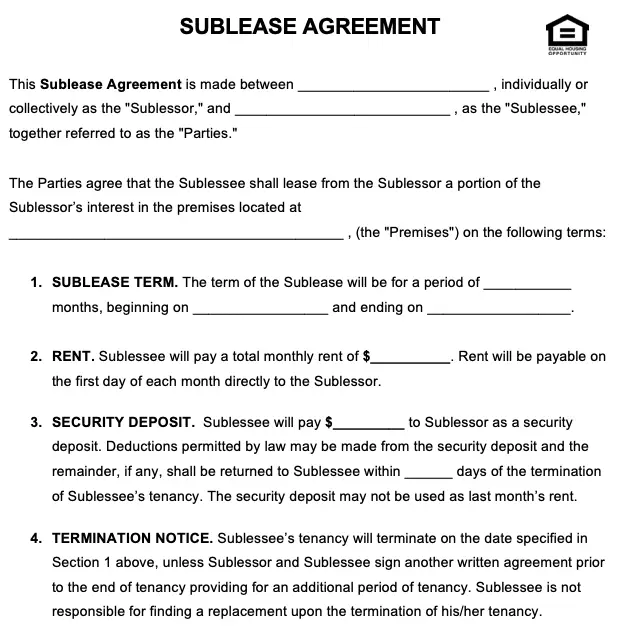 One of the most annoying things about making documents is their alignment when you want to print them out. This free, downloaded sublease agreement format comes pre-formatted and all you have to do is to fill in the information and print it out.
It contains all the usual bells and whistles of a sublease agreement. But if you want to make edits, you can. The professionally designed template is very popular and usually doesn't require many changes.
7. Standard Sublease Agreement Template- PDF Form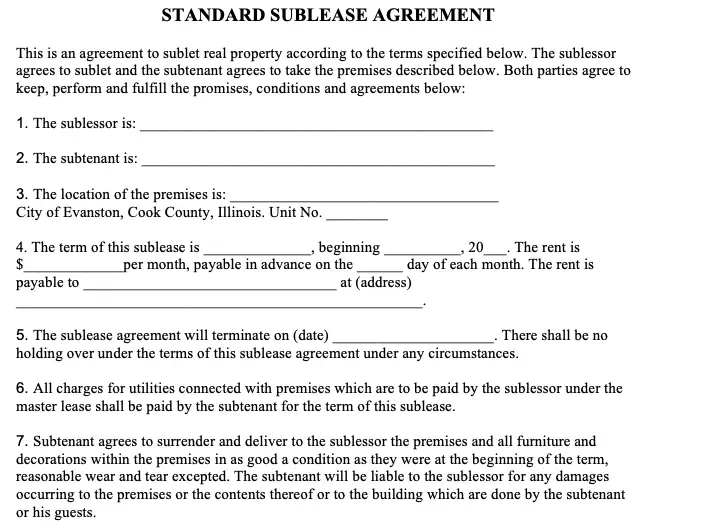 PDF forms are great but often come with no editing options. But this format is different as you will be able to enter details like lessor and lessee names, premises details, terms, dates, rental amounts, other details, and signature fields.
You can download this template, fill in your information digitally, and then print it out. However, you can print it out and then enter the editable information.
8. Comprehensive Sublease Agreement Template- PDF Form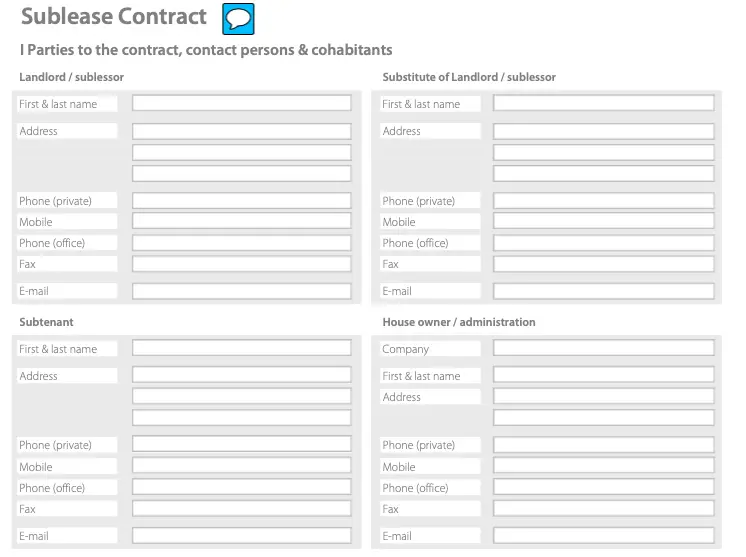 This is another version of an editable PDF sublease format. But it has been professional designed with fillable fields to enter vital information into the document.
This format is one of the most comprehensive sublease documents you will find and comes with 6 pages! There are sections for the lessor/lessee details, property information, pricing, landlord, utilities, accessories, duration of the sublease, liabilities and legal rights, cleaning conditions, tenancy agreement, and other legal information.
9. Basic Sublease Agreement Template- PDF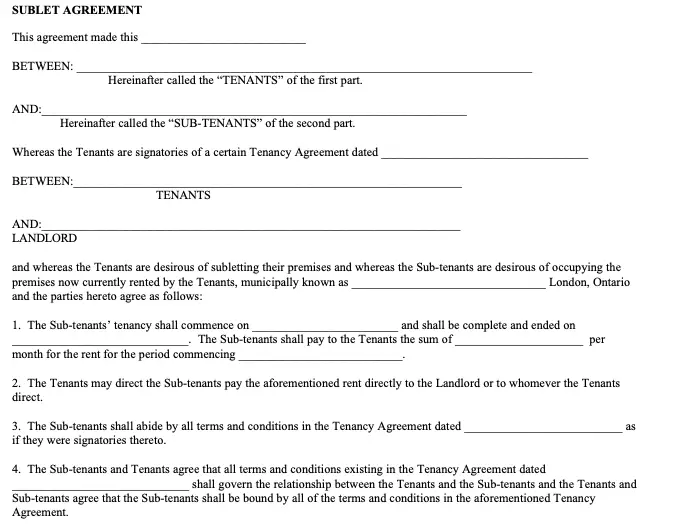 If you are looking for a simple sublease agreement format then this one should do the job. The one-page template can be downloaded and is ready for print as well.
This basic template contains all the usual sections that are mandatory in a sublease agreement, like lessee/lessor names, property details, duration of the sublease, rental amount, and signature sections. If you are designing your own sublease templates, then this acts as an excellent building block.
10. Basic Sublease Agreement Template- PDF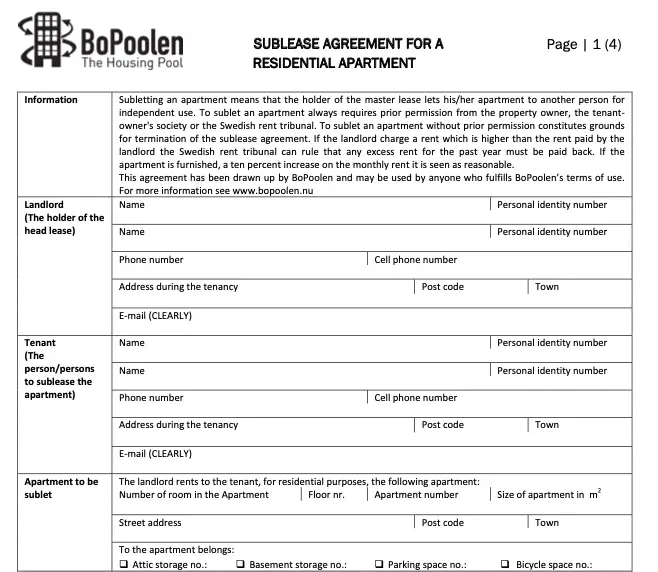 One of the most common types of subleases found is the ones for apartment complexes. And that's why a dedicated template is required for such instances. The above-mentioned template is a PDF format and can be downloaded free of cost.
All you have to do is to print it out and fill in your information. The professionally designed document demarcates sections for rent, tenant and subtenant information, how rent should be paid, the validity of the sublease agreement, defects and damages, insurance and security information, responsibilities and obligations, special provisions, and move out inspections.
11. College Sublease Agreement Template- PDF Form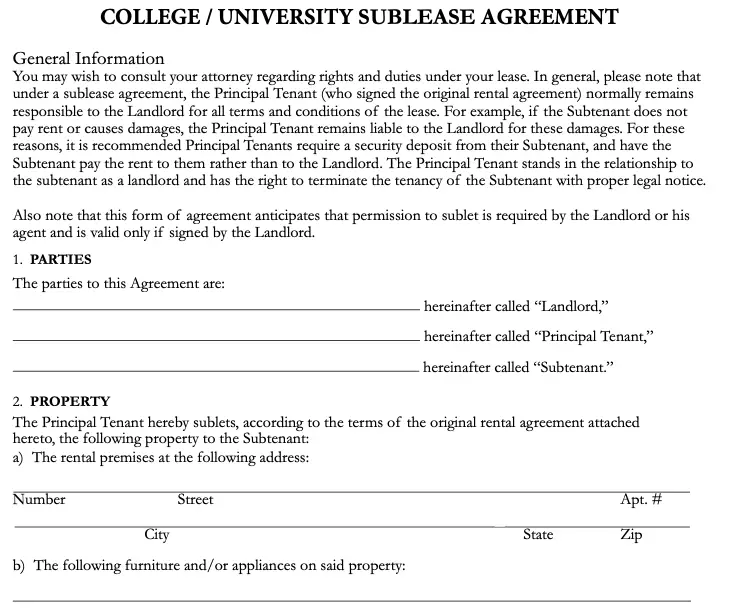 This free template can be used for college students residing in off-campus buildings and wanting to sublease the property. Often students take apartments/dorms on rent and sublease them out either to save rental cost or to earn some money.
In either case, a sublease agreement needs to be signed by all parties involved. This sublease agreement document needs to be made with the approval of the landlord, tenant, and subtenant and all their information are to be entered in the format along with data about the property, rental, deposits, terms, and conditions, etc.
12. College Sublease Agreement Template- PDF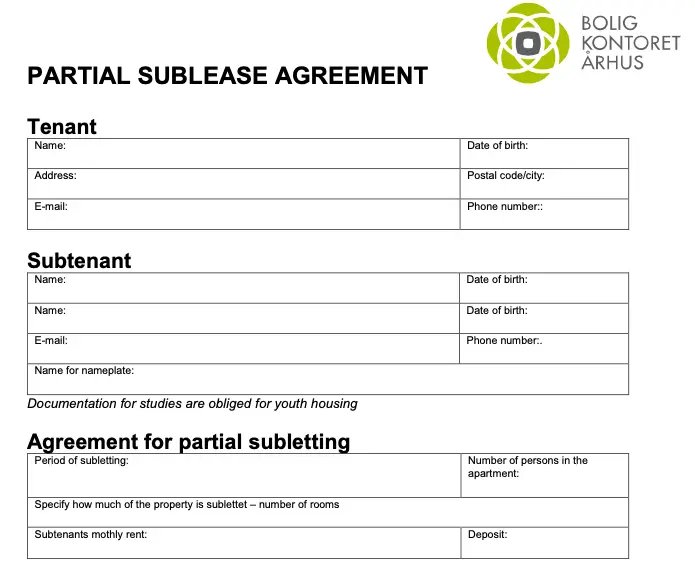 A partial sublet happens when only a certain portion of the property is made available for the sublease. Therefore, the document you use should also mention this in detail.
When you sublet a property partially, you will need to write about the portion of the property that is being sublet. So along with details of the premises, there needs to be specific information about the sublet portion.
13. Building Sublease Agreement Template- PDF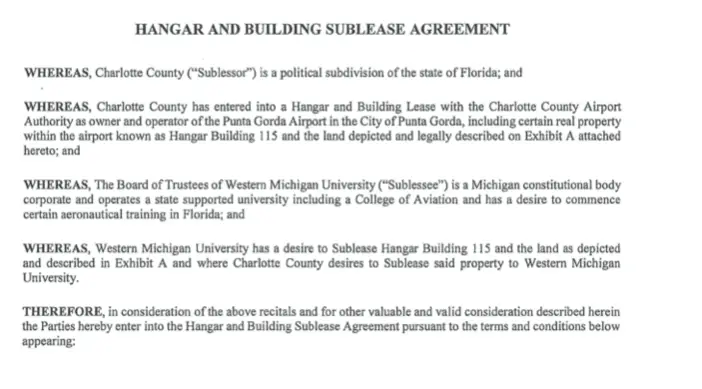 A building sublease document needs to be made when an entire property is being sublet. This could include instances of an entire commercial building, a residential complex, parking lots, storage spaces, hangars, etc being subleased.
The template is very similar to the other templates mentioned above but instead of a single unit, the entire building is being rented out. Such agreements are usually signed between two organizations.
Frequently Asked Questions
1. Is it legal to sublet a property?
The legality of the sublease process totally depends on where you are and the laws in the region. Such laws vary from region to region so there is no definite answer. If you are not sure about the rules, it is recommended that you either get in touch with a real estate agent or consult a legal expert.
2. What are the crucial elements of a sublease agreement?
Whenever you draft a sublease agreement you should look at including the following points
Name and address of the sublessor and subtenant
Description of the property being subleased
Duration of the sublease
Sublease amount, terms, and due dates
Terms & conditions
Liabilities
Copy of the original lease between landlord and tenant
3. What do I need to do before I decided to sublease my property?
Great question as you need to complete a few things before you enter into a sublease.
Get written permission from your landlord, or
Get a no-objection certification signed by them
Check with your building association if they don't have any objections
Check the subleasing laws in your region
Get a background check done on your subtenant
4. What is the difference between a lease and a sublease agreement?
A lease agreement is usually signed between the property owner and a tenant. However, a sublease is signed between an existing tenant and the person they are sub renting it to! So the property could have been rented by one tenant and occupied by another tenant!
Conclusion
Subleasing is a popular concept in the West as there are clear, defined laws around it. The process is no very complicated yet you should know all the laws around it and your rights as a tenant before you get into a sublease. Ultimately, the tenant is responsible for the actions of the subtenant so they need to be careful during the sublease process.