The power of attorney form is legally binding and appropriate when you are granting a trustworthy person with power relative to the property or any specific crucial activity.
According to California, there are various regulations to be met in crafting a power of attorney form for purposes like a vehicle, healthcare, parental guidance, real estate, and revocation.
Let's see more about how a power of attorney form works along with supporting templates that can be used to match up with our daily situations.
California Power Of Attorney Form Templates 
1. Medical power of attorney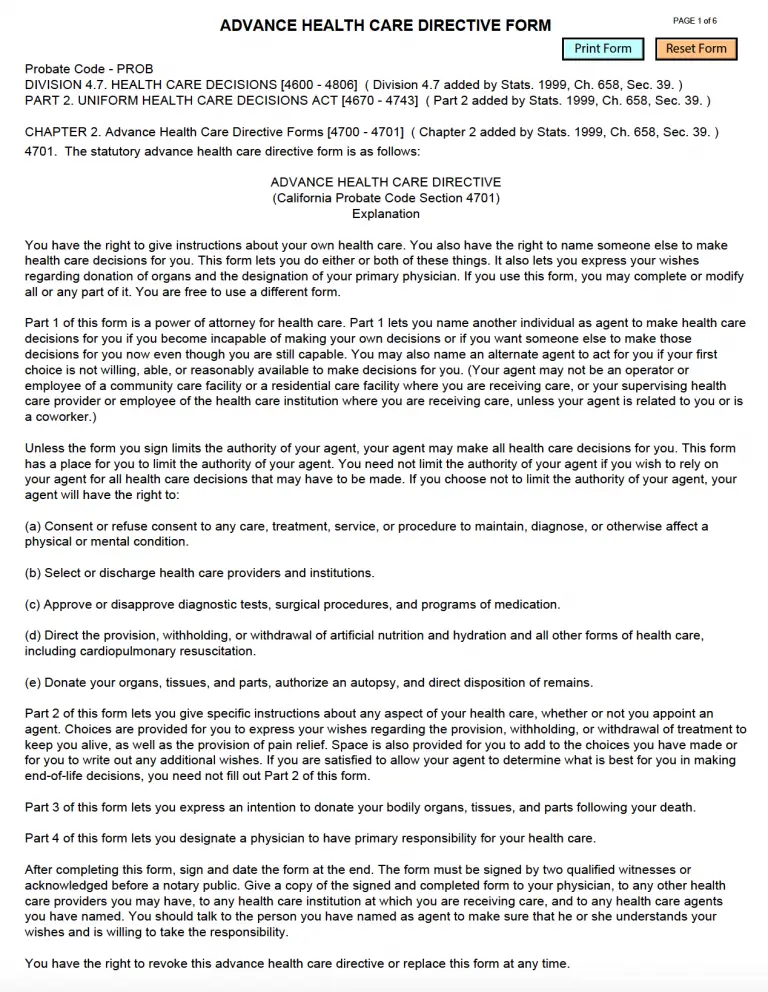 As per the regulation of California, medical power of attorney can also be called an advance directive where the person who has been granted the power takes key decisions towards health for the patient that has granted.
There is also a segment in this form indicating living will so that medical experts can decide on life-ending systems and interests to be fulfilled.
Here is a template that is editable and also contains instructions to use it effectively just like a release of lien form document.
2. Durable power of attorney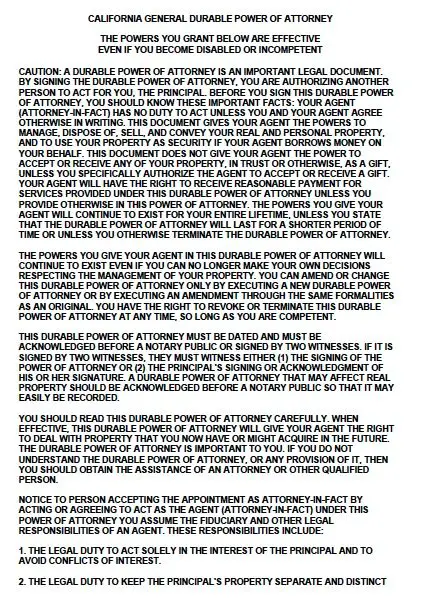 A durable power of attorney is yet another attorney form template enabling an individual to grant authority to another person towards monetary decisions. As the name implies, this power remains durable even in the absence of the principal.
Before activating this power, it is essential to read the conditions, add new terms under the guidance of the attorney, and then get it signed along with two other witnesses.
3. General power of attorney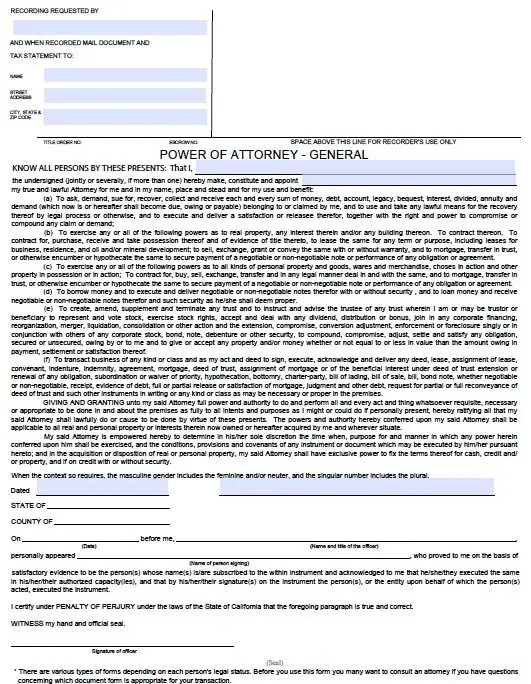 Unlike a durable power of attorney, when you wish the power to be nullified in the absence of the principal, this general power of attorney form will have to be used. It becomes void when the principal becomes mentally or physically incapacitated.
Till that point, the person who has been awarded the power makes major decisions towards finance.
This is also a fillable template with predefined terms and conditions that match the law of California. However, it is always a wise idea to get it authorized by an attorney.
4. Real estate power of attorney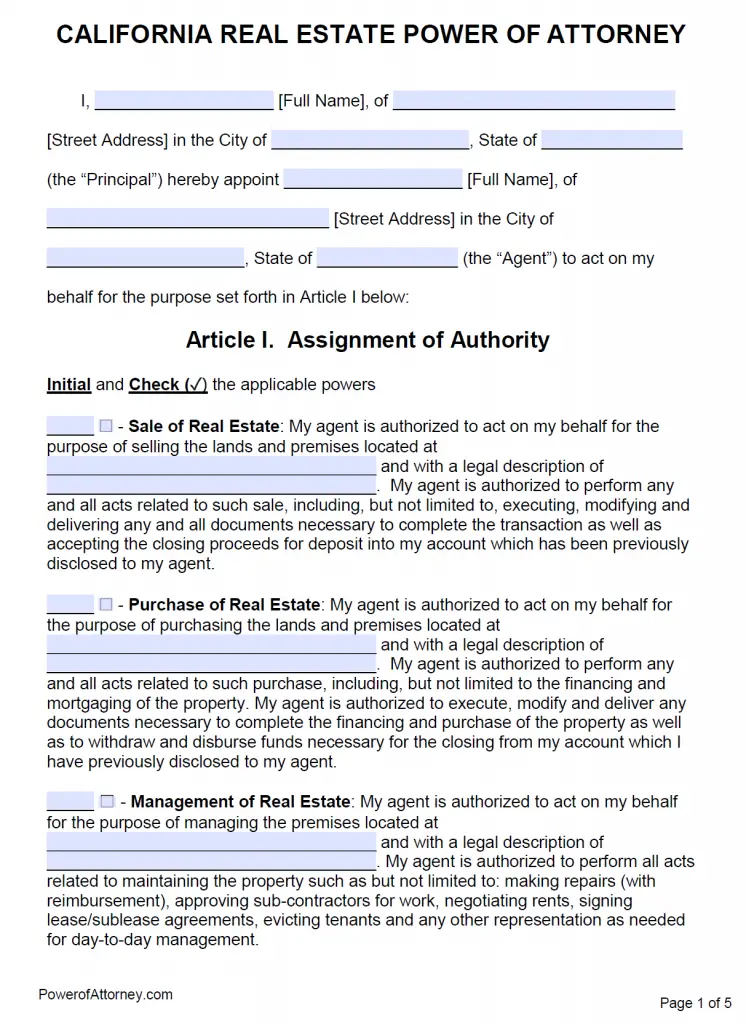 This is a commonly experienced instance where the property owner is unable to take care of sales or management of the property and appoints an agent legally to carry out the same.
The real estate power of attorney form mentioned here includes clauses related to buying and selling of property, tax conditions, refinancing, and mortgages. Ideally, as the property owner, you can grant the agent the power until a specified time and then renew it later.
This fillable template lets you do at ease as it is directly linked to various real estate and property regulations in California.
5. Tax power of attorney

A tax power of attorney is also called form 3520 where one person allocates the power to the other towards income tax filing for the state. Perhaps, every individual is entitled to pay their taxes every year but there might be situations when you are not in a situation to handle your accounts.
This can also be the case for your firm as accounting and paying taxes could be a long process.
This editable template includes multiple sections that gather information of both ends and also indicates specific rules and permissions granted to the other during a particular period.
6. Limited power of attorney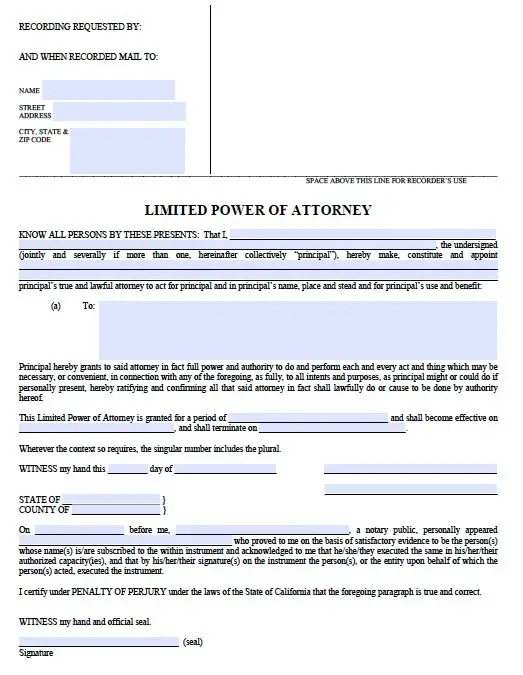 In the previous sections, the durable and general power of attorneys were covered. Limited power of attorney is going to be a variation of the aforementioned models. This is appropriate when you are allocating a specific role to the agent.
For instance, it can be related to verifying accounts for the year or maintaining the good condition of the car for a week. The volume of tasks can vary based on the need but the power granted helps in managing tasks quickly.
The advantage here is that big or small, a task gets solved by the designated agent without a second thought. The following editable template helps in following up within a period and in enabling the agent to keep the principal informed about tasks and discrepancies encountered.
7. Vehicle power of attorney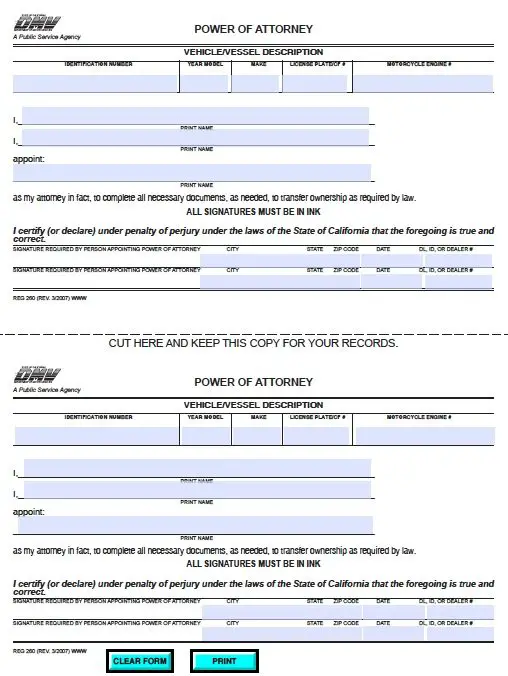 Similar to the real estate power of attorney, in California, a vehicle power of attorney is meant to grant the attorney to an agent in managing the transfer of ownership. As per California's law, this form is known DMV Form REG-260.
The fillable template includes multiple sections related to the vehicle/vessel, agent, and vehicle owner information. As it is a legally binding document, it keeps the agent liable when there are damages or issues observed in the vessel upon the completion of the contract.
8. Guardianship power of attorney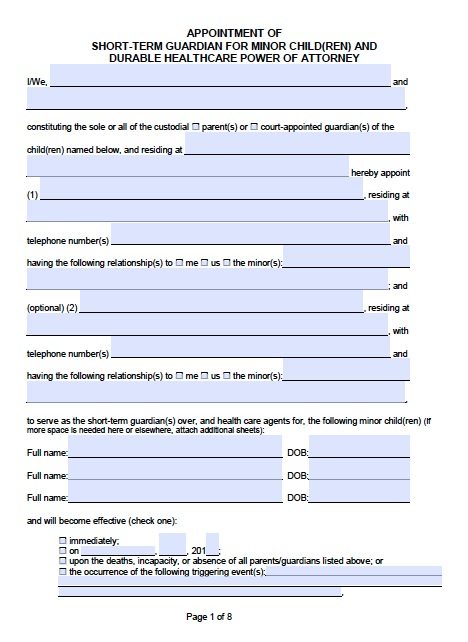 Of late, this guardianship power of attorney form is widely used in California for arranging a guardian to the minor child.
If you have a minor child that needs to be taken care of by a guardian and you have already carried out checks of the guardian for eligibility, the next step is to assign parental rights and responsibilities for a period.
This power of attorney form lets you grant guardianship. Although you have this form ready, fill it in respective placeholders and take it to an attorney to fix a period for this temporary arrangement.
9. Springing power of attorney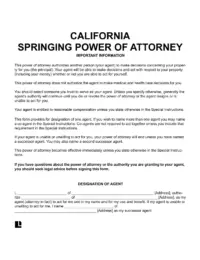 Several individuals in California treat springing power of attorney as a futuristic arrangement to keep the property or a specific thing safe at an uncertain event. With our lives filled with uncertainties, it is extremely crucial to keep things arranged.
A springing power of attorney is supposed to be an instructional arrangement that promotes a person to do a particular action when the principal is incapacitated.
If you look at the editable template given below, it lets you explain the event and also the condition or events to be fulfilled as soon as the charge is taken.
Criteria for California POA
The power of attorney is a highly powerful document in California that holds several rights and powers. Sections 4400-4465 cover different aspects and elements held by the power of attorney regulation. However, some of the criteria to be fulfilled or probably observed in every POA are as follows.
Two parties should be identified and indicated with detailed information
Date of execution and date of expiry (based on the power type)
Notary along with witnesses supporting both parties
Conditions to be held by both parties during the tenure
There are a few mistakes committed by the principal when creating this POA. These are –
Not mentioning the date of execution. This results in the immediate effectiveness of the power.
Not mentioning the exclusion clause. This creates chaos when uncertainty is encountered.
Not customizing as per the need. This will affect the power you have as a principal and also not fulfill your needs several times.
Conclusion
A power of attorney is a legal domain where you need to handle carefully with the involvement of an attorney. Using one of the templates mentioned above based on the case will help in quickening the preparation of the power of attorney document. Further, it lowers the fee of the attorney as you do all the necessary paperwork.
For every situation, ensure that you also customize the document and cover your goals with supporting instructions to the agent.