A business credit application form helps in building the relationship between the brand and the customer and also keeps up the revenue in long run. It is a must-use especially if you are business is aiming in expanding operations further.
Having said the potential of a business credit application form, this post is aimed at providing you as many helpful, printable form templates as possible.
Business credit application form templates
1. Printable credit application form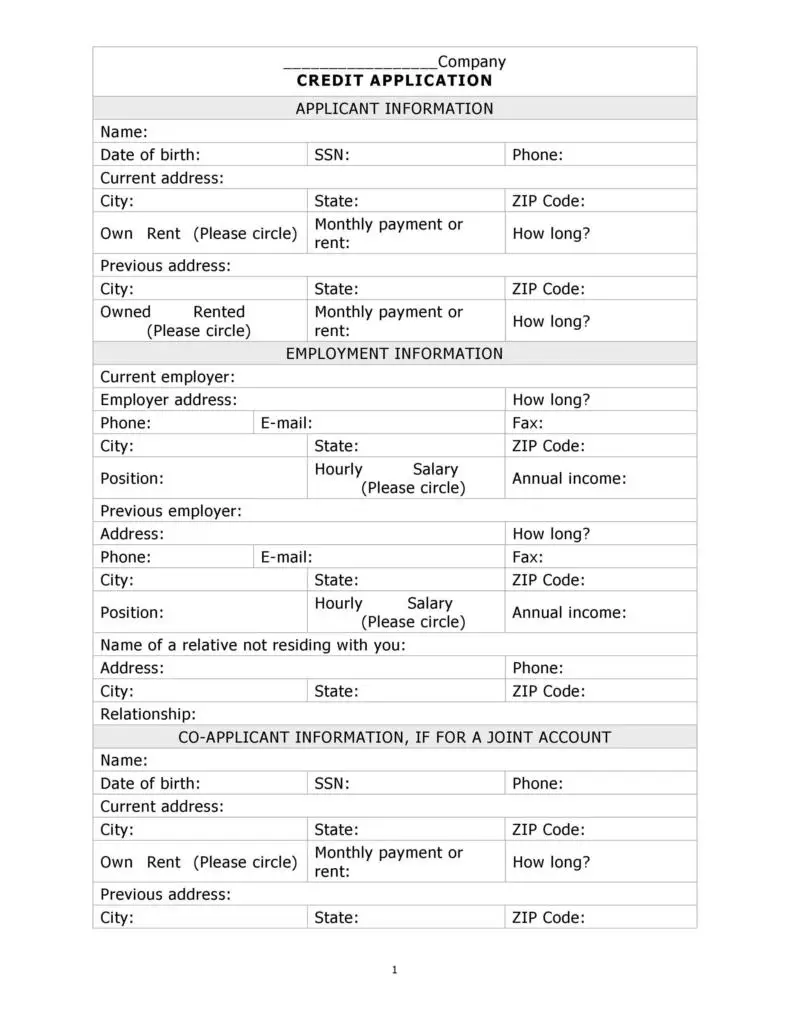 In order to enable customers to apply for credit applications, it is important to customize the form asking for applicant information and any references that can vouch for the trustworthiness of the applicant.
Here is an editable template similar to a budget proposal template enabling the company to enter its brand name and gather information of the applicant, employment, and co-applicant (based on the request). The idea behind this template is to allow applicants as individuals or couples to apply in one go.
2. Basic business credit application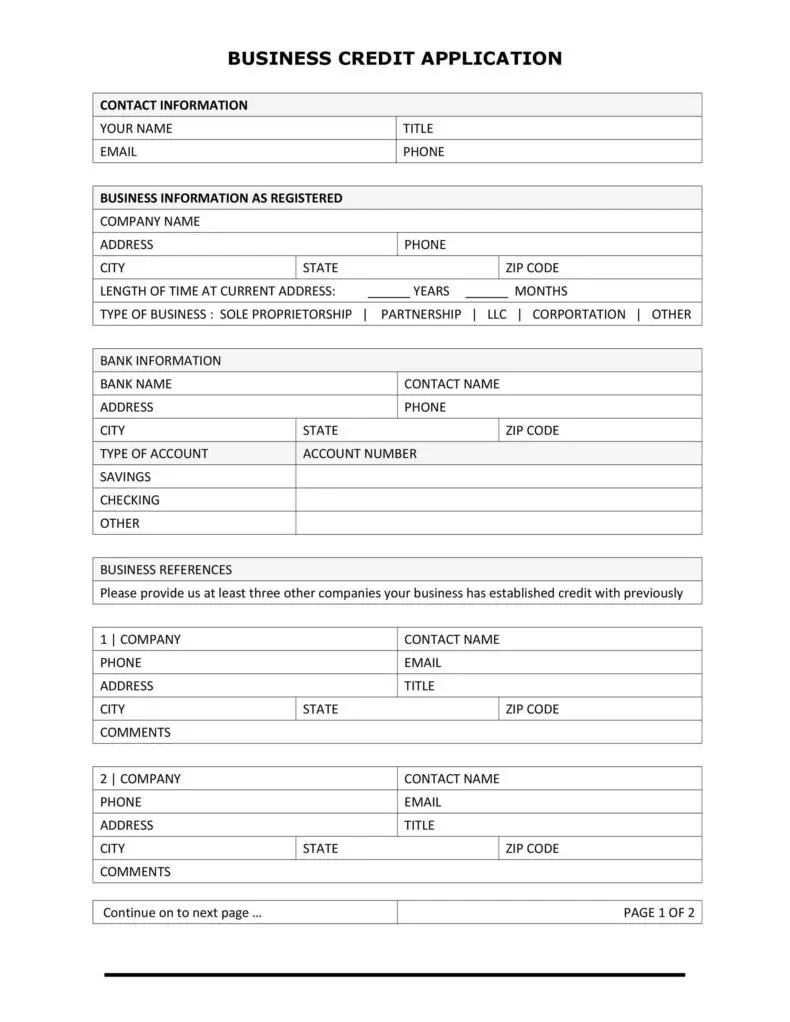 If you, as a business owner, deal with other vendors and allow credits for them to improve sales and also enable flexibility in the process, you should go for this template.
It is an editable and customizable template gathering detailed information about the individual (applicant), business detail, bank, and any references. You are also allowed to add terms and conditions that are appropriate for your business and the ongoing transactions.
3. One-page business credit application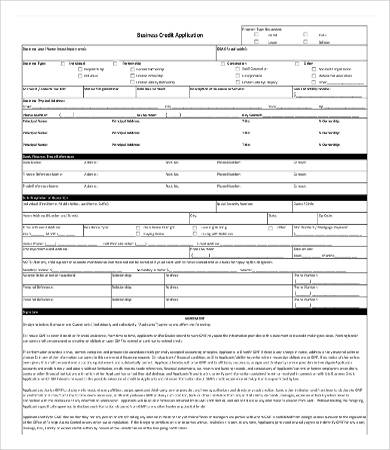 Several businesses prefer keeping the application short for the reason that bookkeeping takes time and effort. When all the necessary inputs are collected in one go with proper formatting, it becomes easier for the applicant to also maintain the copy. On the other hand, the business owner can quickly refer to the credit application at a later stage.
This is a case where you have several invoices to be sent to your customers and you may have to request funds manually as you have collected payments from the credit card. Isn't it a cumbersome process?
4. Credit account application form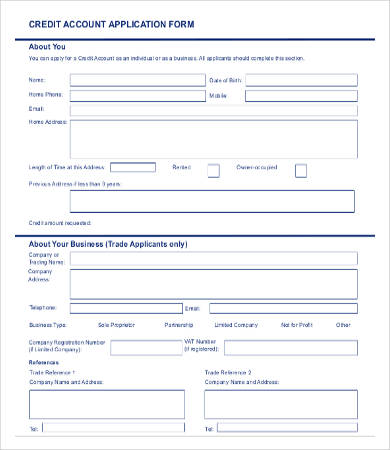 So you know that you are handling B2B and B2C customers and you accept credit card payments from both. Is there an easy way to fasten payments without disturbing your fund balance and also business operations?
This is basically useful for traders as they handle multiple types of customers and need handy information to process payments.
Remember that before you issue this application form, you may have to be aware of the customer background, invoicing model, payment policy, and data storage policy.
5. Reliable credit application form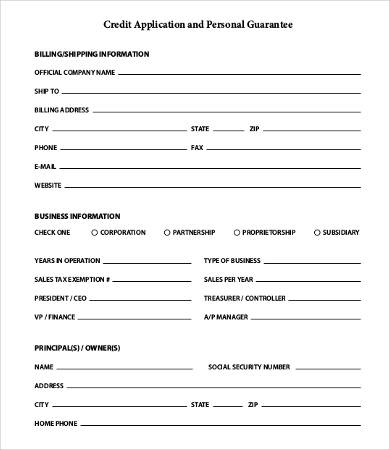 The purpose of issuing credit application forms is to simplify payments. In many cases, the customer might choose credit card payments but tend to fill in wrong information or the fund request can bounce. In this case, as a business, you may become bankrupt as more customers of this type might negatively impact the operations.
The best way to address this issue is to make use of a credit application and personal guarantee form mentioned below.
The template allows you to fetch personal information and also obtain guarantees in written format. This will safeguard your credit and also ensure that the customer's income is verified. When you deal with verified and reliable customers, you get the leverage of increasing your sales and revenue streams.
6. Small business credit application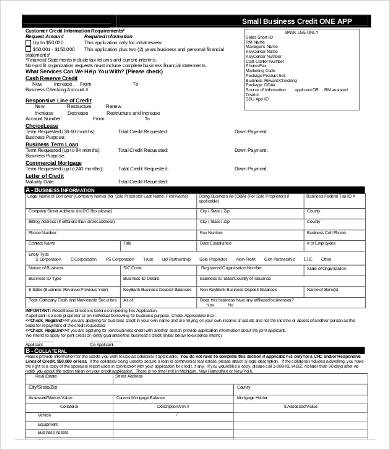 Are you a small business owner? Do you rely on strong credit reports to improve your level of income? If your answer is YES to both questions, here is a small business credit application template that you can use if you have enabled credit card payments from your customers.
Perhaps, it is difficult to fetch credit reports as a small business. Most of the businesses out there use software applications to collect credit reports from the database. The advantage here is that the credit application form simplifies the management of credit reports and also handles any potential disputes or concerns raised by the customer.
7. Distributor credit application form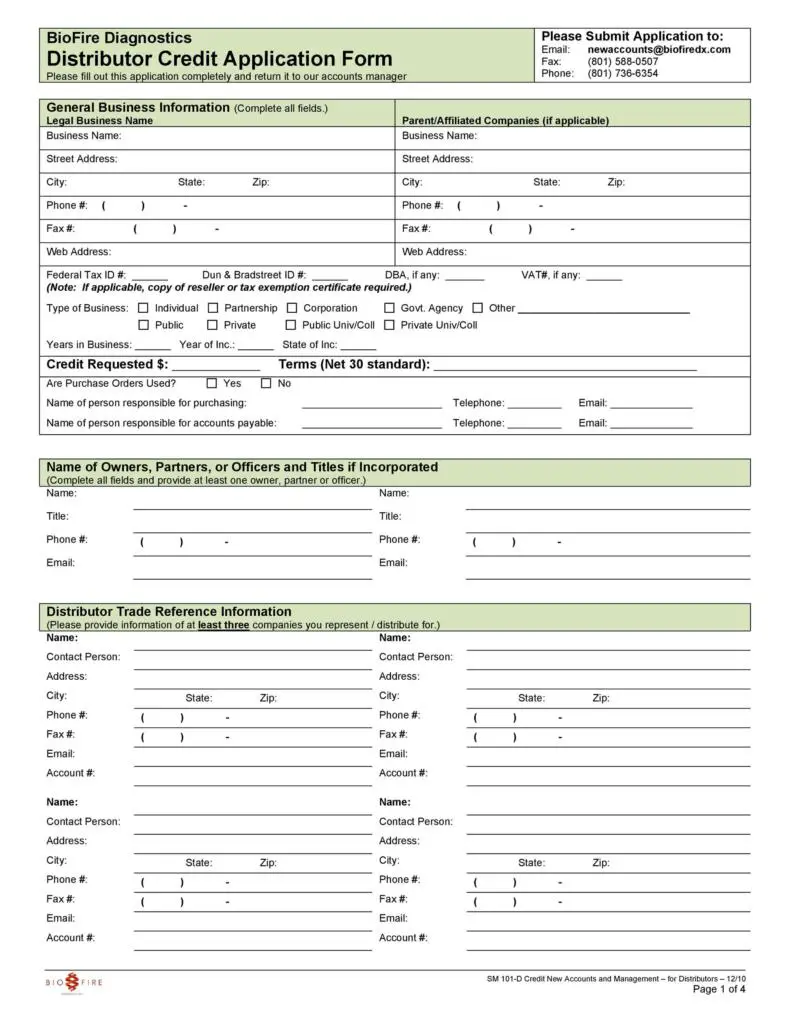 Here is a template exclusively for distributors. Whether you run a private or a partnership firm, you tend to engage distributors for various commercial activities. The form presented below gathers general business information and also gives a gist of the terms/credit already in place.
Further, information related to the incorporation of owners and titles is collected so that it becomes easy to track down and reach them at a later stage. This approach adheres to the law as well.
The other advantage of using this template is that you can work on credit extensions as per the distributor's request as and when needed. This enhances the relationship between both ends.
8. Business credit card form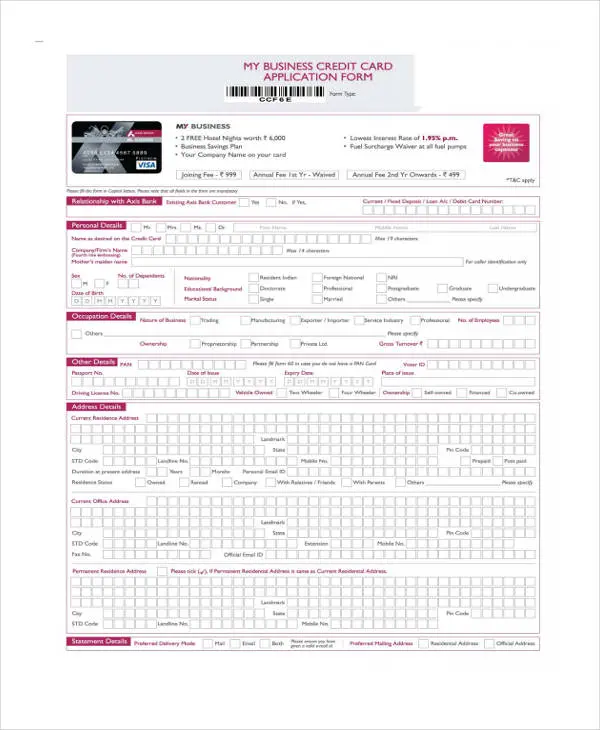 So, this is a unique form where you apply for credit for your business and then pay attention to the limits of transactions and deadlines for repayments.
As a business owner, you can replicate the same model to your stakeholders but remember that bad debt is likely as well. Hence, you need to be cautious of whom you approve credit card requests for.
9. Business credit account application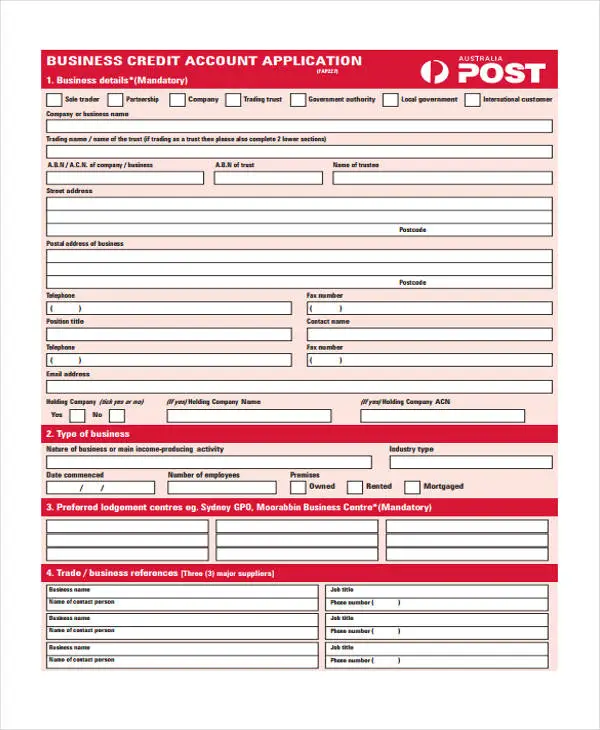 The best way to handle credits as a business owner is to make use of this type of template. The advantage here is that you can take advantage of extended credit and also lower your debts in long run. This template includes multiple sections like business detail, type, and trading that will be gathered. You can adopt the same model for your customers if you deal with the B2B industry.
Tips to use business credit application effectively
In using a business credit application, several businesses go by the idea of granting credits to their customers without going through the legal and trading policies associated. As soon as you issue a credit application, it needs to abide by the consumer protection law and at the same time, the consumer needs to be educated about consumer credit law.
Here are a few ways to maximize the effectiveness of business credit applications.
Ensure that your customer completely understands the credit policies.
Analyze your credit report before you enable your customers to avail this benefit.
Collect personal information from your customers like tax ID, assets, and personal guarantees mainly to ensure that you don't get cheated.
Be aware of bad debts and review creditworthiness before extending the credit period.
Assess the track record of the applicant in fulfilling the debts.
These are certain easy ways to keep yourself informed and secured while maximizing customer-friendliness through your business.
Conclusion
A business credit application ideally lets a business increase its revenue with the new form of transaction. However, using an application form template from the ones listed in this post will allow you to remain informed and secured without burning your pocket in granting ease to the customers.
This credit application is appropriate for businesses, irrespective of the customer model or size of the business. Nevertheless, a credit application form increases the chances of customer retention rate and is appropriate if you are working with the same set of distributors in long run.
The rule of thumb to maximize utility is to be aware of laws and policies before you put the form to use!