Resumes are mirrors of us! They are not to be underestimated as mere documents as they have everything about us that a hiring manager should know. With this potential in place, you need to spend adequate time in creating one.
If you have just passed your high school, we realize that it is hard to gather some data about yourself since you might not have work experience to stand unique.
In such cases, you need a guide to prepare a high school resume that lands you in a job of your choice.
We have templates that come free of cost and highly appropriate to your needs.
Professional high school resume templates
Here is what you have been looking for.
1. Profession-based high school resume template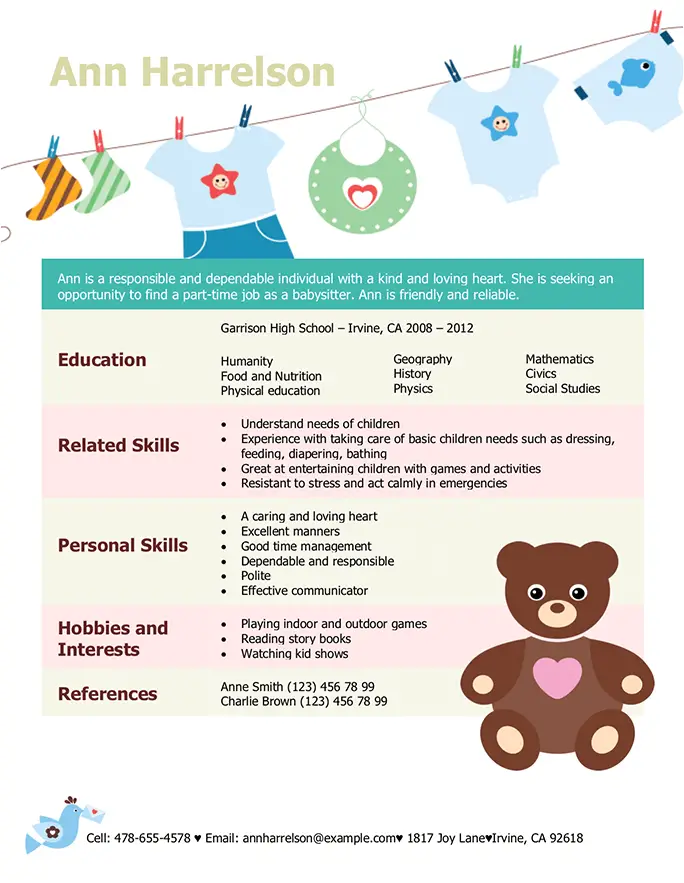 If you have worked as a part-time worker in a daycare center or been a babysitter, here is a template that thoroughly matches your role and responsibility within the institution.
This high school resume template comes with interesting icons and limits information under every section including related skills, education, and personal skills.
All that you can do is alter the color theme and icon based on the job like an Indesign Resume Template.
2. Simple high school resume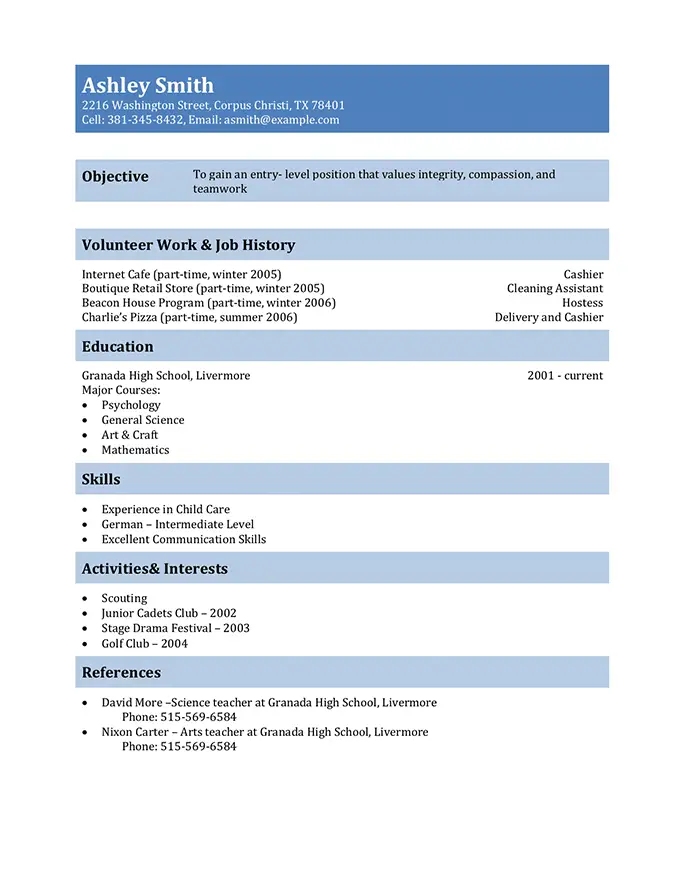 Resumes need not always be in grandeur. It can be extremely simple and include minimum subheadings including objective, education, and skills.
Since you have just passed out from your high school, including volunteering activities would work well.
If you have limited volunteering activities to share, you can include a title and a two-line description of the activity. This will make your high school resume template look complete. Coming to references, you can include details of your teacher if you do not have any external experiences.
3. One-page high school resume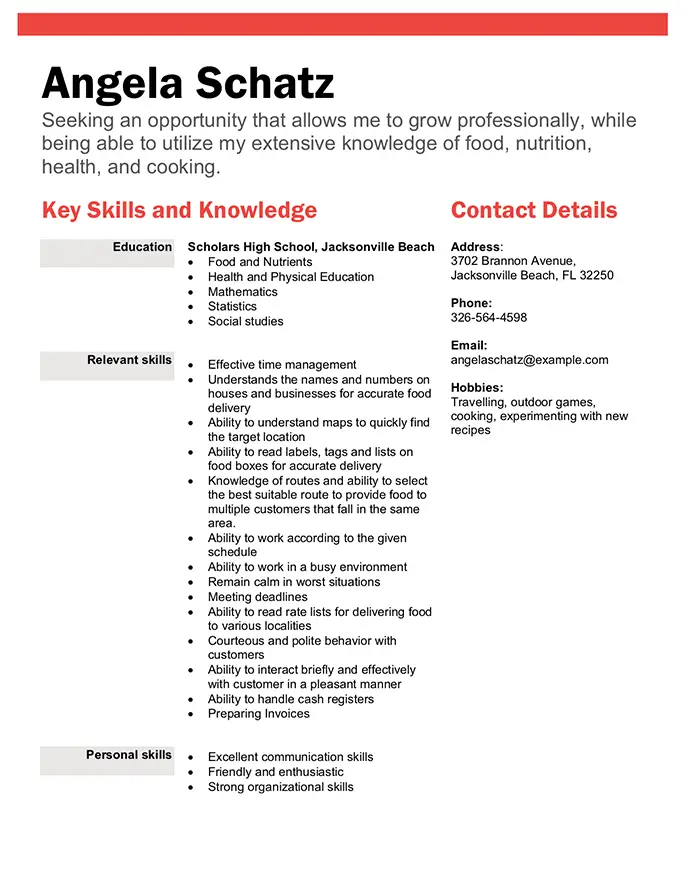 In a professional resume, what converts well is the two-line brief that you add below your name. Here is a high school resume template including brief information about the career objective of the applicant.
It is okay if you do not have work experience. All that you need to do is expand other example sections and add up skills that are relevant to the position you are applying for.
Suppose you are applying for a university, you may have to upgrade your skillset so it becomes attractive for the university to choose the applicant.
4. Strength-based resume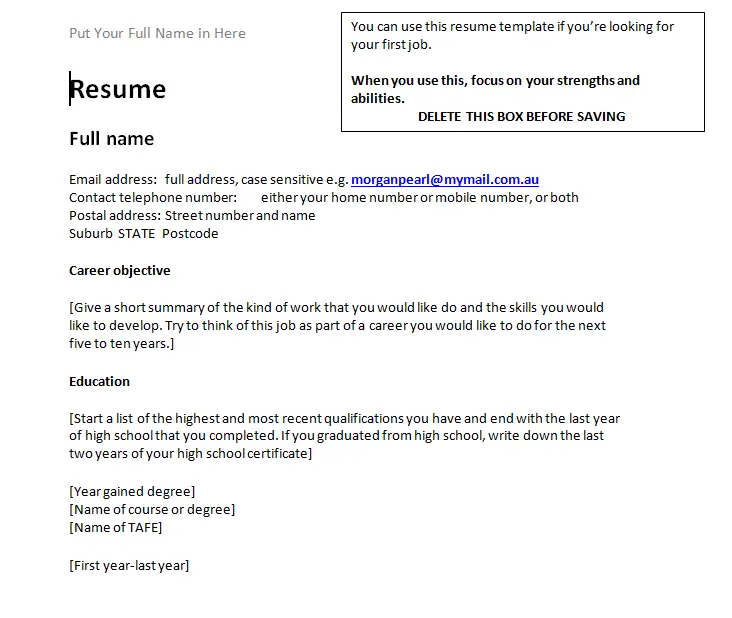 Hiring managers generally look at three things in a resume – experience, skillset, and strengths. When you do not have experience in a field, hiring managers look out for strengths and abilities.
Match up what you enter in such a way that it is what the hiring manager is waiting to see. Use the following template to list out descriptions for sections like education, career objective, and strengths. Perhaps, you can customize this high school resume template example further if you wish to.
5. Resume for the first year of college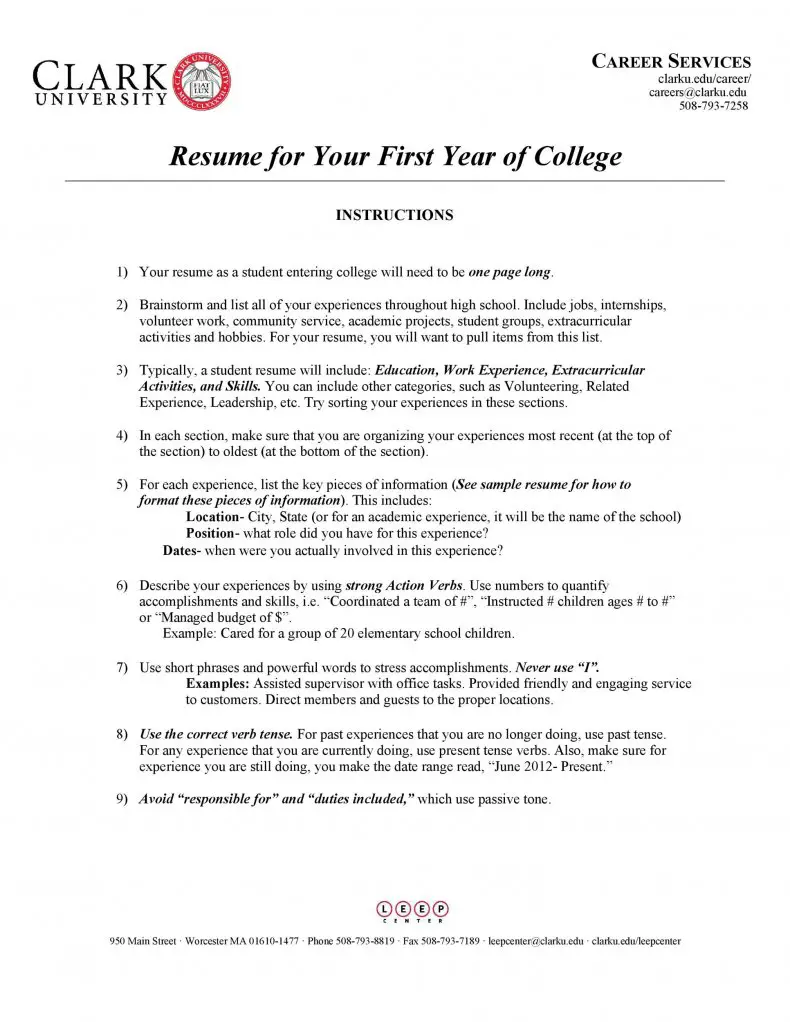 Here is a template that directs applicants to draft an excellent resume that is ideal for first-year admission to a college. It begins with basic instructions to prepare your resume accordingly. The specialty of this high school resume template is that you are instructed what not to do.
This is where applicants often fail to impress the recruiter. If you still need some help to create that perfect resume example to enter your dream University, you may have to move on to career services available on the University website and then take their help.
6. Worksheet-based resume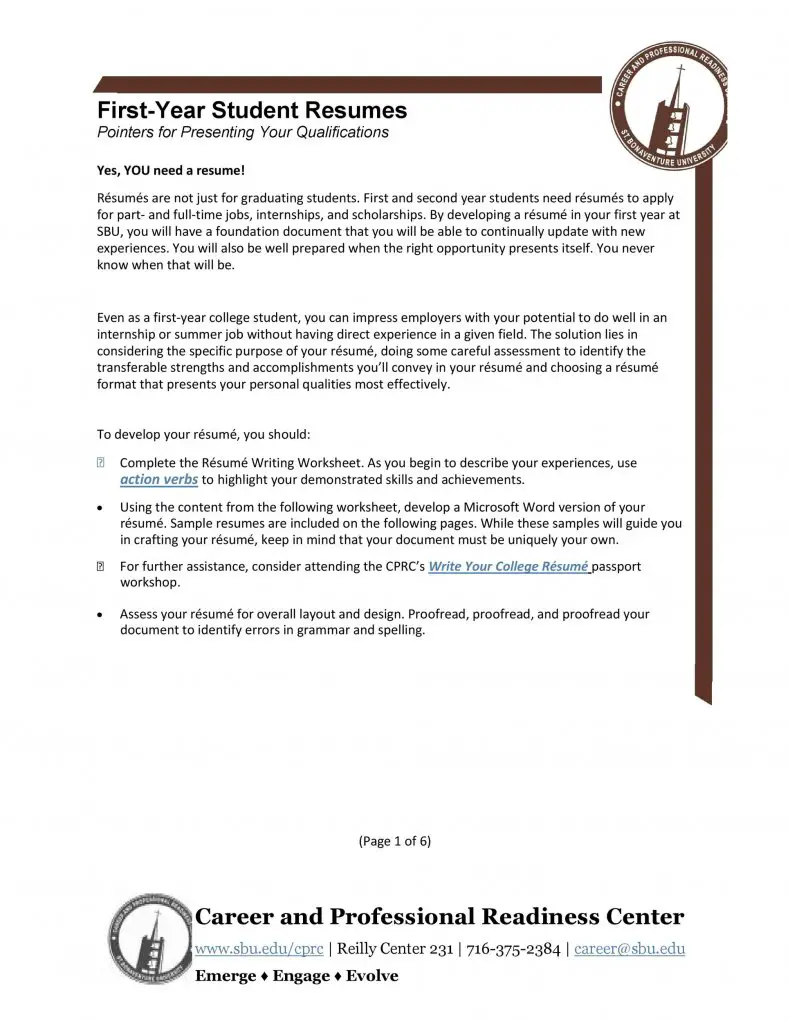 Even after listing out key sections to include in your resume, you may be facing glitches in arranging them perfectly. In that case, the best way to put it right is to utilize a resume writing worksheet in this template and then describe you in ideal words.
After the worksheet is filled out, you can convert the data into a Word document high school resume template example and focus on professional output.
7. Resume for high school students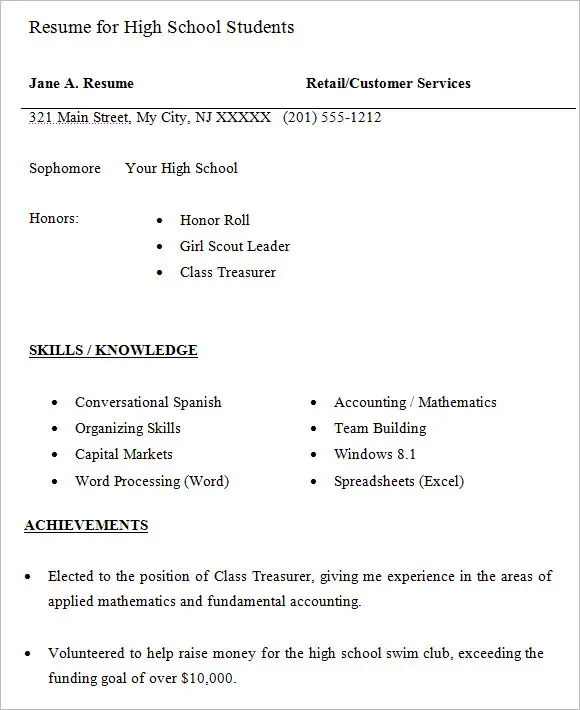 As a novice in preparing a resume, one cannot expect great design in it. But, your content and credentials can speak a lot about your capability and honors in the past. With no experience and volunteering activities, do not worry that the document is looking blank.
You can focus on your achievements, small or big. Later, you can customize the look and feel by using one of the templates example format in the list. The best part about this high school resume template is that it saves time and effort by keeping things simple.
8. Bulleted resume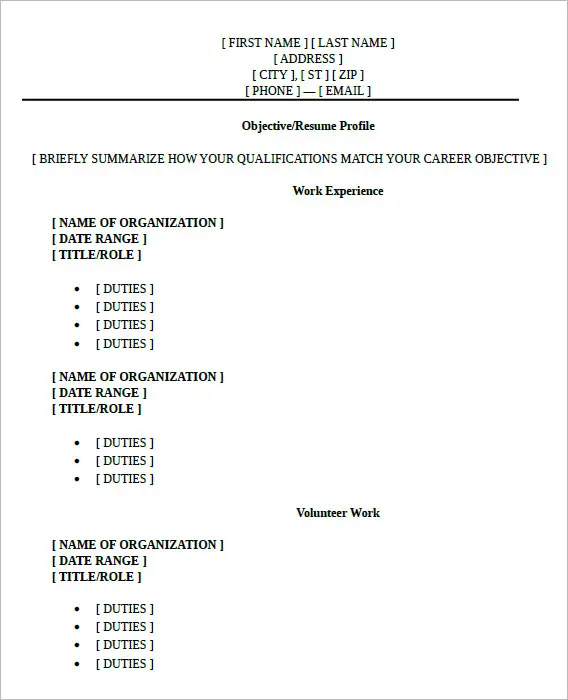 Did you know that brief points can convert better than tons of content to describe your potential? This high school resume template makes it possible by including bullets throughout the document. For instance, work experience and volunteer work have bullet points so you can just enter facts and submit them to the recruiter.
When the recruiter is keen to know you better, you can share more about those experiences.
9. Sample high school resume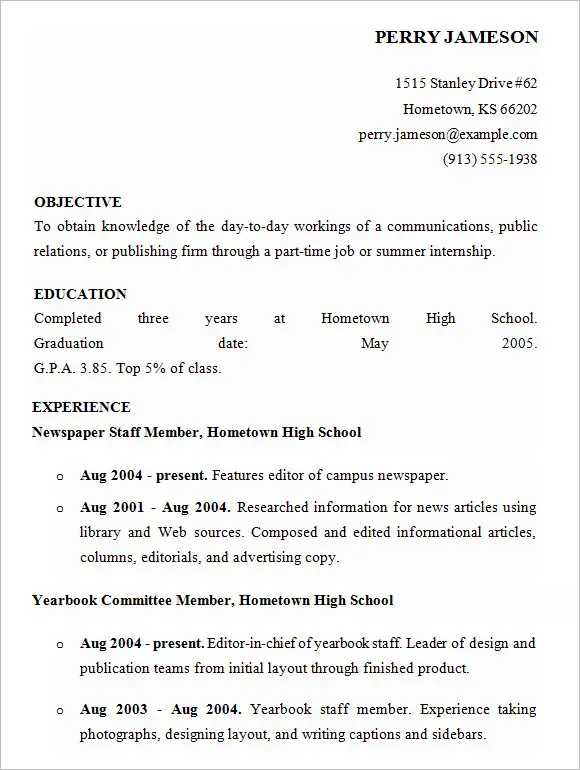 Do you think you can do better if you have a successful resume in hand? Here is one such template that has turned out well.
The easiest way to use this template is to edit in respective sections and then submit it to the recruiter. Over time, you can update every part so your resume is always ready to get selected in the employer market.
10. Resume for job application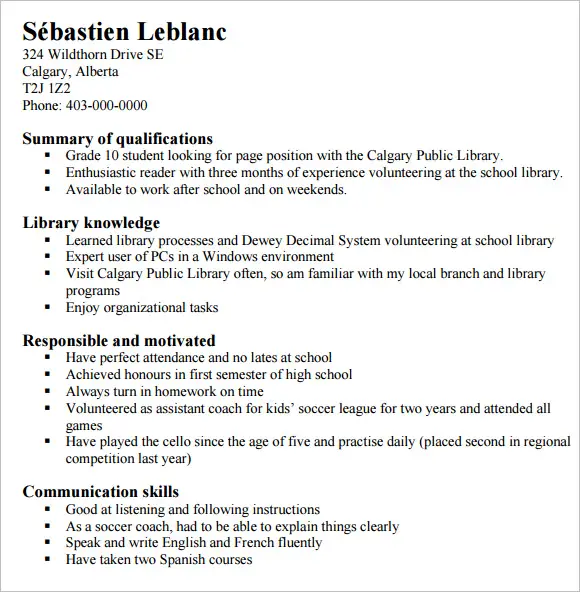 Applying for a job within your school? It is obvious that loads of high school student including you would apply and you may have to include attractive section headers to get the desired recognition.
In the following high school resume template, you can notice sections like responsible and motivated, job-specific knowledge, communication and soft skills, and qualifications with respective points under each section.
11. Detailed high school student resume



Having loads of experience but do not know how to put them rightly? Here is one detailed resume format that teaches you to sort out experiences, skills, and professional associations.
Should you apply for a technical position, you need to highlight professional associations and conferences in your high school student resume. These will increase the chances of getting recognized.
How to create a perfect high school resume?
Before you learn how to create one, begin with the practice of going through 100s of resumes before drafting your job application. List out the best you find in each of them and then download one of the templates in this article.
The first step is to choose a high school student resume based on your experience levels and certifications. If the high school student are good at designing, you can play with colors in any template you choose. When you choose a template, ensure that you have three versions of it – Word, PDF, and Photoshop. Word is to edit your resume. PDF is to send your resume templates and Photoshop is to design it better.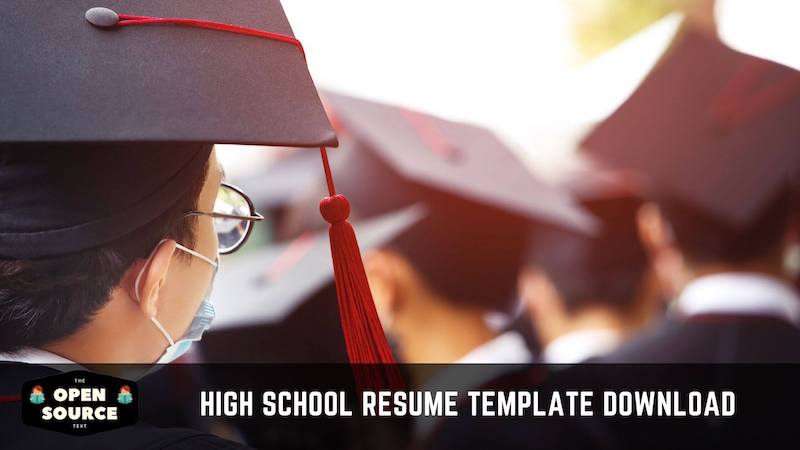 The second step is to highlight what you know under each section including education, extracurricular activity, awards, and skills for the job you want. In this step, it is absolutely fine to include 2-3 points. Include a personal statement from your heart so there are no data inconsistencies when you meet the recruiter. Never include a section for weaknesses. Instead, you may add a specific instance when you have acted well and took over the challenge based on your leadership ability or problem-solving skill. It is a good idea to include references at the end whether or not you have work experience for the job you want.
The third step is to go through samples and templates available on various education job portals to add new information such as your contact information to your resume. This is going to be an exciting phase where you tend to learn enough about the industry and what the University/recruiter is expecting from you for the job you're applying for.
The fourth step is to focus on the design aspect. A plain resume templates does not denote your creativity. Be creative! You are likely to stay longer in the job you apply for. Always go with professional colors like blue and use the same in an appropriate layout. Some organizations prefer applicants to include a passport-sized photo to connect virtually. If you have a picture that sells, include it in the top right corner of the first page.
The final step is to proofread your resume. This is the most important step that is often skipped by applicants. Go through the information and ensure factual correctness followed by grammatical corrections.
Tip – It is encouraged to show your resume example to a couple of industry connections and experts you know to take feedback and tune your resume better. A curriculum vitae needs to convert and sell your offering. It serves as a reminder to the recruiter and can also help you in overtaking the competition by choosing creativity and uniqueness.
Another tip is to never lie and set the length to a maximum of two pages. Some people extend it too long which can stop the recruiter from going through the resume in its entirety.
Conclusion
Now that you have a range of high school resumes and templates that convert, it is time to draft yours with essential information. Remember to include accurate and crisp information in your resume so that it appears logical even when you use it after years.
File your resume and carry it in style when you appear for the interview (job or University). You are more likely to get selected and establish your career right there!