With every single day that passes by, the job market is getting more and more competitive, and getting an edge over your competition is key to securing a good career.
Even though many applicants have the right skillsets, experience, and references, they find it tough to get their applications viewed by recruiters.
Having a great resume is key to landing your next job as resumes are the first impressions you create in the mind of the recruiter. Drafting a resume isn't a difficult job, but preparing a good one is challenging.
And that is why we bring to you a useful collection of the best Indesign resume templates along with other ones too! So go ahead and check out the list of curated resume templates we have provided below.
Indesign Resume Templates
Below is a highly curated list of 7 Indesign resume templates that you can use to design your CV and resumes. Suitable for most professionals, these templates give you layout options that are usually not seen in many documents.
1. Graphic Designer Resume Template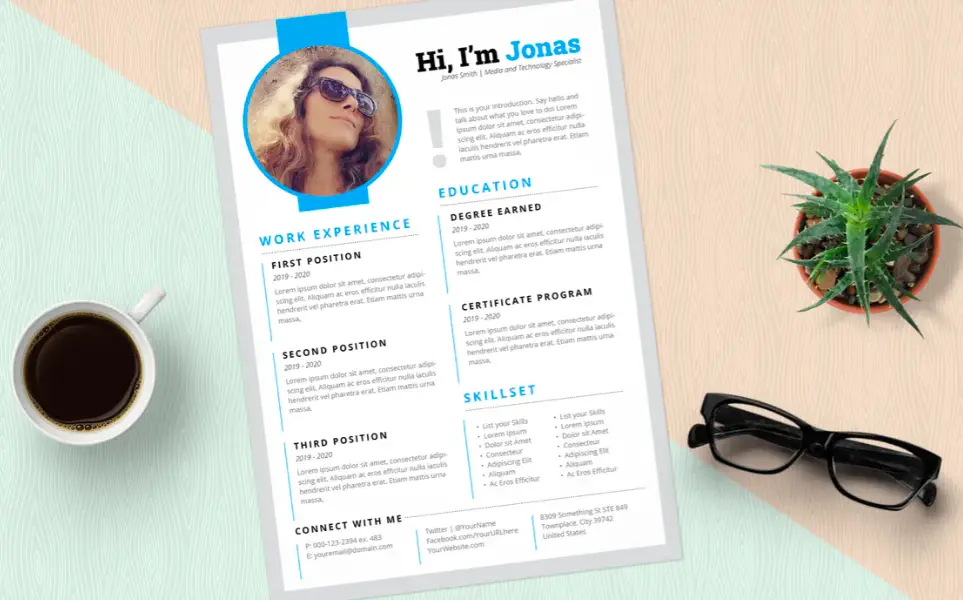 Graphic designing is all about visual elements so a graphic designer's resume should portray the same elements. This Indesign resume template comes with a visual layout bundled into neat, legible sections that highlight the education, work experience, skills, and contact details of the applicant.
You can add your own image to the resume giving it a personal yet professional look. This template is available in different formats just like a high school resume template and is print-ready as well. Once you get the template, you can edit it to include your picture and information and then print it out on a good color printer.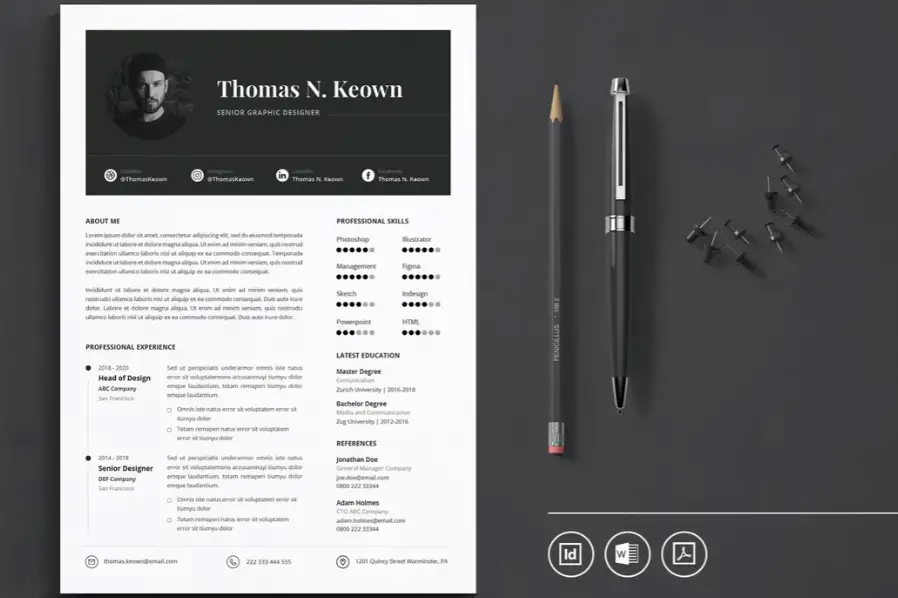 Next, up is this elegantly designed professional-looking resume template that is a great combination of text and images. The clean design of this resume is split into sections to include information about your education, skills, achievements, references, and a top section for a brief summary of your career.
Some of the features of this template include a one-page format along with the resume, support for Indesign, Microsoft Word, and PDF files, free fonts, image placeholders, and content that can be easily edited.
3. Minimalistic CV Resume Template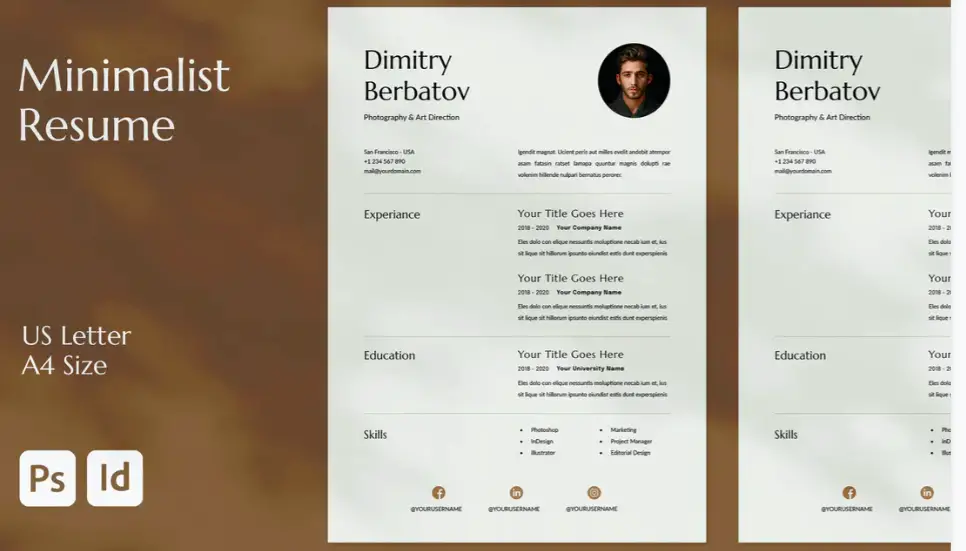 Available in formats that include Photoshop and Indesign files, this is an excellent template aimed to impress recruiters. The good-looking resume template comes with a section to include your photograph, along with work experience, brief summary, and education details.
Designed in A4 size, the template uses CMYK colors that are great for printing, vector-based shapes and is sure to alleviate the prospects of landing a job! It also has free fonts, a print-ready template, and a US letter size template as well.
4. Professional Detailed CV Resume Template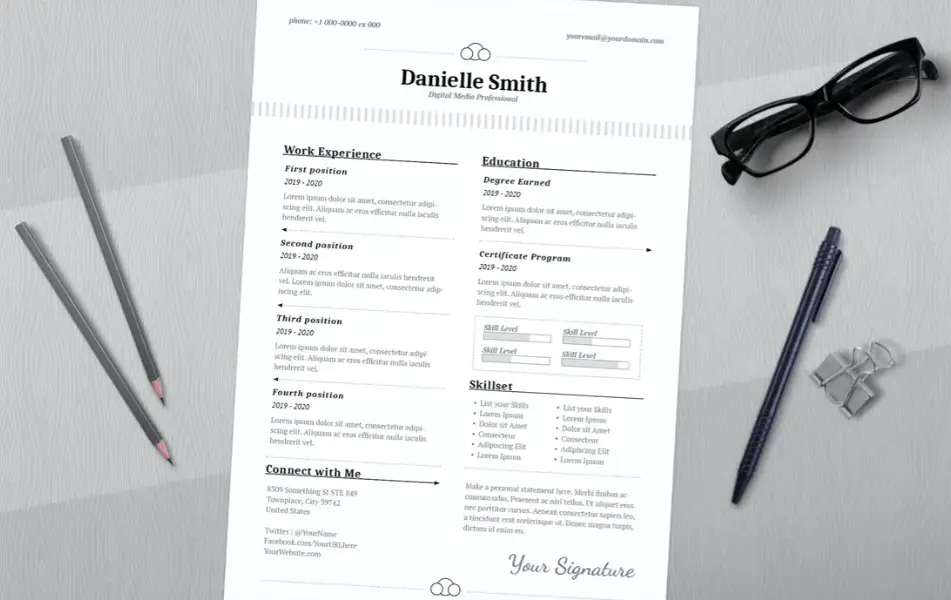 If you want a resume look that is both professional yet a little slightly colorful, then this one will come in handy. The document comes in a professional-looking format and uses earthy colors that will look great once printed out. The best part is that it is a one-page document that captures all details perfectly.
One-page resumes are suitable for freshers or new professionals looking to change jobs. This template is a simple yet functional design and you can make Microsoft Word and Adobe files in it. Once you get it, you can edit the colors and the contents as per your requirements.
5. Simple Print Ready CV Resume Template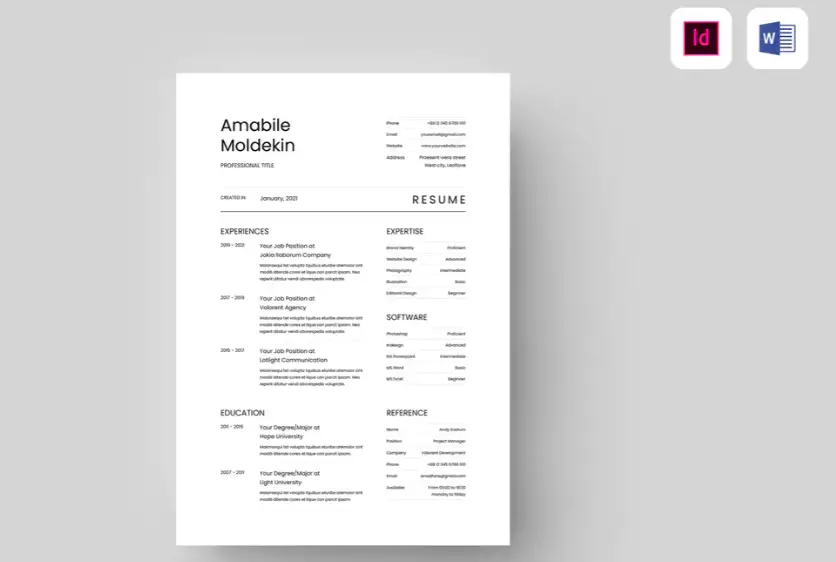 It isn't always required to put a photograph in a resume or to add colors to make it more attractive. Even without these elements, you can design good-looking, functional resume templates. This is an excellent example of such a case.
The above template is made for those looking for a simplistic design that contains all the sections of a resume. You can enter your summary, professional experience, education details, contact information, and skillsets in the document. What you get as a result will be an A4 size Microsoft Word and Indesign template that is print-ready and easily customizable.
6. Colorful Print Ready CV Resume Template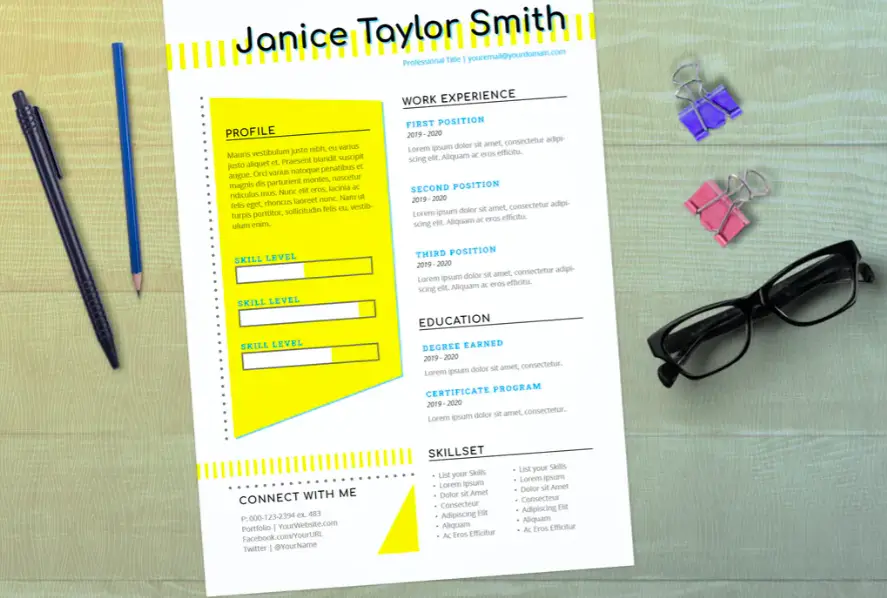 Doesn't this just look so refreshing and colorful? These bright resumes are not suited for every profession but if you work in the creative fields then you will be apt to use these templates. Decorated with bright, attractive colors this resume template suits designers, artists, bloggers, photographers, and others in the creative field.
The customizable template comes in an A4 format and gives an output of an Adobe Indesign file. Once you download the file, you will be able to make changes to the pictures, color elements, text, etc. It is print-ready so you don't have to change the margins in the document.
7. Multiple Format Resume Template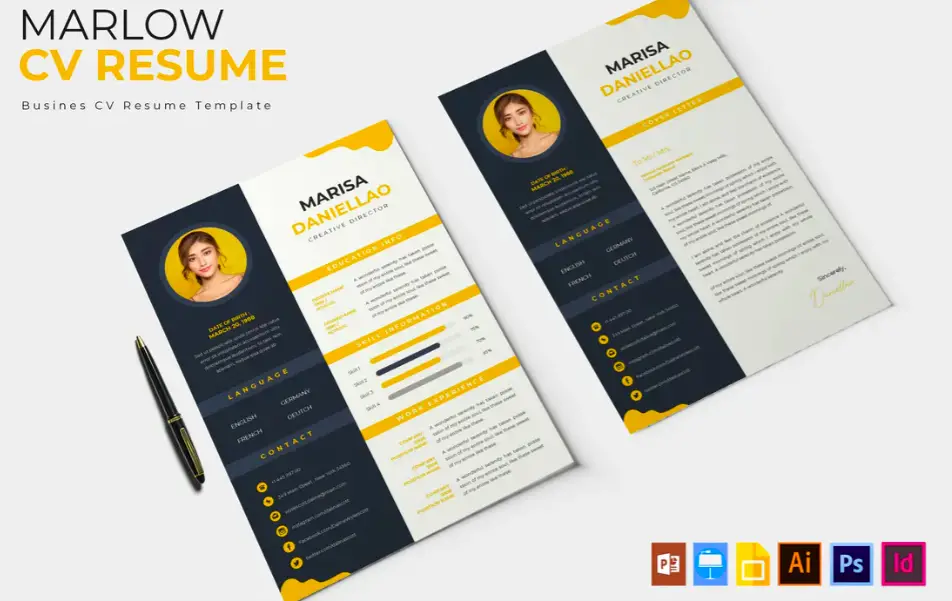 This one is an excellent template for those people who want multiple file formats to use. Available in Indesign, Photoshop, Powerpoint, and Illustrator, there are a plethora of editing options for you. The clean layout highlights different sections and is very appealing to look at.
Apart from different file formats, you will also get a stylish, new design, paragraph styles, free fonts, an image placeholder for your picture, A4 size, and easy editing options.
Bonus Free Microsoft Word Resume Templates
Here are some free, basic templates that you can use to design your resumes.
1. Colorful Resume Template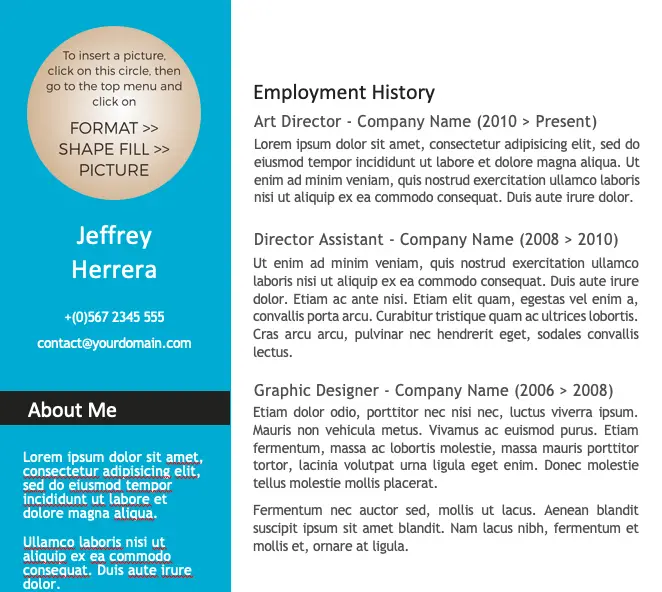 Here is a simple, free Microsoft Word template that you can use. Download the file and then all you have to do is to enter your own details. You can add additional pages to the document if required.
2. Student Resume Template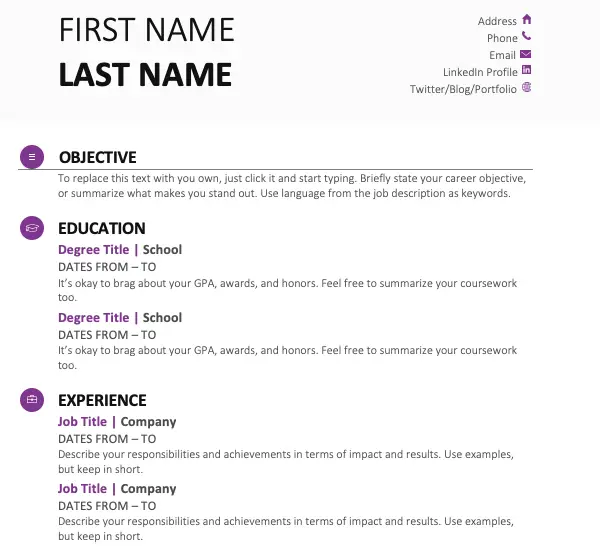 Designed to be used by students, this Microsoft Word resume template is as simple as it can get. The template has all the sections that are required in a CV and after you download it, you can edit it for changes. The format is print-ready so you don't have to make any changes to the margins or alignment.
3. Modern Clean Resume Template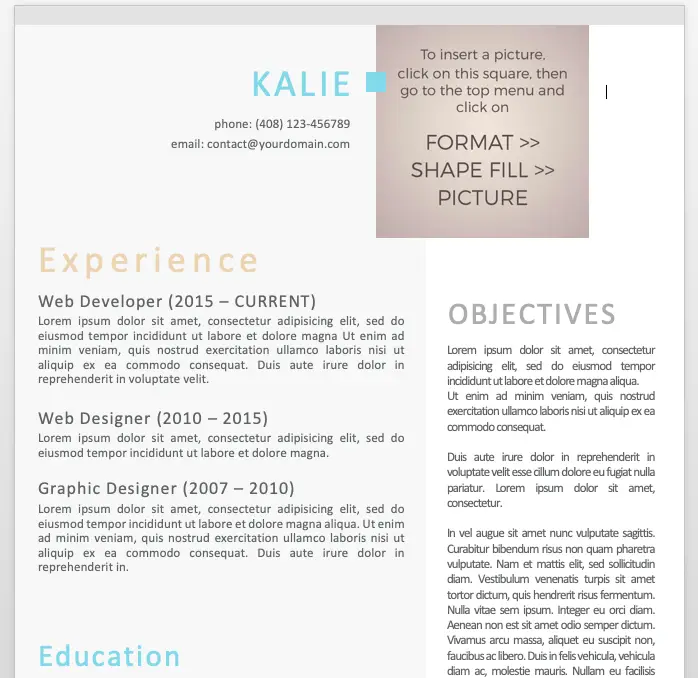 This last free template that we have is a clean, simplistic design that is great for new and experienced professionals. Neatly divided into different sections, the document highlights all the important information that goes into a resume. And you have the option to include your photograph as well.
Frequently Asked Questions
Have questions about the Indesign resume templates? Here are some common ones with their answers.
1. What is Indesign?
Indesign is software by Adobe that is primarily used to design and publish documents. can use Indesign to make resumes, brochures, posters, flyers, newspapers, ebooks, etc. If you are a professional, then it will come in handy to know how to use Adobe Indesign.
2. Do I need to know graphic design to work on Indesign?
Not exactly. If you are familiar with working on graphic design tools, then you should be able to edit these Indesign templates. The advantage of using these templates is that all you need to do is to replace the existing content with your own content. You don't have to design anything in these templates.
Conclusion
This was our collection of the best Indesign resume templates and some free Microsoft Word templates. All of them are downloadable and hopefully should let you design an amazing resume! Good luck with your job search!