Direct deposit form is a legally binding document enabling employers to pay employees through direct deposit.
If you are already aware of this, then you can directly take a look at the professional templates listed below.
Free Direct deposit form templates
1. Intuit Quickbooks payroll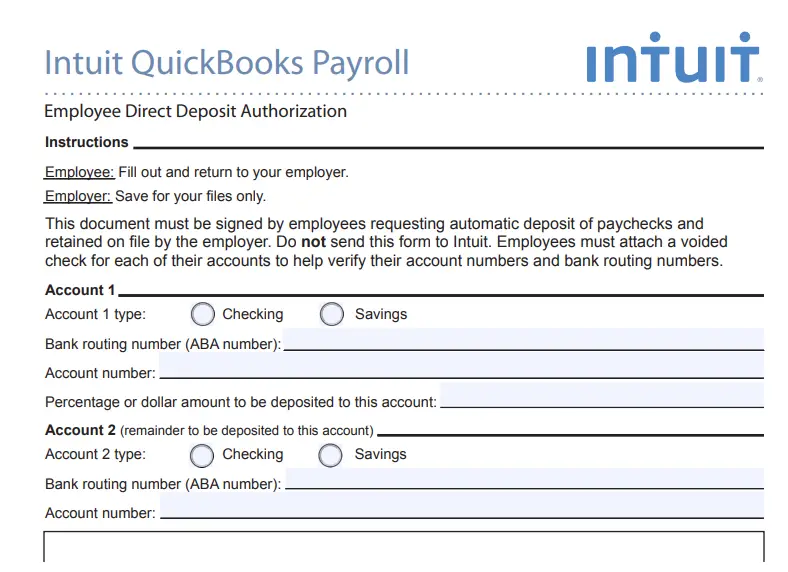 This is a commonly used payroll template exchanged between employees and employers. It allows the employee to share bank account details along with the authorization to use the details for direct deposit of salaries.
This quickbooks direct deposit includes placeholders for details like account type, bank routing number, account number, and the actual amount.
Managing a payroll needs expertise as it has huge implications on the assets of an organization. Paying off salaries or paying the vendor is a task that needs to be linked with records of your organization so future references can be easier.
However, a large number of organizations do not know about an excellent tool that adds ease to direct deposits and payments to payroll. If that sounds like your organization too, this template is exclusively for you.
2. Direct deposit for vendors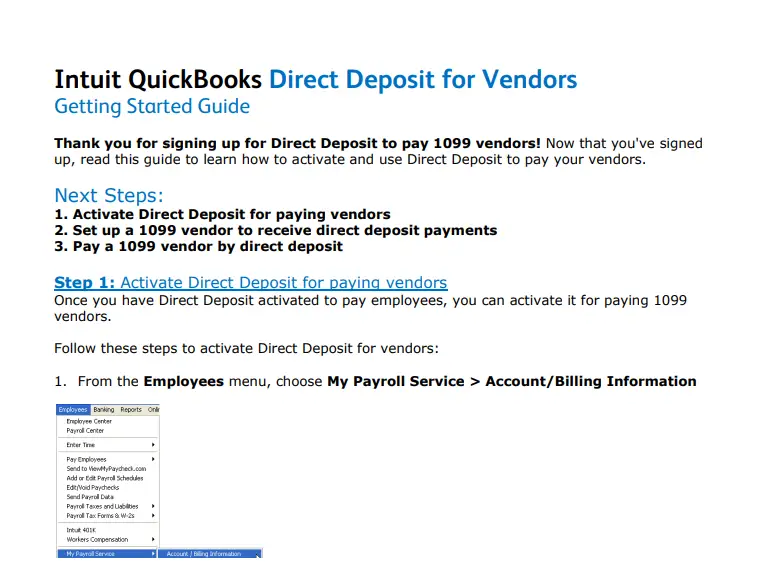 As an organization dealing with vendors for any form of support, you may have to use the following Intuit Quickbooks template to activate the option of direct deposit and set up a dedicated account to make payments to employee.
While this quickbooks direct deposit can be set up online, this payroll direct deposit form template includes directions to make use of the vendor form effectively.
Simply go through the instructions and set up an account for paying your vendor!
3. Authorization form with check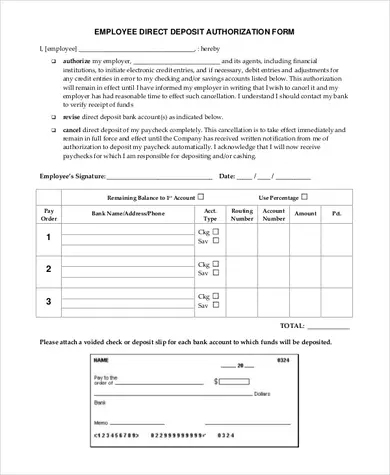 Here is an employee template that collects bank account information from employees along with the authorization.
A major benefit of this quickbooks direct deposit template is that it also includes a sample voided check for the employee to fill in. This will add ease when the payroll department uses the check to make payment.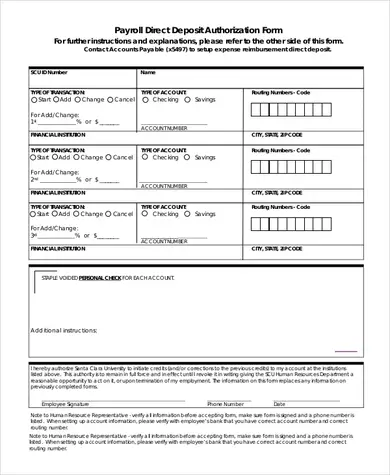 Preferring a complete form yet time-saving like this Deposit Slip? Here you go! This intuit quickbooks template contains checkboxes so you can just tick the ones that are appropriate.
Another advantage is that the employee needs to append a voided check. Including this employee voided check will allow the quickbooks payroll department to verify one or two accounts information and then transfer accordingly.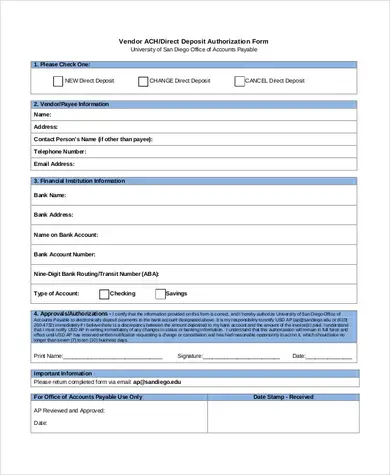 This employee Intuit quickbooks direct deposit authorization form has
four key placeholders. This quickbooks payroll direct deposit form include direct deposit function, vendor details, bank account details, and authorization. The footer is appropriate for the usage of administration.
6. Multiple direct deposit account setup form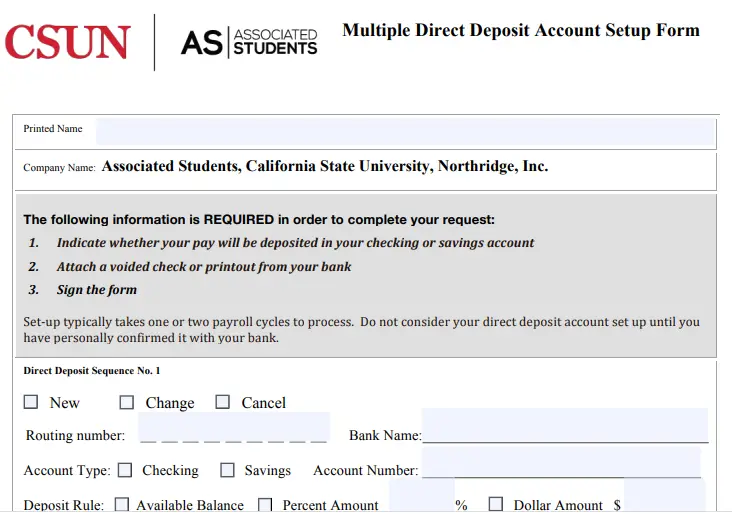 Whether it is adding or changing or canceling an employee account, one quickbooks payroll direct deposit template is just sufficient. Further, it is also feasible to append two accounts in one intuit quickbooks form. Based on the employee's preference, the payment can be transferred.
7. Direct deposit form for employees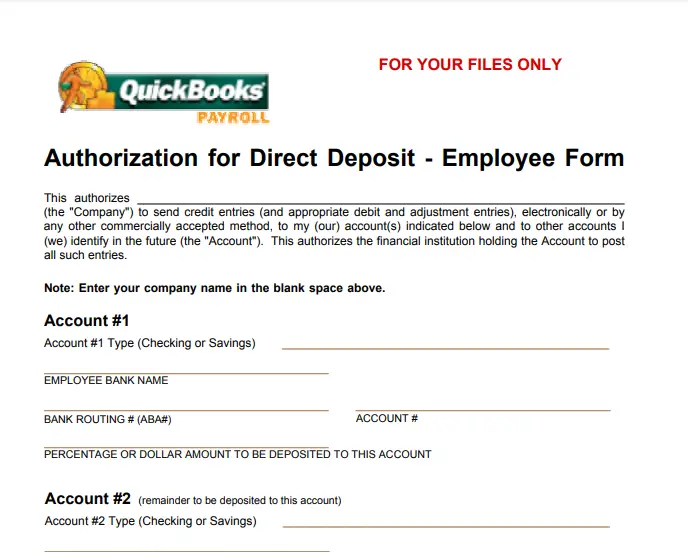 Similar to the templates above, the following employee editable quickbooks payroll direct deposit document also lets you obtain authorization of employee's bank account details.
There are two account details that can be added using this intuit quickbooks template and these differences can happen for tax benefits. Download this quickbooks payroll direct deposit, edit, and you are good to go!
Why direct deposit?
As a business owner, a direct deposit allows you to quicken payments of employee salaries. There are a lot more benefits that an account quickbooks payroll direct deposit form can offer.
Handling innumerable checks for employees can be a cumbersome task if you have over 15 employees in your organization. Another problem is that it can be harder to maintain a dedicated account to distribute paychecks. By depositing directly, the corporate account stores a record and you can instantly bid goodbye to checks.
Changes are inevitable in a business and the only solution to address and remain prepared to changes is to perform careful budgeting. This will allow room for contingency plans in an organization. Employees get comfortable when the organization also organizes training and wellness programs once in a while with the balance savings. Doing a direct deposit gives you an understanding of how much is actually needed to handle processes and the exact amount that can be spent towards other functions.
One step closer to high productivity
Productivity is an ongoing challenge faced by organizations. Distributing paychecks can consume more time than expected as employees need to deposit and the quickbooks payroll needs to sanction the same. With the direct deposit form in place, it is possible to receive salary right at the workplace and one does not have to wait for a longer time to get that hard-earned money.
Some employees tend to remain cautious when they share their bank account details due to problems like hacking and data misuse. When a direct deposit approach is offered to employees, it ensures privacy and there is authenticity in each transaction to the account. As employees feel secured about the workplace, productivity increases and employee turnover decreases.
Dos and dont's in a direct deposit form
In an account Quickbooks deposit form, it is feasible to obtain extra benefits if it is handled rightly.
Here are the dos of this form.
Before you begin processing salaries, get account consent from employees for the transfer to the account.
Give the helpline information if at all the employee faces trouble in the process. This helpline information can be a contact number or a person who handles queries related to quickbooks payroll and vendor payments.
Keep the employee informed about how the form will be used for his account so there is better clarity.
Include Intuit direct deposit form as a part of the employment contract so your time is saved.
Wait, there are commonly committed mistakes that you should avoid.
As soon as the account detail is collected, you need to maintain the confidentiality of information. Involving multiple employees in depositing the amount can result in misuse.
Pay attention to local laws and standards relating to quickbooks payroll and salaries before you use the template.
Conclusion
An Intuit direct deposit form gives your organization the utmost support and leverage as you add ease to the financial transaction. You gain the satisfaction and comfort of your employees as well as vendors. Perhaps, building a strong legacy is not a dream anymore. Also, before you go, check out these hold harmless agreement in case you are buying something.