The habit of reading can be an asset to many. It makes a person a better being in society and imparts values and knowledge essential to lead a living.
If you are an avid reader or a parent wanting your kid to develop a reading habit, there is a free tool to use immediately.
Introducing a reading log, a dedicated tool to maintain a log of what, when, and how you read. If reading has been on your bucket list for a long time, this reading log can be a catalyst.
Professional reading log templates
1. Reading log template for students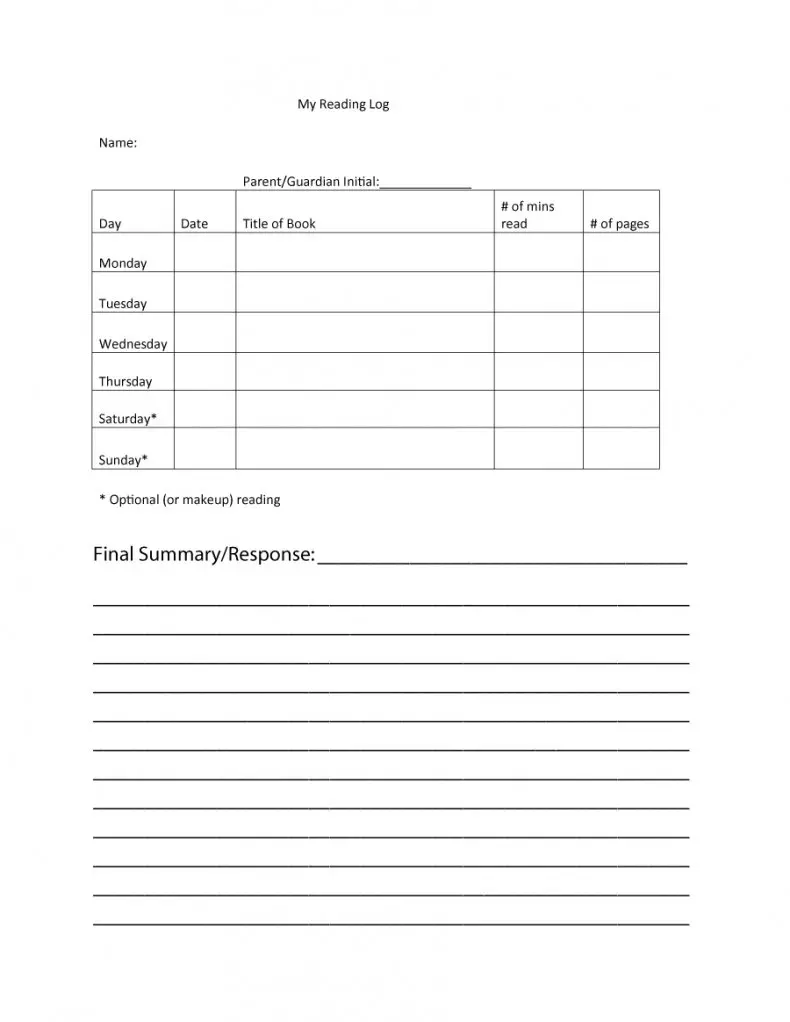 Schools insist students on acquiring the habit of reading consistently. This needs to be under the supervision of the parent or guardian so the habit is developed appropriately.
It could be regular subject books or storybooks based on the instruction of the teacher. As a parent, you may input information relating to the book title, minutes read, and the number of pages completed.
The best part about this template is the dedicated area for reflection at the end of the week just like we have in an hourly/weekly schedule planner pdf.
2. Simple reading log template
The year 2021 has just kicked off. To many, it can be a dream to acquire the habit of reading this year. The following reading log template allows you to append the date of reading, contents of reading along with book title, and the degree to which you have met the goal.
For instance, you may target reading a book 10 minutes a day before sleep or reading 1 page each day. As days pass on, you may extend this template further by adding new rows. Never forget to reflect at the end of each month.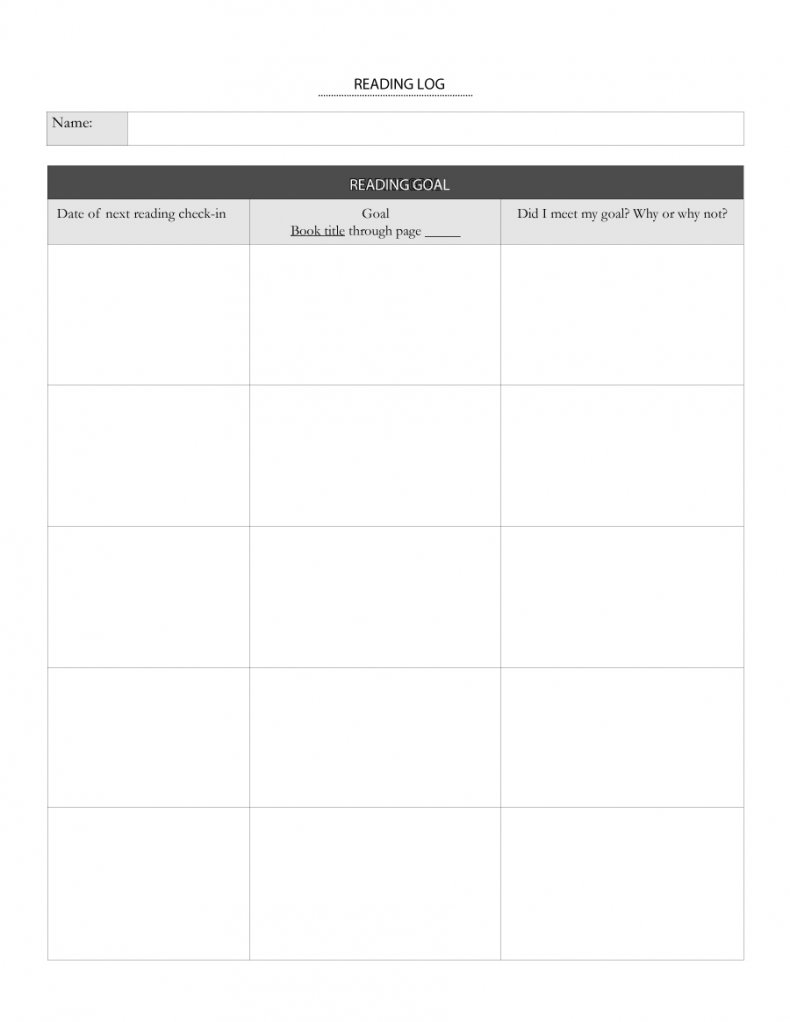 3. Daily reading log template 
This is yet another professionally-looking reading log template allowing the student to read a book with the initials of a parent.
This is a daily log that pushes the student to practice the habit of reading and summarizing contents each day.
This habit eventually motivates the student and pushes towards a productive outcome that benefits studies as well as personality.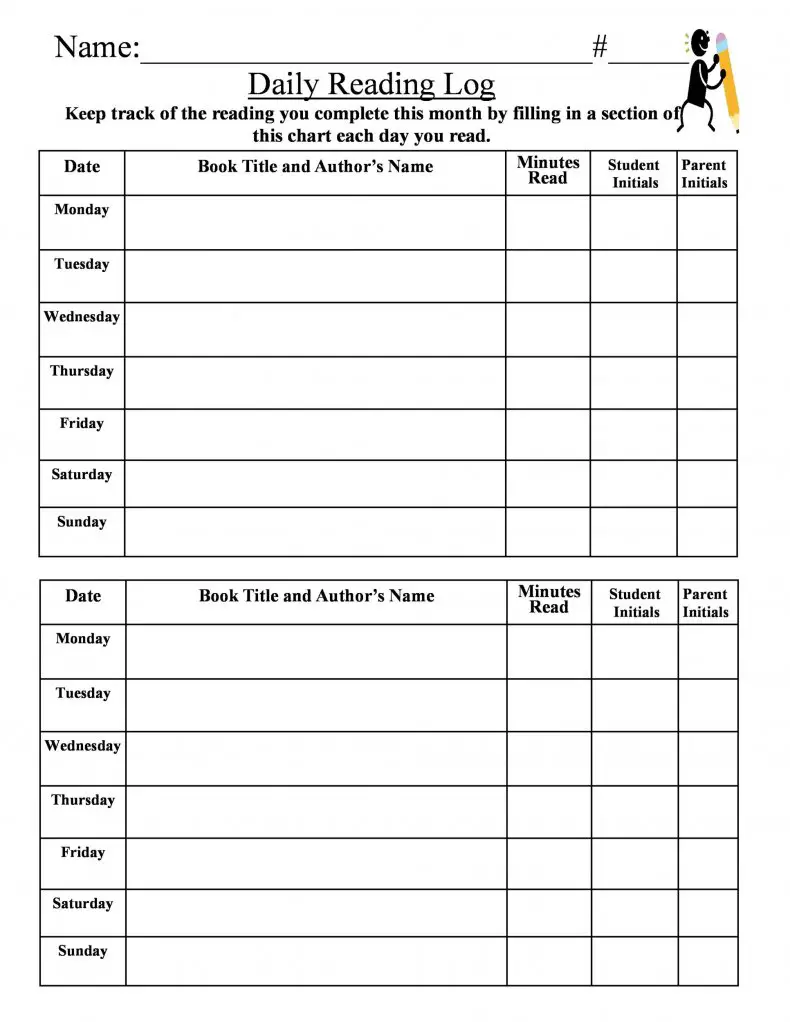 4. Weekly reading log template 
Not everyone might have time to read a book each day! Likewise, some might target completing a book each week and summarizing the development on the whole.
The following weekly reading log template is meant to list down books read during the week along with genre and comments.
Some people have the habit of changing genres as months pass to add a twist to the process. Some even tend to note down important quotes just because those are relatable.


5. Kindergarten reading log 
Acquiring the habit of reading as early as a kid can benefit you throughout life.
It is a collaborative process involving the parent, teacher, and the kid. Some schools make it mandatory for kids to submit the weekly reading log to determine the extent to which a book is read. Students learn it slowly but consistently. One method to maximize the usefulness of the log is to encourage the child to write down a brief of what has been read for the day.
This will let you assess the truthfulness and longevity of the habit.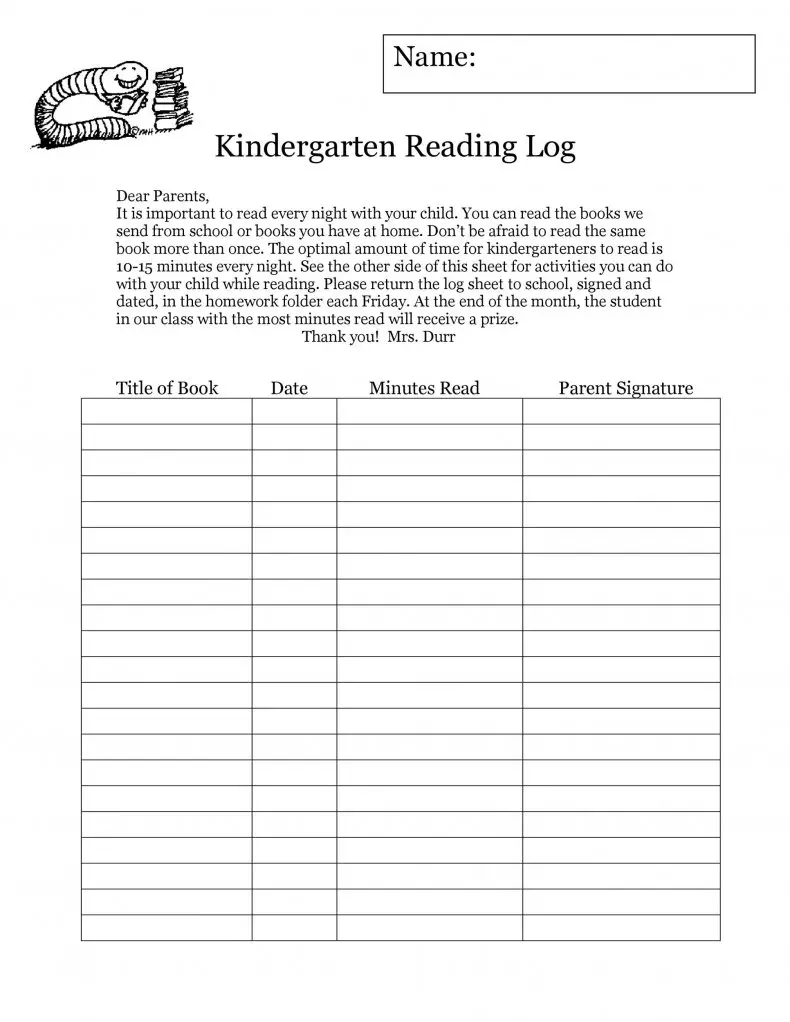 6. 20-minute reading log template
Reading needs to be disciplined enough so the reader can benefit to the fullest. Here is a template meant for the parent to ensure that the child is reading for 20 minutes each night.
Some teachers use it as a method to find out if kids have any learning difficulties or intellectual slowdown. The pedagogy changes accordingly. Also, you can award a certificate of appreciation (check out these)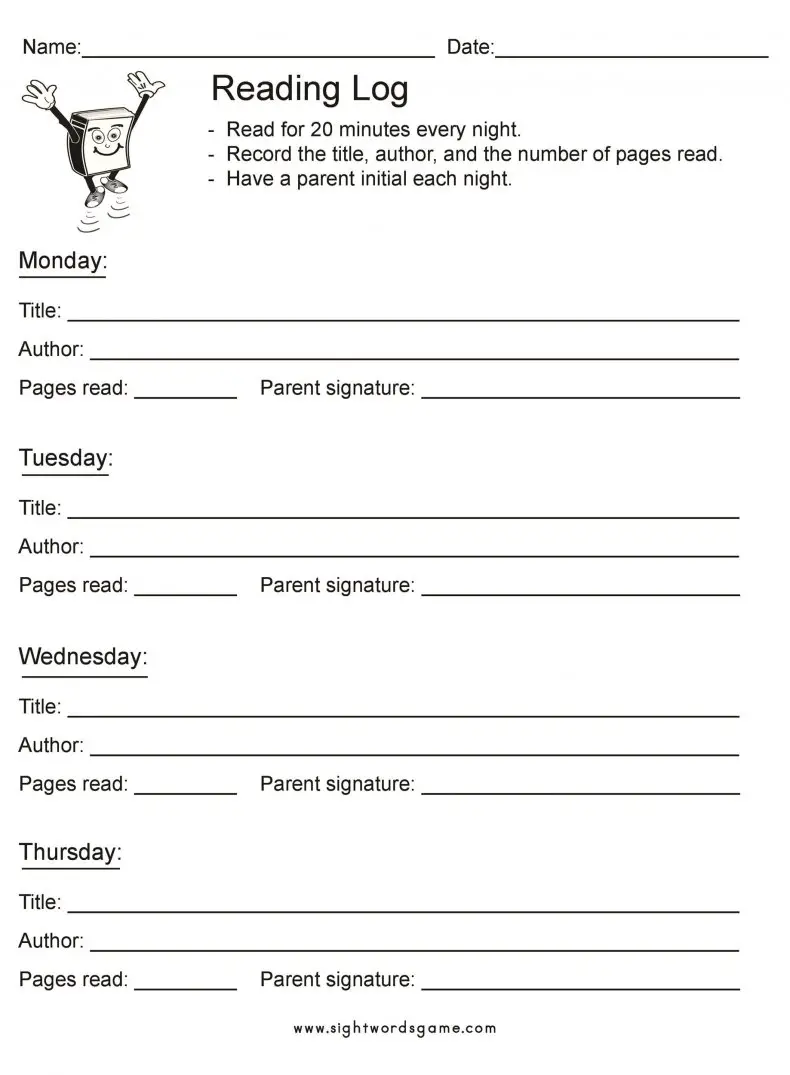 7. Note reading template 
Some prefer reading course text to prepare for the exam. However, some prefer taking notes and reading the same instead of the conventional course text.
It is based on one's convenience. The following template gives you the convenience to write down the essential question along with notes and a summary.
This can also be used in writing notes or takeaways from a specific book for you to use in the future like a printable 2021 calendar.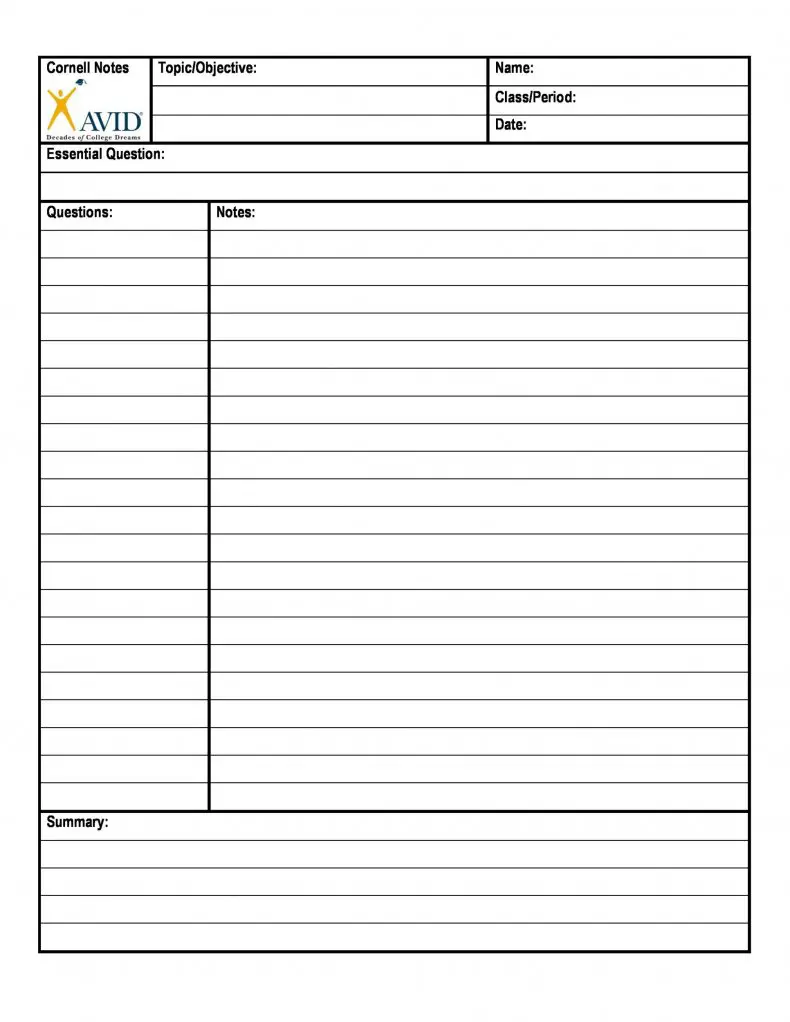 8. Reading log for magazines 
Reading log can also be used as a tool by publishers to find out the degree of satisfaction and usefulness with the content and presentation in the magazine.
For instance, some publishers include a feedback form along with the log to find out how frequently readers read the article, first impression, and personal response to the content.
The idea is to engage the readers and provide useful contents that can benefit everyone.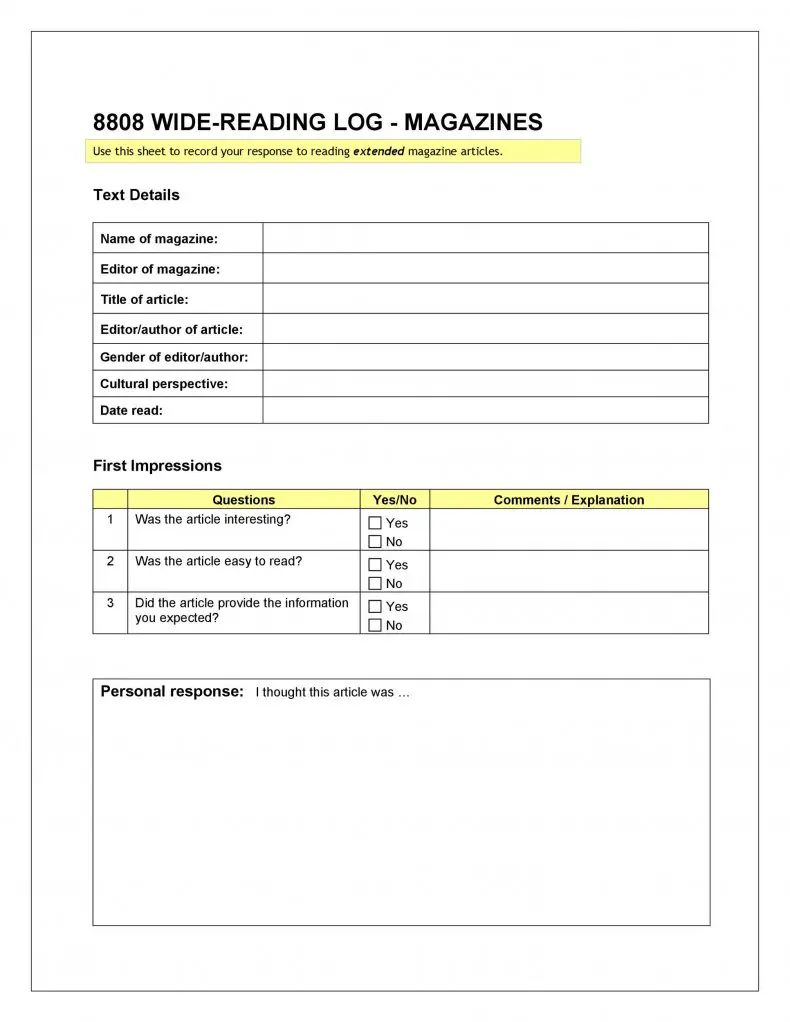 9. Home reading log template 
Okay, so you have decided to read each day but find the habit less effective. The key is to share your thoughts at the end of each reading to find out the actual loophole and then sort the issue.
This is quite common among those in primary school as they are new to the habit and need a push to reflect thoughts appropriately.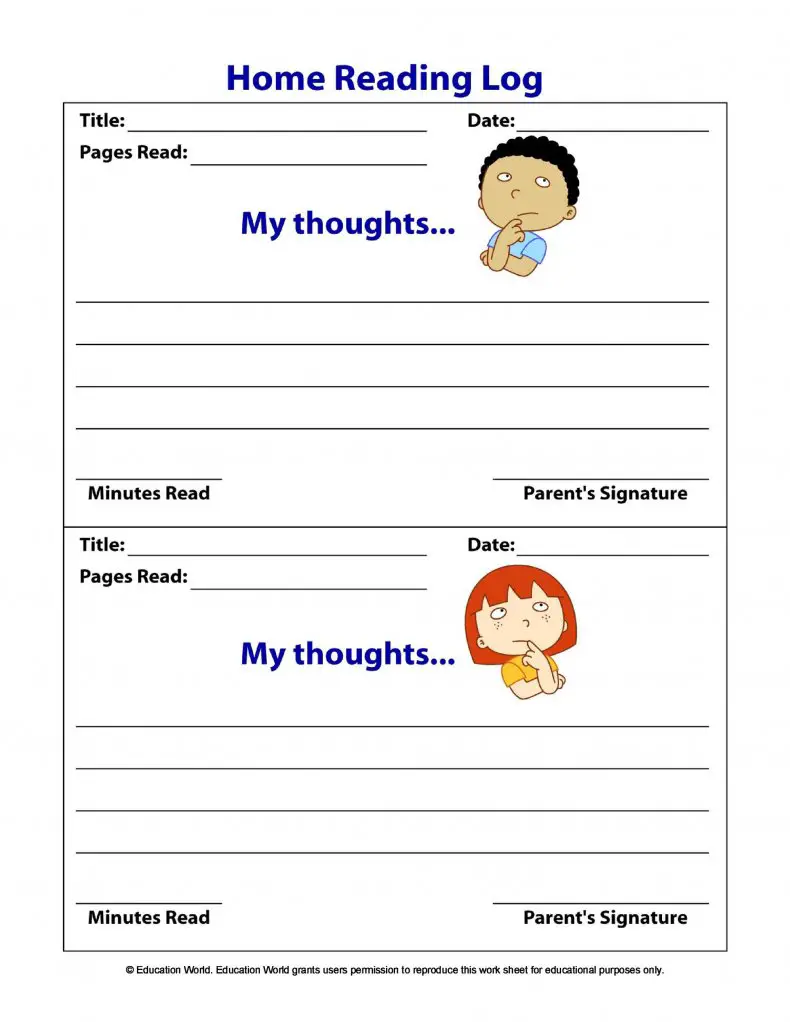 Tips For using a Reading Log 
A reading log is useful for passionate and novice readers. It lets you accomplish the following –
Choose books to read effectively
Establish an implementation plan to carefully utilize takeaways
Use time efficiently
Make reading a life-long habit
There are a few tips to improve the usefulness of a reading journal. For instance, you can include a column dedicated to your rating for the book. This can be done online or offline. Some people tend to turn it into blogging at some point so book reading transforms from passion to profession.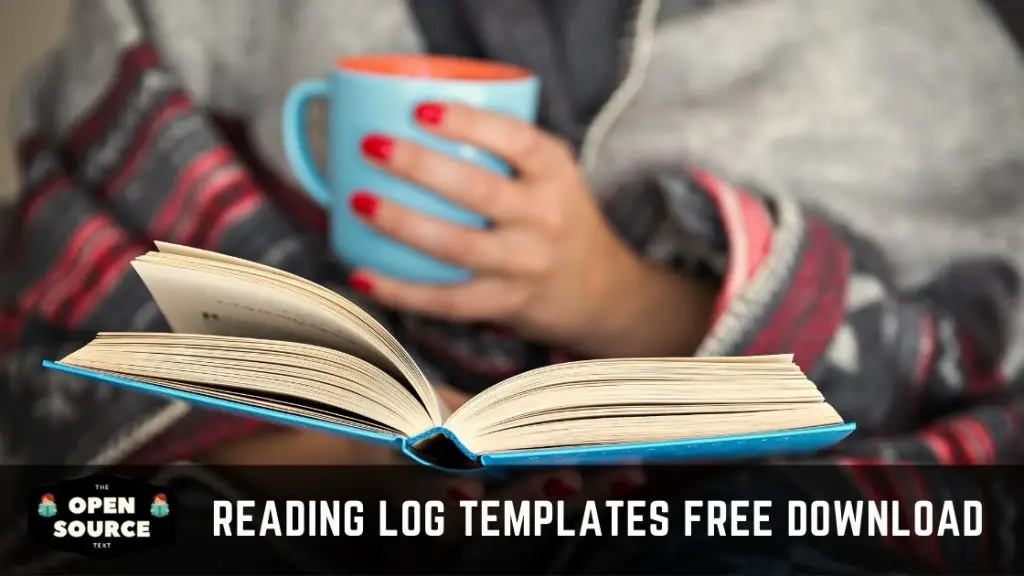 Certain books tend to connect with us in various circumstances. At the end of each year, you can create a list of characters that inspired you or taught you something. This is helpful in shaping up your character. Alternatively, you can also remember important takeaways from every book.
Another tip to use a reading log effectively is to fix a time to read and then look back at how your habit is developed over time. For instance, you may skip a few days and then compensate together on a different date. Some days, you may have an excellent time reading a book because it is connected to you. Those are times when you can reflect on your habit and ideate strategies to promote this habit further.
If you prefer creating a reading log template on your own, remember to include a few mandatory fields that complete the template.
Date of reading – It can be a duration if you are planning to read a book in a specific period.
Book information – This should include title, author name, publisher, and year of publication. This helps you in reaching the same book in the future.
Genre – It helps in sorting the books and choosing the one that you need. This is not mandatory for students.
Time of reading – This is important if you are planning to build a routine and hit a goal over time. This also helps in managing appointments for the day and prioritizing book reading irrespective of the situation.
Conclusion
The purpose of a book reading log is to set a habit and also maintain a list of books read during the day or week or year. When you maintain all the information in a template, it becomes easy in accessing information at a later stage. All the templates listed in this article can ease your job!
Happy book reading!