We work in a fast-paced world where deadlines need to be met without compromises. Although we work on an 8-hour schedule, it is cumbersome to make note of all tasks due in the working time. Of course, you can remember if there are a few tasks.
What if there are too many tasks with different time constraints? Difficult, right? Introducing hourly schedule templates that can make your job easier and day productive!
Free Printable Hourly Schedule Templates
1. Hourly day planner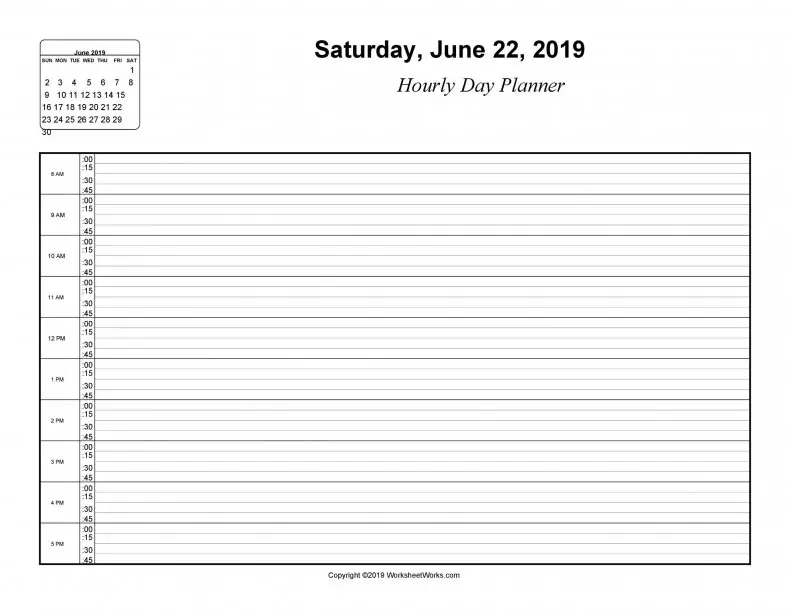 In a day of 24 hours, it is essential to plan each hour as accurately as possible so you don't miss any appointments. There is ample space in this template letting you provide task-specific information for every 15 minutes.
This is also an editable template just like a daily time card template that can be altered with different themes and referred back to a specific date in a month simply by clicking a date at the top. A calendar pops up at the top of the screen and you may have to click the same.
2. Professional daily hourly schedule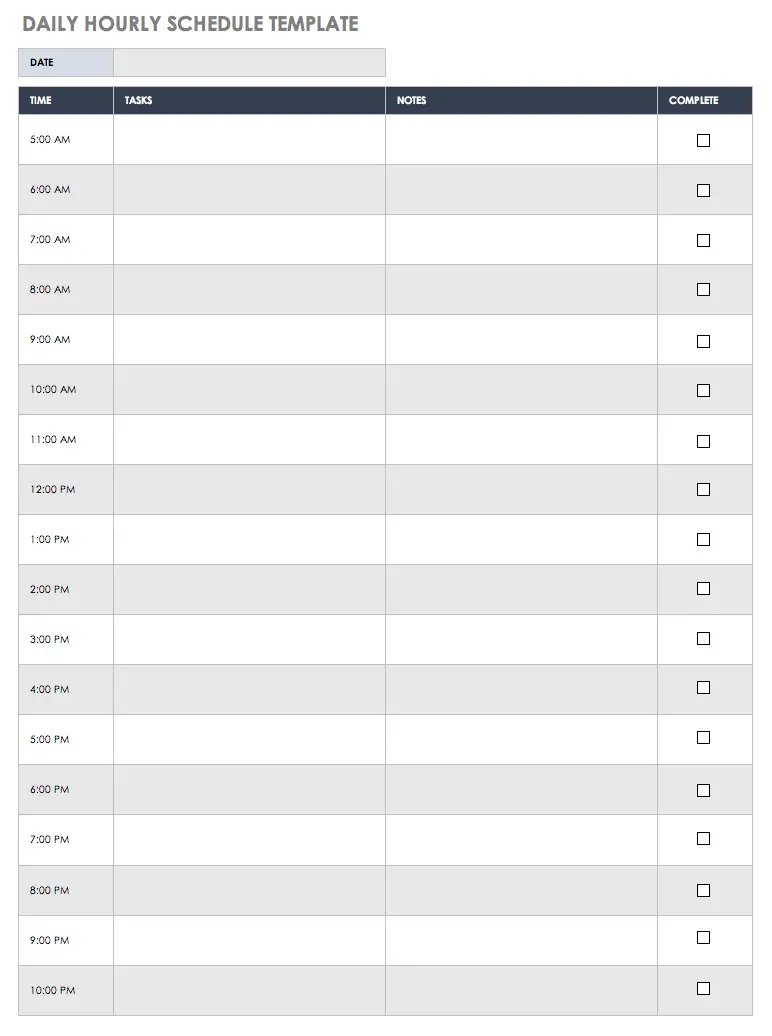 Similar to the previous template, this template also lets you input a daily schedule/ hourly schedule. There are two interesting points in this template. You can add sufficient information next to the task under the notes section just like in a hours log template.
The other point is the checkbox in the last column in this daily hourly planner. As and when you complete a specific task, you can check it. At the end of each day, you can find out tasks that are unchecked and carry forward to the next day.
3. Hourly training schedule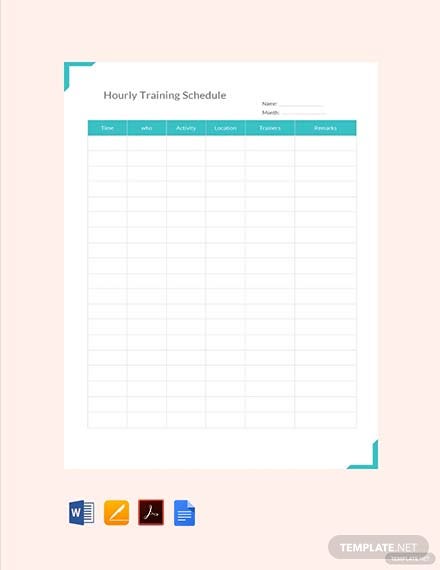 Subsequent to personal uses of an hourly schedule, you can also use these schedule templates for training purposes. This template lets you deliver the utmost information in the training session. There are several columns like the task, notes, activity, duration, and the trainer's name.
This is an editable hourly planner appropriate for those organizing training sessions in a corporate or an educational institution. Even if you are a teacher, this helps you organize classes.
4. Study schedule template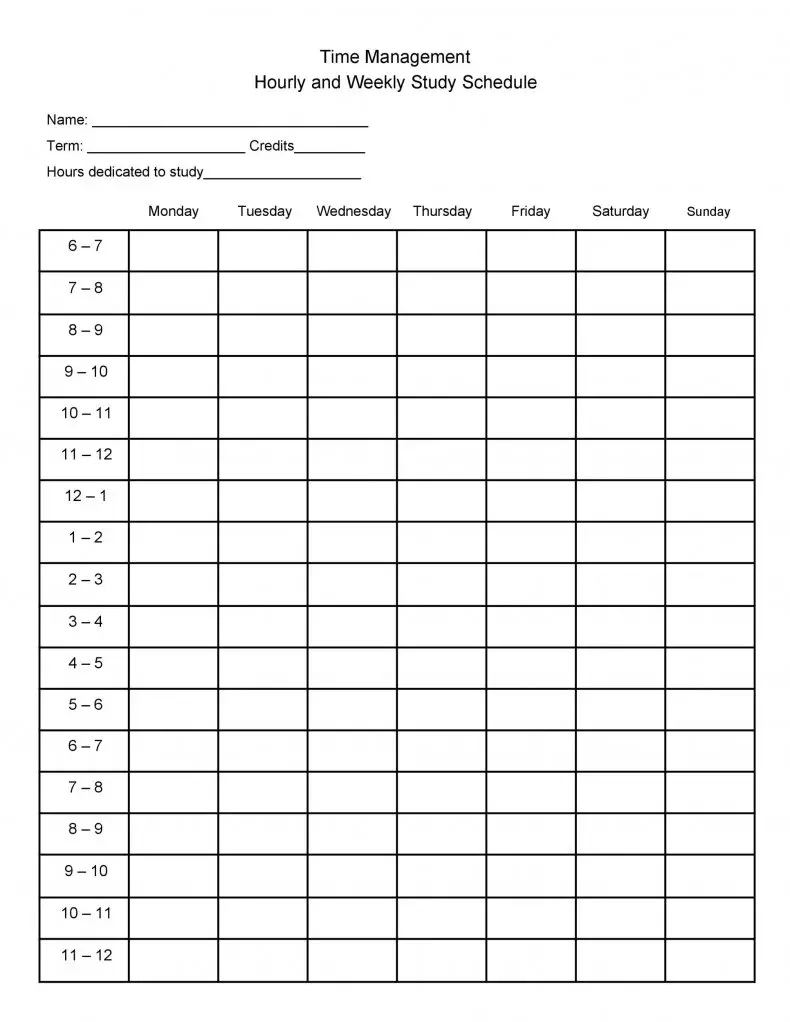 Here is a hourly planner template for students to organize study schedules hourly and weekly hourly planner. This is an interesting approach when you are planning to study together as a team. The schedule begins from 6 am to 12 am. It also covers all days of a week.
A quick hack to use this schedule template better is to elongate the space for each task and then write the content to be completed in a particular subject. You can use a highlighter to differentiate the contents of each subject in this schedule template .
5. Payroll hourly schedule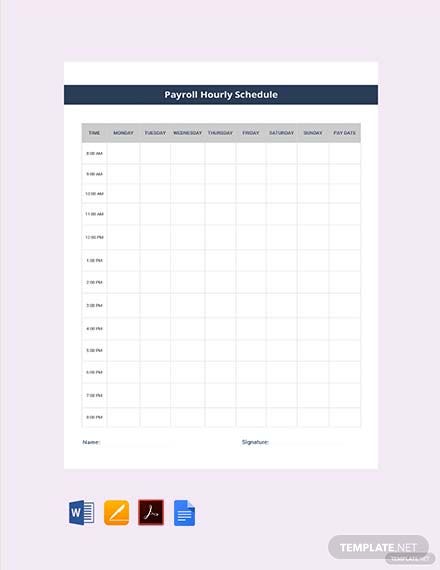 This free hourly schedule template is in particular to the payroll department. If you are focusing on employee productivity like in managing a film schedule, you can also use a schedule to note down when an employee has performed a specific action.
It is a free customizable hourly planner template where you can also append your company's logo and make necessary changes. This is usually managed by a manager and then processed by the payroll.
6. Employee hourly schedule template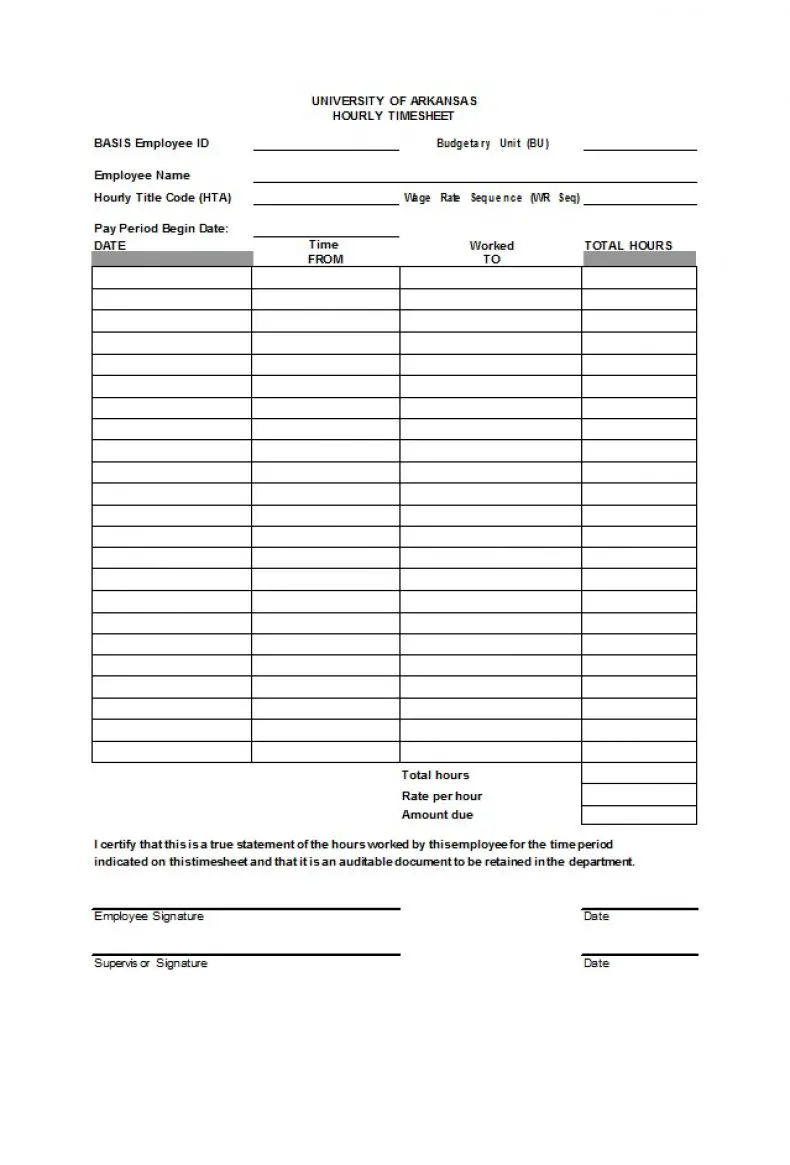 Here is an hourly schedule that can be used as a timesheet to assess working hours and budget for an employee. Further, this hourly schedule helps the management to make decisions on the performance of an employee.
This is a free editable hourly planner template that has placeholders for the budgetary unit, pay period, time, a number of hours worked on a specific date. You can also append a column to detail the task to be done.
7. 24-hour rotating schedule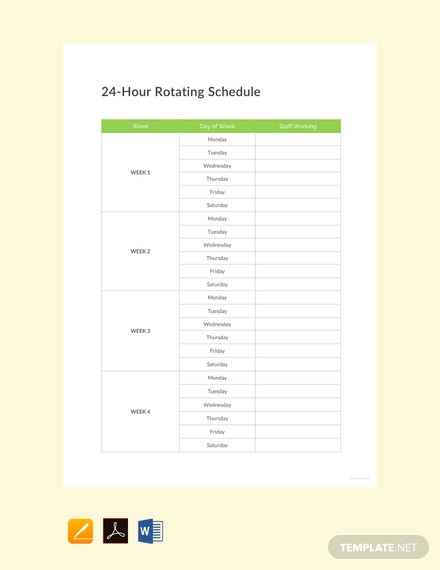 The specialty of this template is the option to establish a rotating schedule and update tasks accordingly. For the entire week, you can update tasks in one go.
The other best part about the schedule template is that you can view tasks for a month in one go and as you zoom each day, you can see tasks to be accomplished.
8. Hourly task planner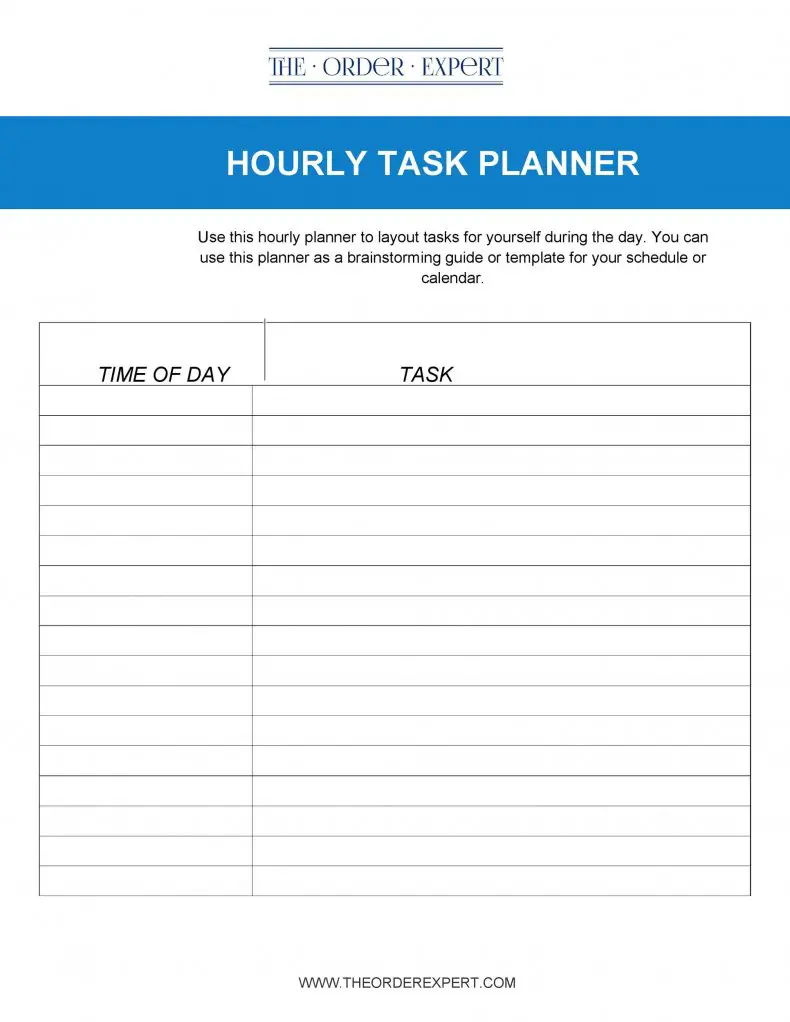 Instead of using a planner schedule template that has predefined spaces for each hour, this planner template gives you the flexibility to directly write the hour and the task corresponding to it. This saves paper and gives you the freedom to maximize productivity as and when needed.
Being an editable planner template, you can download schedule template  and alter the logo or look and feel of the schedule template document.
9. Weekly scheduling template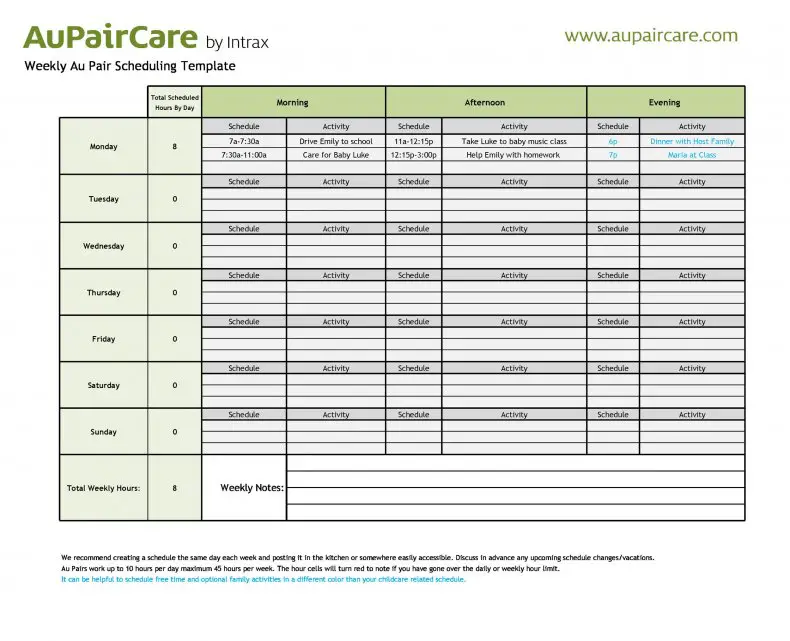 How about an hourly scheduling template that has a feature to view the week's task in one go? This template makes it possible by assigning a total of eight hours of schedule in a day and categorizing tasks into three groups – morning, afternoon, and evening.
Another interesting part is that this type of schedule template is much needed to communicate with other resources and also plan tasks in advance.
10. Activity diary schedule template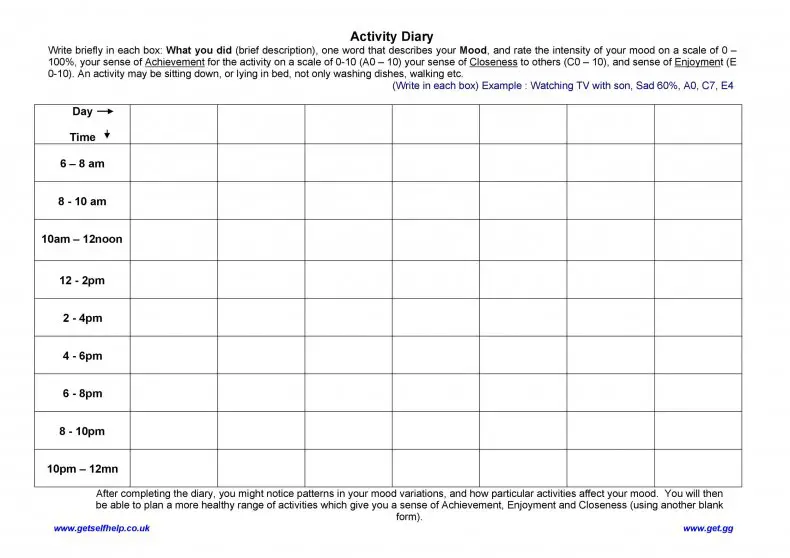 This free template works the same as an hourly scheduler but is made in specific to listing of activities to make it a family scheduler. It is no doubt that the users can enjoy using it and can experience better interactions.
There are also mood scores mentioned at the top for you to score against each task in these schedule templates planners.
11. Daily routine by hour schedule template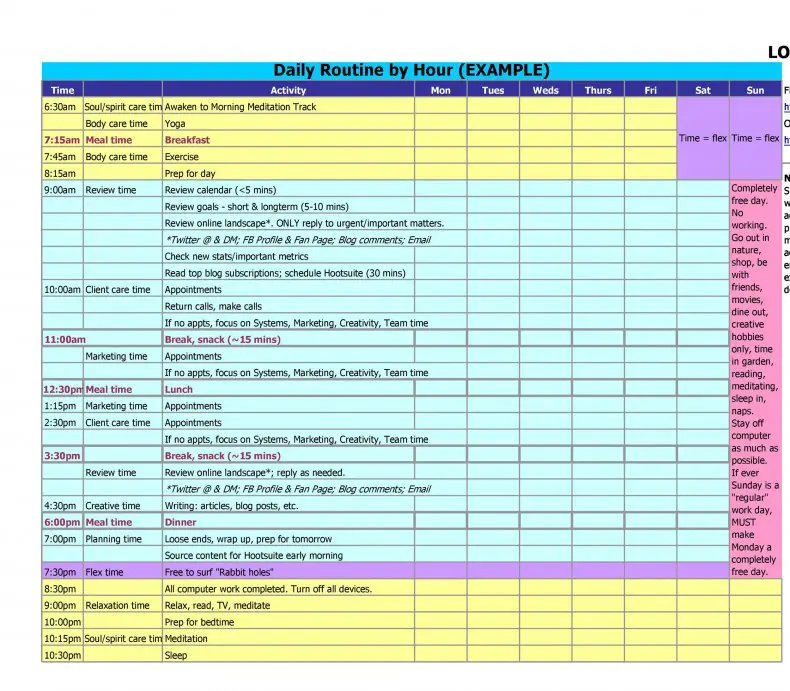 Remember we spoke about converting a habit into a routine? This free planner page template lets you enter the daily schedule routine by each hour and repeat the activity each day. You can also highlight or group activities based on the set they belong to.
Over time, you can find a rapid change in your interest in a specific activity, and your routine gets enhanced with this planner.
Hourly schedule – How it works?
As the name goes, an hourly schedule planner is meant to list chores that need to be accomplished each hour. This work schedule template is an easier way to track appointments and meetings. It works well for individuals, professionals, and everyone aspiring to achieve better productivity. The advantage of an hourly schedule is that you can make note of tasks for 8-hours or 12-hours or 24-hours based on the day and task nature.
There are 3 steps involved in using an hourly schedule.
Find the time of the day. (Make note of AM and PM)
Write task information as crisp as possible with only key points like the name of the person, venue, and purpose so the schedule is well planned.
Check out those tasks that have been accomplished during the day.
It is absolutely fine if there are only a few tasks to be accomplished during the day. Alternatively, you can also explore weekly schedule planner page and monthly schedulers if you work on weekly schedule and monthly work bases respectively.
How to use the hourly schedule effectively?
There are secret tips to maximize the usefulness of a schedule template planner page. The key to a productive scheduler lies in the time you allocate towards entries.
Set aside a time limit each day to enter the tasks due. This is the first step and you can also shift it to a weekly schedule basis if you are aware of the appointments prior.
Maximize task relevance so it involves you to the task regularly on a daily schedule and weekly schedule basis.
Allow sufficient breaks between tasks so your focus is towards the accomplishment of tasks
Allocate a goal for the day or a week and push individual tasks that can take you towards the goal
A lot of us tend to develop book reading habits but reading it regularly needs adequate push and persistence. With an hourly schedule template, it is possible to allocate a specific time of the day to nurture the habit. This is the same approach for all other habits that you wish to develop over time.
In an aim to use the work schedule template effectively, you may have to make note of possible mistakes that the user can commit. Here you go with the list.
Being over productive at work can hamper family time. When you update the list of tasks in your scheduler page, distinguish between work time and family time. You can use different colors of highlighters to differentiate the category in the planner page.
If you are keen to develop a specific habit, allocate only a specific hour to it. Be it fitness or book reading or voice recording, do it at the same time each day so it turns as a part of your routine.
Often, one task is broken down into multiple sub-tasks and similar tasks are not grouped together. When you do the same task at a later time during the day, you may feel monotonous. The key is to group similar tasks like meetings together so you save more time.
Include a time slot to reflect on your progress. The point behind using an hourly scheduler page is to become even productive. In that case, you need to look back at your performance and make changes as and when required.
Conclusion
Managing time is a good thought but doing it right matters. An hourly schedule template gives you the golden opportunity to get things done effectively despite the time constraints. Whether you are an individual or a business establishment, the free schedule templates page listed in this article can enable you to progress in your personal life and career.
The work schedule template is a reflection of how productive you are and loopholes that you should address to become a better person. Start this new habit today and it can become a routine that you will never regret about! Before you go, check out these dr note template and these obituary template word