All of us have been informed about the actual working hours but worked extra without a proper piece of evidence. We have also regretted not being paid for overtime work. Here is a solution to address that extra work problem with a time card. Conventional firms have used time cards mainly to enter clock in and clock out times of every employee.
However, biometric systems have been introduced these days to automate entry and exit timings of employees but these systems do not pay justice while distributing salaries to the payroll of an organisation.
If you run a business, you need to know the ideal method to maximise the satisfaction rates of employees by utilising time cards.
Professional Time Card Templates
1. Free Weekly timesheet template
Beginning with a weekly timesheet template is the best way to use it effectively. This is an editable template that lets you enter details for the entire year and search timecard for a particular week. By typing the employee ID, it is feasible to take a look at the timesheet.
There are other interesting features of this template such as categories of hours and calculation of daily, bi weekly and weekly wages. There are different wages for regular hours, sick leave, overtime hours, holidays, and vacation. These are sufficient to find out if there is any performance gap and could be any hinderance while using an excel p&l template.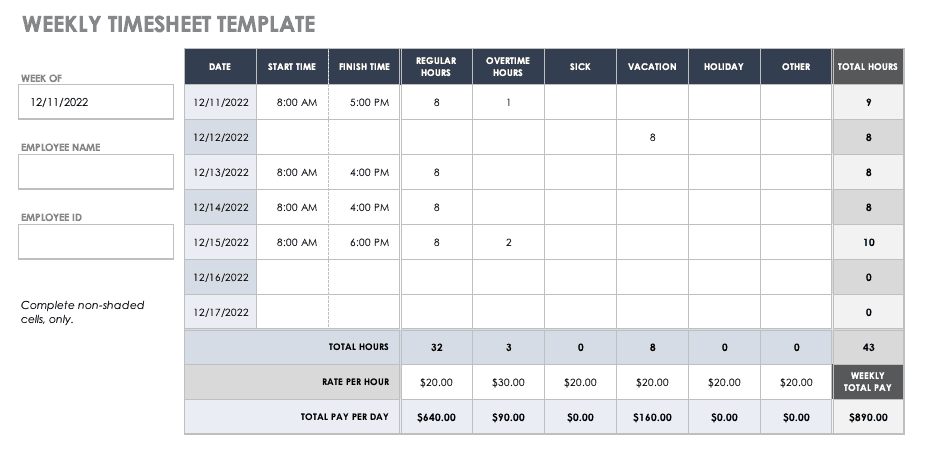 2. Download Free Weekly time card with breaks
The problem with most of the templates is that it excludes the presence of breaks in between. The previous template is slightly modified by appending a new column for adding total break time in minutes.
The number of total hours worked of an employee is calculated accordingly. You can also customize this template with new features to make it appropriate for your business similar to a Hourly Schedule Template.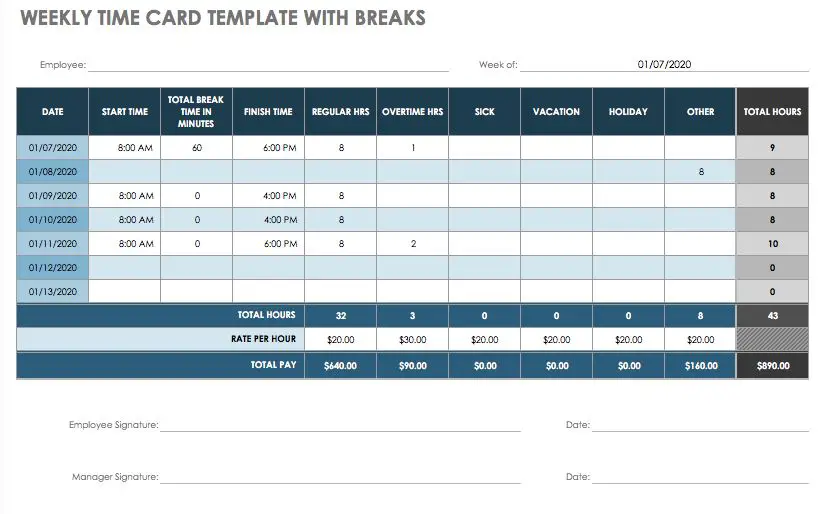 3. Free Simple timecard template
Here is a simple timecard template exclusively for beginners. This lets you calculate and enter details for each week. The template includes necessary columns like day, date, regular employee hours, overtime, sick, vacation, rate per hour, and total hours.
It is easier to calculate the time spent by an employee as per regular hours and any extra time worked to accomplish specific tasks or for a board meeting. For overtime, the employee's wage can be updated at the bottom and sent to the payroll system using our templates.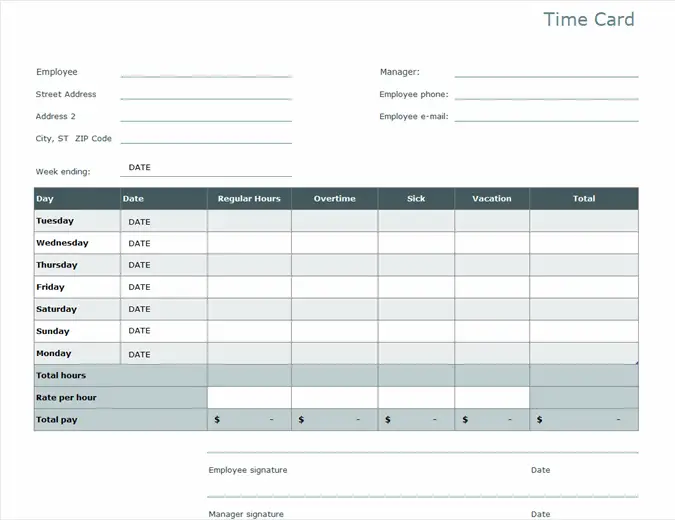 4. Free Project-based timecard templates
This time management log template works on a weekly basis similar to templates listed above. The biggest difference is that it gives the scope to assess the number of hours spent by an employee towards a project in particular.
In other words, the free weekly and bi weekly duration spent by the employee in working on a project is presented here. Over time and regular hours are calculated together. It is also possible to combine multiple projects in one go with these templates and keep track of it.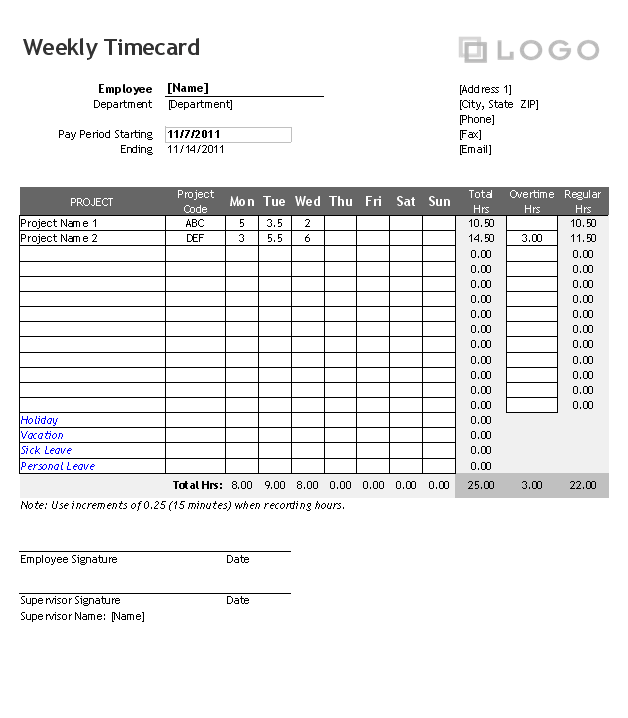 5. Download Consultant timesheet template
When you are hiring an external consultant for a project, you may have to maintain a dedicated timesheet template as you may have to pay on an hourly basis to keep track of hours. This free timecard template is easy to update and is also editable.
Further, the template just like doctors note pdf lets you list down various tasks performed by the consultant and the total hours spent towards each task on various dates. This makes the billing process easier for you.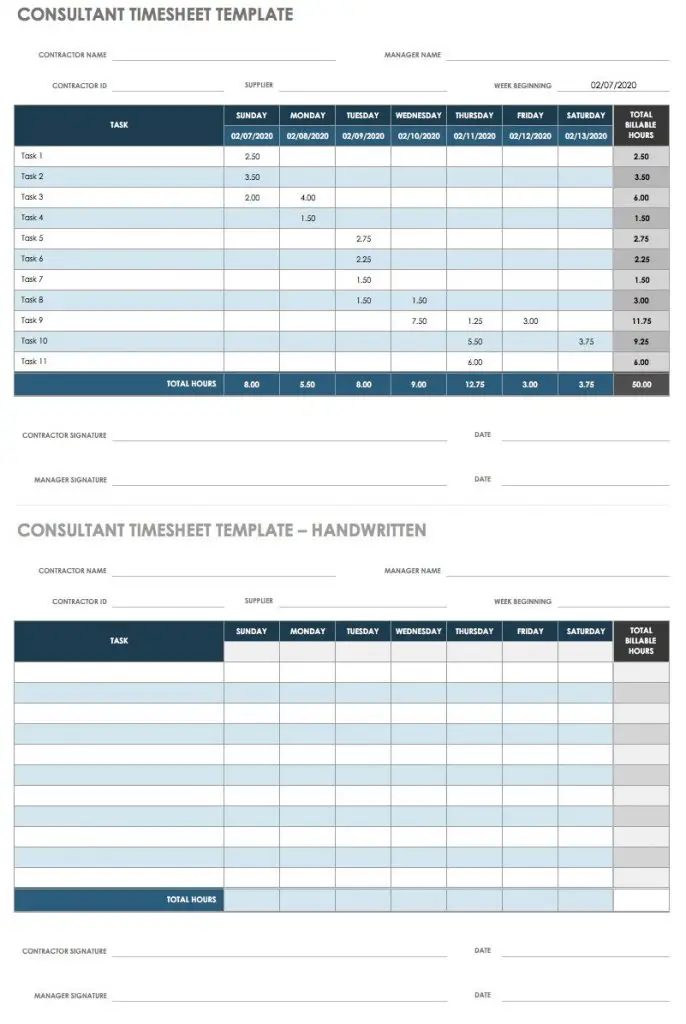 6. Download Crisp weekly time card free Excel
Instead of elongated free time card in microsoft word, this timecard template lets you update for a week and maintain it as a separate file on order to keep track of hours worked.
When you wish to update for the next week, you may have to create a similar sheet templates.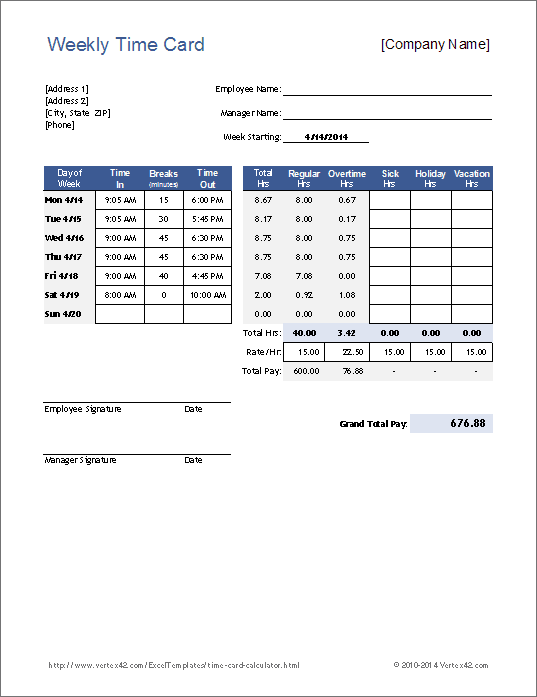 7. Project timesheet template Free download Excel
Various resources work together in completing a project. How do you know the number of billable total hours worked for the project? This timecard template makes it possible by listing the day of the week and the number of total employee hours worked/spent towards the project on that specific day.
At the end of the project, the human resources are paid appropriately. Though this is not resource-based, this timesheet template in microsoft word is effective in charging clients and to keep track of hours worked similar to a lesson plan template google docs.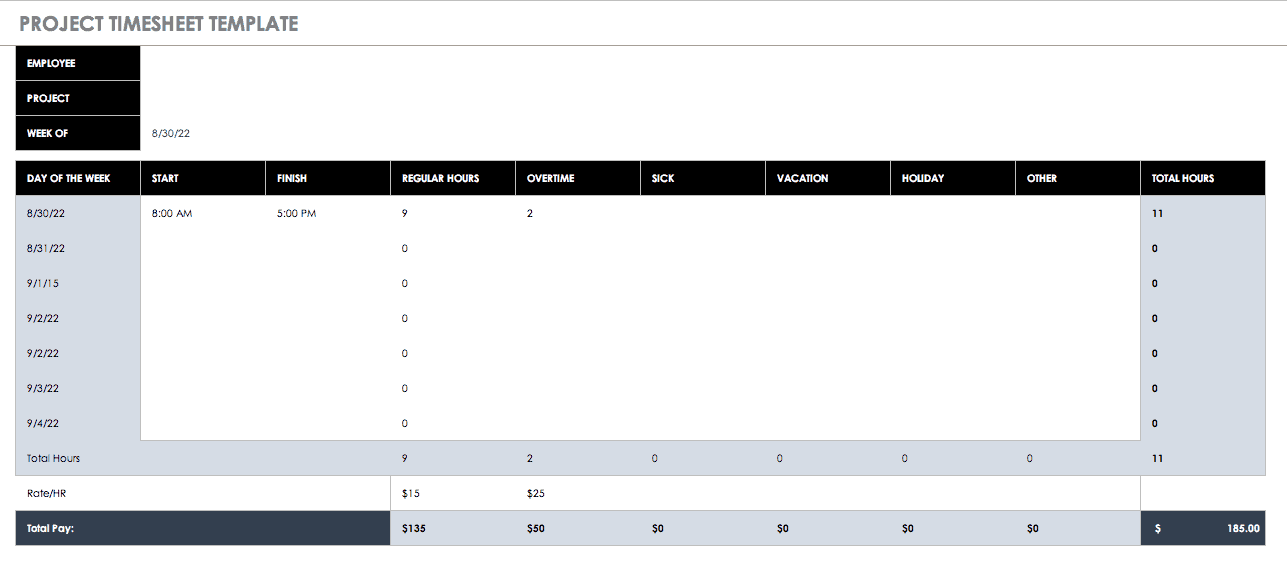 8. Free Time tracking log – excel timesheet templates

This is an advanced version of free time card templates that lets you mark tasks that are billed or invoices are generated. This time sheet gives an overview at the top for resources to take a look at and to keep track of employee hours.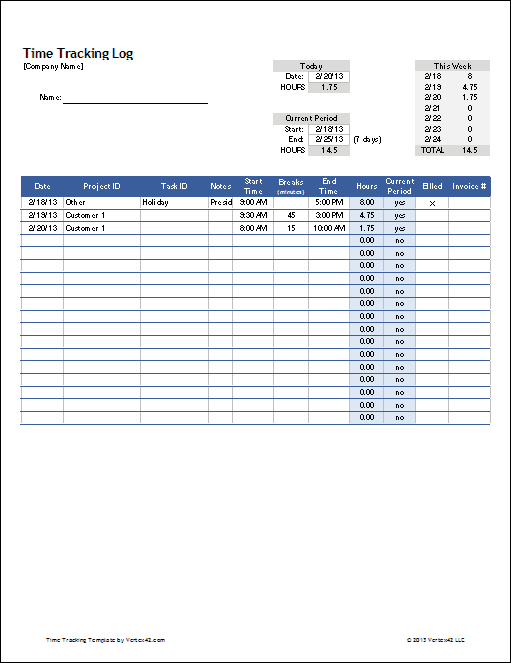 9. Free 12-month timecard templates
This free timesheet template gives a comprehensive overview of the times spent each day. The manager associated with the free time card is entered at the header area.
These time sheets are much needed for organizations to save time and effort in evaluating the regularity and performances of employees for free.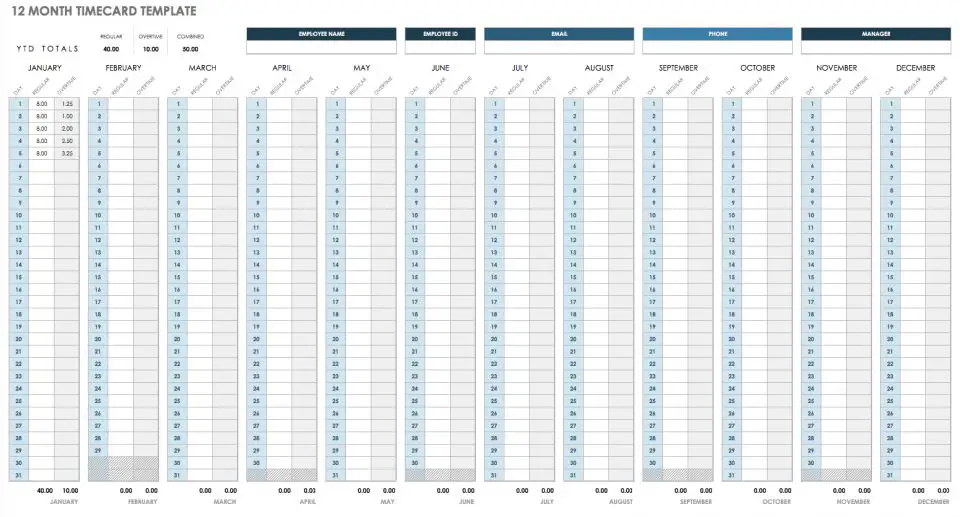 Printable Time card Template– How it works?
There are three reasons for a business to install a time card template.
To maintain transparency in the wage calculation of every employee
To add ease to the payroll system by closely noting down the activities and login times of each employee
To comply with the state and federal labor laws by introducing a trustworthy system to calculate actual pay, overtime pay, and penalties
Employee Time cards are different from biometric systems. As a business owner, you should never get confused between them. A biometric system is meant to authorize the attendance of a person while an employee time card makes note of entry and exit times and links to the payroll system. There are more benefits that a time card offers to users. Here you go with the range of benefits!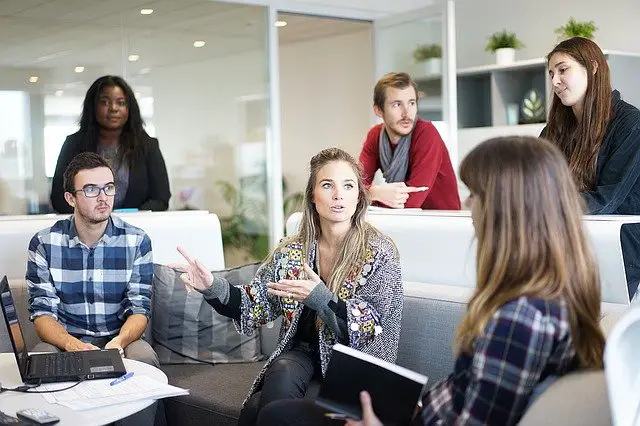 Timesheet templates are filled on an hourly or a daily basis and records are precisely maintained so that the payment is dispatched accurately. When you fulfill the employee's financial need, you can obviously experience better dedication at work.
Evaluating employee engagement levels gets easier with a time card in place. Based on the attendance rates, it is possible to compare with the performance levels and determine the degree of engagement. This is not feasible with any other system used within an organization.
Communicating with employees gets easier and transparent with a shared system to track performance and total billable hours worked each day.
A simple time card is sufficient for your business. There are ways to maximize the usefulness of a printable time card.
You can include a free reminder feature to remind employee when the working hour for the day is over. This gives smoothness and relaxation to employees.
You can also include a project column with the free timesheet template so it is possible to find out which resource has spent X total hours worked towards the project.
Customize the time card in such a way that it meets the need of your organization and also calculates the amount to be paid to the resource. This is one quick hack to manage to budget.
Time cards can either be daily or weekly or monthly. These can be customised to provide pay or project information in one go. Another tip to improve the usefulness is to include the time card approval resource so actions are sanctioned quickly. This approval process remains quick and the payroll process gets handled quickly than expected. There is no need for manual intervention.
Conclusion
A free time card is a mandatory tool for every organisation to enable employees to work as per the prescribed time limits of the federal government. As a responsible business owner, you need to incorporate a time card to your business today to see a hike in productivity rate and a decrease in employee turnover.
Most importantly, it is high time to eliminate manual interventions and free delays in the payroll system by introducing an integrated time card system. Explore and integrate the card and see how your business improves!