The golden word that drives every business owner is profit. Every business owner needs to prepare a projection chart based on the present business scenario to decide on operations and allocate desirable funds. If you are manually calculating projections, then let us introduce you to the profit and loss (P-L) statement that enables you to perform various operations. Sales, income, and revenue are key elements calculated in a P&L statement. But wait, we understand your concern. The P&L statement is for every business irrespective of the size.
Whether you are a startup or a large-sized company, you need to prepare and update this statement so internal stakeholders are aware of your immediate moves. In this article, we are going to take a look at what the statement contains and how it should be used along with ready to use, professional templates for your business.
Profit And Loss Templates Download
Manual calculation of profit and loss values is outdated and can be cumbersome as well. Investing in an accounting system to take care of calculations and develop analytics can be expensive. So, what is the solution? Introducing a NO-COST, highly effective, and easy to use a range of profit and loss statement templates.
Before you use these templates, there are a few points that you should know.
A P&L statement is established on a quarterly basis by each firm. However, if a new campaign is under progress, you need to create a customized statement to fulfill the need for this campaign. There are several terms used in the statement and you need to have a basic understanding of them.
Cost of goods sold – It relates to the basic goods price or cost incurred to produce those goods. This section is only for product sectors. Service providers will have zero cost in this column.
Net sales – It indicates the total sales that have occurred during a specific time period and this is subtracted from returns made.
Gross profit – Revenue-direct cost will give you the gross profit value. Usually, this is represented in the form of a percentage.
Operating expenses – This column will include variables like insurance, rent, payroll, administrative costs, office supplies, advertising, and any utilities required to operate the business.
Depreciation – Every investor looks at this value to find if the business has worthy properties that do not depreciate over time or have longevity. Depreciation remains an indirect expense and indicates a lowering of value associated with machinery.
Let us now begin taking a look at each of the templates listed here and learn how to use it effectively.
1. 3-year projection 
It is quite common among business owners to project profits and losses based on the present condition for the next 3 years. This editable template includes sections like income, expenses, and net results. This covers recurring and non-recurring expenses and allows you to compare the performance from one year to the other in the form of a percentage.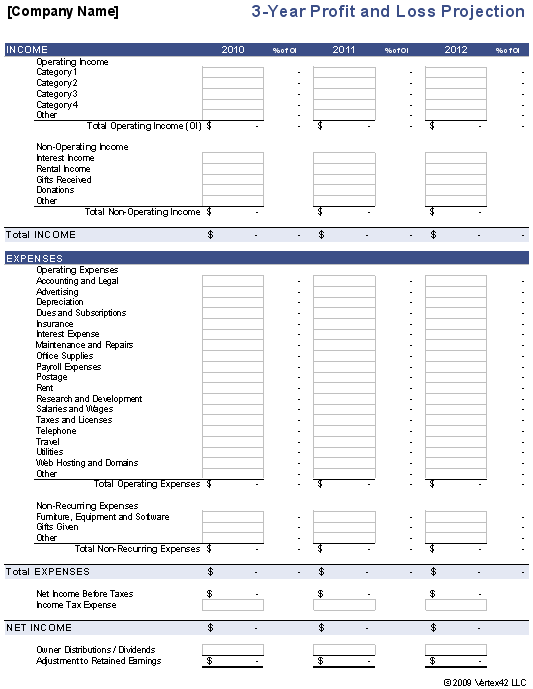 2. Small business profit and loss template
Are you a small business owner? Here is the ideal template for you! It addresses basic information such as sales income, cost of goods sold, net income, and expenses. The expense section is detailed and covers several variables. The best part about this template is that it is editable and the values are automatically calculated. So, you can save sufficient time in using this template similar to a work order form or a change order form.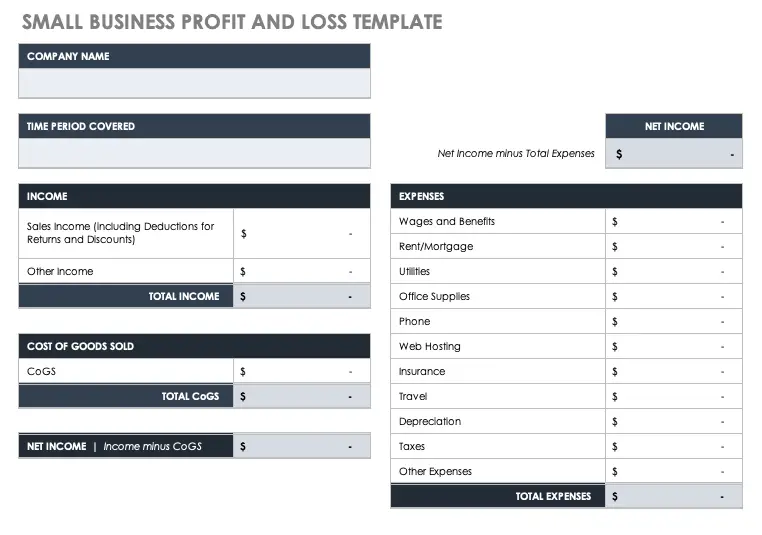 3. Hotel profit and loss statement
It is always a good idea to use a  statement that is specific to a sector. This is due to the presence of related variables that can simplify the job. To use it for your business, you may have to edit the header part and input your letterhead. As soon as you start entering income and expenses for the identified period, it is possible to calculate profit and loss which is generally discussed in detail in a board meeting agenda template.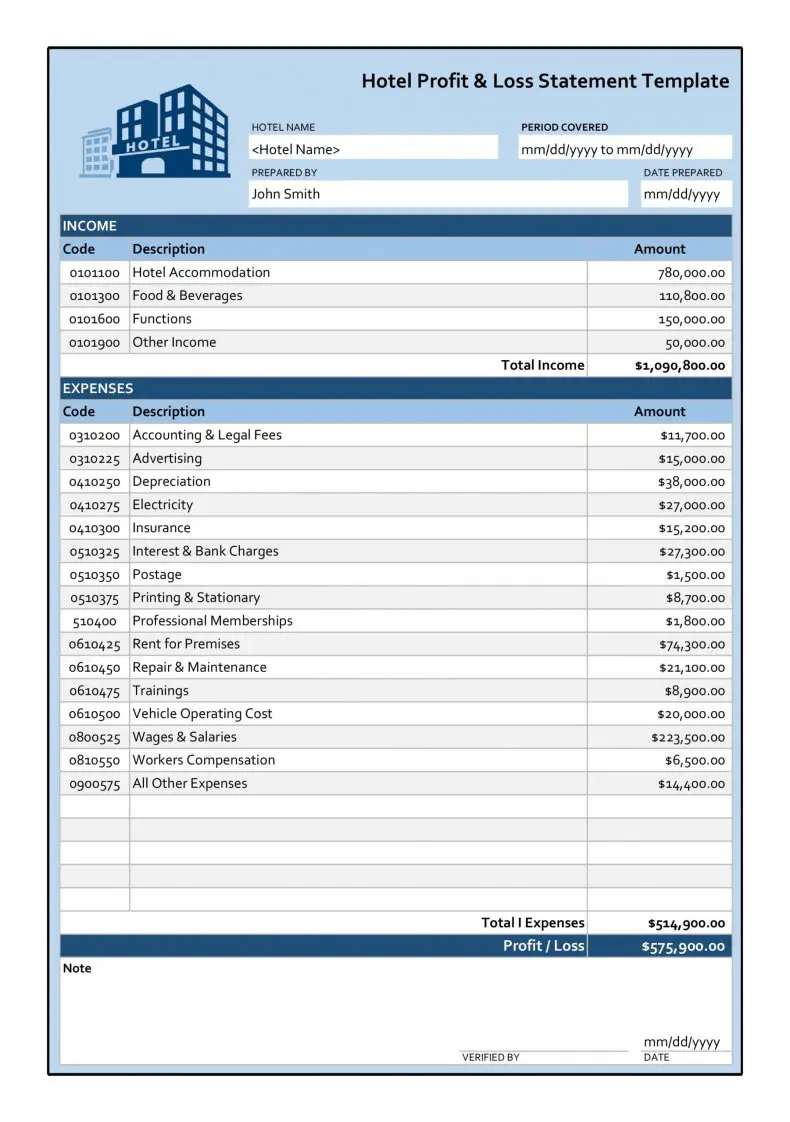 4. Monthly profit and loss statement
If you ask us the most effective statement for your business, we would highly recommend this template. This calculates incomes and expenses for the calendar year. In just one balance sheet, you can communicate with the stakeholders about the progress of the business. This can directly be added to the financial report for the investor's overview.
A quick tip – If you find a few variables unnecessary or irrelevant to your work, you can directly delete the row and the formula in this template gets updated just like these production samples.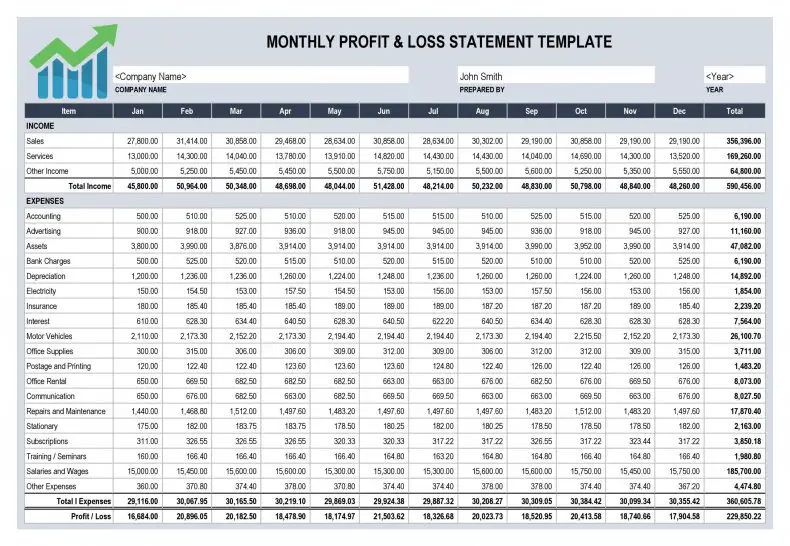 5. Self-employed profit and loss template 
Income P&L is needed for every work, whether you are an independent contractor or self-employed or the boss of a large-sized business. If you are looking out for a trustworthy template to address self-employment, then here you go. This income template lets you add income from various sources and key expenses involved to accomplish the task. There is a section to add tax and update financial results. Duplicate and create this income sheet and you can maintain it for the complete year in one spreadsheet like a check printing template.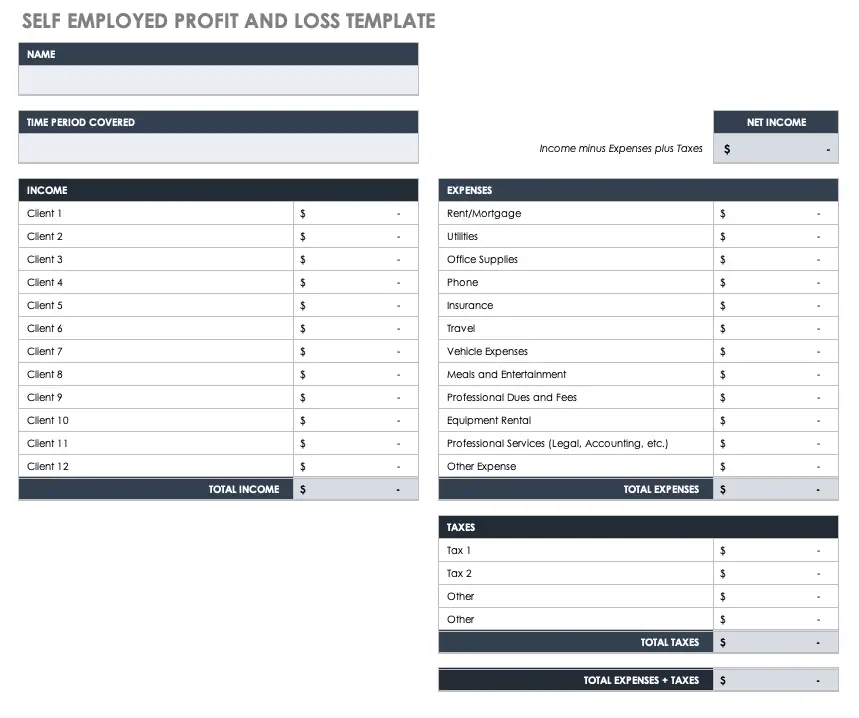 6. Quarterly profit and loss statement
This template is ideal to create for mid and large-sized businesses where progress is updated on a quarterly basis. The best part about the template is that you can compare figures and forecast the progress easily in one sheet. Update your company logo and alter the look and feel to the color code of your firm and you are good to go just like in these templates.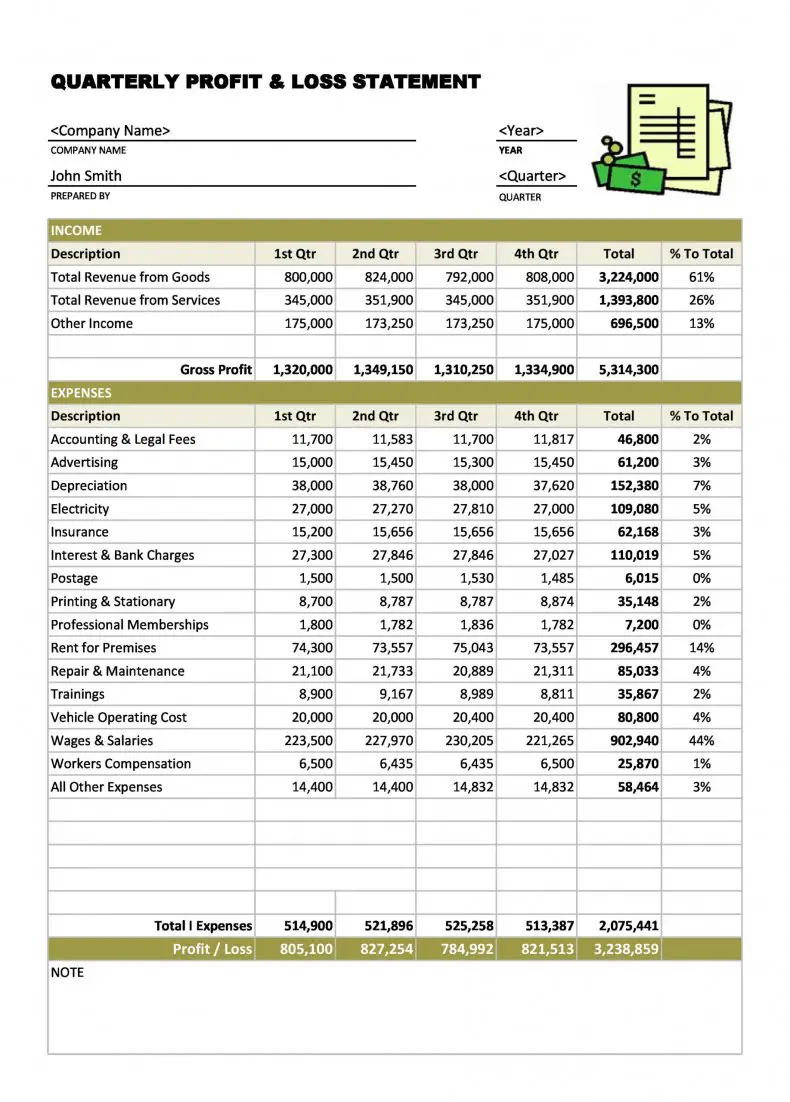 7. Itemized profit and loss statement
If there are several sections covering the expenses and income of the firm, this profit and loss statement template is ideal. It includes sales revenue, cost of sales, operating expenses, income from operations, taxes, and net profit. The best part is the ability to find a deviation from planned values and the same time last year. This helps in monitoring your performance levels.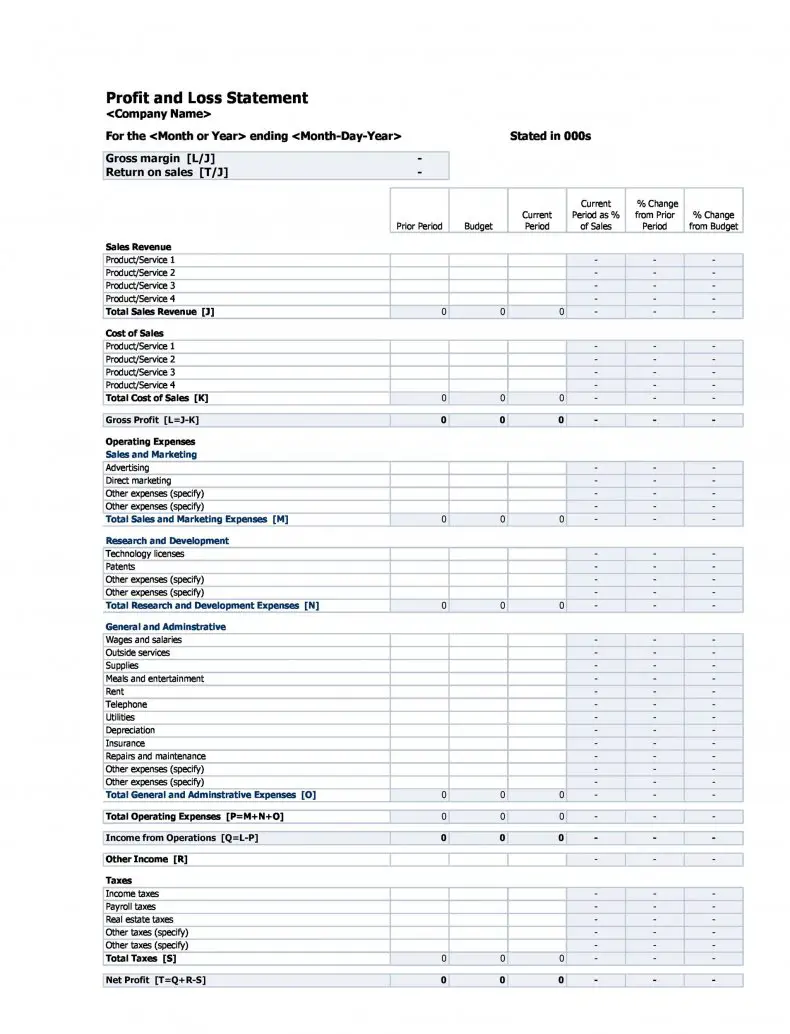 Check Out: California Residential Lease Agreement
8. Period-based profit and loss income statement
Want to compare incomes between the present period and the past period? Choose the calendar dates and you are good to go by entering values based on your business in this profit and loss statement!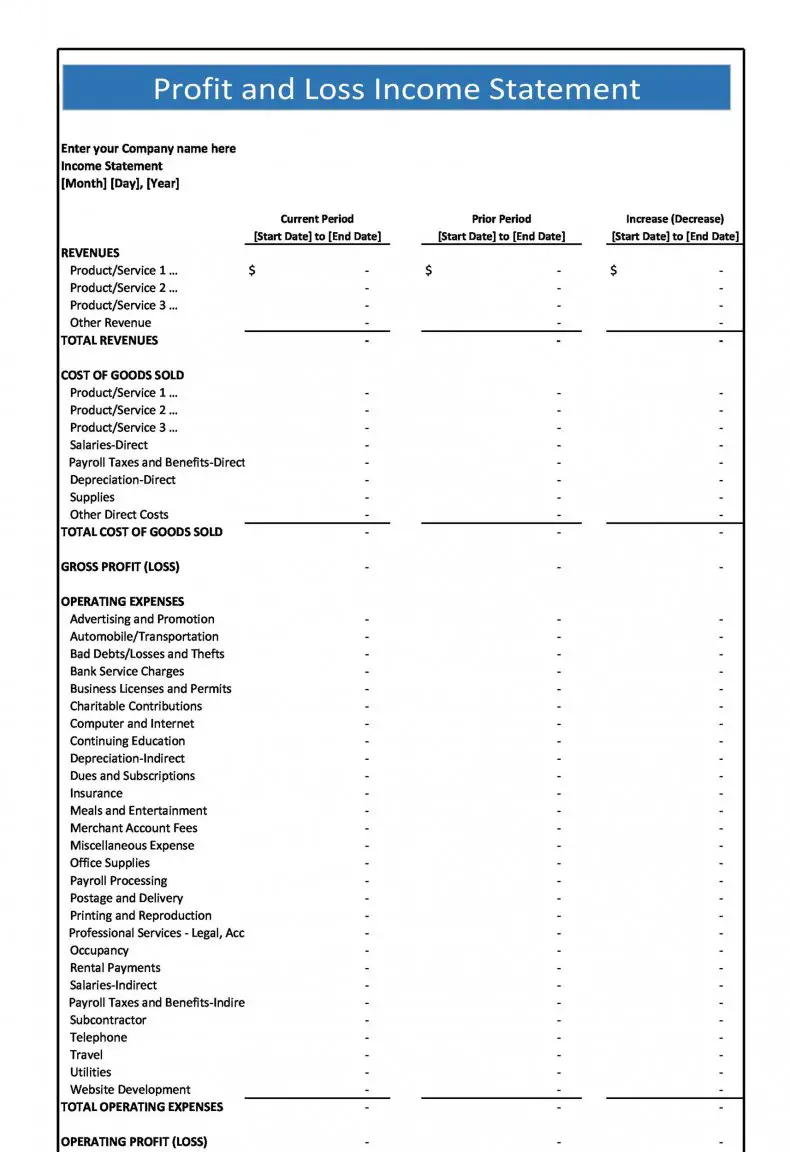 9. Profit and loss analysis
Not everyone understands the way to read a statement! A profit and loss analysis is a descriptive informing stakeholders on revenues, expenses, and profits made during a specific year. This profit and loss statement template has relevant placeholders to enter information.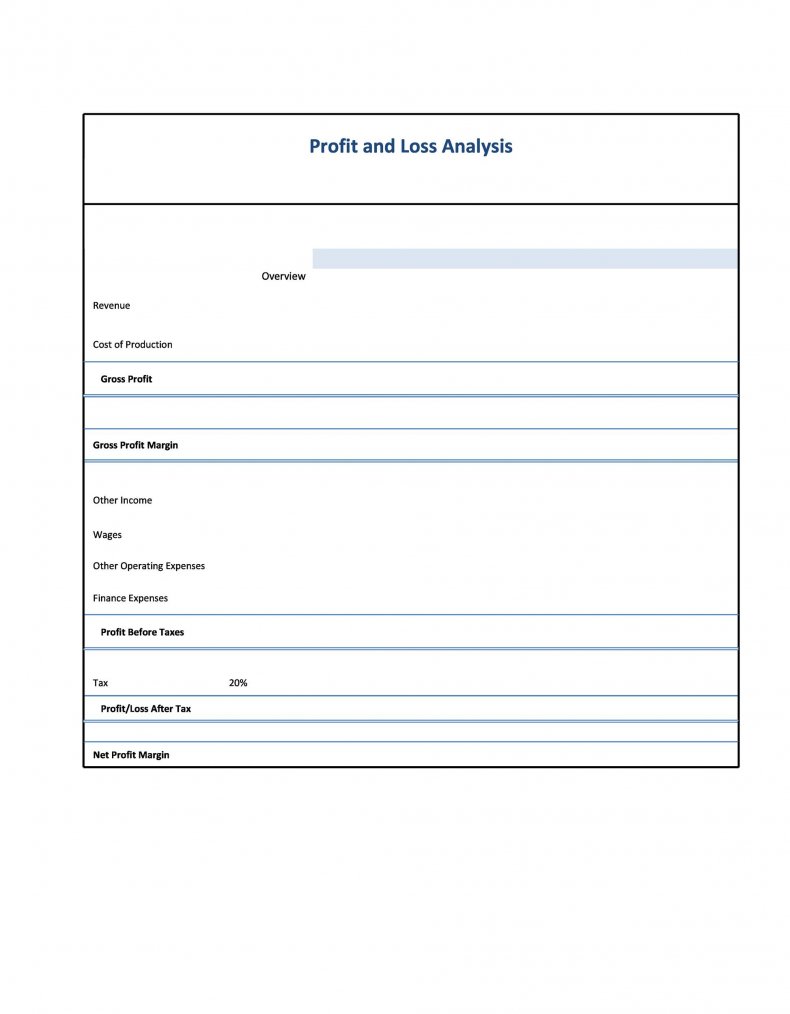 10. Personal profit and loss template
Wanted to maximize your savings? This template lets you do that by documenting your income and expenses over a period. It is a personalized profit and loss statement that you can share with your kith and kin.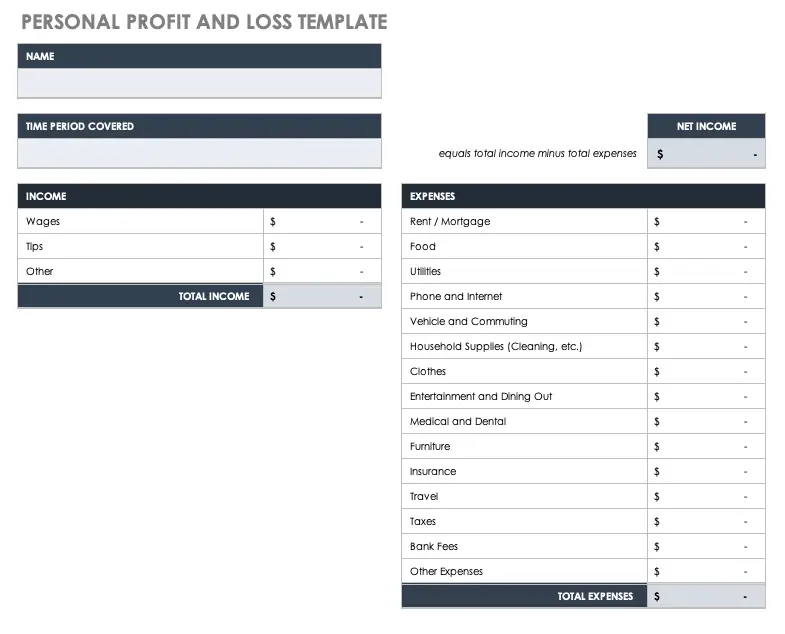 11. Advanced profit and loss template
How about a statement that can provide end-to-end information about the financial performance of your business? This profit and loss statement includes a graph, trend analysis, revenues, reductions, expenses, and taxes in a detailed manner. This is ideal for those planning to raise investments.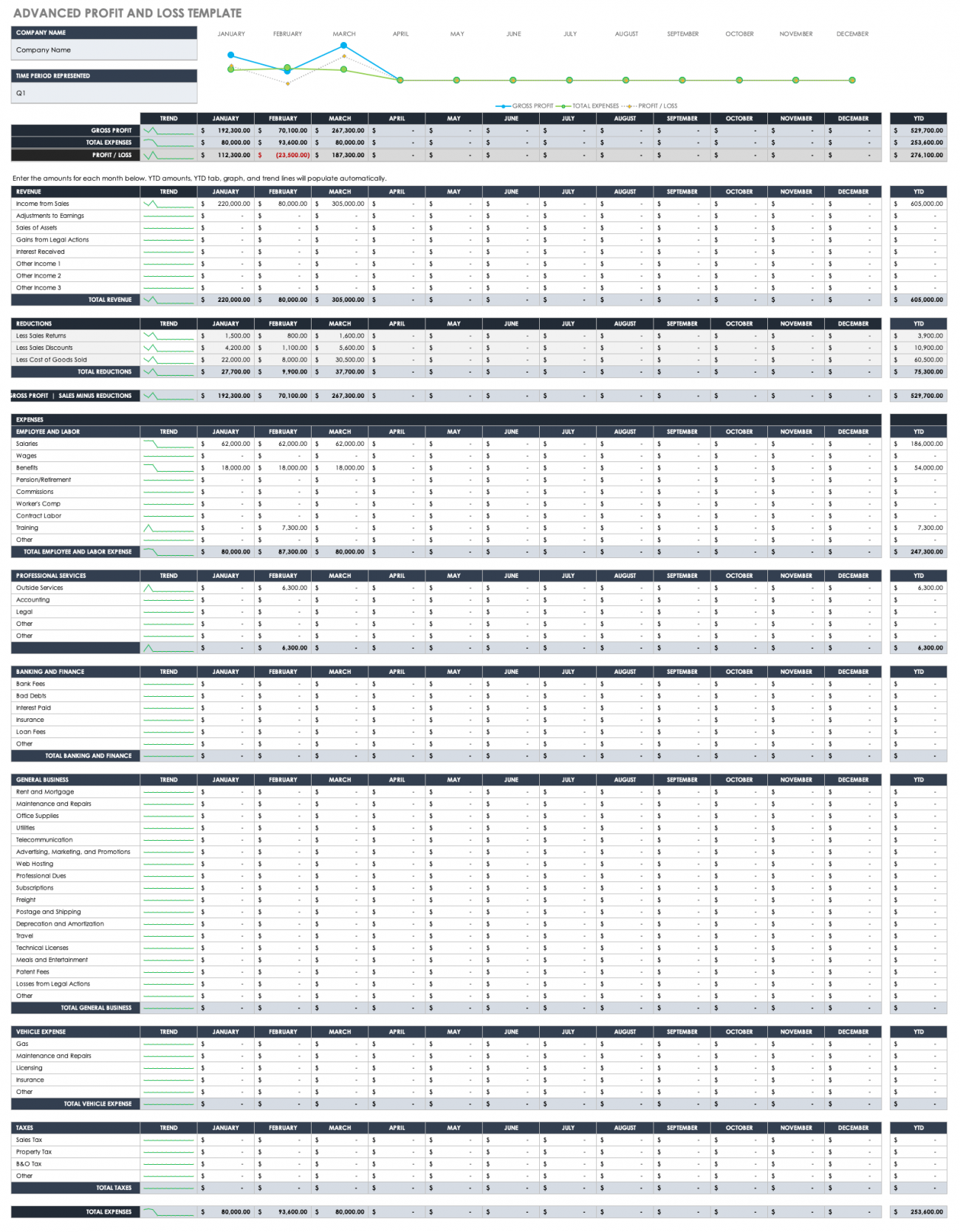 12. Yearly profit and loss statement
This template lets you enter revenue and expenses incurred towards each product or service in a quarter and then convert the same into a percentage. There are no calculations that you may have to carry out to complete the sheet. Simply enter values and calculations happen automatically.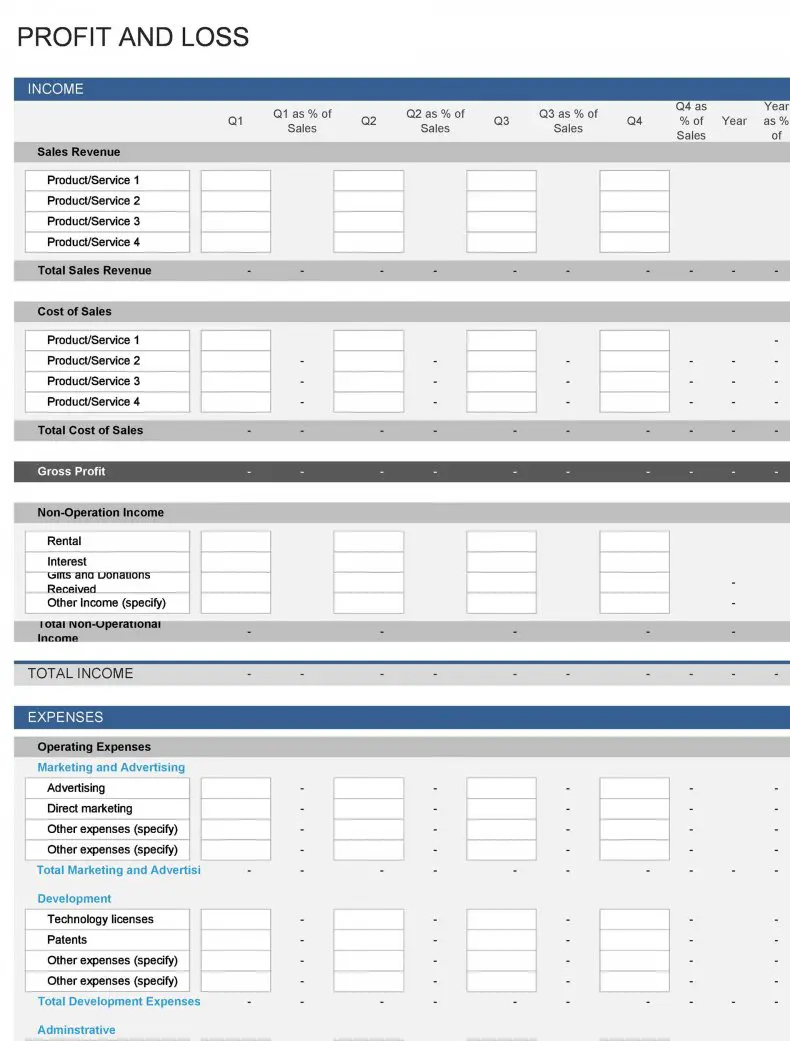 13. Conventional Profit Loss statement
This is a yearly statement that can be used if your business focuses on black and white color code or needs a monthly assessment of values. The sheet gives the opportunity to add or delete a variable based on the business need. Feel free to customize the color if you like the format.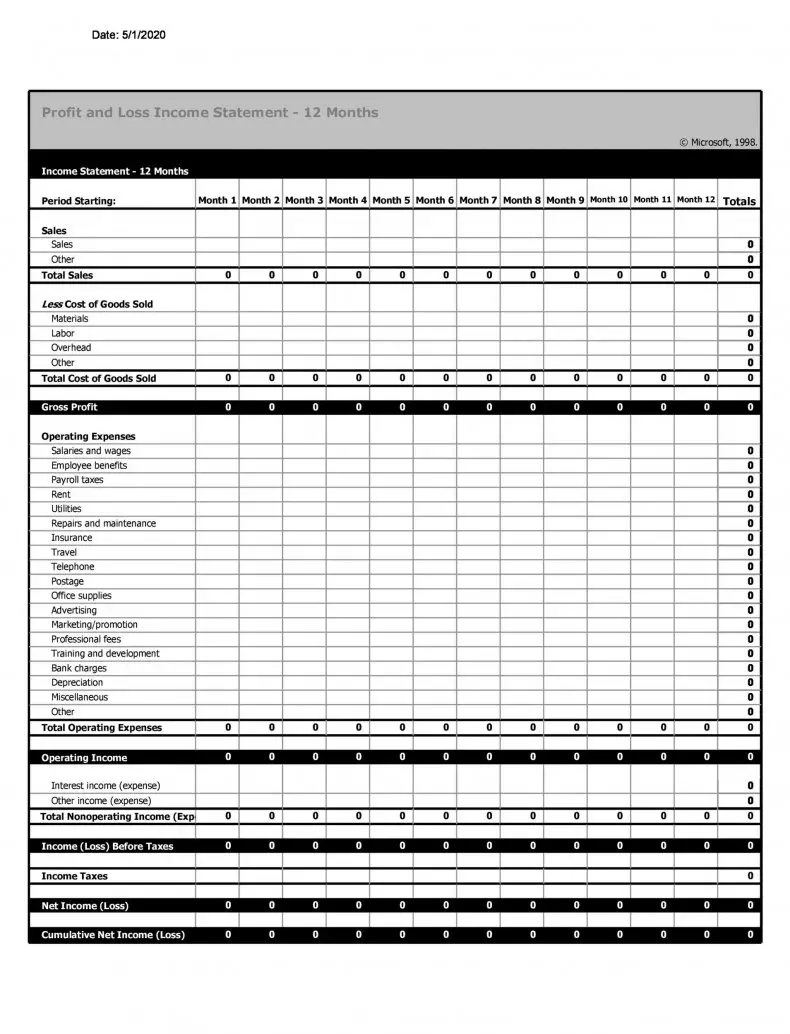 14. Inflow and outflow template
Expenses are termed outflows and incomes are termed inflows. These terms are used in this profit and loss statement template. It is easy to understand. The one difference is that the net value for each variable is presented in the initial columns. This will give a quick note to the investors or readers of this.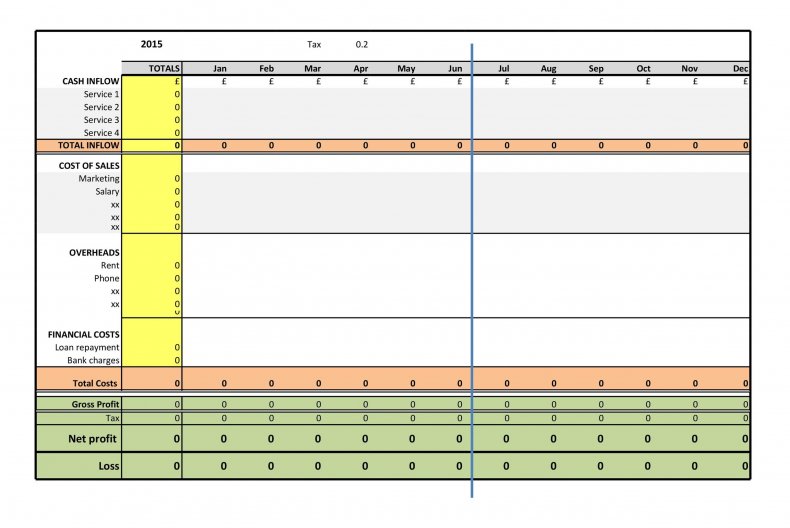 15. Simple P&L
This is a sample template with already added values that can be altered to suit your business. Operating revenue, operating expenses, and other income are three key sections of this template.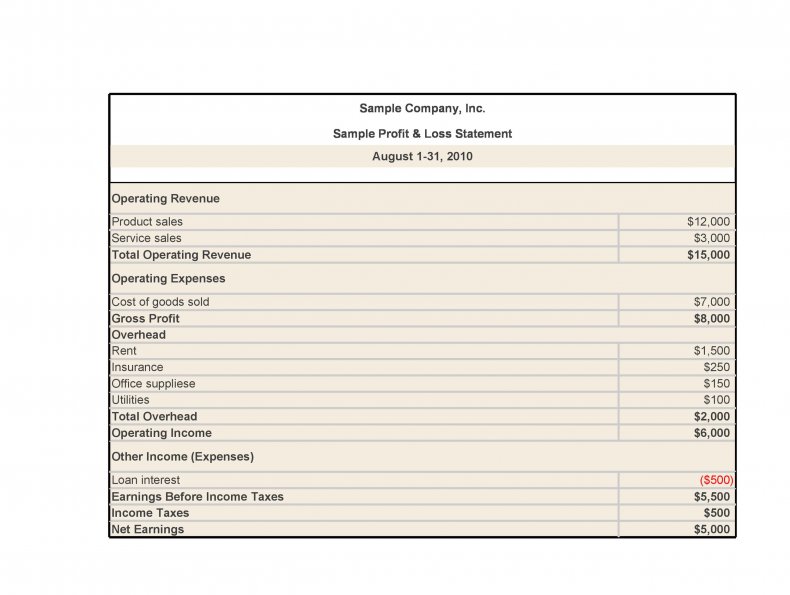 16. Customizable P&L template
Sometimes, you may have different values under each section that you may prefer adding on your own. This template will let you do that!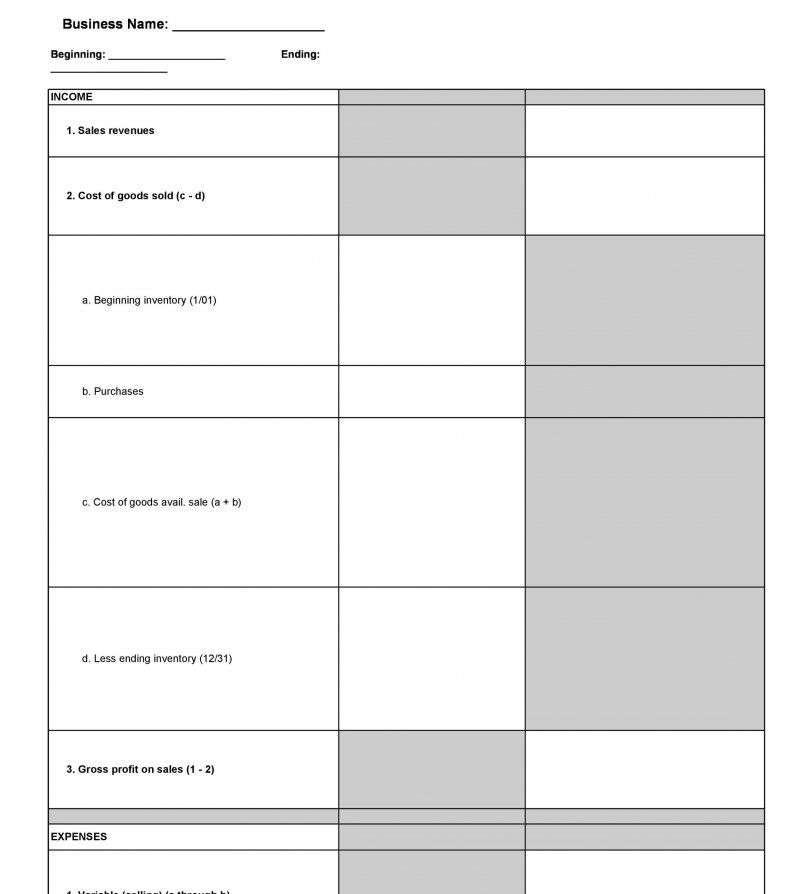 17. Cash flow statement template
A cash flow statement gives an overview of profits and losses encountered by a firm. This template lets the user evaluate results for several time periods just like a daily lesson plan template.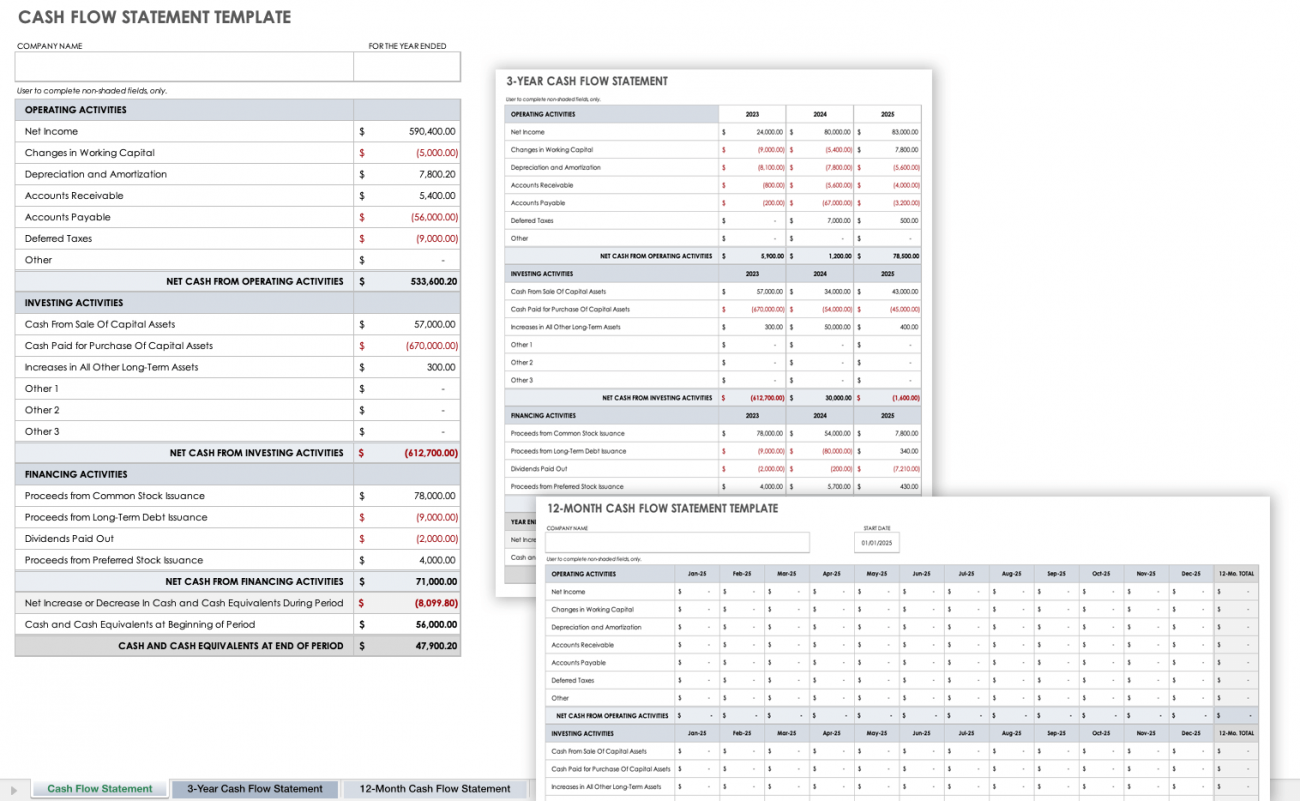 What is a profit and loss statement?
It is a financial document that is meant to demonstrate the financial success of your work. Usually, the profit and loss statement is used as a tool by investors to invest in the identified business. When the figures are not interesting and against the present industrial trends, the business is avoided. Further, this statement is also used to project the values of profits and losses based on the present performance. This can also be termed an income that includes values like gross margin, net sales, administrative expenses, net profit, and cost of goods sold.
If you are an owner, you need to use a P&L statement for several statements.
To understand operational expenses and factors influencing the operational overheads of a firm
If the intention is to simplify accounting requirements and processes, this statement is needed.
To calculate overheads in one go, the statement gives you realistic figures and the performance of the firm.
A P&L adds value to the credibility and image.
Another key reason to use this is to make adjustments in financial expenses to maximize profits and lower recurring losses.
Most importantly, a P&L statement lets you plan the payment of taxes.
Some companies also use this to make key decisions as follows.
Should we shift to a bigger space?
Should we downsize employees?
Is the growth strategy underperforming?
Is the P&L trajectory suitable for investors?
Does the present inventory system need a lift?
Are the expenses rightly billed?
The efficiency of the accounting system followed by an organization is reflected in the P&L.
Conclusion
Choosing the right tool to manage your resources is also a much-needed investment in every work. With as many templates listed in this document, your work is all set to kickstart proper analysis of figures and represent the credibility with an accurate listing of figures. Ensure that you save and update your records as and when a transaction is made! This is a healthy practice saving time eventually!
Check Out:
Summary
Reviewer
Review Date
Reviewed Item
Author Rating





Software Name
Software Name
Software Category