Organization charts are documents created by companies that depict the hierarchy of employees and the structure of the teams within the organization.
These are usually made to specify the chain of command, compliance purposes, and to train new employees about existing workers in the company.
Free Organization Chart Templates
In this article, we have included a wide selection of the most useful and downloadable organization chart templates in Microsoft Powerpoint, Excel, and Microsoft Word format.
These comprehensive documents cover formats that are used for a variety of charts and can be used by any organization.
1. Board of Directors Organization Chart – Word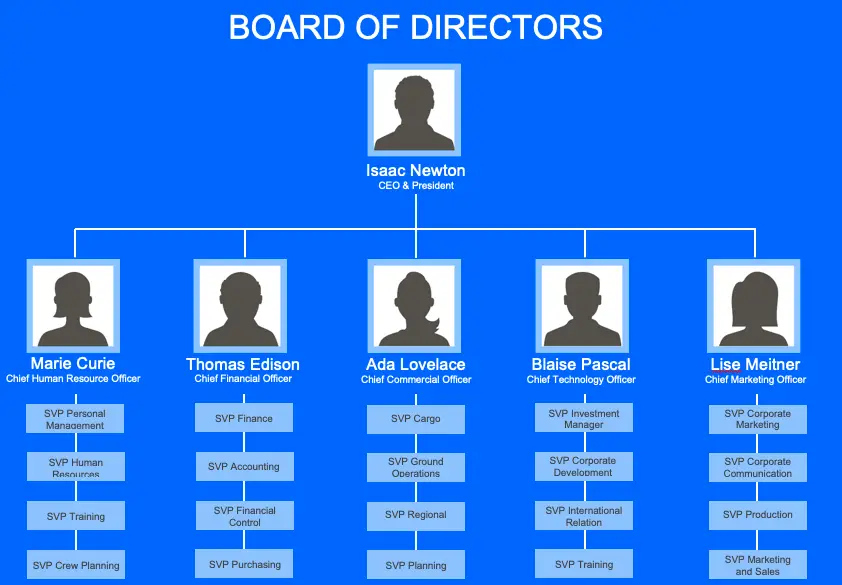 The first Microsoft Word organization chart template we have is this simple document that is used to denote the hierarchy of the board of directors and the employees under them.
Once the document has been downloaded, you can make changes to the org chart along with any number of changes to the content. If you want a simple-looking format, then you can remove the blue background and change it to a plain white background as well similar to a budget proposal template excel sample.
2. Hierarchical Organization Chart – Word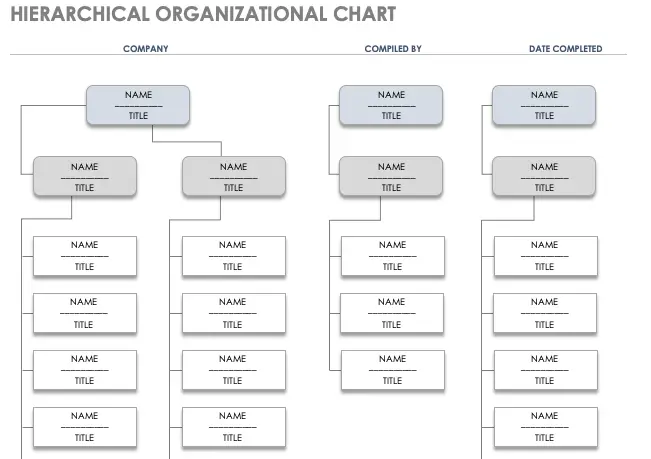 This organization chart template specifically illustrates the hierarchy in an organization. The charts in the document are editable and you will be able to enter your employee details into them.
If you want to make more changes like customization with the company logo, font, and color changes, you can do that as well. Or you could just copy the charts and put them in an existing company organization chart template too. This template is made with Microsoft Word and is free to download for everybody just like our production schedule template.
3. Matrix-style Organization Chart – Word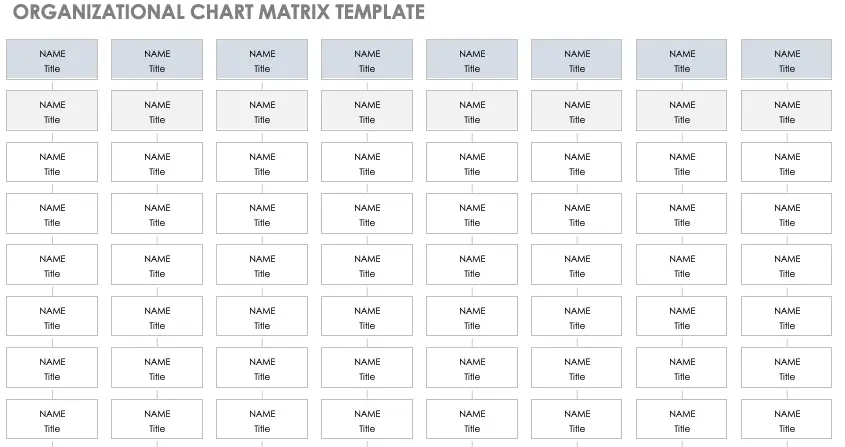 In a matrix-style organization, employees typically report to more than one manager. So they could report to one main manager and then work for multiple project managers. Such organization styles are found in consulting companies, IT organizations, etc.
In such cases, you will require a matrix organization template and the above should suit your needs. Matrix organization charts are very different from the usual charts as one employee will feature under multiple managers. Once you download this template, you can model it according to the structure of your company.
4. Matrix-style Organization Chart – Word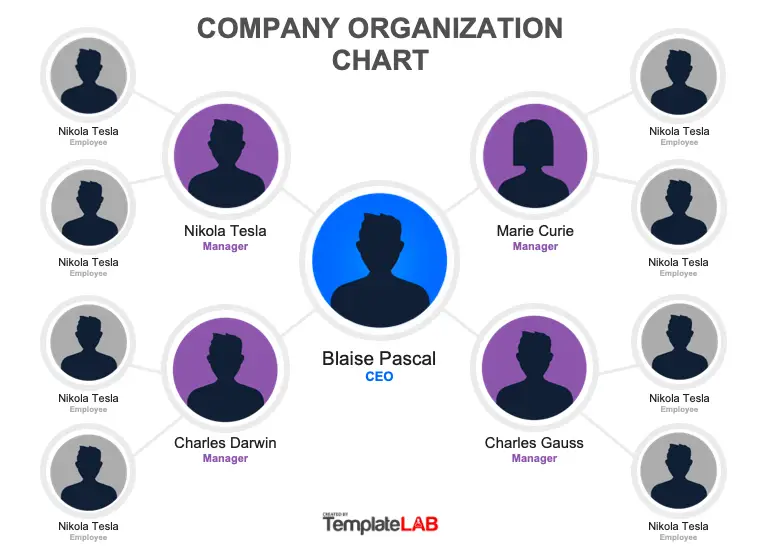 Looking for a professionally designed, visual way of depicting your organization chart? Well, here's one that you can use for free. This downloadable and editable organization chart template focuses more on the visual element than written content.
All you have to do is to download the file and then insert your employee pictures inside the circles you see above. However, for the best results, you could edit your pictures into circular shapes so that they fit into the template properly.
If you want to replicate such a template across all departments, then you can create multiple pages of the document and start making a team-wise or department-wise organization chart.
5. Organization Chart for Hotels – Word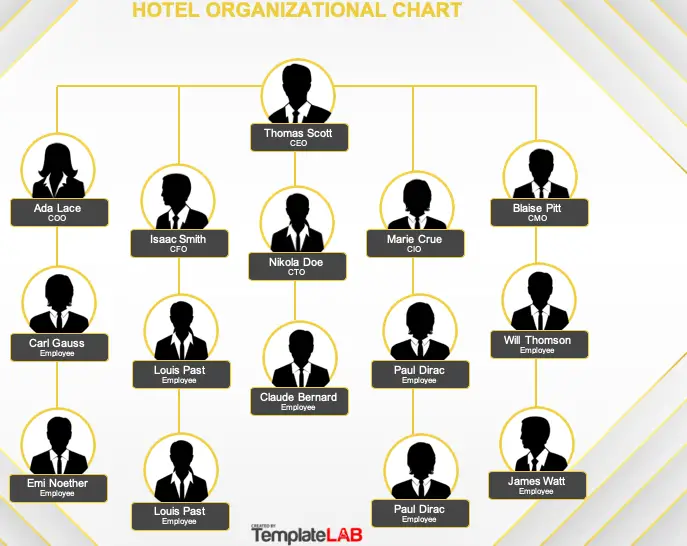 Even though this template was designed for a hotel, it can be used by anyone from any industry. Showing employee photos in an organization chart makes it more relatable as the employee get to know their colleagues better.
This editable Microsoft Word template is great for those looking for a design template that is good to look at when printed out. However, if you don't want the background then you can delete it or add your own custom background.
6. Organization Chart for Teams – Word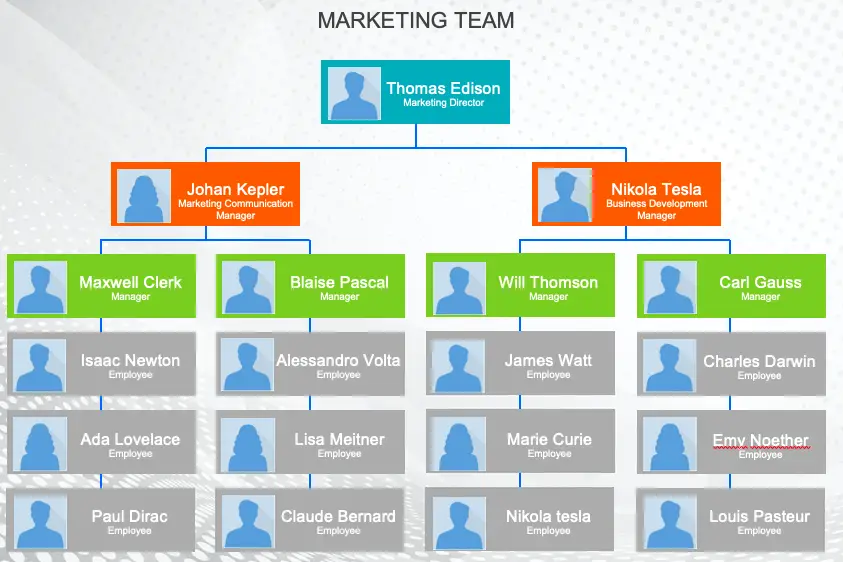 Inside organizations, people managers also maintain their own team charts similar to the one that you see above. This template can be used for the internal teams as well as a mapping exercise for external contractors/vendors, etc.
After download, you can start entering your personnel details in this organization chart template and add the employee photos as well. The chart is very colorful and you can use this color coding to denote designations. And the file is print-friendly so you wouldn't have to do much to the document alignment.
7. Simple Organization Chart – Powerpoint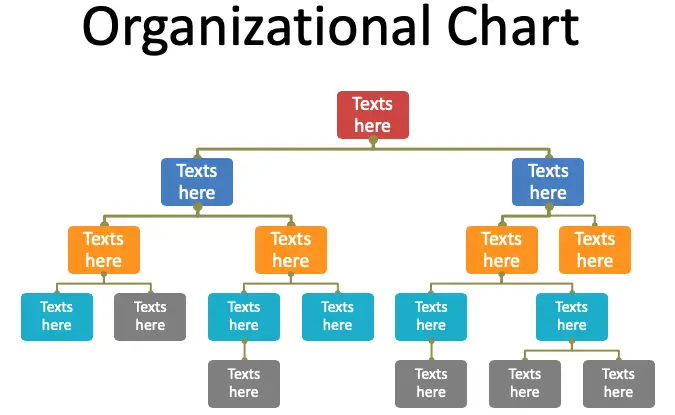 Lets' switch over from Microsoft Word templates to Microsoft Powerpoint templates and this one is a very simple PPT org chart for you to use.
Powerpoint templates are great for presentations you want to showcase within your organization. In this format, you have more ability to do your own design and you can easily play around with the box shapes, colors and easily add or remove elements. So go ahead, download this and customize it to your requirements.
8. Blank Organization Chart – Powerpoint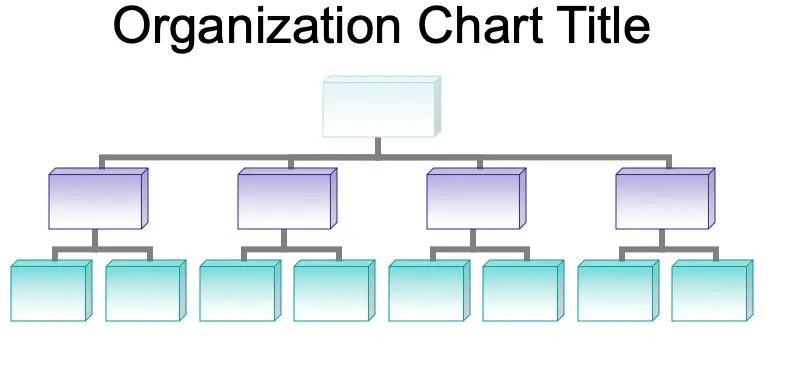 This blank organization is another free, downloadable, and editable Microsoft Powerpoint organization chart template. All you have to do is to download the file and start adding your employee details to it.
If you want to change the design, you can click on the boxes and change them to any format provided in Powerpoint. The advantage of this template is that since it is blank, there are many customizable options available to you.
9. Team Organization Chart – Powerpoint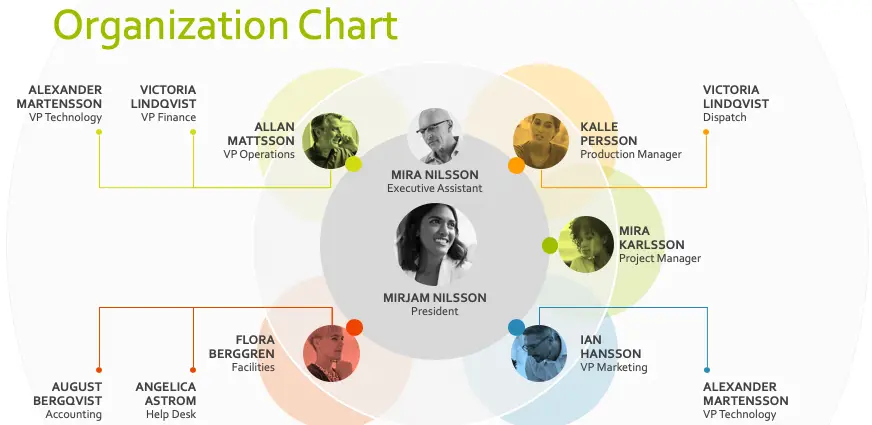 Second, on our list of PowerPoint organization charts is this beautifully designed document. Great for depicting small team structures, the template has provisions to enter employee photos as well.
The format is very different from the ones we have seen earlier and adds a good-looking design to your internal documents. Once you are done entering the employee names, designations, and photos, you can run the presentation to see how it looks. Don't forget to check the alignment before you print out the document.
10. Company Organization Chart – Excel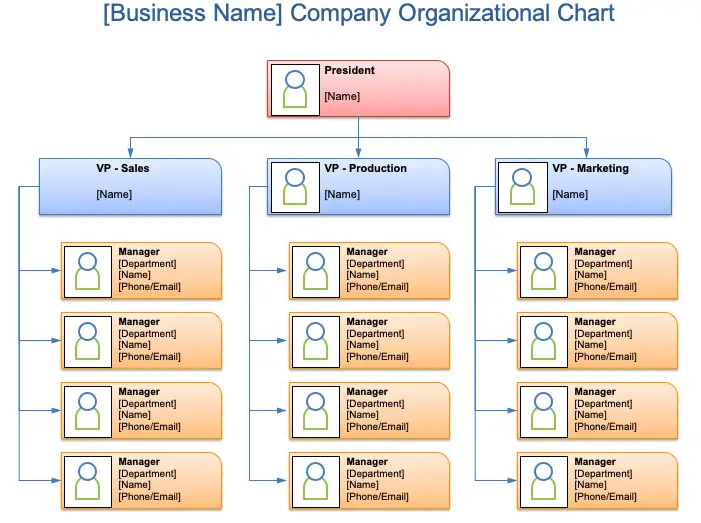 Even Microsoft Excel is used to design organization charts and this free template is a good one to start making your own document. The file contains one sheet with the sample org chart shown above.
The graphic elements you see can be changed by clicking on them. You can make edits like the color of the boxes, the shape, text contents and you can also add/remove boxes to accommodate your employee names.
11. Non-Profit Company Organization Chart – Excel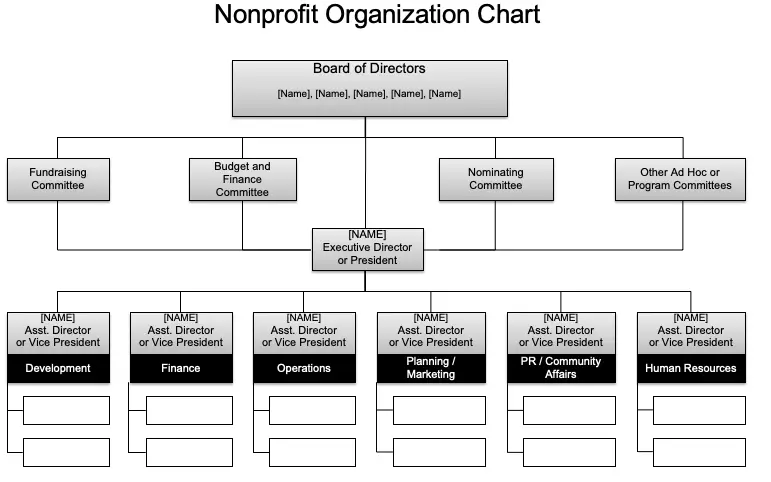 Even non-profit organizations need to maintain their org charts and this one can be used for such organisations. Details like a board of directors, Committee head names, President name, and subordinate employees are present in this document.
Below them is a blank section that can be used to enter details of more employees if required. If you do not want those blank boxes, then you can delete them.
12. School Organization Chart – Excel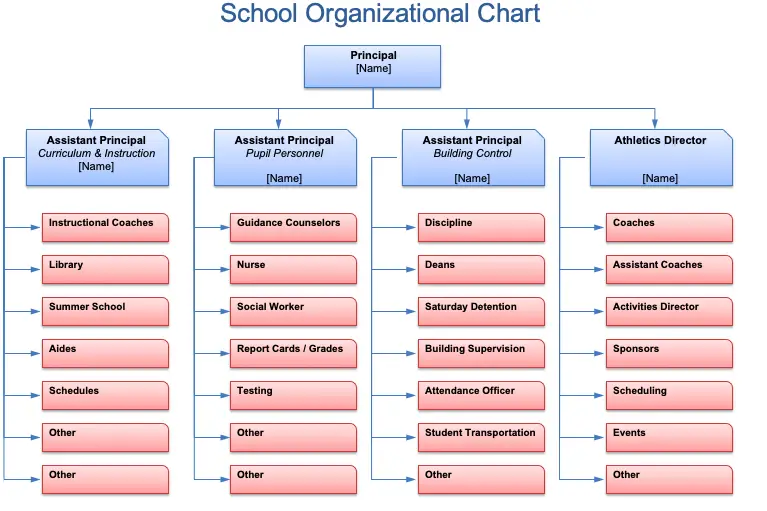 A good org structure often results in better responsibility handling, clearly defined roles, a robust line of reporting, and an accurate flow of information. Therefore, such structures are used outside of the corporate world, in schools as well.
This Excel format has been extensively used by schools to organize and display their internal reporting structures. School districts and standalone schools can download this template and design their structures accordingly. The file is very easy to use and anyone can work on it.
13. Organization Chart with Data Visualizer – Excel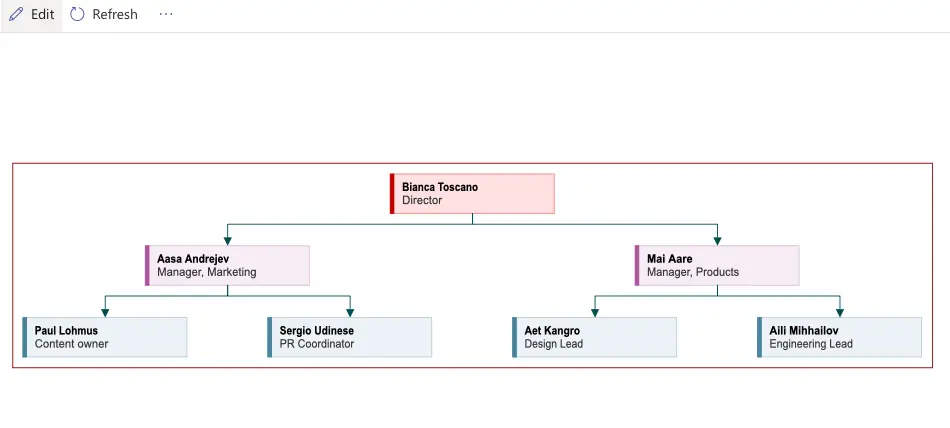 And for the final org chat template, we have a really powerful tool for you! This excel sheet is a fantastic chart generator that automatically draws your charts for you.
The first sheet contains a data visualizer that will collect data about your employees and then based on what you enter, it automatically draws a chart of your preference. This is great because then you don't have to painstaking making the visual interface that takes a lot of time!
So, that was the collection of organization chart templates in this article. Hope you find them helpful and suitable for your requirements.
Frequently Asked Questions
Here are some of the most commonly asked questions about org charts that you will find useful.
1. Are org charts helpful for all kinds of companies?
Yes, any company big or small should employ the use of the org charts as it helps you visualize the structure.
2. My company employs mostly temporary workers. Should we maintain an org chart?
Well, that depends on how important such documents are to your organization. If you have temp workers who come and go then your organization charts will require constant updating. So, you need to decide accordingly.
3. What are some problems associated with the organization charts?
The most common issue with such documents is that since they are low priority, most HR professionals don't update them on a regular basis. They require constant updating especially if employee turnover is high in your company. So a lot of manual work goes into them.
However, there are softwares available that automatically generate organization charts depending on the employee data stored in an HR management software.
Conclusion
Human Resource employees are constantly on the lookout for such free, editable templates that will help them design their organization charts. All of the above-attached templates are free to download and can be edited by you. The list provided is pretty comprehensive and you will find what you are looking for! Before you go, check out these pdf employee write up forms!