Once you have decided which vehicle you want to buy, the time comes to complete all formalities which include a lot of paperwork.
And one such document is the vehicle purchase agreement you sign while buying any kind of vehicle.
The Vehicle purchase agreement is a legal document made between the seller and the buyer of the vehicle that details the vehicle being sold, the buyer and the seller's details, along with financial information and the terms & conditions of the sale.
These documents are usually mandatory and should be maintained properly.
Free Vehicle Purchase Agreement Templates
If you are in the market to sell a vehicle then you must have a ready purchase agreement document with you along with a vehicle inspection report such as this lyft inspection form.
In this article, we provided some of the most commonly searched vehicle purchase agreement templates.
All of them are free to download like our truck lease agreement and some of them can be edited as well. So go ahead and pick the ones that suit your requirements.
1. Vehicle Purchase Agreement Template for motorcycles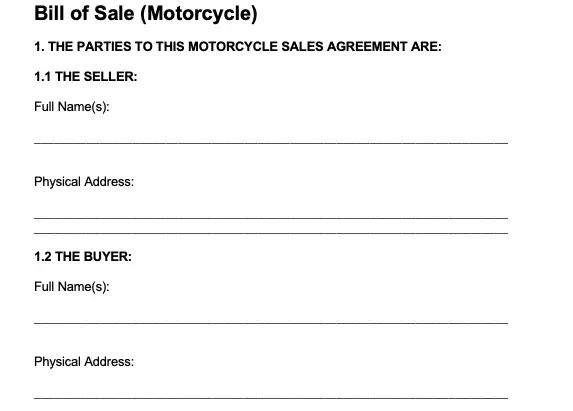 The first vehicle purchase agreement template we have is for motorcycles. While buying or selling new or used motorcycles, you can use this template to record the transaction. Information like buyer & seller details, make and model of the motorcycle, vehicle identification number, odometer reading, etc are to be entered in the template.
Along with this, there is also a section for warranty, terms, and conditions of the sale, and details of the purchase price and signatures of the buyer and seller just like in a lien release form.
2. Vehicle Purchase Agreement Template for All Vehicles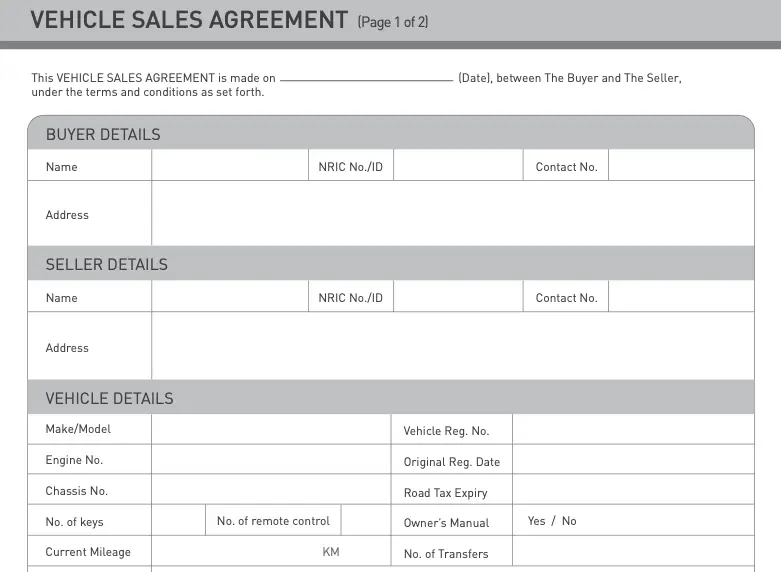 This 2-page agreement is a detailed document that can be used for the purchase of any kind of vehicle. Designed for general use, this file has sections to enter details about the vehicle, buyer, selling, pricing, pricing information, and terms & conditions.
The look and feel of the document are professional which is why it is one of the most popular templates available. You can download it, print it out, and start using it.
3. Vehicle Purchase Agreement Template for Cars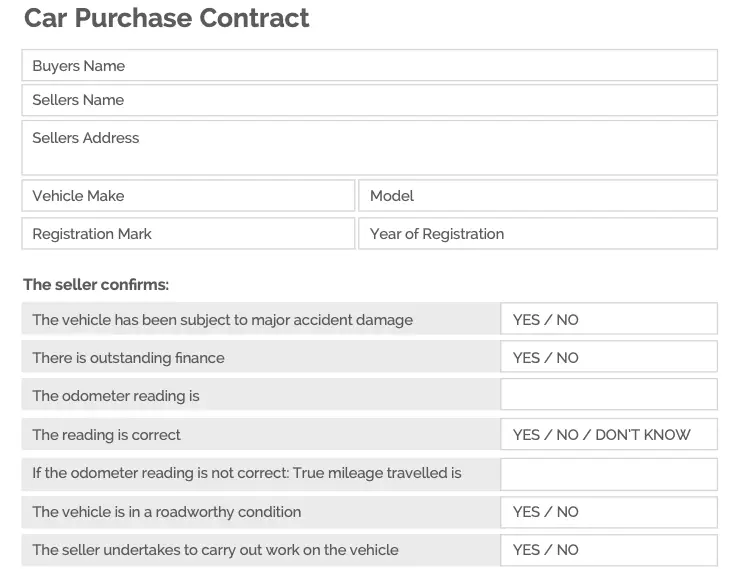 Now this format too, like the first one, is specific to the purchase of a car. Similar to the motorcycle template, this one has all the relevant fields like buyer info, seller info, and car details along with the pricing structure.
Even though you can use general formats for any kind of vehicle purchase, it is always recommended that you use specific formats to make the documentation even more clear and understandable.
4. Vehicle Purchase Agreement Template for Used Cars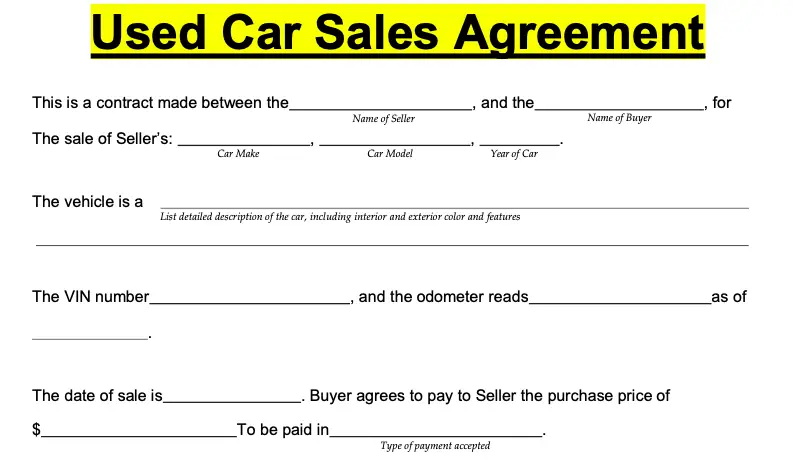 While getting into a transaction involving a second-hand vehicle, it is always better to use a separate, specific template for it. Even though a used car transaction is similar to buying a new car, there are some extra details that need to be filled in some such transactions.
Apart from the usual data, you will also need to fill in information about the change of title or ownership of the used car. This is very important as the vehicle needs to be under the name of the person buying it.
5. Purchase Agreement Template for Consignment Vehicles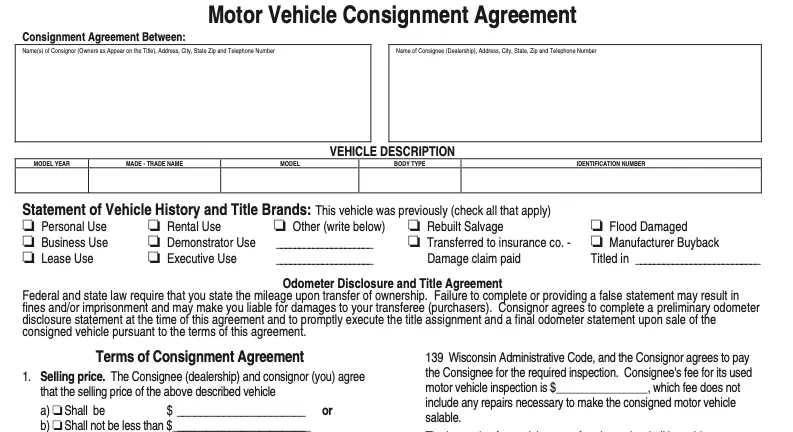 Here is a template that you don't usually come across. But nevertheless, it is very handy if you have a need for it. Consigning a vehicle happens when the owner gives authority to someone else to sell the vehicle on their behalf. These are usually 3rd party entities like agents who charge a commission for the sale.
Consignor's also purchase vehicles for commissions. In either case, you need a motor vehicle consignor agreement format and this template is an excellent one for such cases.
6. Editable Vehicle Purchase Agreement Template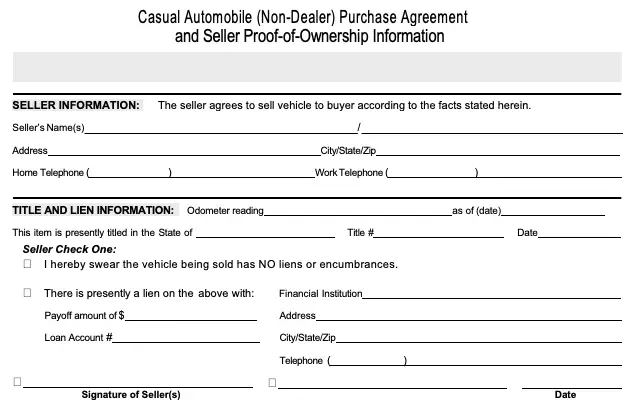 If you are looking for an editable vehicle purchase agreement template, then we would highly recommend this one. Designed with Microsoft Word, this document can be downloaded and then edited as well.
However, it already contains a general purchase agreement template with all the necessary details. But in case you still want to make changes, you can like you can in a free printable contractor invoice like these.
7. Fillable Vehicle Purchase Agreement Template – PDF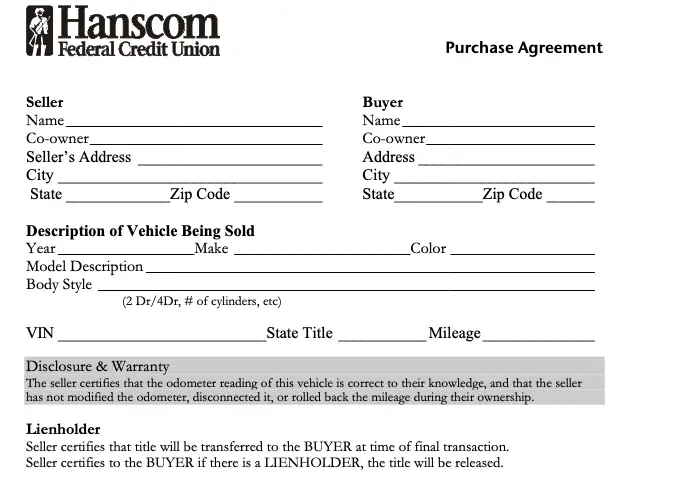 A PDF form with an option to fill in important details like seller info, vehicle details, Lienholder information, selling price, and signature! Yes, you just need to download this form, and then you will be able to enter these details on the computer itself.
And if you want to do it manually you can do that as well. Pretty handy right?
8. DMV Vehicle Purchase Agreement Template – PDF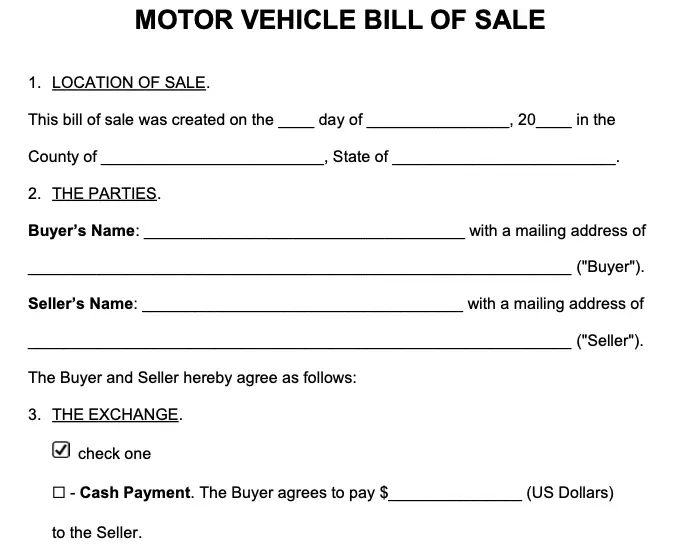 This Bill of Sale or a vehicle purchase agreement form is designed to be submitted to the Department of Motor Vehicles (DMV) once the process has taken place. Along with all the usual information that goes into a vehicle purchase form, there is also a provision to enter disclosures for odometer reading, and a notary acknowledgment.
The template is a legally approved draft and can be used for the purchase of any type of vehicle like cars, motorcycles, trucks, boats, etc.
9. Vehicle Purchase Agreement Template – Word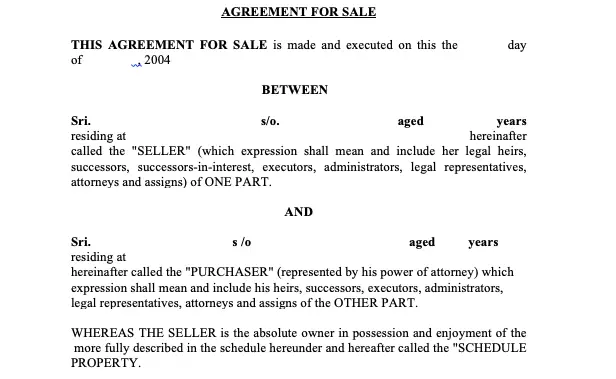 An editable template gives us the option to include our own content and customize the document as per our needs. If you are looking for a vehicle purchase agreement template that you can modify then you can go ahead and download this one.
Prepared using Microsoft Word, this document is a legal draft for the purchase of vehicles. Do go through it and make changes if required. Since it's a legal draft, you might want to get this document vetted by your attorney before you use it.
10. Vehicle Purchase Agreement Template for Boats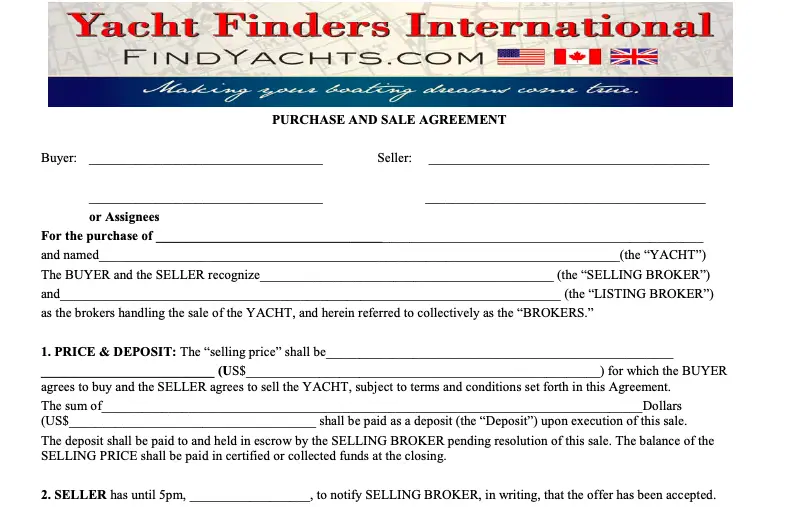 Quite an unconventional format but nonetheless a very useful one for those looking to purchase boats and ships. This free template is made specifically for water-bound vehicles.
How it differs from the other formats is that in this template there is a provision to capture details like sea trials, acceptance of the boat, survey details, termination of the agreement. etc. For some transactions involving boats, you might also need to get the local marina or dock involved. So, then your format needs to include a section for them as well.
11. Vehicle Purchase Agreement Template for Aircrafts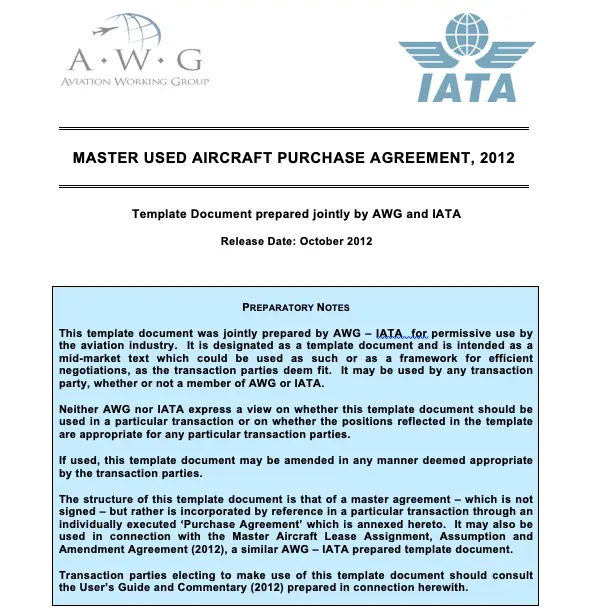 Are you in the business of buying and selling aircraft? If yes then you will know that even for aircraft you need a vehicle agreement form! There are many regulations and laws associated with aircraft and that is why this template spans 27 pages.
The comprehensive template starts off with a glossary of terms followed by local laws and regulations. After that, you will find sections for warranties, terms and conditions, and then the purchase agreement data.
This was our collection of the most commonly used vehicle purchase agreement template. There is a wide variety of templates we have provided that will suit the needs of different kinds of transactions. All these are free to use and most can be customized to your requirements. Hope you find the one you need!
Frequently Asked Questions
Here are some of the most commonly asked questions about vehicle purchase agreements that you will find useful.
1. Is it mandatory to sign a vehicle purchase agreement?
Absolutely, you need to document such transactions as otherwise, you won't have any proof of it. Whenever you buy vehicles such documents are necessary to get the title deed or ownership documents as well. Some of the benefits of getting an agreement done include
Proof of buying or selling the vehicle
Agreement on the terms & conditions
Proof of any payments made
Easy resolutions in case of problems arising out of the process
2. Is a vehicle purchase agreement similar to a Bill of Sale document?
In a way yes as both are proof of the transactions made. However, the vehicle purchase agreement is a much more comprehensive document as it not only contains details of the transaction but has data about the vehicle being purchased, terms & conditions, etc.
So for such transactions, you might be issued a bill of sale and a vehicle purchase agreement as well.
3. Do I need to get a legal expert to draft my vehicle purchase agreement template?
It is always better than you consult a legal expert as they are familiar with the local regulations. What you can do is download our templates, customize them and then consult the expert. When drafting such an agreement here are some important sections you should include.
Buyer and seller information
Vehicle description (with photos if required)
Purchase details including pricing
Terms & Conditions
Termination Clause
Audit & Inspection details, if required
Additional Approvals
Signatures
Conclusion
So this was the collection of vehicle purchase agreement templates. Whenever you buy or sell vehicles, you must record those transactions with such formal documents. You not only store the details of the transactions but such documents also safeguard your interests in the event of a conflict.
If you are buying vehicles, then the purchase agreements act as proof of ownership as well. But before you sign any such document always remember to reach each and every section. Especially the terms & conditions as most of us tend to ignore those sections.