If you are a manager organizing an event in due course, you need to focus on return on investments (ROI) as you tend to invest a sum to execute the event. Another reason to organize an event is to promote brand visibility by maximizing the number of registrations.
How about a simple tool that enables you to make note of registrations, organize the event, and also maximize returns from the event? Sounds cool, right? Introducing you to the easiest tool called sign up sheet!
In this post, you will learn what a sign up sheet does, how to use it effectively, and a range of ready to use templates to cover various types of events. Ready?
Sign Up Sheet Templates Download / Sign In Sheets
The purpose of this post is to introduce this tool and present ready to use solutions that can reduce your effort and make sure time savings. Here are a few sign up sheet that serve various purposes and occasions. Go through the description of each template before you choose one for your requirement.
1. Simple sign up sheet template
If you are a novice in using a sign up sheet, this template is the one, to begin with. It has simple placeholders for organization detail, date, time, people name, and contact detail.
This is highly appropriate when you are running a campaign like a lucky draw or a real estate offer when various attendees display interests at the same time. After collecting the necessary information, you can choose a winner and then follow up with the rest of the upcoming events.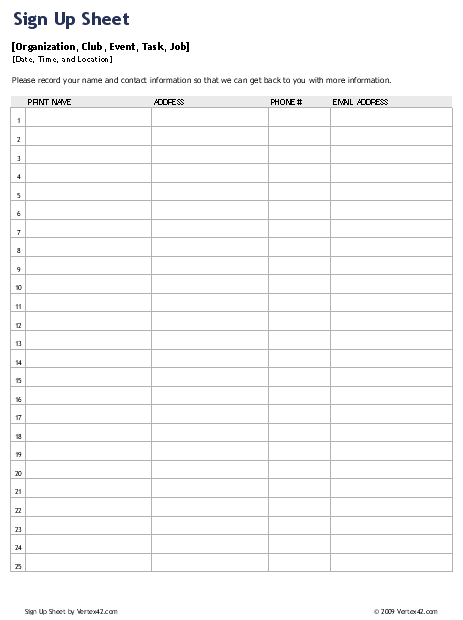 2. Volunteer sign up sheet
A volunteer sign up sheet is a must-have tool for every social welfare organization that works with volunteers. As multiple projects are handled simultaneously, social welfare organizations might have to keep a note of volunteers against their respective tasks.
Another advantage of this sheet templates is the ability to issue certificates to volunteers for participating in a specific project. This template collects basic volunteer information that is sufficient to keep things going similar to these sample employee write up form.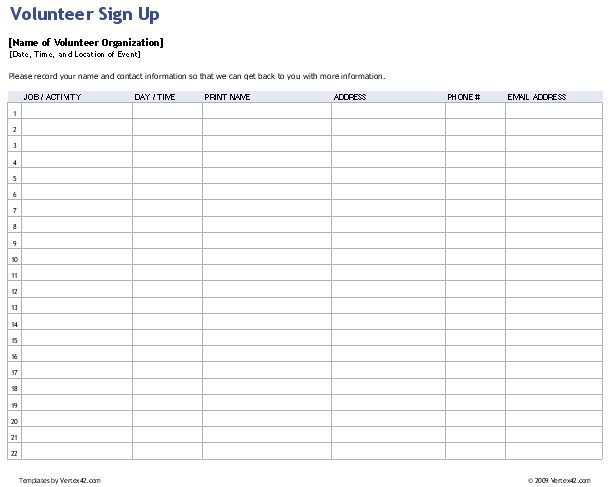 3. Nursery snack sign up sheets
Are you a nursery head planning a snack party? You need to create a register of attendees along with contact detail and snack to be brought. This will enable you to manage the event without hassles.
The best part about this template is that you can use the same sheet templates for the entire term to calculate the participation levels of each student along with hour log sheet. No more turning papers to take attendance! This is also a wonderful method to discuss attendance with parents of students.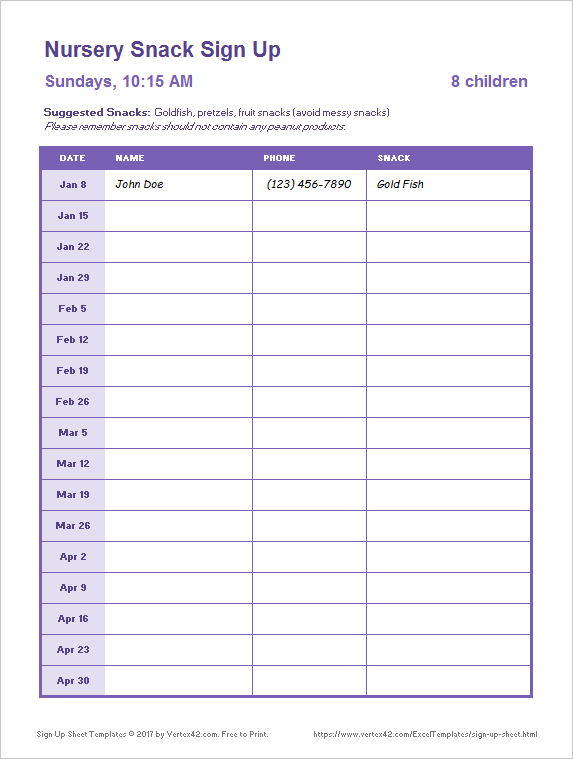 4. Email sign up sheet
This templates sheet is a must-have for every business owner. If you are planning to increase your customer database with genuine leads, you should use this sheet to collect basic details like name and email address.
Even if you are an e-commerce website owner, this sign up sheet is mandatory to keep a note of your database volume and plan offers to achieve better conversion rates.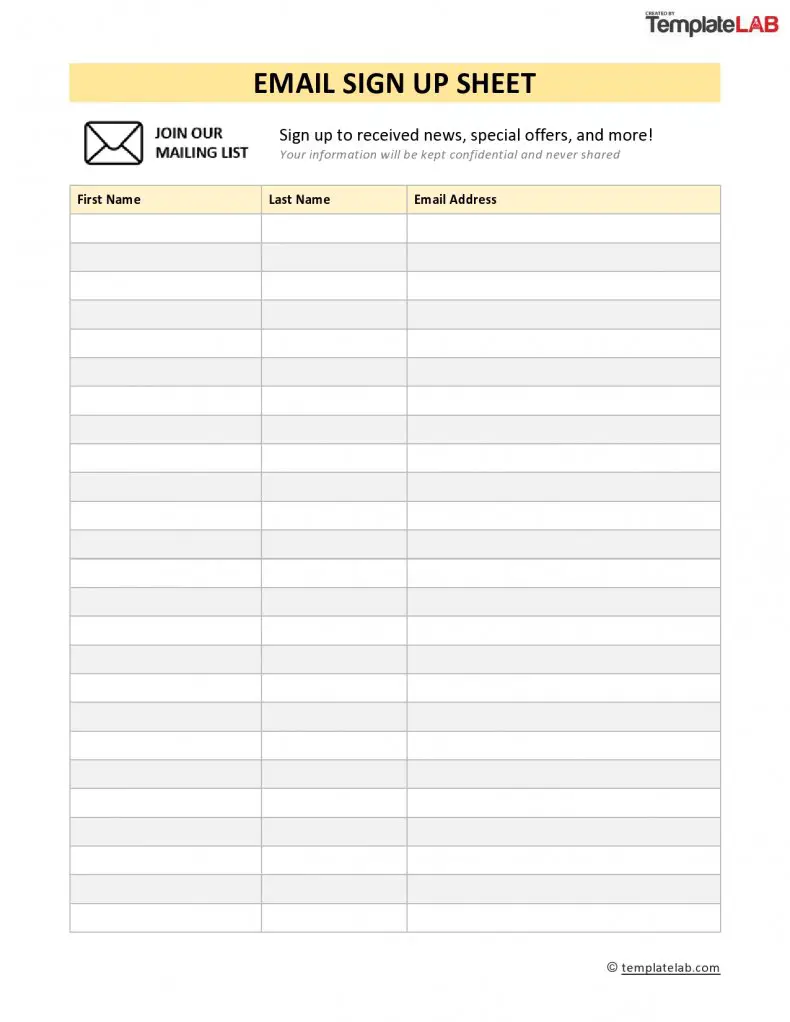 5. Employee sign up sheet
Arranging a get-together or a board meeting in your office? You need a sheet to maintain the list of employees attending the meeting. Alternatively, you may need the same sheet while arranging conferences or sales meetings.
Instead of circulating papers to fill details, a quick sign up sheet at the entry and exit gates will do the needful. Similarly, you can use these blank check printable to pay them in a customized check format and use the sign in sheet to make sure to record who has been payed.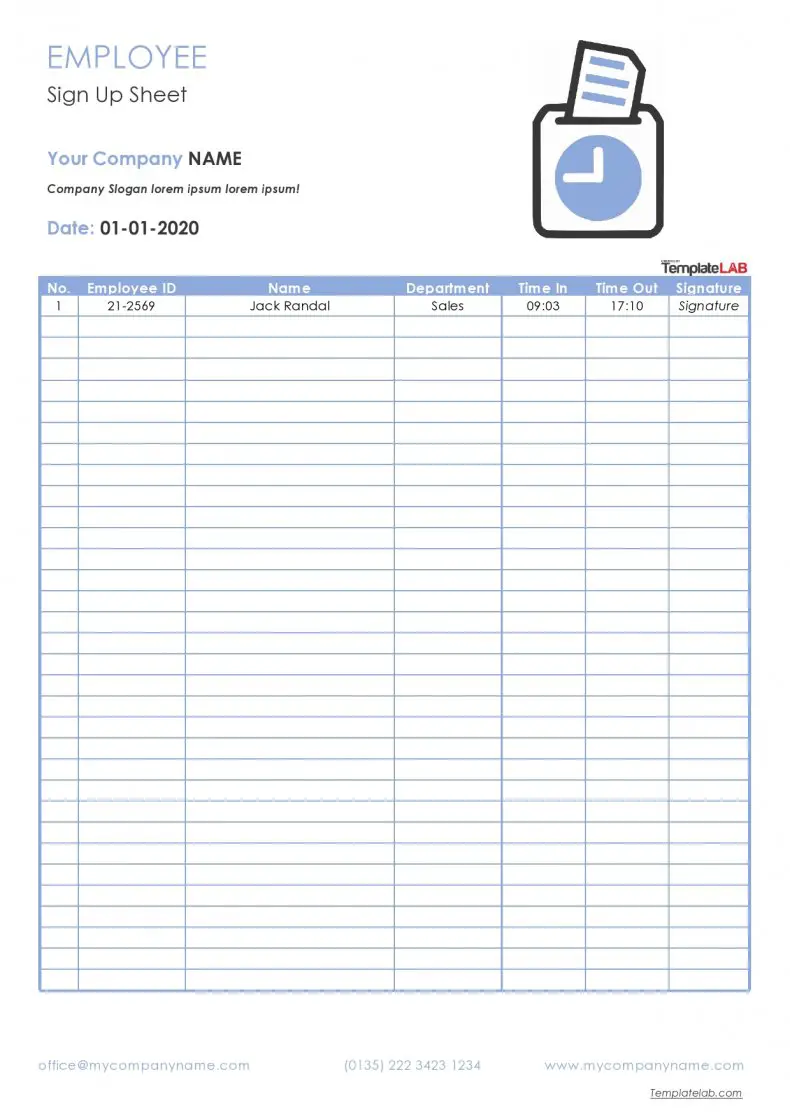 6. Massage sign up sheet
This template is ideal for any service provider wanting to arrange appointments. Here is the example for a chair massage service where a resource is allocated towards each customer. You can implement this approach for scheduling patients as well in a hospital environment.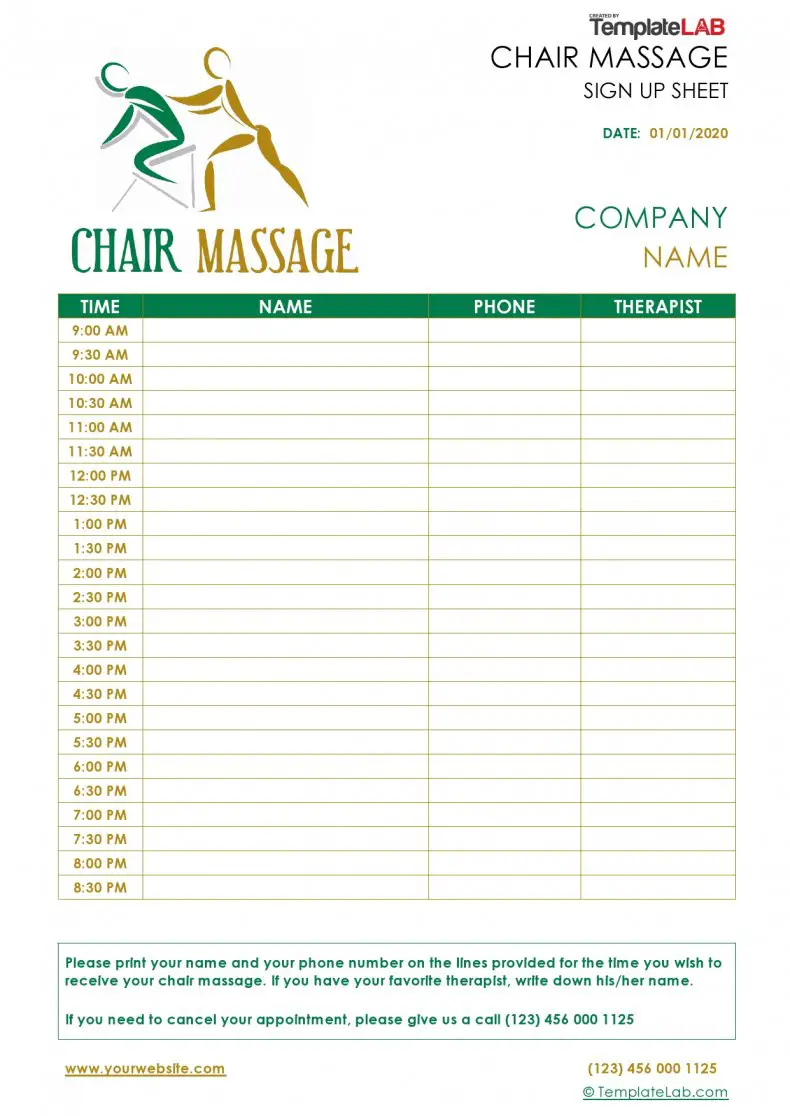 7. Secret Santa sign up sheet
Here is one interesting template. Events are huge sources of happiness and prosperity. A festival is incomplete without guests. This secret Santa sign up sheet is meant to invite participants to the game and celebrate on the festival date by exchanging guests.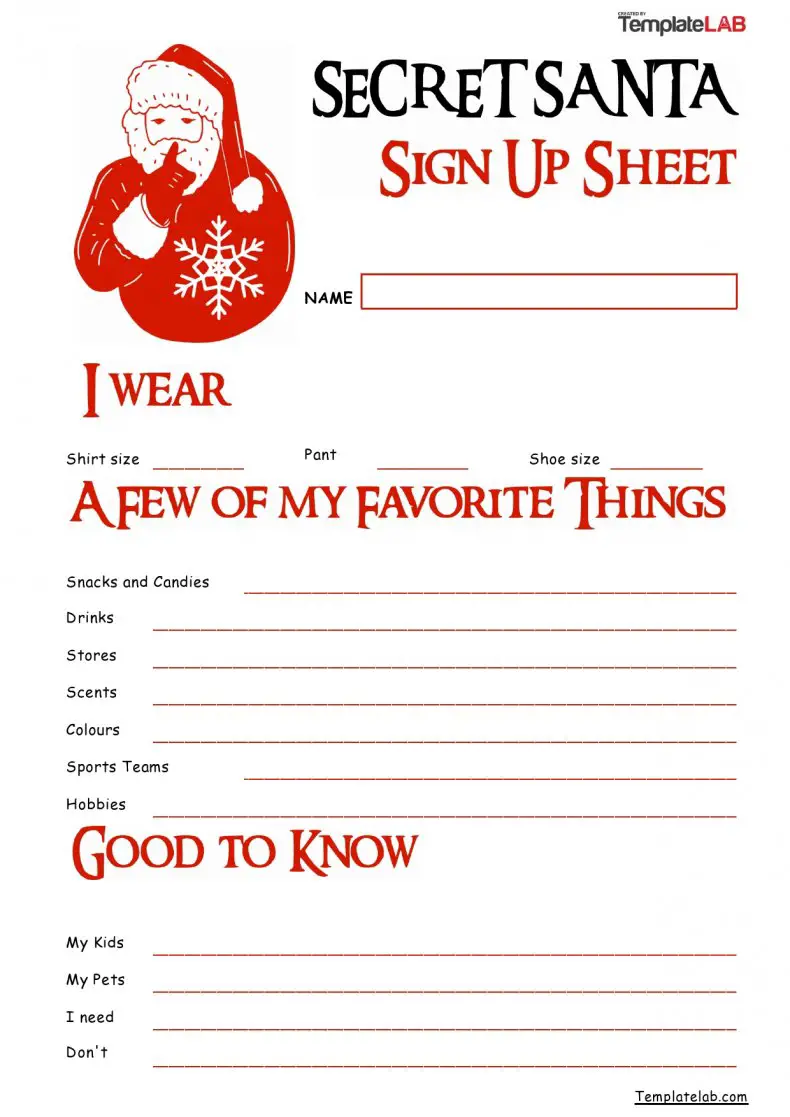 8. Appointment sign up sheet
As mentioned earlier, appointment management is one of the hectic tasks for every service provider. This is highly appropriate in a healthcare environment. If you are a counselor with no other helpers in the clinic, you can use this sheet to mark names and contact numbers against the appointment time. This will help you in managing time to a better extent just like these obituary templates.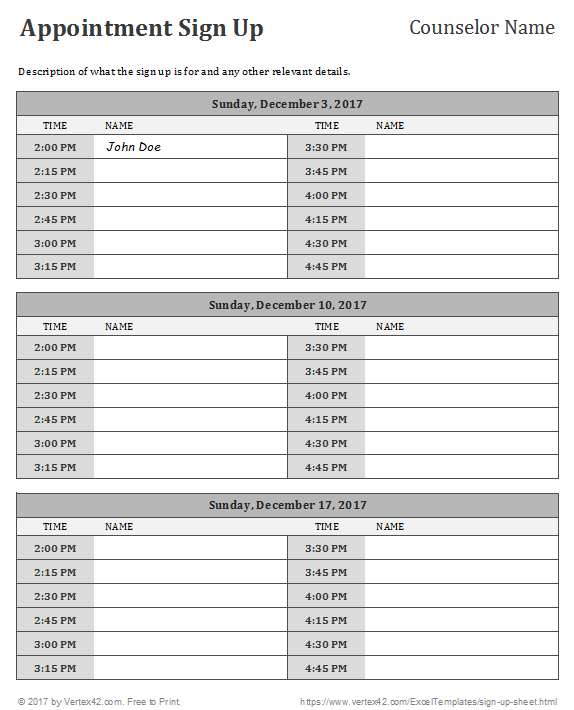 9. Interview sign up sheets
This is one unique application of a sign up sheet. If you are an HR manager looking to scheduling candidates for the interview, this sheet can help you abundantly. Being an editable template, it can be appended with new sheets to complete appointment scheduling for the entire week. This will save time and effort.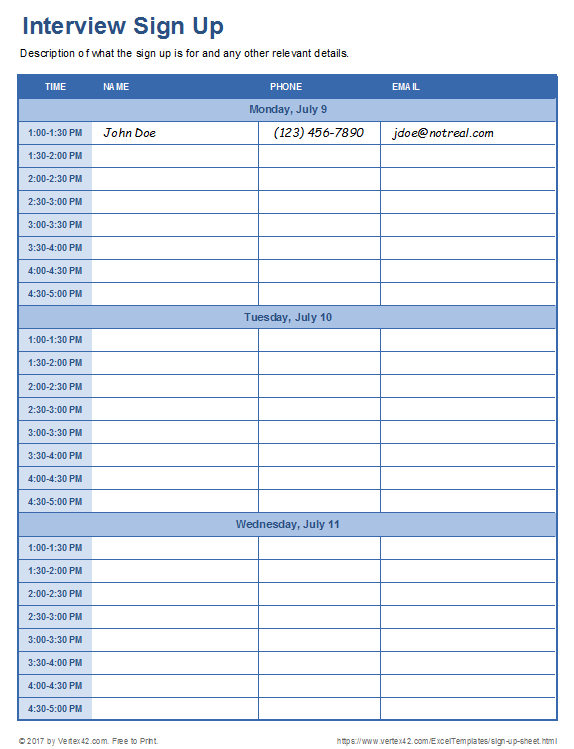 10. Conference sign up sheet
A sign up sheet is predominantly needed in coordinating and managing events. Especially during conference events organized by your firm, you may have to keep a note of participants. This will help in estimating ROI, sharing updates about the event, and informing about upcoming conferences. Alternatively, you can use the same sign up sheet to find out how the attendee has known about the event. This is one way to find out the effectiveness of your people marketing media choice.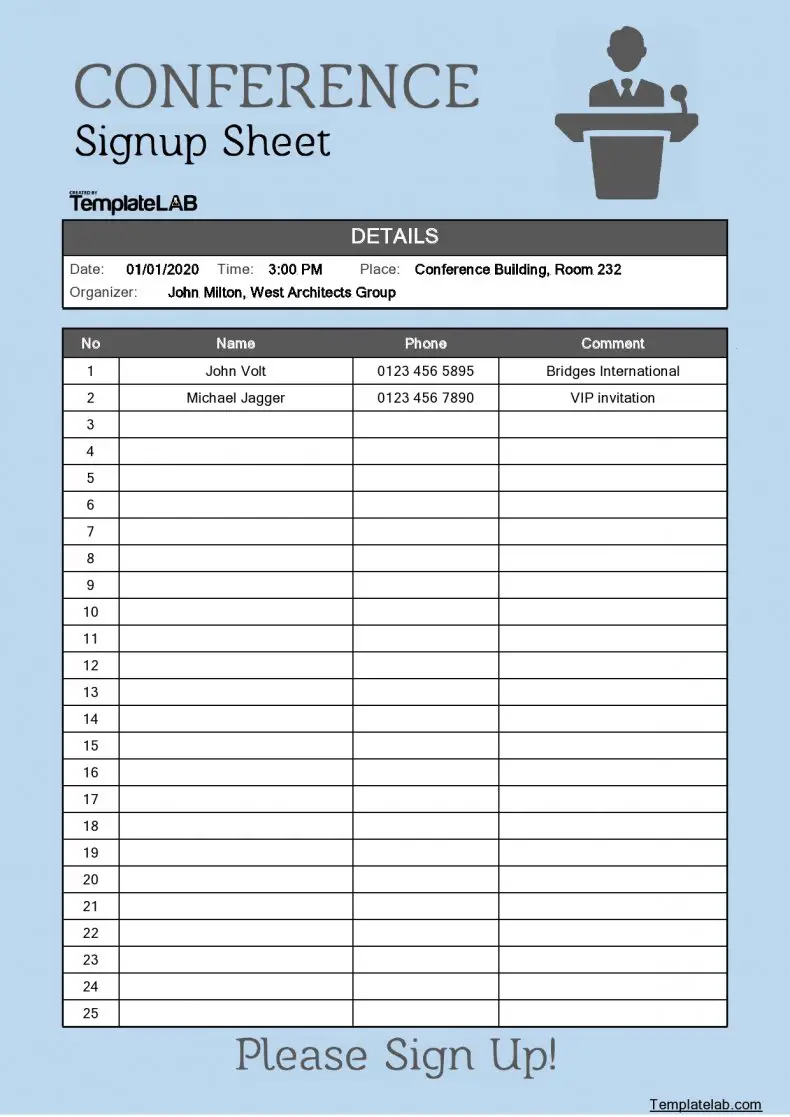 11. Parent conference sign-in sheet template
Parent-teacher meetings are periodically held by schools to discuss the progress of the child. To find if a parent has attended the conference, this sign-in sheet is sufficient. It is editable and free printable. You can customize the templates information of the sign in sheet by adding a logo of your school to the header region. You can also alter the color code based on your school scheme.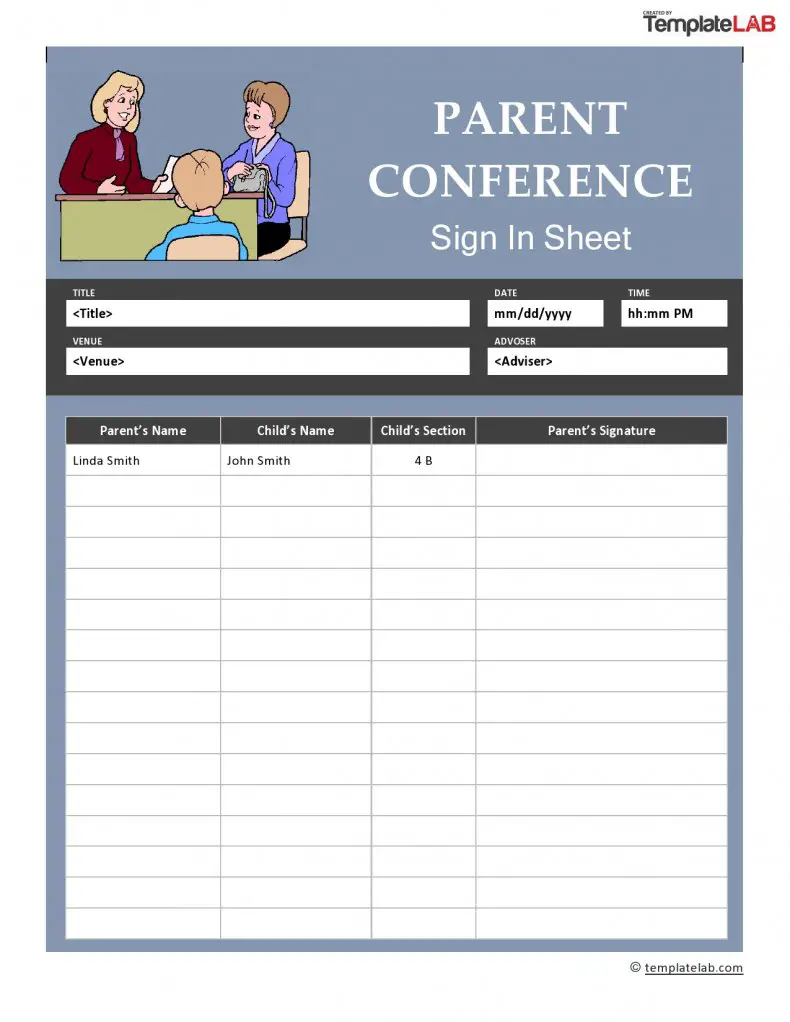 12. Potluck sign up sheet
This is much similar to the snack sheet templates mentioned above. The only difference is that this one is meant for adults to meet each other and dine together. From appetizers to food descriptions against people, this people volunteer sign in sheet completes the event and lets you manage efficiently. You would never fall short of foods or fail in the organization!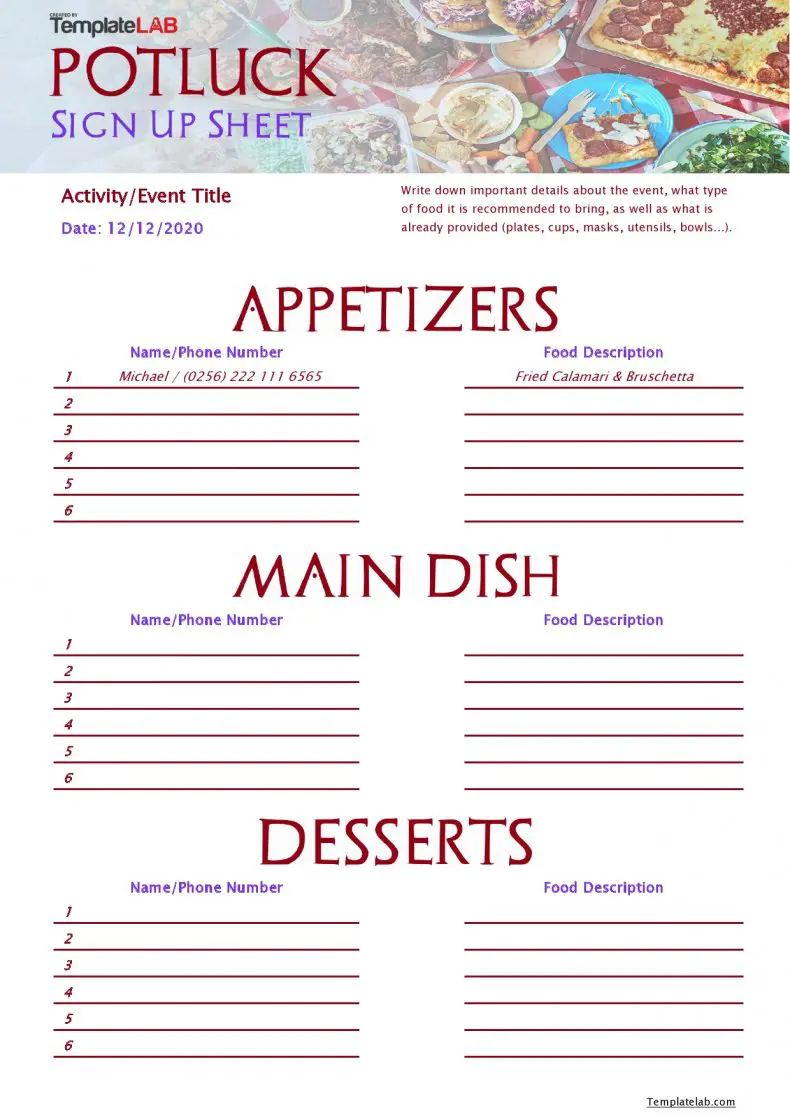 13. Sports event sign up sheets 
Any sports event will have a number of participants. If it is a group sport, you may have to quickly note down team information and arrange amenities needed on the date of the program. The best part is that you can add other brand sponsor logos on the same sheet to improve brand reach and visibility.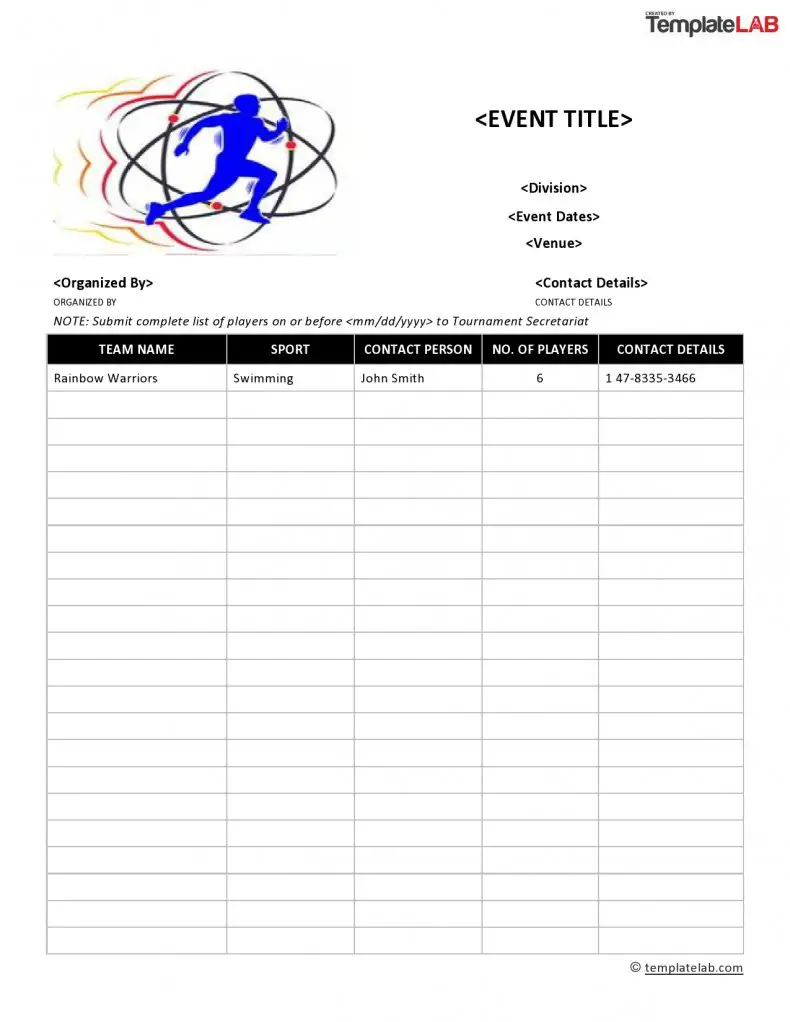 What is a signup sheet?
A signup sheet, in simpler words, is a register allowing the event manager or organizer to make note of people/participant details such as name, phone number, email address, and residential address (optional). This is merely a data collection technique meant to make necessary arrangements for the event and also focus on sales conversion strategies. Some businesses collect visitor information and then send to event organizers to communicate information and updates and exciting offers that they may be interested in.
In the absence of an organized sign up sheet to make note of attendees/people such as in an obituary (these samples), you are likely to lose benefits like after event communication, stakeholder follow-up, and accurate evaluation of returns. The best part about sign up sheets is the potential to maintain loads of information in one file and access it on the go. You can blindly bid goodbye to physical files comprising customer information with this amazing tool.
When and how to use a signup sheet?
Sign ups sheet can be used on a range of occasions. It can be as simple as a potluck event and as exciting as a school trip or as important as a business conference. Other things can typically include –
A lunch potluck for people
A speaking event information
Open mic sessions
Online webinars for a number of people
Volunteers people for social events
Group trip plan with friends/relatives
Another common instance when sign up sheets or sign in sheet are used is during the end of the event information where participant details are collected and used for followups. This approach is meant to double return on investment and also help in sharing updates about the brand.
There are interesting hacks meant to maximize the usefulness of a sign up sheet. To get the best of a sign in sheet, you need to simply adopt these principles.
Inform the audience on how their details will be used so you take consent and then use for follow-ups. This will develop the credibility of your business approach.
Get the most out of each sign in sheet by collecting essential information.
Give options for the audience to choose from. This will save their time spent in filling forms. Alternatively, this can help in gaining honest detail from the respondent.
Creative, colorful, and attractive sign up sheets or free printable sign in sheet increase the number of registrations or respondents. Make your sheet look unique and vibrant.
It is evident that businesses use sign up sheets differently to promote the event or brand. However, the point is to encourage engagement level and stay in touch with the audience in the long run.
Conclusion
Why use a roundabout approach to maintain records when a signup sheet template can add ease to the process? It is time to scale your events and businesses with instant and effective tools like signup sheets. All that you need to know is the procedure to use the free printable template and you are done! Your event is all set to scale higher. Start using these sheets from now on and see how events get simplified!
Check Out:
Summary
Reviewer
Review Date
Reviewed Item
Author Rating





Software Name
Software Name
Software Category