As a landlord, it is a daunting task to make note of rents paid by your tenants to manage utility bills. The work gets even tougher if you are handling more than one property at a time.
How about a tool that simplifies your role of managing rental income from your tenants? The good news here is that it comes at FREE OF COST. Introducing the rent roll, which is a financial statement highlighting the rental income from the property.
This is a must-use for lease agencies and landlords as you can maintain tenant records in a go. This article explains more about rent roll, the way it works, and free document for you to begin with.
Professional rent roll templates
1. Wells Fargo rent roll 
This rent roll is followed by the corporate financing firm to estimate the property value. It is an editable document that includes sections like unit type, residential, suite number, square footage, lease start and end dates, increases, expenses paid by the tenant, and property information. If you are a property manager, this document works well in accumulating the yearly information of one property or monthly information of multiple properties in single document similar to a California Lease Agreement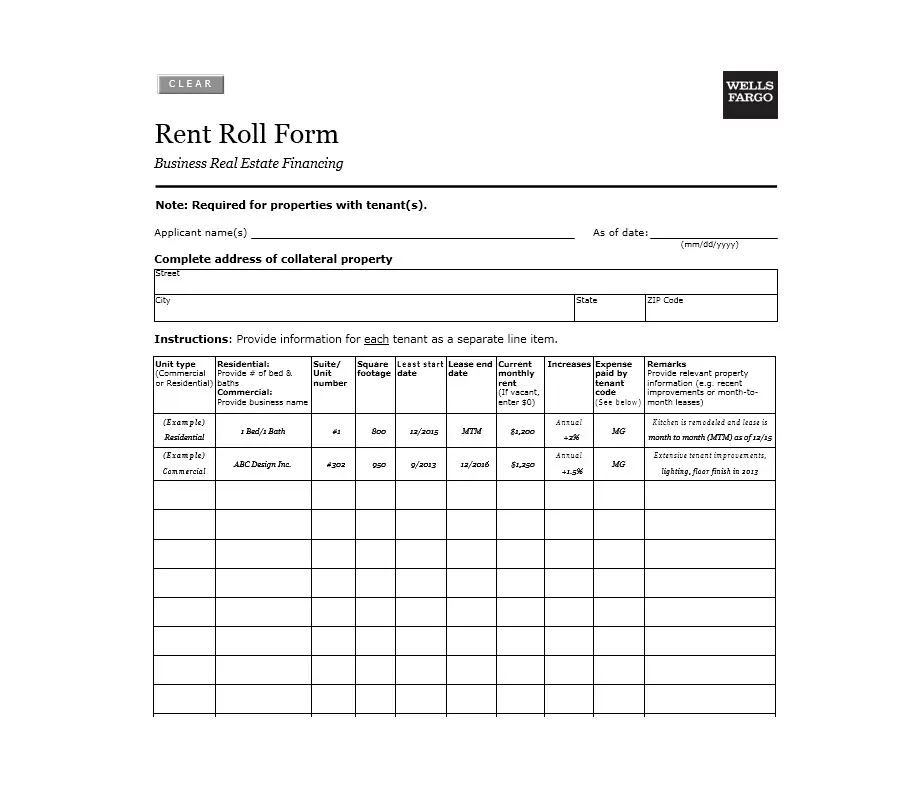 2. Simple rent roll 
This customizable rent roll is followed by the Oakland Housing Authority to make note of the property information and maximize its value over time. It is easily fillable and is precise. The key is to include housing rules and regulations along with this form to ensure if the tenant has violated any law.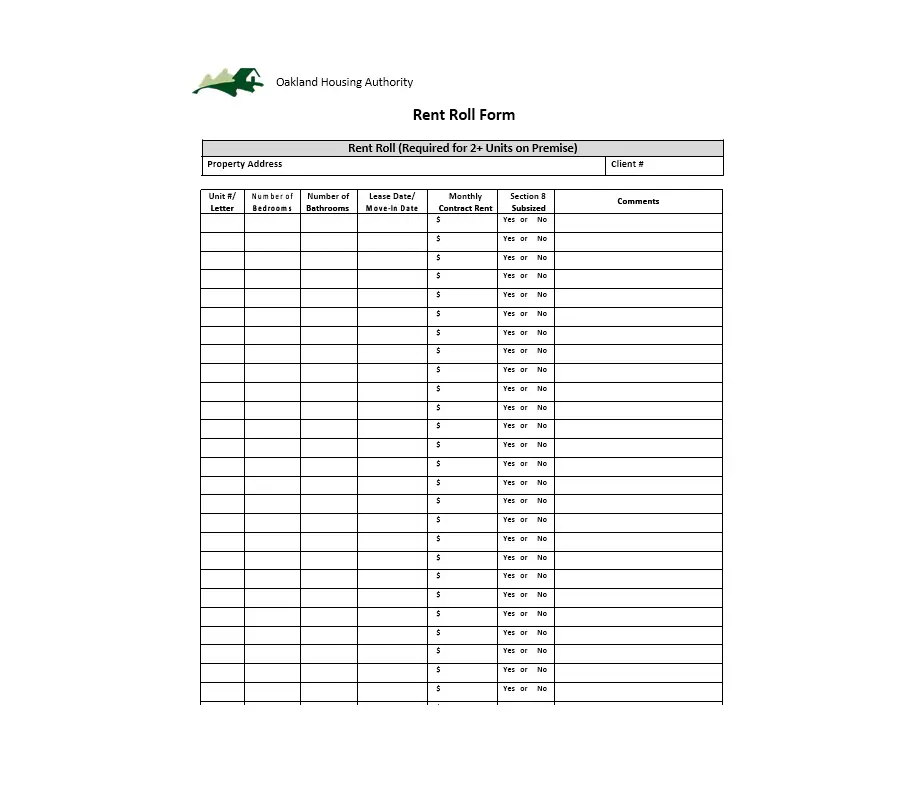 Check Out: 11+ Free Construction Estimate Template Excel Word!
3. Commercial rent roll forms
What if you are dealing with commercial properties instead of residential properties? You need to add extra sections for including certificate details and also obtain a complete gist of the rent collected for the present month. If you have a business complex for rent and there are multiple tenants running their businesses within the same premise, this is the rent roll to go ahead with.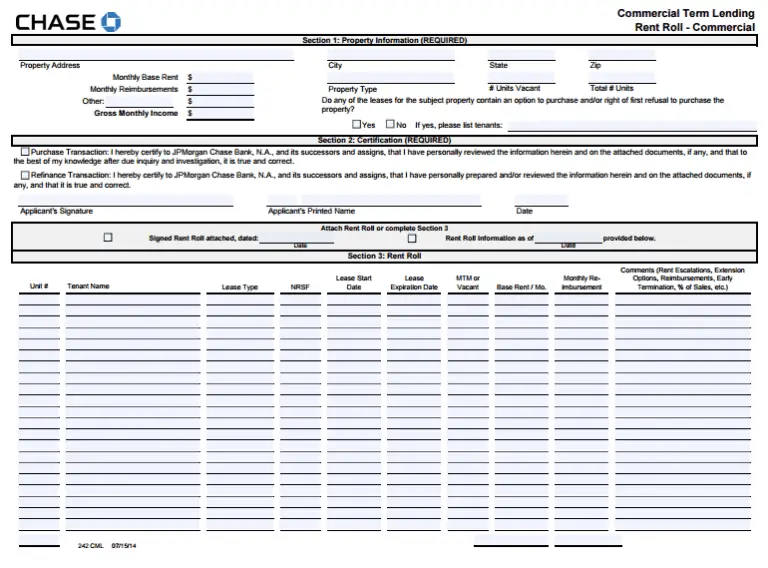 4. Rent roll with financial estimation
If you are looking to mortgage the property or enable the bank to estimate the market value of the property, go ahead with this rent roll . As you add property info along with rental values, there is a separate section titled financial analysis meant for the evaluator or the bank. This is where you can estimate expenses made towards the property and debt to mortgage values. If you have purchased the property against a home loan, this can serve even helpful in comparing the rental value with the mortgage value to see if there are any positive aspects to the property.
Check Out: Daily time tracking spreadsheet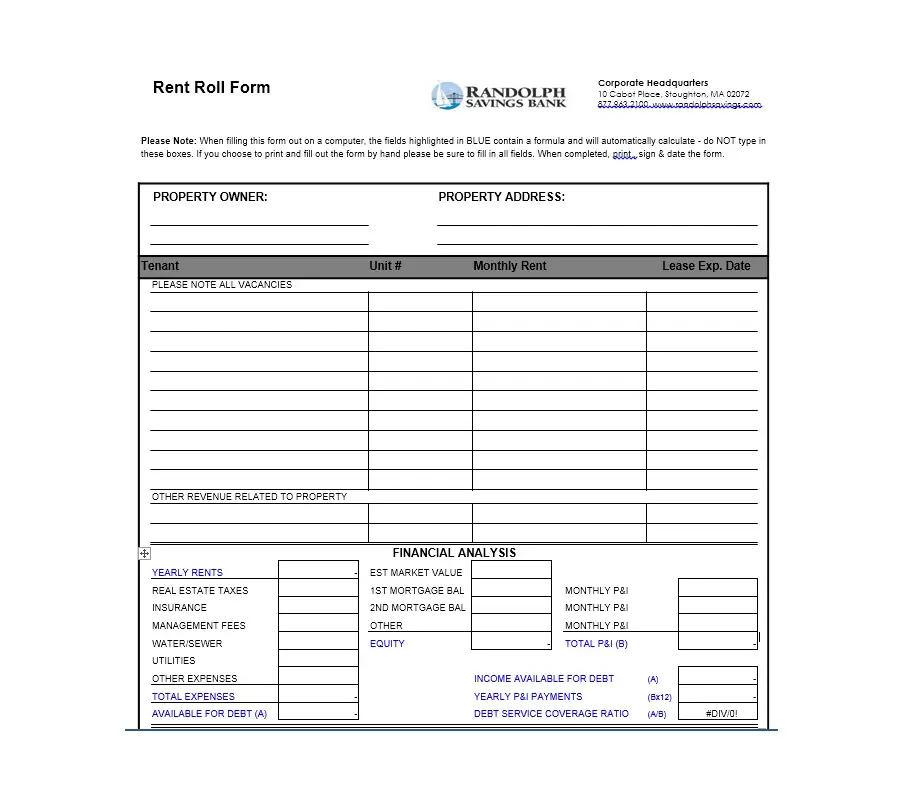 5. Yearly rent roll
Using the rent roll given below, it is possible to evaluate the unit worth for the entire year. At the footer section, you can find space to list down property expenses. This will help in planning your budgets better like using a Profit And Loss sheet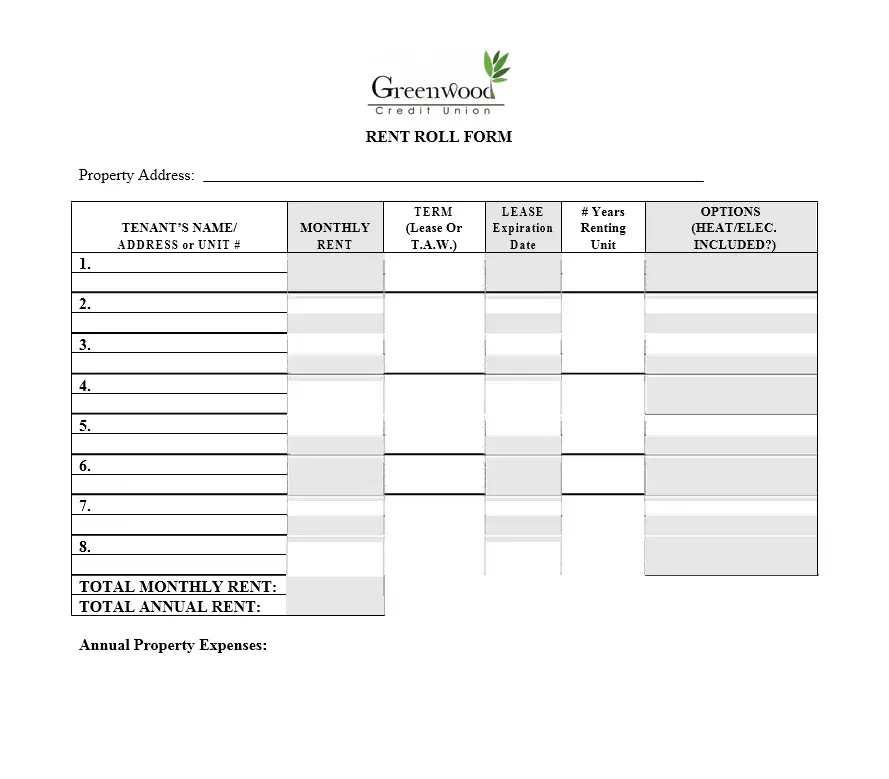 6. Tabulated rent roll 
The tabulated rent roll template has simple columns titled tenant name, unit number, square feet, lease start, lease end, base rent, and expense arrangements. There is also an option to include borrower information. There is a declaration placeholder at the end if at all the property is managed by a third-party.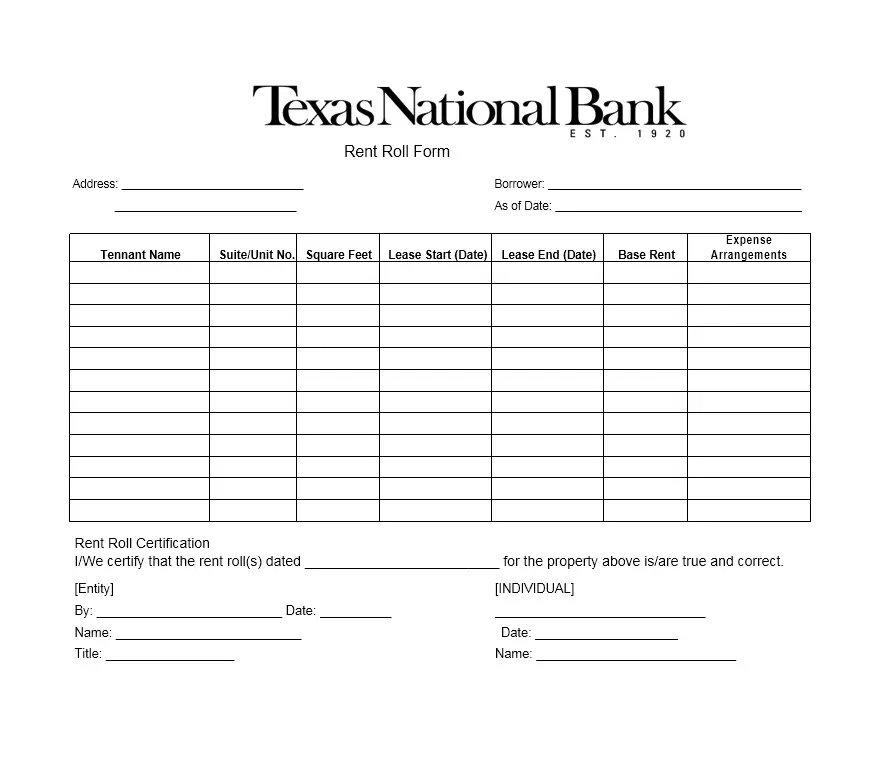 7. Rent roll with checkboxes
If you are someone preferring visually appealing document to enter info about your property, this rent roll is the one to go ahead with. There are detailed columns to make your job easier. Even when you look at the records several years later, you can still grab an understanding on how the agreement has happened and the overall experience with the occupant. There is a placeholder for certification as well just like there are placeholders in a printable sign up sheet.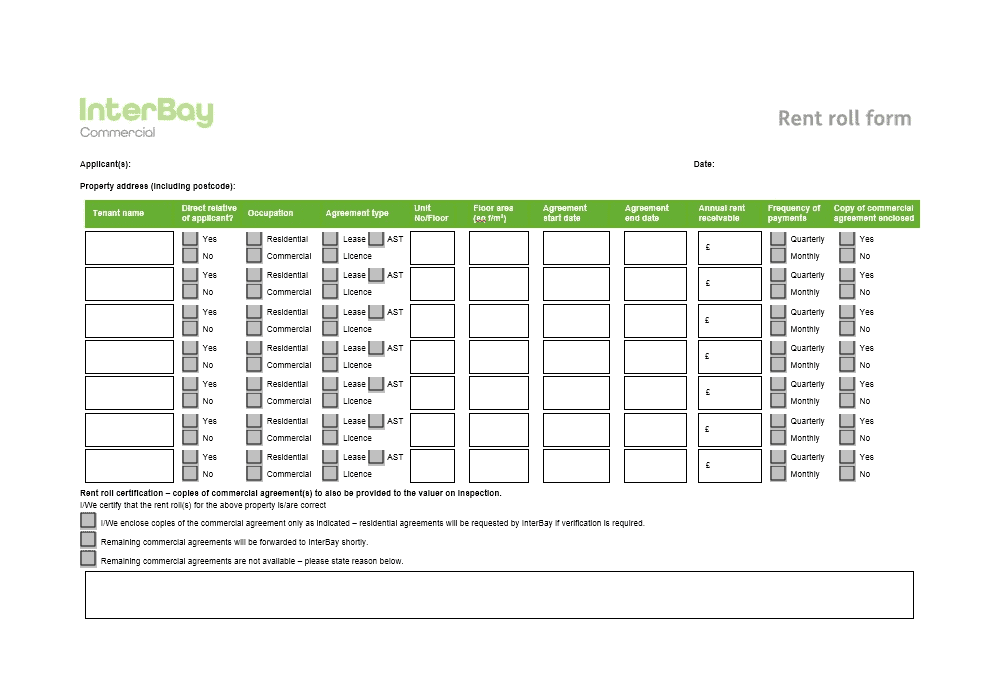 8. Detailed rent roll 
This is a detailed rent roll form that lets you enter unit-specific information and also note down the gap between single occupant and the other. Lease terms are also appended in this rent roll so that it can be easier to notice the legal aspect of a property. There are two parts to this document – rent roll and expenses. Download, customize for your need, and start using just like a production schedule template – check them out here.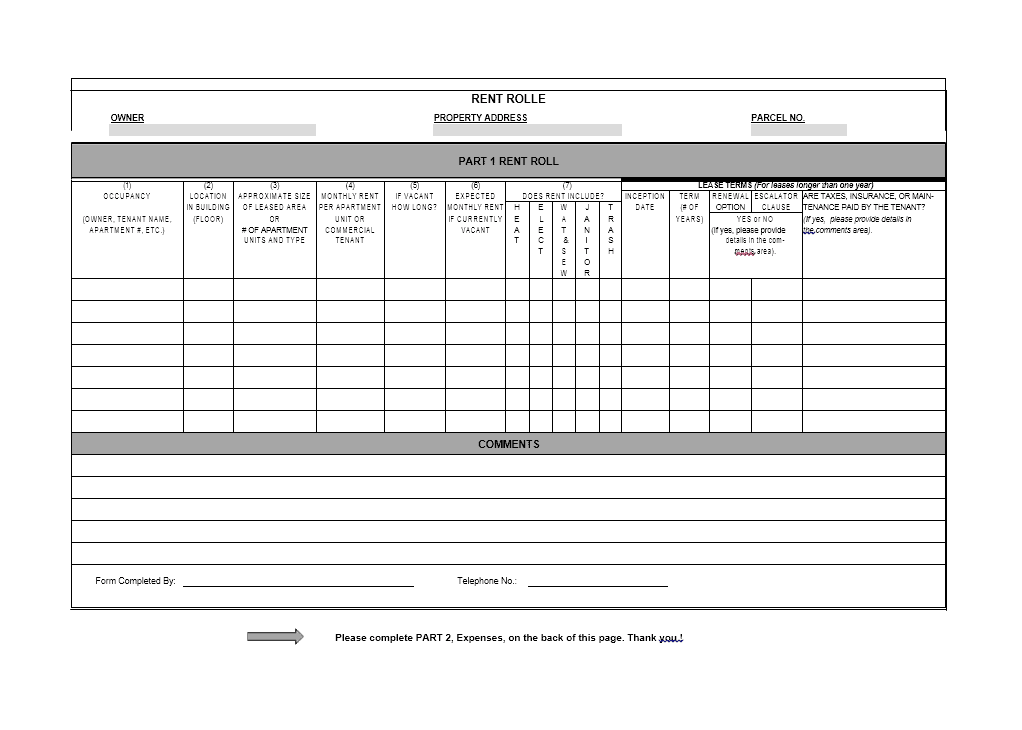 9. Multifamily rent roll
Do you have multiple tenants in the same property? This rent roll allows you to manage the entire apartment in just single document. You can add detailed information for every unit in the property.
As market conditions change, you can also increase the rent. If there are any concessions, you can append the same at the end. The best part about this rent roll is that you can always get an understanding on who is renting which place and which unit is vacant for long. Bid goodbye to piles of files and start using this editable, printable rent roll for property management.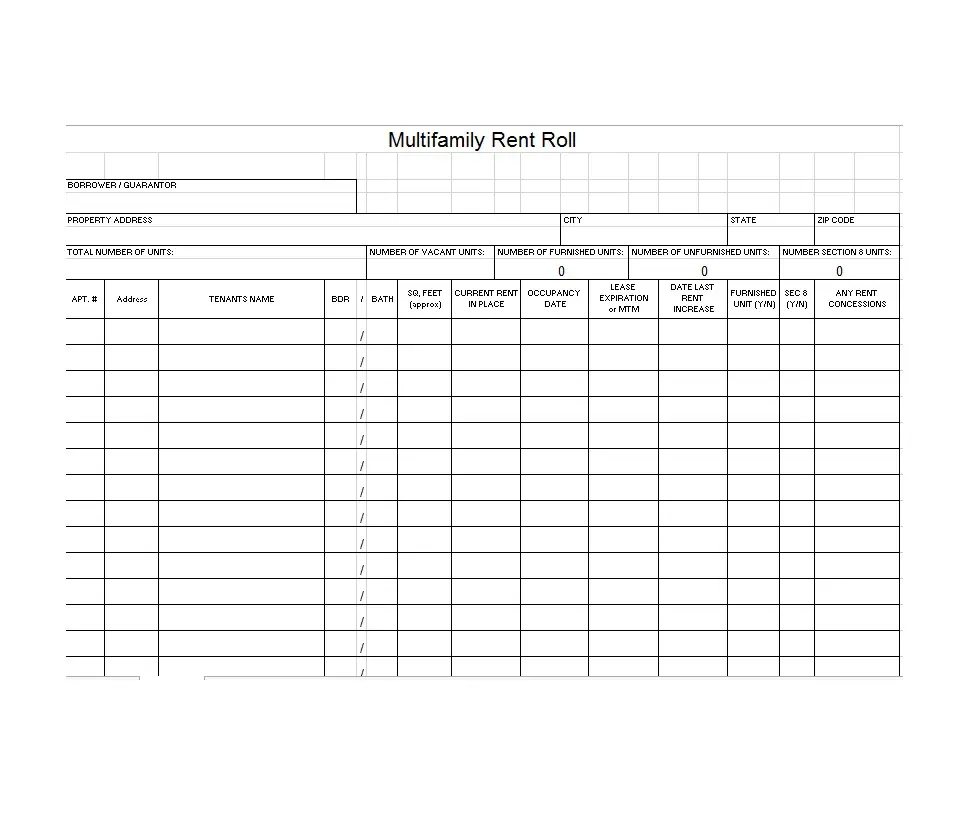 10. Single-page commercial rent roll
The following rent roll is highly appropriate for commercial rent management where you can enter property info and reflect on the returns at the end of each year.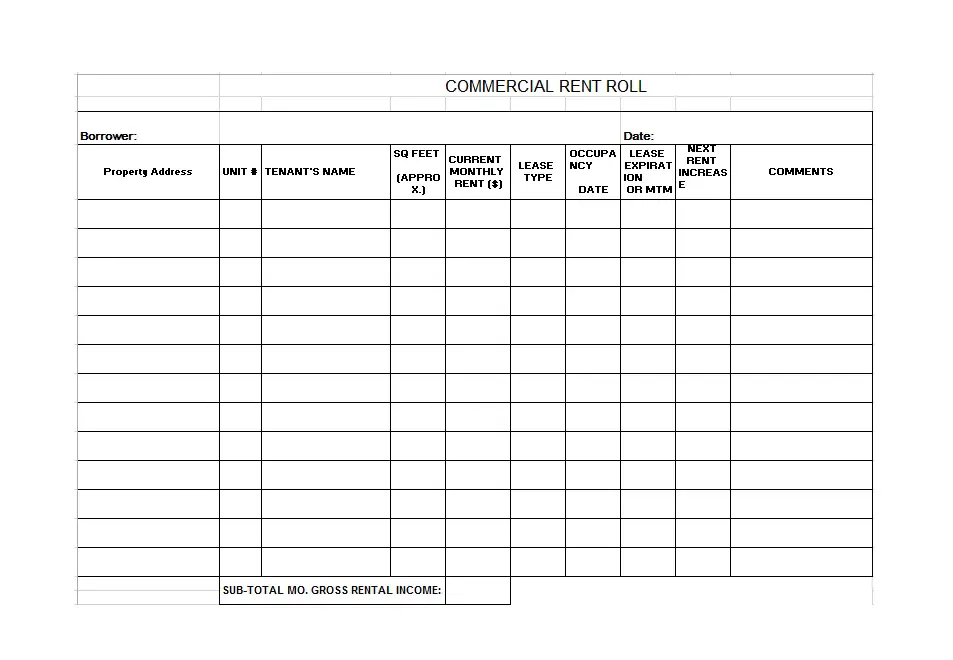 11. Single-page apartment free rent roll 
Following is a rent roll for apartment owners that wanted to add crisp info about every unit in the apartment. Whether it is a leased or a rented real estate, you can still apply this rent roll and estimate the return at the end of each month.
Note – Crisp documents like these will help in obtaining better valuations when you mortgage or sell the real estate.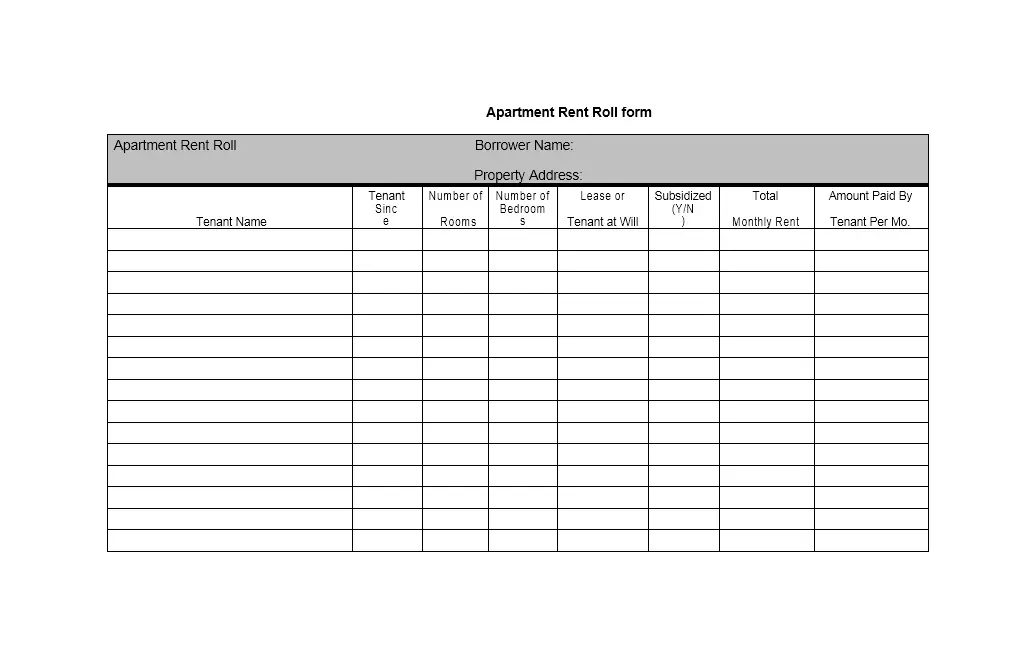 What is a rent roll template
A rent roll is a statement enabling you to break down the net rental income from apartment units. The statement gives an overview of the rent amount that is fetched from the investment property. When there are several properties handled at the same time, it is natural to maintain a rent register to note down the tenant detail along with rent collected. What happens when you run an accommodation center where guests check-in at any time and check out randomly? You need a well-configured tool that can note down the occupant information and include the charge for the duration of stay. Based on the charge, you can estimate the return on investment.
Rent rolls are a tool strongly relied upon by investors as well in estimating the net worth of a real estate. When you are planning to sell the real estate or arranging for a mortgage, an apartment rent roll form helps in attracting a prospective buyer by displaying transactions so far. The investor takes a look at the present rental numbers and then decides the strategy to enhance the rental returns.
There are other interesting benefits of a rent roll form.
The presently collected amount will act as a factor to understand if the rental standard is as per the market value or not. If it is below the market value, it needs to be taken a look at and tenant screening has to alter.
Rent roll document is sufficient to prove the worthiness of the real estate if you are planning to sell it off or mortgage.
A rent roll form is treated as a snapshot of the income.
This stands as a passive income generating source that can help you build an asset for a lifetime.
Rental management gets easier as your real estate remains on demand and lets you stay unique.
Aren't these interesting? Let us take a look at what the form contains.
Elements of rent rolls
There are three sections in a rent rolls. Let us dive into these sections.
Document header
The header section remains at the top portion of the rent rolls. It includes real estate-specific information to maintain uniqueness. Some of the elements that a form has are property owner info, date, rental property details, and property manager details.
2. Property specifications
This is the most important section of the rent rolls form as it has specific information on the real estate. Some key elements are square footage, real estate map, security deposit, the rental amount owed, the rental amount collected, start and end dates of tenancy or lease, additional tenant regulations, and unit liabilities. If at all there are damages made to the unit during the tenancy, then the tenant takes the accountability to fix the same.
3. Rent total
To estimate the financial worth of the real estate, this section is meant to calculate two variables – monthly rent and yearly rental value collected. These values will have to be compared against the actual investment made towards the property to estimate profitability.
If you find these elements confusing and time-consuming, you should instantly move on to the next section which has a range of handpicked and professional monthly rent roll templates that can be applied for your properties.
Conclusion
Managing a real estate is not a rocket science but it is not every person's cup of tea. Some miss in the form of regulations while many others miss utilizing necessary documents to handle the property. The idea of rent roll is to simplify rental management and handle financials of multiple units in a go without having the need to master the subject.
The document listed in this post also pave extra opportunities to pitch in the market for better valuation of your real estate! It is a win-win situation, so begin using it today!
Check Out:
Summary
Reviewer
Review Date
Reviewed Item
Author Rating





Software Name
Software Name
Software Category